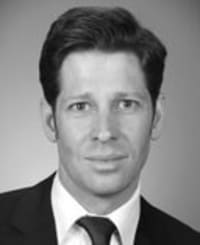 Muller and Muller, PLLC
Practice Areas: Employment litigation, Business litigation, General litigation
Licensed in Minnesota since: 2003
Education: University of Minnesota Law School
Languages Spoken: English, Spanish

Selected to Super Lawyers: 2022 - 2023

Selected to Rising Stars: 2012 - 2013
Muller and Muller, PLLC
The Flour Exchange Bldg.
310 South Fourth Ave, Suite 5010
Minneapolis, MN 55415
Phone: 612-604-5341
Email: Andrew Muller Visit website
Details
Andrew Muller's clients include employees, shareholders, small businesses and their owners.  On their behalf, he has recovered millions of dollars through litigation, trial and settlements.  Some of these cases have gained local, state-wide, and national media attention.  Still, Andrew has kept his focus where it matters—on the clients he serves. 
In 2006, Andrew and his father, Noel Muller, opened the law firm of Muller & Muller, PLLC.  Since that time, Andrew has attained an AV Preeminent Rating (4.6/5.0) from Martindale Hubbell, the highest possible rank in legal ability and ethics.  In 2011, he was honored by Minnesota Lawyer as an Up and Coming Attorney, an award bestowed on less than 30 attorneys each year. And, in 2012, Super Lawyers recognized Andrew as a Rising Star in the area of employment law, a designation reserved for only 2.5% of all practicing attorneys under the age of 40.   
Andrew primarily handles cases involving employment law, civil rights, business torts, and contract disputes.  He also serves as co-counsel in complex, multi-party disputes and cases arising under the False Claims Act. Most frequently, Andrew appears in the state and federal trial courts of Minnesota (he practices pro hac vice in courts outside of Minnesota).  He also argues cases before the Minnesota Court of Appeals, the Minnesota Supreme Court, and the 8th Circuit Court of Appeals.
First Admitted: 2003, Minnesota
Professional Webpage: http://www.themullerlawfirm.com/andrew_muller.php
Bar/Professional Activity:
Member Federal Bar Association, Member Minnesota Bar Association, Member Hennepin County Bar Association, Member National Employment Lawyers Association.
Verdicts/Settlements:
Arrodondo et al. v. City of Minneapolis, et al (U.S. District Court Minn. 07-CV-4736 (MJD/SRN) (As co-lead counsel, on behalf of five high ranking African American officers, we secured a settlement of $740,000.00 in Federal race discrimination lawsuit against the City of Minneapolis and it Chief of Police. This settlement came on the heals of an $85,000.00 secured in a state-court defamation proceeding against the same defendants for one of the five officers).

,

2009

Meeks v. City of Minneapolis, 822 F.Supp.2d 919 (U.S. Dist. Ct. Minn. 2011) Reprsenting Plaintiff who was the victim of a public strip and body cavity search, we secured an affirmative win at the summary judgment stage. We convinced the Court that no jury could believe the police officers acted reasonably in light of video tape evidence that proved they violated our client's Fourth Amendment rights. After winning at summary judgment, we obtained a $77,000.00 settlement for our client.

,

2011

Kidd v. Jackson, City of Minneapolis (U.S. Dist Court Minn. 10-CV-04112) (As lead co-counsel representing Plaintiff, I won a jury verdict in the amount of $421,324.00, for damages arising out of Defendant's violation of our client's First Amendment rights. The jury determined that Defendant retaliated against Plaintiff by demoting her from Deputy Chief of the Fire Department after she spoke as a private citizen about issue involving the Fire Department and services it provided).

,

2012

Kidd v. Jackson, City of Minneapolis (U.S. Dist. Court 10-CV-4112) (After securing a jury verdict in favor of our client on her first amendment retaliation claims, reached a $595,000.00 settlement with the City of Minneapolis to put end to litigation without the possiblity of an appeal).

,

2013

Christensen v. LumiData, Inc., 2014 WL 6609066 (Minn. Ct. App. 2014). At the trial court level, I represented plaintiff in a bench trial seeking damages under the Minnesota Payment of Wages Act, stemming from the Defendant's failure to pay him commissions he had earned prior to his resignation of employment. We secured a verdict in excess of $55,000.00 and recovered an additional $53,000.00 in attorney's fees and costs. At the appellate level we likewise prevailed by convincing the appellate court to uphold the entire judgment in our favor. We also recovered an additional $26,000.00 in attorneys' fees for the work performed on appeal.

,

2014

Deweese v. Lakeview Clinic (Minn. Ct. App. A13-2152 and A13-2160, 2014 WL 4388674)(As appellate counsel, I repented the plaintiff/respondent and successfully upheld jury verdict in his favor for breach of fiduciary damages and wrongful termination damages in excess of $1.2 Million).

,

2014

Hilde v. City of Eveleth, 777 F.3d 998 (8th Cir. 2015) Representing an age-discrimination plaintiff following an adverse summary judgment ruling at the trial level, we secured a reversal. In reversing the trial court's ruling against our client, the 8th circuit recognized that reliance on a police officer's age-based retirement status could be evidence of age discrimination, and that an age discrimination plaintiff could pursue recovery under the ADEA even if there was less than 8 years difference between the Plaintiff and a younger candidate who Defendant selected to be the Chief of Police over the plaintiff, especially where there was other evidence of age bias. After securing this rare pro-plaintiff ruling from the 8th Circuit on behalf of an ADEA plainitff, we reached a confidential six-figure plus settlement.

,

2015
Representative Clients:
Krueger v. Zeman Const. Co., 781 N.W.2d 858 (Minn. 2010) Represented plaintiff in claims that she suffered business discrimination based on sexual harassment that was directed towards her as the owner of a company. A closely divided Court (4-3) found that she did not have standing to pursue her claim individually, but that he company could sue the defendant under the MHRA.

,

2010

Waldron v. Lyman Lumber Co., Minn. Ct. App. 2011 (2011 WL 206175) (Representing a former executive employee on claims that he was entitled to $850,000.00 in severance benefits, I successfully convinced the appellate court to reverse the trial court's fiding that he could not pursue his claims. The appellate court determined that the record contained evidence tending to establish a constructive discharge, even though our client had not suffered any dimunition in compensation. After achieving this appellate victory, we settled the case for a confidential amount.)

,

2011

Soderberg v. Naturescape, Inc., U.S. Dist. Ct. Minn. 2011 (2011 WL 11528148). Representing plaintiffs in a collective-action FLSA case, secured affirmative summary judgment on issue of whether or not they were exempt from the Act and whether or not the defendant violated the overtime pay provisions of the Act. After proving that our clients were entitled to overtime and that the defendant had failed to pay them the requisite overtime, we secured a confidential settlement.

,

2011

Kidd v. Jackson, City of Minneapolis U.S. District Court. Minn. 2012 (2012 WL 3429891) (Succesfully defeated Defendant's motion for summary judgment, setting table for jury trial on client's claim that Defendant's violated her First Amendment right to be free from retaliation as a public employee speaking out as a citizen on public matters).

,

2012

LeClaire v. HealthEast Care System, U.S. Dist. Ct. Minn. 2013 (2013 WL 673858) (Successfully defeated Defendant's motion seeking summary judgment on Plaintiff's disability discrimination claims. Shortly afterwards, we secured a confidential settlement.)

,

2013

Scott v. CSL Plasma, Inc., U.S. Dist. Ct. 2015, 151 F.Supp.3d 961 (In high-profile trangender rights case, defeated Defendant's motion for summary judgment, setting the stage for one of the first, if not the very first, federal trials involving transgender business discrimination). 

,

2015

Exner v. Minneapolis Public Schools, Minn. Ct. App. 2016 (2016 WL 2615859). On behalf of former high school principal convinced the appellate court to reverse the trial court's entry of judgment against him as a matter of law on his defamation claim against the Minneapolis Public Schools. After winning the reversal and an order for a new trial, we acheieve a confidential settlement.

,

2016
Honors/Awards:
Upcoming Attorney

,

Minnesota Lawyer

,

2011

AV Rated (4.6/5.0) by peers in the legal profession

,

Martindale Hubbell

,

2011
Pro bono/Community Service:
FBA Pro Se Settlement Conference project wiht US District Court: representing pro se plaintiffs in cases filed in Federal Court for purposes of early settlement conferences. 

,

2013
Scholarly Lectures/Writings:
Dan Prokott and Andrew Muller will be providing an overview of legislative, regulatory, and case law developments. 

,

Labor and Employment Law Roundup

,

Minnesota Bar Association ~ Emloyment and Labor

,

2015
Selections
Super Lawyers: 2022 - 2023
Rising Stars: 2012 - 2013
Additional sources of information about Andrew Muller
Attorney resources for Andrew Muller