Anna P. Prakash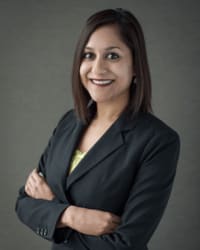 Attorney Profile
Top Rated Civil Rights Attorney in Minneapolis, MN
Phone: 612-256-3291
Fax: 612-215-6870
Selected To Rising Stars:
2013 - 2020
Practice Areas:
Civil Rights (50%),
Employment Litigation: Plaintiff (40%),
Consumer Law (10%)
Attorney Profile
Anna P. Prakash is a Partner in Nichols Kaster's Civil Rights and Impact Litigation practice group. She is a tough and determined litigator whose practice focuses on complex class actions on behalf of protected groups and those harmed by corporate or governmental wrongdoing. Whether in the context of civil rights, illegal pay practices, loan issues, insurance coverage, consumer fraud, or other harm to vulnerable communities, Anna seeks out injustices to hold wrongdoers accountable and give all people a voice. She cares about and fights for her clients, brings a high level of skill and intellect to the fight, and has achieved great success for her clients in state and federal courts around the country.
Anna also serves on the Board of Directors of the Public Justice Foundation, a nationwide charitable organization supporting high-impact lawsuits to combat social and economic injustice and protect the Earth's sustainability, as well on the Board of Directors of Standpoint, an organization that exists to serve domestic and sexual violence survivors, advocates, attorneys, and other professionals working within the justice system in the state of Minnesota. Anna is a frequent speaker at national legal seminars, an adjunct professor of legal writing at the University of Minnesota Law School, and a past board member of the Minnesota chapter of the National Employment Lawyers' Association.
Prior to joining Nichols Kaster, Anna served as an attorney for the United States Department of Education's Office for Civil Rights and monitored special education compliance for the state of Minnesota
About Anna Prakash
Admitted: 2005, Minnesota
Professional Webpage: https://www.nka.com/our-people/anna-p-prakash.html
Honors/Awards:
Named to the Minnesota Super Lawyers Rising Star List 2013-2019

,

Rising Star

, Super Lawyers,

2013

Named to the Minnesota Super Lawyers Rising Star List 2013-2019

,

Rising Star

, Super Lawyers,

2014

Named to the Minnesota Super Lawyers Rising Star List 2013-2019

,

Rising Star

, Super Lawyers,

2016

Named to the Minnesota Super Lawyers Rising Star List 2013-2019

,

Rising Star

, Super Lawyers,

2015

Named to the Minnesota Super Lawyers Rising Star List 2013-2019

,

Rising Star

, Super Lawyers,

2018

Named to the Minnesota Super Lawyers Rising Star List 2013-2019

,

Rising Star

, Super Lawyers,

2017

Named to Lawdragon's 500 Leading Plaintiff Employment Lawyer list

,

500 Leading Plaintiff Employment Lawyer

, Lawdragon,

2019

Named to the Minnesota Super Lawyers Rising Star list 2013-2019

,

Rising Star

, Super Lawyers,

2019

Named to Lawdragon's 500 Leading Plaintiff Employment Lawyers list

,

500 Leading Plaintiff Employment Lawyer

, Lawdragon,

2018
Bar/Professional Activity:
U.S. Court of Appeals for the Fourth Circuit

Standpoint - Board Member

U.S. District Court - Northern District of Florida

Minnesota Supreme Court

Minnesota State Bar Association Member

National Employment Lawyers Assoc. Member (MN Chapter Board Member, 2014-2017)

U.S. Supreme Court

U.S. District Court – District of Minnesota

U.S. District Court - Western District of New York

American Bar Association Member

U.S. Court of Appeals for the Sixth Circuit

Public Justice - Board Member, 2016-present

U.S. District Court – Eastern District of Michigan

National Association of Consumer Advocates Member

American Association for Justice Member

U.S. Court of Appeals for the Seventh Circuit
Pro bono/Community Service:
Adjust Professor of Legal Writing, University of Minnesota Law School
Scholarly Lectures/Writings:
"Defendant Interference and Intimidation," Impact Fund Class Action Conference, San Francisco, CA, February 2019.

,

Panelist

,

Defendant Interference and Intimidation

, Impact Fund Class Action Conference,

2019

"Six Questions Every Lawyer Must Answer Before Filing an Employment Discrimination Class Action," FLASH, American Bar Association Labor and Employment Section Newsletter, June 2019,

Author

,

Six Questions Every Lawyer Must Answer Before Filing an Employment Discrimination Class Action

, ABA Labor and Employment Section Newsletter,

2019

"Keeping Settlements on Track," Trial Magazine, October 2019.

,

Author

,

Keeping Settlements on Track

, AAJ Trial Magazine,

2019

"Consumer Law: Applying a Civil Rights Lens to the World of Consumer Law", Minnesota CLE, January, 2019.

,

Panelist

,

Consumer Law: Applying a Civil Rights Lens to the World of Consumer Law

, Minnesota CLE,

2019

"Discovery: Life After the 2015 Amendments," National Consumer Rights Litigation Conference, Denver, Colorado, 2018

,

Panelist

,

Discovery: Life After the 2015 Amendments

, National Consumer Rights Litigation Conference,

2018

"Tips on Tipping Out: An Overview of Minnesota's New Tip Pooling Legislation," Co-presenter, Minnesota Continuing Legal Education Webinar, 2011

,

Panelist

,

Tips on Tipping Out: An Overview of Minnesota's New Tip Pooling Legislation

, Minnesota CLE,

2011

"Organizing and Managing the Discovery Process," Presenter, Hennepin County Bar Association New Lawyer's Section, 2012

,

Presenter

,

Organizing and Managing the Discovery Process

, Hennepin County Bar Association,

2012

"Independent Contractors - Hot Topics and New Changes in Minnesota Law." Presenter, Minnesota Continuing Legal Education Employment Law Series, 2012

,

Presenter

,

Independent Contractors - Hot Topics and New Changes in Minnesota Law

, Minnesota CLE,

2012

"Tackling Proof of Hours & Wages: Beyond Mt. Clemens Pottery." Presenter, Natl. Employment Lawyers Assoc.'s Preventing Wage Theft: A Two-Day Guide to Litigating Cases Involving Wages, Hours & Work, 2013

,

Panelist

,

Tackling Proof of Hours & Wages: Beyond Mt. Clemens Pottery

, National Employment Lawyers Association ,

2013

"Women's Economic Security Act," panel discussion, Minnesota CLE, July 2014

,

Panelist

,

Women's Economic Security Act

, Minnesota CLE,

2014

"Protecting Gratuities: Minnesota Law on Tip Pooling," Minnesota Lawyer, June 19, 2014.

,

Author

,

Protecting Gratuities: Minnesota Law on Tip Pooling

, Minnesota Lawyer,

2014

"Class-Representative Adequacy: Preparing for and Responding to Attacks on Plaintiffs," American Bar Association's Section of Litigation - Class Actions & Derivative Suits Committee Newsletter, June 3, 2014.

,

Author

,

Class-Representative Adequacy: Preparing for and Responding to Attacks on Plaintiffs

, American Bar Association's Section of Litigation - Class Actions & Derivative Suits Committee Newsletter,

2014

"Discovery v. Privacy in Public Sector Employment Cases," Upper Midwest Employment Law Institute, May 2014.

,

Panelist

,

Discovery v. Privacy in Public Sector Employment Cases

, Upper Midwest Employment Law Institute,

2014

"Named Plaintiff Depositions: What to Do Before, During, and After." Strafford Business Webinar, April 2014

,

Panelist

,

Named Plaintiff Depositions: What to Do Before, During, and After

, Strafford Business Webinar,

2014

"Roundtable Discussion – Applying Remedy and Damage Analysis to Four Different Types of Disputes." Minnesota Continuing Legal Education Remedies & Damages in Commercial Litigation Seminar, 2014

,

Panelist

,

Roundtable Discussion – Applying Remedy and Damage Analysis to Four Different Types of Disputes

, Minnesota CLE,

2014

"The Carrot and the Stick: How to Effectively Use Rule 68 Offers and When to Reject Them," Federal Bar Association Annual Meeting and Convention Presentation

,

Moderator and Panelist

,

The Carrot and the Stick: How to Effectively Use Rule 68 Offers and When to Reject Them

, Federal Bar Association,

2015

"Beyond the Minimum Wage: How the FLSA's Broad Social and Economic Protections Support Its Application to Workers Who Earn a Substantial Income," Co-Author, ABA Journal of Labor & Employment

,

Co-Author

,

Beyond the Minimum Wage: How the FLSA's Broad Social and Economic Protections Support Its Application to Workers Who Earn a Substantial Income

, ABA Journal of Labor and Employment,

2015

"The Dreaded Defendant Bankruptcy: Tips on Protecting and Preserving Plaintiff's Claims when Defendant Files for Bankruptcy," American Association for Justice Annual Convention

,

Presenter

,

The Dreaded Defendant Bankruptcy: Tips on Protecting and Preserving Plaintiff's Claims when Defendant Files for Bankruptcy

, American Association for Justice,

2015

"Intake: Both in Individual Case Selection and During the 216(b) Opt in Process," American Association for Justice Annual Convention

,

Panelist

,

Intake: Both in Individual Case Selection and During the 216(b) Opt in Process

, American Association for Justice,

2015

"Deposing Named Plaintiffs in Class Litigation: Uncovering and Leveraging Issues of Adequacy & Commonality," Strafford Webcast

,

Panelist

,

Deposing Named Plaintiffs in Class Litigation: Uncovering and Leveraging Issues of Adequacy & Commonality

, Strafford Business Webinar,

2015

"The New Women's Economic Security Act – New Employee Leave, Pregnancy Accommodations, Familial Status, Wage Disclosure Protections and More," 2015 Upper Midwest Employment Law Institute

,

Panelist

,

The New Women's Economic Security Act – New Employee Leave, Pregnancy Accommodations, Familial Status, Wage Disclosure Protections and More

, Upper Midwest Employment Law Institute,

2015

"The Fair Credit Reporting Act," Panelist, 20th Annual Consumer Financial Services Institute, Practising Law Institute

,

Panelist

,

The Fair Credit Reporting Act

, 20th Annual Consumer Financial Services Institute, Practising Law Institute,

2015

"Class Action Trial Plans after Dukes and Duran," Panelist, Impact Fund Class Action Conference, Berkeley, CA

,

Panelist

,

Class Action Trial Plans after Dukes and Duran

, Impact Fund Class Action Conference,

2015

"Hot Topics in FLSA Litigation," American Bar Association's Fair Labor Standards Legislation Committee, Midwinter Meeting, February 2016.

,

Panelist

,

Hot Topics in FLSA Litigation

, American Bar Association's Fair Labor Standards Legislation Committee,

2016

"Ten Tips for Tackling the Heart of the Beast - Written Discovery." A Checklist Approach to Successful Civil Litigation, Minnesota CLE, Minneapolis, MN, 2014

,

Panelist

,

Ten Tips for Tackling the Heart of the Beast - Written Discovery

, Minnesota CLE,

2014

"When a Sale Really Isn't a Sale: False Discounts and Consumer Protection," Minnesota Trial, The Journal of The Minnesota Association For Justice, Spring 2016.

,

Co-Author

,

"When a Sale Really Isn't a Sale: False Discounts and Consumer Protection

, Minnesota Trial, The Journal of The Minnesota Association For Justice,

2016

"The ABC's Of Litigating Wage & Hour Collective and Class Actions," National Employment Lawyers Association Annual Convention, Los Angeles, CA, June 2016

,

Moderator

,

The ABC's Of Litigating Wage & Hour Collective and Class Actions

, National Employment Lawyers Association ,

2016

"Mediating FLSA Actions," American Association for Justice Annual Convention, Los Angeles, CA, July 2016

,

Panelist

,

Mediating FLSA Actions

, American Association for Justice Annual Convention,

2016

"Consumer Law 101," Minnesota Association for Justice Annual Convention, Brainerd, MN, August 2016.

,

Presenter

,

Consumer Law 101

, Minnesota Association for Justice,

2016

"Expert Testimony and Daubert Motions in Consumer Protection Litigation," National Consumer Law Center's Consumer Rights Litigation Conference, Anaheim, CA, October 2016

,

Panelist

,

Expert Testimony and Daubert Motions in Consumer Protection Litigation

, National Consumer Law Center's Consumer Rights Litigation Conference,

2016

"Changing Standards for Class Certification: Spokeo, Standing, and Other Emerging Issues," Federal Bar Association, Northern District of California Chapter, Class Action Symposium, San Francisco, CA, December 2016

,

Panelist

,

Changing Standards for Class Certification: Spokeo, Standing, and Other Emerging Issues

, Federal Bar Association, Northern District of California Chapter,

2016

"Deposing Named Plaintiffs in Employment Class and Collective Actions: Strategies for Plaintiff and Defense Counsel," Strafford Webinar, February 2017.

,

Panelist

,

Deposing Named Plaintiffs in Employment Class and Collective Actions: Strategies for Plaintiff and Defense Counsel

, Strafford Business Webinar,

2017

"Two Big Changes to the FLSA," American Bar Association Labor and Employment Newsletter, Volume 46, Issue 3 (Spring 2018)

,

Author

,

Two Big Changes to the FLSA

, American Bar Association Labor and Employment Newsletter,

2018

"What's the Harm? Evaluating and Proving Damages," Upper Midwest Employment Law Institute, St. Paul, MN, May 2018

,

Panelist

,

What's the Harm? Evaluating and Proving Damages

, Upper Midwest Employment Law Institute,

2018

"Locating and Ethically Communicating with Potential Class and Collective Members," American Association for Justice Annual Convention, Denver, CO, July 2018

,

Panelist

,

Locating and Ethically Communicating with Potential Class and Collective Members

, American Association for Justice Annual Convention,

2018
Other Outstanding Achievements:
Clincy v. Galardi South Enters., Inc., 808 F. Supp. 2d 1326 (N.D. Ga. 2011) (granting plaintiffs' affirmative motion for summary judgment and holding that defendant misclassified its exotic dancers as independent contractors and that the dancers—members of the FLSA collective—were employees as a matter of law).,

2011

Robrinzine v. Big Lots Stores, Inc., No. 15-CV-7239, 2016 WL 212957 (N.D. Ill. Jan. 19, 2016) (denying defendant's motion to dismiss and holding that plaintiffs sufficiently stated a claim for willful violations of the FCRA),

2016

Huff v. Pinstripes, Inc., 972 F. Supp. 2d 1065 (D. Minn. 2013) (granting plaintiffs' affirmative motion for summary judgment and holding that the defendant restaurant violated Minnesota law by requiring its servers to share their tips with certain other employees at the restaurant).,

2013

Monroe v. FTS USA, LLC, No. 2:08-cv-21 (W.D. Tenn. Oct. 2011), 860 F.3d 389 (6th Cir. 2017), cert. denied, No. 17-637, 2018 WL 942457 (Feb. 20, 2018) (affirming jury verdict finding that defendants willfully violated the Fair Labor Standards Act by failing to pay nearly 300 cable installers for all overtime hours worked),

2011

Hart v. Rick's Cabaret Int'l, Inc., 60 F. Supp. 3d 447 (S.D.N.Y. 2014) (granting plaintiffs' affirmative motion for summary judgment on damages, holding that no reasonable jury could conclude that the Rule 23 class of approximately 2,200 exotic dancers were owed less than $10.8 million dollars, holding that defendants were not entitled to an offset against the minimum wage, holding that defendants violated New York Labor Law, and denying decertification of the Rule 23 class and FLSA collective), 967 F. Supp. 2d 901 (S.D.N.Y. Sept. 10, 2013) (granting plaintiffs' affirmative motion for summary judgment and holding that plaintiffs were employees as a matter of law under the FLSA and New York Labor Law).,

2014

Bible v. United Student Aid Funds, Inc., 799 F.3d 633 (7th Cir. 2015), reh'g en banc denied, 807 F.3d 839 (7th Cir. 2015), cert. denied, 136 S. Ct. 1607 (2016) (reversing the district court's dismissal of plaintiff's complaint against a student loan guarantor for wrongfully charging collection fees on defaulted student loans, finding that plaintiff's claims for breach of contract and for violations of the RICO Act were not preempted by the Higher Education Act, and stating that "a guaranty agency may not impose collection costs on a borrower who is in default for the first time but who has timely entered into and complied with an alternative repayment agreement"),

2015
Educational Background:
Juris Doctor, Cornell University Law School, Ithaca, NY,

2005

Bachelor of Arts, University of Michigan, Ann Arbor, MI,

2002
Articles about Anna P. Prakash appearing in Super Lawyers
Additional Sources of Information About Anna P. Prakash
Show More
Anna P. Prakash:
Last Updated: 1/15/2020