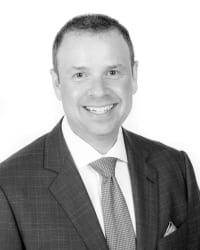 Parker Daniels Kibort LLC
Practice Areas: Business Litigation, Civil Litigation; view more
Licensed in Minnesota since: 2003
Education: Hamline University School of Law

Selected to Super Lawyers: 2020 - 2023

Selected to Rising Stars: 2013 - 2018
Parker Daniels Kibort LLC
888 Colwell Building
123 North Third Street
Minneapolis, MN 55401
Visit website
Details
A highly regarded civil trial attorney, Jesse Kibort is a co-founder of Parker Daniels Kibort LLC. Based in Minneapolis, Mr. Kibort has vigorously represented his clients in state and federal courts throughout the United States. His clients range from individuals, to large national companies.  In particular, he has extensive experience representing large and small companies, and financial services firms involving multi-million dollar claims of negligence, breach of contract, breach of fiduciary duty, trade secrets, government and GAO investigations, and violations of state and federal statutes. In addition to the financial services arena, Mr. Kibort has substantial experience in the areas of commercial contracts disputes, business disputes, shareholder and partnership disputes, business torts, real estate litigation, breaches of contract, defending broker dealers, financial investment advisers and financial planners.
Mr. Kibort is admitted to practice before all Minnesota and Wisconsin state courts, Mr. Kibort is also admitted to practice before the U.S. District Court for the District of Minnesota, the U.S. District Court for the Western District of Wisconsin, and the U.S. Court of Appeals for the 8th Circuit.  
Majoring in political science, Mr. Kibort attended the University of Kansas, and he participated in numerous student organizations before receiving a Bachelor of Arts in 2000. He then went on to pursue his legal education at Mitchell Hamline School of Law in Saint Paul, Minnesota, and while he was there, he was an editor of the Mitchell Hamline Law Journal of Public Policy and Practice and served as a judicial extern clerk for the Minnesota Court of Appeals. Mr. Kibort's successful track record has earned him multiple selections as a Rising Star and as a Super Lawyer by his peers, as well as an "Excellent" peer review rating through Avvo, and an AV Preeminent Rating and Gold Client Champion by Martindale-Hubbell. The AV Preeminent Rating is the highest award given by Martindale-Hubbell​, awarded to less than 5% of all lawyers. 
Awards & Honors
• Selected as a Minnesota Super Lawyer, 2020-Present
• AV Preeminent Rating, by Martindale-Hubbell, 2020-Present
• Gold Client Champion, by Martindale-Hubbell, 2020-Present
• Selected by Super Lawyers as a Minnesota Rising Stars, 2013-2018​
• Volunteer for The Twin Cities Cardozo Society Steering Committee, 2012-Present
• Volunteer For The United States District Court's Pro Se Project, 2008-Present
• Volunteer For Minnesota Legal Aid Clinic, 2007-Present
• Volunteer For VANTAGE​ for Minnetonka High School Advanced Professional Studies, 2019-Present
Practice areas
Business Litigation, Civil Litigation: Plaintiff, Civil Litigation: Defense, Employment Litigation: Plaintiff, Employment Litigation: Defense, Securities Litigation
Focus areas
Non-Compete Agreements, Trade Secret
30% Business Litigation

20% Civil Litigation: Plaintiff

20% Civil Litigation: Defense

10% Employment Litigation: Plaintiff

10% Employment Litigation: Defense

10% Securities Litigation
First Admitted: 2003, Minnesota
Professional Webpage: http://www.parkerdk.com/team/jesse-h.-kibort
Transactions:
Contract Negotiations for Consumer-Packaged Goods Company (Client) with Suppliers Strong and favorable vender contract negotiations for Consumer-Packaged Goods Company (Client) with suppliers in order to maintain strong branding, extremely high quality and fair prices for its customers, 2018
Educational Background:
University of Kansas, Lawrence, B.A., 2000

,

2000
Bar/Professional Activity:
Supreme Court of Minnesota

,

2003

United States District Court for the District of Minnesota

,

2003

Supreme Court of Wisconsin

,

2012

United States District Court for the Western District of Wisconsin

,

2012

United States Court of Appeals for the Eighth Circuit

,

2015

Federal Bar Association

,

2020

United States Court of Appeals for the District of Columbia

,

2021

United States District Court for the District of Colorado

,

2022

United States District Court for the Eastern District of Wisconsin

,

2022
Videos:
,

Meet Jesse Kibort

,

Business Litigation, Employment Litigation And Consulting, Corporate Shareholder/Owner Disputes And Litigation, Securities Litigation, Financial Litigation, Entertainment, copyright and trademark

,

2019
Representative Clients:
Financial Advisors; Local and National Broker-Dealers; Mortgage Brokerages; Financial Services Firms; Hedge Funds; Manufacturing Companies; Recreational Vehicle Businesses; National and Local Commercial Construction Companies; National and Local Self-Storage Companies; National and Local Property Management Company; Commercial Tenants; Commercial Property Owners; Commercial Landlords; Investment Banks; Real Estate Agencies; Real Estate Developers; Local and National Law Firms; and National Logistics Company

,

2021

Financial Advisors; Local Broker-Dealers; National Broker-Dealers; Financial Services Firms; Hedge Funds; Manufacturing Companies; National Commercial Construction Companies; National Self-Storage Companies; National Property Management Company; Local Gas-Station Franchisee; Commercial Tenants; Commercial Landlords; Investment Banks; National Commercial Cleaning Business; Real Estate Agencies; Real Estate Developers; and National Logistics Company

,

2020

Real Estate Developers; Financial Advisors; Financial Services Firm; Manufacturing Companies; National Commercial Construction Companies; National Self-Storage Companies; National Broker-Dealer; National Property Management Company; Local Gas-Station Franchisee; Commercial Tenants; Commercial Landlords; Investment Bank; National Commercial Cleaning Business; and National Logistics Company, 2019

,

2019

International Toy Manufacturers; National Online Food Retailer; National Organic Food Manufacturer; National Commercial Construction Company; National Self-Storage Company; National Broker-Dealer; National Property Management Company; Local Gas-Station Franchisee; Commercial Tenants; Commercial Landlords; Investment Bank; National Commercial Cleaning Business; and National Logistics Company, 2018

,

2018

Real Estate Developers; Financial Advisors; Financial Services Firms; Manufacturing Companies; National Commercial Construction Companies; National Self-Storage Companies; National Broker-Dealers; National Property Management Companies; Local Gas-Station Franchisee; Commercial Tenants; Commercial Landlords; Investment Banks; National Commercial Cleaning Business; and National Logistics Company, 2017

,

2017

Financial Advisors; Wealth Managers; Customers of Financial Advisors; National Commercial Construction Companies; National Property Management Companies; Commercial Tenants; Commercial Landlords; National Commercial Cleaning Business; Real Estate Developers; Real Estate Investors; Home Owners Associations, International Beverage Company; and Architecture Firm, 2016

,

2016
Verdicts/Settlements:
Plaintiff (member/owner) v. Construction Company (Client) and other Members/owners--Successfully resolved a very contentious membership dispute and "business divorce" between my corporate Client and the fighting members including the successful resolution of derivative claims.

,

2021

Self-Storage Company (Client)--Counseled client on making changes to their self-storage lease.

,

2021

Self-Storage Company (Client)--Counseled client on defending self-storage act violation claims by problem tenant in order to avoid litigation.

,

2021

Mortgage Brokerage Company (Client)--Counseled and advised Client on several federal requirements, including RESPA, as well as a dispute with their mortgage wholesale company in order to avoid potential litigation.

,

2021

Plaintiffs Health Product Company and its Owner (Clients) v. Individual Defendant--Successfully resolved a defamation and tortious interference lawsuit in the very early stages of litigation against an individual who was defaming our Clients and its products.

,

2021

FINRA v. Financial Advisors (Clients)--Successfully guided and defended Financial Advisors clients through a FINRA investigation, resulting in FINRA dropping the investigation and closing the file,

2021

Landscaping Company (Client)--Counseled and advised Client on employment issues and contract issues in order to avoid potential litigation.

,

2021

Corporate and Business Sales Training Company (Client)--Counseled and advised Client on employment issues successfully avoiding potential litigation.

,

2021

Claimants (members/owners of LLC) v. Member/owner of LLC (Client)--Successfully resolved a membership dispute and "business divorce" involving claims of fraud, dishonesty and the theft of company membership units including the successful resolution of derivative claims

,

2021

Property Owner (Plaintiff) v. Self-Storage Company (Defendant/Client)--Successfully defended and removed a lien from a property owner who asserted a lien on Client's property as a result of claimed damages to the property caused by a construction vendor of the Client.  

,

2021

Financial Advisory Firm v. Former Employee (Client)--Complete Client victory wherein we successfully extracted Client from a claimed breach of non-compete and non-solicitation agreement lawsuit, in which the Client walked away without any liability or loss. 

,

2021

Plaintiff v. Law Firm and Marketing Company (Clients)--Successfully defended Clients from Plaintiff's claims of violation of the federal Telephone Consumer Protection Act (47 U.S.C. Section 227).

,

2020

Self-Storage Tenant (Plaintiff) v. Self-Storage Company (Defendant/Client)--Obtained a complete victory at the Minnesota Court of Appeals on all Plaintiff's claims of breach of contract, consumer fraud, conversion, and civil theft.

,

2020

Commercial Lender v. Medical Clinic and Owners (Clients)--Obtained an extremely favorable result and win for Clients in defense of breach of contract and collection claims in the United States District Court.

,

2020

Homeowner (Client) v. Contractor and Sub-Contractors--Obtained an extremely favorable result and win for homeowner client against their contractor and sub-contractors for construction defects.

,

2020

Plaintiff v. Self-Storage Company (Defendant/Client)--Obtained a complete victory on all Plaintiff's claims of consumer fraud, conversion, and civil theft.

,

2020

Self-Storage Tenant (Plaintiff) v. Self-Storage Company (Defendant/Client)--Obtained a complete victory on all Plaintiff's claims of breach of contract, consumer fraud, conversion, and civil theft.

,

2020

FINRA v. Financial Advisor (Client)--Successfully guided and defended Financial Advisor client through a FINRA investigation, including Wells Notice, resulting in FINRA dropping the investigation and closing the file.,

2020

Real Estate Broker/Agency (Client) v. Former Real Estate Agent/Employee--Obtained a complete capitulation from a former real estate agent (employee) who tried to defame my Client in order to dissuade potential real estate agents from joining my Client.

,

2020

Regional Bank v. National Agriculture Bank (Client)--Obtained a complete win and dismissal for Client while defending claims of priority and fraudulent transfer regarding the actions of a previous customer of the Client.,

2020

Business Investor v. Business Owner (Client)--Successfully vacated a default judgment against a business owner and his business by an investor, and then proceeded to defend the revived lawsuit by the investor resulting in an early and extremely favorable settlement.,

2020

Business Investor v. Business Owner (Client)--Successfully vacated a default judgment against a business owner and his business by an investor, and then proceeded to defend the revived lawsuit by the investor resulting in an early and extremely favorable settlement

,

2019

Broker-Dealer v. Broker-Dealer (Client)--Successfully guided and defended Broker-Dealer client from another Broker-Dealer's accusations and threats of defamation, "poaching" and "raiding" resulting in no action from the accusing Broker-Dealer

,

2019

FINRA v. Financial Advisor (Client)--Successfully guided and defended Financial Advisor client through a FINRA investigation, resulting in FINRA dropping the investigation and closing the file

,

2019

Self-Storage Tenant (Plaintiff) v. Self-Storage Company (Defendant/Client)--Obtained an extremely favorable decision on Plaintiff's claims of personal injury

,

2019

Commercial Tenant (Client) v. Commercial Landlord--Obtained an extremely favorable result and win for commercial tenant client against its commercial landlord who tried to wrongfully gouge client for damages and additions to year-end operating expenses

,

2019

Self-Storage Tenants (Plaintiff) v. Self-Storage Company (Defendant/Client)--Obtained dismissal with prejudice on all Plaintiff's claims of breach of contract and various torts

,

2019

Self-Storage Tenants (Plaintiffs) v. Self-Storage Company (Defendant/Client)--Obtained summary judgment and dismissal with prejudice on all Plaintiffs' claims of breach of contract and various torts

,

2019

Broker-Dealer v. Broker-Dealer (Client)--Successfully guided and defended Broker-Dealer client from another Broker-Dealer's accusations and threats of breach of non-compete and corporate theft, resulting in no action from the accusing Broker-Dealer

,

2018

Financial Advisor (employee) v. Financial Services Firm (former employer)--Obtained an extremely favorable settlement for client (financial advisor) defending a claim by his former employer (a financial services firm) which claimed employer/client owed over $500,000 on a loan to employer. Client (financial advisor) walked away paying $0 to the employer

,

2018

Financial Advisor (employee) v. Financial Services Firm (former employer)--Obtained a very favorable settlement for client (financial advisor) defending a claim by her former employer (a large financial services firm) which claimed employer/client owed over $900,000 on a loan to employer. Client (financial advisor) walked away paying a fraction claimed due to the former employer, 2018

,

2018

Residential Mortgage Modification Agreements--Obtained extremely favorable mortgage modification agreements for numerous Clients from their large banks and servicers by pursuing claims against the banks and servicers for violation of Minnesota statutes

,

2018

Manufacturing Business v. Bank Huge settlement for client (business)--Successfully defended a claim brought by its large business bank a counterclaim for breach of contract and collection of over $1MM outstanding loan amounts due. We pursued a counterclaim against the bank for lender liability and wrongful freezing of assets.  Client (business) walked away paying nothing on the outstanding loan amount and the bank paid client substantial damages

,

2018

FINRA v. Financial Advisors (Clients)--Successfully guided and defended Financial Advisors clients through a FINRA investigation, resulting in FINRA dropping the investigation and closing the file

,

2018

FINRA v. Financial Advisors (Clients)--Successfully guided and defended Financial Advisor clients through a FINRA investigation, resulting in FINRA dropping the investigation and closing the file.

,

2017

Real Estate Broker/Agency (Client) v. Former Real Estate Agent/Employee--Obtained a complete capitulation and signficant payment from a former real estate agent (employee) who started a competing real estate agency and tried to defame my Client and poach employees and customers from my Client. 

,

2017

Residential Mortgage Modification Agreements--Obtained very favorable mortgage modification agreements for numerous Clients from their large banks and servicers by pursuing claims against the banks and servicers for violation of Minnesota statutes

,

2017

FINRA v. Financial Advisors (Clients)--Successfully guided and defended Financial Advisors clients through a FINRA investigation, resulting in FINRA dropping the investigation and closing the file

,

2016

FINRA v. Financial Advisors (Clients)--Successfully guided and defended Financial Advisors clients through a FINRA investigation, resulting in FINRA dropping the investigation and closing the file

,

2015

Represented Plt – (Breach of Contract) Individual lender versus borrower (entity) and guarantor (individual), ultimately encompassing four lawsuits, a total of approximately 25 defendants, one 17-day trial, several multi-million dollar judgments, ending in a global settlement.

,

2015

Commercial Tenant (Client) v. Commercial Landlord--Obtained a complete arbitration win for commercial tenant client against its commercial landlord who tried to wrongfully add $100k+ onto Client's year end operating expenses

,

2015
Honors/Awards:
Named an AV Preeminent Rating attorney by Martindale-Hubbell for 2022. The AV Preeminent Rating is the highest award given by Martindale-Hubbell, awarded to less than 5% of all lawyers.

,

AV Preeminent Rating

,

Martindale-Hubbell

,

2022

Selected as a Minnesota Super Lawyer, 2022

,

Super Lawyer

,

Super Lawyer

,

2022

Named a Gold Client Champion attorney by Martindale-Hubbell for 2022.

,

Gold Client Champion

,

Martindale-Hubbell

,

2022

Selected as a Minnesota Super Lawyer, 2021

,

Super Lawyer

,

Super Lawyer

,

2021

Named an AV Preeminent Rating attorney by Martindale-Hubbell for 2021. The AV Preeminent Rating is the highest award given by Martindale-Hubbell, awarded to less than 5% of all lawyers.

,

AV Preeminent Rating

,

Martindale-Hubbell

,

2021

Named a Gold Client Champion attorney by Martindale-Hubbell for 2021.

,

Gold Client Champion

,

Martindale-Hubbell

,

2021

Named an AV Preeminent Rating attorney by Martindale-Hubbell for 2020. The AV Preeminent Rating is the highest award given by Martindale-Hubbell, awarded to less than 5% of all lawyers.

,

AV Preeminent Rating

,

Martindale-Hubbell

,

2020

Named a Gold Client Champion attorney by Martindale-Hubbell for 2020.

,

Gold Client Champion

,

Martindale-Hubbell

,

2020

Selected as a Minnesota Super Lawyer, 2020

,

Super Lawyer

,

Super Lawyers

,

2020

Selected as a Rising Star by Super Lawyers, 2013 - 2018

,

Rising Star

,

Super Lawyers

,

2018

Selected as a Rising Star by Super Lawyers, 2013 - 2018

,

Rising Star

,

Super Lawyers

,

2017

Selected as a Rising Star by Super Lawyers, 2013 - 2018

,

Rising Star

,

Super Lawyers

,

2016

Selected as a Rising Star by Super Lawyers, 2013 - 2018

,

Rising Star

,

Super Lawyers

,

2015

Selected as a Rising Star by Super Lawyers, 2013 - 2018

,

Rising Star

,

Super Lawyers

,

2014

Selected as a Rising Star by Super Lawyers, 2013 - 2018

,

Rising Star

,

Super Lawyers

,

2013
Pro bono/Community Service:
Volunteer, United States District Court's Pro Se Project

,

2022

Member, Twin Cities Cardozo Society, Steering Committee

,

2022

Urban League Legal Aid Clinic

,

2022

Volunteer, United States District Court's Pro Se Project

,

2021

Volunteer For VANTAGE​ for Minnetonka High School Advanced Professional Studies

,

2022

Urban League Legal Aid Clinic

,

2021

Member, Twin Cities Cardozo Society, Steering Committee

,

2021

Volunteer For VANTAGE​ for Minnetonka High School Advanced Professional Studies

,

2021

Volunteer For VANTAGE​ for Minnetonka High School Advanced Professional Studies, 2019-2020

,

2020

Volunteer, United States District Court's Pro Se Project, 2008-2020

,

2020

Member, Twin Cities Cardozo Society, Steering Committee, 2016 - 2020

,

2020

Urban League Legal Aid Clinic, 2007-2020

,

2020

Children's Hospitals and Clinics of Minnesota Children's Council, 2017 - 2019

,

2019

Mini-Hops Gymnastics, Board Member, 2015 - 2016

,

2016
Industry Groups:
Banking Litigation
Business Litigation
Commercial Litigation
FINRA Arbitration
Lending Litigation
Securities Litigation
Office location for Jesse Kibort
888 Colwell Building
123 North Third Street
Minneapolis, MN 55401
Phone: 612-355-4100
Selections
Super Lawyers: 2020 - 2023
Rising Stars: 2013 - 2018
Additional sources of information about Jesse Kibort
Attorney resources for Jesse Kibort