Rebekah L. Bailey
Top rated Employment Litigation attorney in Minneapolis, Minnesota
Nichols Kaster, PLLP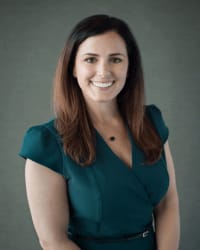 Nichols Kaster, PLLP
Practice Areas: Employment Litigation, Class Action & Mass Torts, Civil Rights view more
Licensed in Minnesota since: 2008
Education: University of Minnesota Law School

Selected to Super Lawyers: 2014 - 2023
Details
Rebekah L. Bailey is a tireless advocate committed to civil rights, social justice, and confronting fraud, waste, and abuse.  She primarily represents whistleblowers and groups of employees, students, and consumers across the country in complex qui tam actions, as well as class and collective action lawsuits, confronting discrimination, government fraud, wage theft, and unfair business practices.  She also assists employees with individual disputes, defending professional clients with licensing issues or contract negotiations, and alleging claims of discrimination, sex harassment, and denial of benefits. Whether false claims, civil rights, employment, or consumer cases, through individual and class representation, Rebekah helps everyday people find their voice through legal action.
Rebekah has dedicated her practice to the representation of everyday people. Rebekah focuses primarily on complex litigation, including qui tam actions, as well as class and collective action litigation and vigorously advocates for large groups of employees and consumers throughout the country.  She has over a decade of experience litigating cases in court and arbitration, successfully first chairing a bench trial and defeating primary affirmative defenses through summary judgment on multiple cases.  She has spoken at national conferences on various topics such as electronic discovery, arbitration, equal pay, and various wage and hour issues.  Rebekah is a founding member of the firm's Civil Rights and Impact team and Consumer Class Action Group, and she has also served as a member of the firm's National Wage and Hour Team.  She leads the firm's e-discovery committee. 
Rebekah has been committed to helping those in need throughout her career.  Rebekah volunteers through Mid-Minnesota Legal Aid's Housing Court ERP Project, helping tenants remain in their homes and obtain expungements of eviction actions.  In law school, she served as the executive editor of the Journal of Law and Inequality. She previously volunteered with the Michigan Migrant Legal Assistance Project, a non-profit legal organization that provides legal services to indigent migrant farm workers while focusing on wage and hour and landlord/tenant disputes.  Rebekah also teaches practical lawyering skills to law students at the University of Minnesota. 
Practice areas
Employment Litigation: Plaintiff, Class Action/Mass Torts: Plaintiff, Civil Rights, Consumer Law, E-Discovery

First Admitted: 2008, Minnesota

Professional Webpage: https://www.nka.com/our-people/rebekah-bailey.html

Honors/Awards:
Named one of "The Best Lawyers in America", 2022-2023

,

Named one of "The Best Lawyers in America", 2022-2023

,

Best Lawyers

Rated a top lawyer in Minnesota

,

Minnesota Super Lawyer, 2014-2022

,

Minneapolis/St. Paul Magazine, and Twin Cities Business

Rated among a stellar collection of lawyers from coast to coast who have dedicated their careers to protecting workers and unions.

,

500 Plaintiff Employment Lawyers Guide, 2018-2022

,

Lawdragon

Received a top distinction in the labor law and employment concentration at the University of Minnesota.

,

Award of Excellence in Labor and Employment Law

,

ABA-Bloomberg BNA
Educational Background:
Grand Valley State University, B.S. in Poliitical Science, Magna Cum Laude

,

2004

University of Minnesota Law School, Juris Doctor, Magna Cum Laude Concentration in Labor and Employment Law

,

2008
Verdicts/Settlements:
Class Certification: Norris-Wilson v. Delta-T Group, Inc., 270 F.R.D. 596 (S.D. Cal. 2010) (granting Rule 23 class certification of a group of allegedly misclassified independent contractors in a wage and hour case pursuant to California state law),

2010

Class Certification: Dunham-Sunde v.l The Copper Hen Cakery, No. 27-CV-17-17288 (Minn. Dist. Ct., Aug. 28, 2018)

,

2018

Affirmative Summary Judgment:  Henderson v. 1400 Northside Drive, Inc., No. 1:13-cv-3767, 2016 WL 3125012 (N.D. Ga. June 3, 2016) (granted in part Plaintiffs' affirmative motion for summary judgment on the issues of: (1) whether the owner qualified as a joint employer, (2) the viability of the defendants' counterclaims, and (3) whether minimum wage damages includes recovery of unlawful kickbacks paid by the employee to the employer),

2016

Affirmative Summary Judgment: Vaughan v. M-Enterm't Props., LLC, No. 1:14-CV-914 (N.D. Ga. Mar. 15, 2016) (granting in part exotic dancer plaintiffs' affirmative motion for summary judgment on the issues of (1) whether entertainers qualify as employees under the FLSA, (2) whether related entity defendants qualified as joint employers, (3) the viability of the defendants' offset defense, and (4) the viability of the defendants' counterclaims),

2016

Maltreatment Determination: In re Fiola, OAH No. 58-1800-22257-2 (Minn. Office of Admin. Hearings, Mar. 30, 2012) (providing a recommendation to the Department of Human Services, which it subsequently adopted, that its previous determination of maltreatment, disqualification, and revocation against a licensed childcare provider be rescinded and reversed following a hearing before the administrative law judge),

2012

Class certification:  Spar v. Cedar Towing & Auction, Inc., Case No. 27-CV-11-24993 (Minn. Dist. Ct., Oct. 16, 2012) (certifying a class of approximately six thousand consumers, who were allegedly charged illegal towing fees by the defendant),

2012
Pro bono/Community Service:
Mid-Minnesota Legal Aid's Housing Court ERP Project, Volunteer, 2018 to Present

,

2019
Bar/Professional Activity:
Working Group 1 Committee Member, The Sedona Conference, 2017-present

,

2019

U.S. District Court – District of Colorado

National Employment Lawyers Association, Member of the National and Minnesota and California (CELA) Chapters

,

2019

ABA FLSL Standing Committee Liaison to ABA/LEL CLE Coordinating & Resources Committee, 2017-present

,

2019

ABA Vice Chair of the Treatise Committee for the ABA/LEL Section, 2018-present

,

2019

ABA FLSA Subcommittee, Annual Midwinter Report Associate Chapter Editor, 2014 to present

,

2019

ABA FLSA Subcommittee, Annual Midwinter Report Contributor, 2011-2014

,

2014

American Bar Association, Member

,

2019

Federal Bar Association, Member

,

2019

Practitioner Instructor for Law in Practice series, University of Minnesota School of Law, 2017 to the present

,

2019

Alumni Advisory Committee for the Journal of Law & Inequality, Board Member, 2011-2014

,

2014

Minnesota State Bar Association, Member

,

2009

State Bar of California, Member

,

2008

Minnesota Supreme Court, admitted

,

2009

California Supreme Court, admitted

,

2008

U.S. Court of Appeals for the Ninth Circuit, admitted

U.S. Court of Appeals for the Sixth Circuit, admitted

U.S. District Court – District of Minnesota

U.S. District Court – Eastern District of Wisconsin

U.S. District Court - Western District of Wisconsin, admitted

U.S. District Court - Northern District of California, admitted

U.S. District Court - Eastern District of California, admitted

U.S. District Court - Southern District of California, admitted

U.S. District Court - Central District of California, admitted

U.S. District Court – Western District of Tennessee

U.S. District Court - Western District of Texas, admitted

U.S. District Court - Eastern District of Michigan
Scholarly Lectures/Writings:
"What Is New in the World of Equal Pay Act Case Law

,

"What Is New in the World of Equal Pay Act Case Law"

,

ABA-LEL FLSL Midwinter Meeting

,

2022

"Primer on Crafting eDiscovery Requests with 'Reasonable Particularity"

,

"Primer on Crafting eDiscovery Requests with 'Reasonable Particularity"

,

The Sedona Conference

,

2022

"Everything But the Kitchen Sink? Conducting Effective and Efficient Written Discovery"

,

"Everything But the Kitchen Sink? Conducting Effective and Efficient Written Discovery"

,

Minnesota CLE New Lawyer Experience

,

2022

"Update on the Equal Pay Act and Age Discrimination in Employment Act,"

,

"Update on the Equal Pay Act and Age Discrimination in Employment Act,"

,

ABA-LEL FLSL Midwinter Meeting

,

2021

"David vs. Goliath: Strategies for Successfully Obtaining and Conducting Discovery in Asymmetrical Litigation"

,

"David vs. Goliath: Strategies for Successfully Obtaining and Conducting Discovery in Asymmetrical Litigation"

,

Georgetown Advanced eDiscovery Institute, Washington, D.C., 2021

,

2021

"Privilege Logs in Today's Digital World: Time to Reassess?"

,

"Privilege Logs in Today's Digital World: Time to Reassess?"

,

Meeting of the Sedona Conference Working Group 1

,

2021

"Do the Right Thing: How to Conduct Cost-Effective & Ethical E-Discovery"

,

"Do the Right Thing: How to Conduct Cost-Effective & Ethical E-Discovery"

,

ABA Virtual Institute on E-Discovery: Forensics, Data Retention and Discovery Responses

,

2021

"Electronic Discovery 2020 Case Law Review,"

,

"Electronic Discovery 2020 Case Law Review,"

,

Driven Webinar

,

2021

"Brick-by-Brick: The Case for Foundational Discovery" 68 Federal Lawyer 1, at 34 (Jan./Feb. 2021)

,

"Brick-by-Brick: The Case for Foundational Discovery"

,

68 Federal Lawyer 1, at 34 (Jan./Feb. 2021)

,

2021

"The New Normal: Producing and Obtaining Phone Data", Virtual Complex Litigation eDiscovery Forum, 2020.

,

"The New Normal: Producing and Obtaining Phone Data"

,

Virtual Complex Litigation eDiscovery Forum, 2020

,

2020

"Everything But the Kitchen Sink? Conducting Effective and Efficient Written Discovery", Minnesota CLE New Lawyer Experience, Minneapolis, MN 2020.

,

"Everything But the Kitchen Sink? Conducting Effective and Efficient Written Discovery"

,

Minnesota CLE New Lawyer Experience, Minneapolis, MN 2020

,

2020

"eDiscovery Case Law Update: Cooperation, Proportionality, and Data Security", 14th Annual Sedona Conference Institute: eDiscovery, Data Privacy, and Security, St. Louis Missouri, 2020.

,

"eDiscovery Case Law Update: Cooperation, Proportionality, and Data Security"

,

14th Annual Sedona Conference Institute: eDiscovery, Data Privacy, and Security, St. Louis Missouri, 2020

,

2020

"Anatomy of a Document Request Response in 2020 (It's Not as Easy as it Looks!)", ABA Virtual Institute on E-Discovery: Forensics, Data Retention and Discovery Responses, 2020.

,

"Anatomy of a Document Request Response in 2020 (It's Not as Easy as it Looks!)"

,

ABA Virtual Institute on E-Discovery: Forensics, Data Retention and Discovery Responses, 2020

,

2020

Sedona Conference Working Group 1 Virtual Town Hall on ESI Protocols, 2020.

,

Sedona Conference Working Group 1 Virtual Town Hall on ESI Protocols, 2020

,

Sedona Conference

,

2020

Discussed factors every employer should keep in mind when compensating its employees—specifically how law firms can ensure they are in compliance with the Equal Pay Act and Title VII.  

,

Panelist

,

"How Do We Keep Women Practicing Law?"

,

Hennepin County Bar Association, Minneapolis MN

,

2019

"Crafting eDiscovery Requests with Specificity", The Sedona Conference Working Group 1 Midyear Meeting, Charlotte, North Carolina, 2019.

,

"Crafting eDiscovery Requests with Specificity"

,

The Sedona Conference Working Group 1 Midyear Meeting, Charlotte, North Carolina, 2019

,

2019

"The Big Impact of the New Amended Minnesota Rules of Civil Procedure - 7 Ways They are Changing Discovery Practice", MN-CLE's Strategic Solutions for Solo & Small Firms Conference, Duluth, Minnesota, 2019.

,

"The Big Impact of the New Amended Minnesota Rules of Civil Procedure - 7 Ways They are Changing Discovery Practice",

,

MN-CLE's Strategic Solutions for Solo & Small Firms Conference, Duluth, Minnesota, 2019.

,

2019

"But I've Always Done It This Way: Tips for More Effective Documents Requests and Responses", Seminar for the Minnesota Chapter of the Federal Bar Association, Minneapolis, Minnesota 2019.,

"But I've Always Done It This Way: Tips for More Effective Documents Requests and Responses", Seminar for the Minnesota Chapter of the Federal Bar Association, Minneapolis, Minnesota 2019.

,

2019

"So-Called 'Discovery on Discovery'", Complex Litigation eDiscovery Forum, Minneapolis, Minnesota 2019.

,

"So-Called 'Discovery on Discovery'", Complex Litigation eDiscovery Forum, Minneapolis, Minnesota 2019.

,

2019

Explored the strategic considerations for bringing and defending against equal pay act collective actions.

,

Panelist

,

"Anatomy of an Equal Pay Act Class and Collective Action"

,

ABA/LEL FLSL Committee Midwinter Meeting, Playa del Carmen

,

2019

Examined what "reasonable particularity" means as found in Rule 34 and how to employ it

,

Dialogue Leader

,

"Crafting eDiscovery Requests with Specificity"

,

The Sedona Conference Working Group 1 Midyear Meeting, Charlotte North Carolina

,

2019

Explored how litigators may break old discovery habits and identified more effective practices for drafting and responding to document requests with reasonable particularity so to promote the exchange of relevant and proportionate information and the "just, speedy, and inexpensive determination" of the case.

,

Panelist

,

"But I've Always Done It This Way: Tips for More Effective Documents Requests and Responses"

,

Seminar for the Minnesota Chapter of the Federal Bar Association, Minneapolis, MN

,

2019

Examined how informal discovery and so-called "discovery on discovery" have been fairing following the 2015 amendments to the Federal Rules of Civil Procedure.

,

Dialogue Leader

,

"So-Called 'Discovery on Discovery'"

,

Complex Litigation eDiscovery Forum, Minneapolis MN

,

2019

Discussed effective, efficient discovery with two magistrate judges.

,

Moderator

,

"A Practical Guide to Early Discovery"

,

Minnesota CLE's Quick-Draw Litigation Seminar, Minneapolis, MN

,

2019

Identified important changes to the Minnesota Rules of Civil Procedure enacted in 2018, which mirror changes made to the Federal Rules in 2015, invoking federal case law to suggest the impact that such changes may also have on discovery practice in state court.

,

Panelist

,

"The Big Impact of the New Amended Minnesota Rules of Civil Procedure - 7 Ways They are Changing Discovery Practice"

,

Minnesota CLE's Strategic Solutions for Solo & Small Firms Conference, Duluth Minnesota

,

2019

Discussed e-discovery dos and don't with plaintiffs' lawyers.

,

Moderator

,

"Practical E-Discovery Strategies for the Plaintiff's Lawyer"

,

8th Circuit NELA's Biannual Conference, Minneapolis, MN

,

2018

Engaged in a detailed discussion about how to make the most out of the initial discovery conference in federal court.

,

Panelist

,

"ESI & The Rule 26 Conference:  Everything You Need to Know"

,

NELA's Spring Conference: ESI & Technology for the Plaintiff's Employment Lawyer, Vienna, Virginia

,

2018

Discussed strategic litigation in arbitration.

,

Panelist

,

"Arbitration Strategy and Tactics"

,

Upper Midwest Employment Law Institute, St. Paul, MM

,

2018

Explained the bankruptcy process to wage and hour attorneys.

,

Panelist

,

"The Scourge of Bankruptcy: Successful Strategies to Collect Judgments & Prevent Employers from Dissipating Assets"

,

NELA's Litigating Wage & Hour Cases: Challenges and Opportunities Conference, Silver Spring, MD

,

2017

Addressed the Recent Rapid Rise in Equal Pay Class Actions, Understanding and Mastering the Unique Nuances of These Cases and Mitigating Your Litigation Risks.

,

Co-Presenter

,

"Effective Strategies for Equal Pay Litigation"

,

ACI's 30th National Forum on Wage & Hour Claims and Class Actions, New York NY

,

2017

Discussed arbitration strategy with a management-side attorney and an arbitrator.

,

Panelist

,

"The Do's and Don'ts of Employment Arbitrations"

,

Hennepin County Bar Association

,

Minneapolis, Minnesota

,

2017

Discussed the fate of the Overtime Regulations, Administrator Interpretations and Opinion Letters, and Enforcement Priorities.

,

Co-Presenter

,

"Trump Administration's Wage and Hour Priorities"

,

PLI's Webinar

,

2017

Explored the varioud tests for employee status under different laws and the changing nature of the evaluation with today's gig economy.  

,

Panelist

,

"The Changing Nature of Independent Contractor vs. Employee, and Who Is a Joint Employer in the Gig Economy?"

,

Minnesota CLE's Labor & Employment Institute, Minneapolis, MN

,

2017

Provided in-house counsel with a plaintiff-lawyer perspective on wage and hour cases.

,

Co-presenter

,

"Wage and Hour Class Actions for the Small to Mid-Size Employer: Untangling the Gordian Knot"

,

Employment Law for the Mid-Market Employer

,

Briggs & Morgan, PA

,

2016

Explained the anatomy of a wage and hour case.

,

Panelist

,

"The Intersection of Wage & Hour and EPLI"

,

ACI's 24th National Conference on Employment Practices Liability Insurance, New York, NY

,

2016

Discuss the discovery process with new lawyers.

,

Speaker

,

"Everything But the Kitchen Sink? Conducting Effective & Efficient Written Discovery"

,

The New Lawyer Experience: Minnesota CLE

,

2015

Discussed Busk v. Integrity Staffing and it's impact on wage claims moving forward.

,

Co-Presenter

,

"Required Without Pay: Deconstructing Busk v. Integrity Staffing"

,

MSBA Labor & Employment Section, MN

,

2015

Disscussed strategy of making and responding to Rule 68 offers.

,

Panelist

,

"The Carrot and the Stick: How to Effectively Use Rule 68 Offers and When to Reject Them"

,

Federal Bar Association's Annual Meeting and Convention, Salt Lake City, UT

,

2015

Discussed arbitration of wage and hour cases.

,

Panelist

,

"Arbitration on the Wage & Hour Front: Tips, Strategies and Best Practices"

,

ACI's 25th National Forum on Wage & Hour Claims and Class Actions, San Francisco, CA

,

2015

Explored the use of the independent contractor classification in the erotic dancer industry.

,

Speaker

,

"Making It Rain:  High Stakes Exotic Dancer Litigation in Federal Court."

,

Federal Bar Association, Webinar CLE Series

,

2014

Discussed helpful litigation hacks.

,

Co-Presenter

,

"20 Tips to Make Litigation Practice Just a Little Easier."

,

Strategic Solutions for Solo and Small Firms Conference, Duluth, MN

,

2013

Discussed the case law since the Supreme Court ruling in AT&T Mobility v. Concepcion.

,

Speaker

,

"Class Action Waivers in Arbitration Agreements:  The state of the law one year after AT&T Mobility v. Concepcion, 131 S. Ct. 1720 (2011)."

,

Hennepin County Bar Association, Minneapolis, MN

,

2012

Discussed the elements of various employment law claims.

,

Co-Presenter

,

"Your Boss Did What? Employment Law 101 and the ABC's of Finding a Good Case."

,

Strategic Solutions for Solo and Small Firms Conference, Duluth, MN

,

2012

A panel of experienced practitioners share insights into this challenging aspect of your practice

,

Panelist

,

"Dealing with Difficult Opposing Counsel"

,

Strategic Solutions for Solo and Small Firms Conference, Duluth, MN

,

2012
Industry Groups:
Consumers
Employees
Prisoners
Students
Whistle blowers
Selections
Super Lawyers: 2014 - 2023
Additional sources of information about Rebekah L. Bailey
Attorney resources for Rebekah L. Bailey