James Ashley Ogden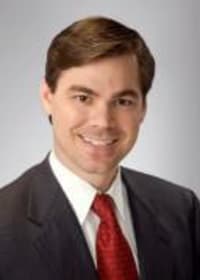 Attorney Profile
Top Rated Personal Injury Attorney in Jackson, MS
Phone: 601-969-0999
Fax: 601-969-0089
Selected To Super Lawyers:
2011 - 2020
Practice Areas:
Personal Injury - General: Plaintiff (80%),
Personal Injury - Products: Plaintiff (10%),
Consumer Law (10%)
Attorney Profile
Mr. Ogden's practice focusses on representing consumers and victims who have been injured due to the negligence of corporations and insurance carriers. He specializes in 18 wheeler, premises liability, auto accident and products liability litigation and appellate practice. He focusses on taking cases to trial to use the verdicts to educate the community and change the policies of the wrongdoer to be more consumer friendly.
About James Ogden
Admitted: 1994, Mississippi
Professional Webpage: http://pview.findlaw.com/view/2215280_1
Honors/Awards:
Trial lawyer of the year

, Mississippi Trial Lawyers Association,

2003

For continued success in representing the ideas of Mississippi Association of Justice.

,

Stone Pony Award

, Mississippi Association for Justice,

2006

in recognition for going beyond the call for participating in and contributing to the Mississippi Association for Justice (Formerly MTLA)

,

Stalwart Award

, Mississippi Association for Justice,

2005
Bar/Professional Activity:
 Charles Clark Inns of Court- Bencher

 Mississippi Bar

 Mississippi Association for Justice- lifetime member

Magnolia Bar

 American Association for Justice- member

 CABA- Capitol Area Bar Association
Pro bono/Community Service:
Poindexter Elementary School - mentor/sponsor

 Take Back Jackson Crime Patrol- Founder

Special Prosecutor Hinds County
Verdicts/Settlements:
Joe Doe pedestrian v. Auto. Settlement.  $100,000.00

,

2014

John Doe v. Apartment Complex. Settlement $900,000.00

,

2020

Jane Deo v. Apartment Complex. Settlement $850,000.00

,

2020

Doran Parker v. Shell Food Mart. Settlement. $850,000.00

,

2020

Minor Child v. Hotel, pool incident. Settlement. $240,000.00

,

2019

Jane Doe v. Apartment Complex. Settlement. $400,000.00

,

2019

John Doe v. Apartment Complex. Settlement. $500,000.00

,

2019

Jane Doe v. apartment complex. Settlement. $650,000.00

,

2019

Jane Doe  v. Company premises, settlement. $750,000.00

,

2019

John Doe v. company truck. settlement $850,000.00

,

2019

John Doe v. Company vehicle. Auto Accident. Settlement. $6,000.000.00

,

2019

John Doe v. Doe Company, auto wreck, settlement $100,000.00

,

2019

Trip and fall, Settlement, $220,000.00

,

2019

Julius Sutton v. Covington Park, LEDIC mang. Settlement, $480,000.00

,

2019

Qualana Turner v. Covington Park, Settlement, $720,000.00

,

2019

Chasity Armstrong v. The Grove Apts, New Horizons Mangmt, Settlement, $750,000.00

,

2019

Ken Dawson v. Guest House at Graceland, Tennessee, Settlement, $770,000.00

,

2019

Bowen v. Cameron Park Apts. settlement $500,000.00

,

2018

Carnesha Easterling v. Highland Park, Settlement, $600,000.00

,

2018

Jane Doe v. Restaurant, slip and fall, settlement, $800,000.00

,

2018

Herron v. Hamilton, Auto, Settlement, $250,000.00

,

2018

Minor child 1 and 2 v. Aparment Complex, settlement, $425,000.00

,

2018

Young and Henry Estate v. Corporation, auto, Settlement, $800,000.00

,

2018

Jane Doe v. Reserve of Jackson, settlement, $916,000.00

,

2018

Winstead v. Sunset Plaza Apts. Settlement $495,000.00

,

2018

Carter v. Cedarstone Apts, settlement, $512,000.00

,

2018

Jane Doe v. John Doe Company, auto, settlement $1,200,000.00

,

2018

Stoval v. Apartment Complex, settlement, $190,000.00

,

2018

Mahagony Lewis v. Arlington, Town Hill. $300,000.00. Settlement

,

2017

Michael Gordon v. The Crossings. Settlement $500,000.00. 

,

2017

Claude Crogier v. Heritage Properties, The Crossings. $3,100,000.00. Trial Verdict (Janaury 2017)

,

2017

Diann Moton v. Climate King and Brian Leguire.  $2,220,000.00. Trial Verdict (August 2017)

,

2017

Jane Doe v. Corporate Defendant, settlement -, $650,000.00

,

2017

John Doe v. Doe Company, $1,088,000.00. Defective Product. Settlement.

,

2017

Amandia Byrd v. Arlington Prop et al. Settlement. $450,000.00

,

2017

K.G. Minor et al v. Timber Ridge Apts. Settlement. $330,000.00

,

2017

Emma Kitchens et al v. Woodlands Apts Heritage Manage. Settlement $400,000.00

,

2016

Amos v. Fuel Time et al, $780,000.00, settlement

,

2016

Washington Estate v. RAIT, $800,000.00, settlement. 

,

2016

Vincent Little v. CMRG Lamar and Tight Net Protective Secuirty (Tennessee). Verdict. $750,000.00

,

2016

Craig Kincaid vs. Johnson's Foods, Inc. dba Dairy Queen Brazier. Settlement. $400.000.00      ,

2016

Kandance Knight v. Town Hill Apts. Arlington Prop. Settlement $500,000.00.

,

2016

Earl Ladner v. Jasmir Bath et al. $675,000.00.

,

2016

Estate of Conway Manus et al v. Webster County, Settlement $1,000,000.00

,

2015

Deloris and Lee Eggerson v. LaQuinta Hotels, Inc. Settlement, $150,000.00

,

2015

Estate of Melinda Clark v. City of Ridgeland, Settlement $300,000.00

,

2015

Tiffany Clark v. Arlington Properties, The Park at Moss Creek, Verdict $1,000,000.00

,

2015

 Connie Sherriff et al v. Maywood Foods, Inc dba McDades, Settlement $425,000.00 ,

2015

Rhonda Alexander v. The Kroger Company, Settlement $700,000.00

,

2015

Huffman v. K.C. Transport, Settlement $275,000.00

,

2015

Dwight English for Coleman Estate v. Rebelwood. Settlement $750,000.00

,

2014

Tiffany Brown v. Elton Park Apartments. Settlement $500,000.00

,

2014

Donald Raglin v. MJT Trucking. Settlment $200,000.00

,

2014

Estate of Jacob v. Doe Driver, Settlement $600,000.00

,

2014

Edward Runnels v. Tahsin Industries. Settlement $725,000.00 

,

2014

John Doe v. John Doe Corporation. settlement $300,000.00

,

2014

Jane Doe v. John Doe Bus Company. Settlement $1,475,000.00

,

2014

Christopher Moore v. Interstate Realty Management Company. settlement $350,000.00

,

2014

Nelda Boone v. 850 Lindbergh Apartment, LLC. settlement $260,000.00

,

2014

Sayidah Phillips v. 850 Lindbergh Apartment. settlement $300,000.00

,

2014

Ciarra Robinson for Dual Lamont Williams v. Highland Square, LLC. Settlement $300,000.00

,

2014

John Doe v. Jack Doe Aparment Complex. Settlement 1 million

,

2013

Mashetta Simpson v. Walgreens Co. et al. Settlement $400,000.00

,

2013

Jane Doe v. The Pines and B and B Management. Settlement $1,050,000.00.

,

2013

Earlbon Hunter v. Intown Lessee Associates, LLS et al. Settlement 1.7 million

,

2013

Alberto Arevelo v. The Crossings and Heritage Properties. settlement 1.5 million

,

2012

Francis Bozeman v. Fleet Morris Petroleum. settlement $100,000.00

,

2012

Willie Mabry v. Heritage Properties. settlement $720,000.00

,

2012

Tolanda Jones v. Cedarstone Apt.and Kirkland Management. settlement 1,650,000.00

,

2012

Harrison v. LMA North America, Verdict $874,000.00, sexual harrassment case

,

2011

Jane Doe v. Heritage Properties and Shadowbrook Apt. Settlement 1 million

,

2011

Michael Howard and Shannon Poole v. Inn Town Suites et al. 4 million verdict affirmed by Ms. Sup. Ct.

,

2011

Kim Mullis v. Webb Park Apts. Settlement 2.2 million

,

2011

Amy Smith v. Kroger. verdict $112,000.00

,

2011

Janel Demuth-Closs v. Victor Quinter. settlement $720,000.00

,

2011

Kim Mullis v. Southern Management Group. settlment 2.2 million

,

2011

Benny Ohazurike et al v. Parham Pointe, Ballard Realty et al., verdict 3.6 million

,

2010

Megan Durr v. MSB Construction, verdict 2.9 million

,

2010

Baby Jane and Baby John Doe v. LQ Management, verdict 5.6 million

,

2010

Dwight Robinson v. Bailey Lumbar. Trial Verdict 1.5 million  

,

2010

Michael Howard and Shannon Poole v. InnTown Suites et al. Verdict 4 million.

,

2009

Linda Knox v. Kroger. verdict 2.5 million

,

2009

Scott Marble v. Deviney Construction. verdict 2.5 million

,

2009

Dwight English v. Rebelwood Apts. verdict- 3 million

,

2009

Ernie Fortune v. McDonalds et al. verdict 1 million

,

2009

Wilson Thomas v. Apartments, Settled, $225,000.00

,

2008

Sibley v. Contract Freight, Settlement, $250,000.00

,

2008

Coleman v. Express Lane, Settlement, $675,000.00

,

2008

Estate v. Corporation, verdict $530,000.00

,

2008

Estate of Bridges v. Enterprise Co. verdict 4.1 million.

,

2007

Marcie Williams v. Day Detectives- verdict 1.5 million

,

2007

Albert James v. Lipscomb Oil Company- Verdict 2 million

,

2006

Martinez v. Tres Amigos et al- verdict 5 million actual and 4 million punitive

,

2006
Representative Clients:
clients are individuals, no business or corporate clients
Industry Groups
American Association For Justice
Mississippi Association For Justice
Additional Sources of Information About James Ashley Ogden
Show More
James Ashley Ogden:
Last Updated: 7/30/2020