William E. Peterson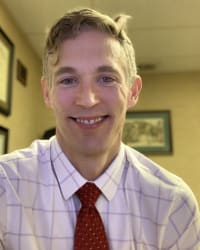 Attorney Profile
Top Rated Personal Injury Attorney in Neosho, MO
Phone: 417-658-1131
Fax: 417-451-9581
Selected To Rising Stars:
2015 - 2020
Practice Areas:
Personal Injury - General: Plaintiff (40%),
Workers' Compensation: Claimant (20%),
General Litigation (10%),
Estate & Trust Litigation (10%),
Civil Litigation: Plaintiff (10%),
Business/Corporate (10%)
Attorney Profile
A partner of Wood & Peterson, LLC, Will Peterson divides his practice primarily between personal injury litigation and workers' compensation claims and appeals. His firm is located in Neosho and Joplin, Missouri, and he represents clients throughout the greater Joplin metropolitan area. Mr. Peterson has been admitted to practice before all Missouri state courts since 2010, and he became admitted to practice before the U.S. District Courts for the Eastern and Western Districts of Missouri in that year as well.
In his personal injury and wrongful death litigation practice, Mr. Peterson assists people who have been seriously harmed due to the negligence of other parties. He has worked on cases involving motor vehicle crashes, construction site accidents, premises liability, nursing home abuse and dangerous products. Throughout his career, Mr. Peterson has been able to obtain significant compensation for his plaintiff clients through jury verdicts and negotiated settlements.
Mr. Peterson has achieved equally superior results in his workers' compensation practice, in which he has represented people who have been injured on the job and who are seeking their rightful benefits under their employer's insurance coverage. In addition to helping these clients with the preparation and timely submission of their required claim documentation, he has appeared in court and before the applicable state agency when the claims have been delayed or denied, and here as well, his clients have greatly benefitted from his skills.
Mr. Peterson attended the University of Missouri School of Law, and he earned numerous awards and honors for his academic achievements before being awarded his Juris Doctor and being inducted into the Order of the Coif in 2010. He has been included in the list of Missouri's Top 10 Personal Injury Attorneys Under Age 40 by the National Academy of Personal Injury Attorneys.
Practice Areas
40%

Personal Injury - General: Plaintiff

20%

Workers' Compensation: Claimant

10%

General Litigation

10%

Estate & Trust Litigation

10%

Civil Litigation: Plaintiff

10%

Business/Corporate
Focus Areas
Motor Vehicle Accidents, Personal Injury - Plaintiff, Slip and Fall, Wrongful Death, Dram Shop Laws, Construction Accident, Brain Injury, Sexual Abuse - Plaintiff, Toxic Mold, Trucking Accidents, Premises Liability - Plaintiff, Litigation, Will Contests, Contracts, Business Organizations
Selections


Rising Stars: 2015 - 2020
Email Me
To: William E. Peterson
Super Lawyers: Potential Client Inquiry
Additional Sources of Information About William E. Peterson
About William Peterson
Admitted: 2010, Missouri
Professional Webpage: https://neoshoattorney.com/william-e-peterson/
Honors/Awards:
Order of the Coif: Awarded for high attainments in the study of law, University of Missouri Law School,

2010

Rising Star

, Super Lawyers
Clarence G. Strop Prize in Property for Best Work in Real Estate Transactions & Finance, University of Missouri Law School,

2009

CALI Excellence for the Future Award For Highest Grade: Adoption Law; Bioethics Seminar; Civil Procedure II; Criminal Procedure; Death Penalty Law; Employment Discrimination; Freedom of Speech; Jurisprudence; Pretrial Litigation; Professional Responsibility; Real Estate Transactions & Finance; Wrongful Convictions, University of Missouri Law School,

2010

Omicron Delta Kappa, University of Missouri,

2002

Outstanding Overall Contribution: Awarded to the candidate who has made the most valuable contribution to the Missouri Environmental Law & Policy Review, University of Missouri Law School,

2008

Magna Cum Laude Graduate, University of Missouri Law School,

2010

Pupil Member, Elwood L. Thomas American Inn of Court,

2009

"10 Best" Personal Injury Law Attorneys for Client Satisfaction in Missouri, The American Institute of Personal Injury Attorneys (AIOPIA),

2015

"10 Best" Personal Injury Law Attorneys for Client Satisfaction in Missouri, The American Institute of Personal Injury Attorneys (AIOPIA),

2016

John S. Divilbiss Prize for Best Work in Civil Procedure I & II Combined, University of Missouri Law School,

2008

Dean's List Every Semester, University of Missouri Law School,

2010

Fraternity President of Alpha Gamma Rho, University of Missouri,

2002

"Top 10 Under 40" Nationally Ranked for Excellence in the Field of Personal Injury, National Academy of Personal Injury Attorneys,

2017
Bar/Professional Activity:
Missouri Bar Courts Bulletin Reporter Tort Law (Southern District),

2019

Missouri Bar Tort and Transportation Law Legislative Review Committee,

2014

Neosho Rotary Club,

2019

Neosho Rotary Club,

2017

Missouri Bar Courts Bulletin Reporter Tort Law (Southern District),

2015

Neosho Rotary Club,

2018

Missouri Bar Civil Practice & Procedure Legislative Review Subcommittee,

2015

Missouri Bar Courts Bulletin Reporter Tort Law (Southern District),

2014

Missouri Bar Civil Practice & Procedure Legislative Review Subcommittee,

2014

Neosho Rotary Club,

2016

Jasper County Bart Association Treasurer,

2015

Missouri Bar Courts Bulletin Reporter Tort Law (Southern District),

2018

Missouri Bar Tort and Transportation Law Committee,

2015

Jasper County Bar Association Treasurer,

2014

Missouri Bar Tort and Transportation Law Committee,

2014

 Missouri Bar Courts Bulletin Reporter Tort Law (Southern District),

2016

Missouri Bar Courts Bulletin Reporter Tort Law (Southern District),

2017

Missouri Bar Civil Practice and Procedure Committee,

2015

Missouri Bar Tort and Transportation Law Legislative Review Committee,

2015

Missouri Bar Civil Practice and Procedure Committee,

2014
Pro bono/Community Service:
Rotary Club of Neosho,

2016

The Jefferson City Salvation Army Advisory Board

Assistant Municipal Judge of Neosho, Missouri,

2017

City Attorney of Seneca, Missouri,

2017

City Attorney of Seneca, Missouri,

2018

Rotary Club of Neosho,

2017

Assistant Municipal Judge of Neosho, Missouri,

2018
Scholarly Lectures/Writings:
Employer and Second Injury Fund Liability for PTD Benefits After January 1, 2014, Journal of The Missouri Bar,

2016
Verdicts/Settlements:
$30,293.80: Bryan Purcell v. Thermal Engineering International, Inc., et al., Injury No. 12-107562, Missouri Workers' Compensation Claim (Stipulation for Compromise Settlement in the amount of $30,293.80 for injury to the back),

2019

$42,594.54 + $206.86/week for life + Future Medical Care: Rick Adler v. Newton County, et al., Injury No. 14-039555, Missouri Workers' Compensation Claim (Award after final hearing against Employer/Insurer for permanent partial disability benefits and Second Injury Fund for permanent, total disability benefits in amount of $42,594.54 + ongoing weekly payments of $206.86 for client's lifetime + future medical care left open),

2019

$25,000.00: Amy O'Dell v. Freeman Health System, Injury No. 17-016225, Missouri Workers' Compensation Claim (Stipulation for Compromise Settlement in the amount of $25,000.00 for injury to left shoulder),

2019

$74,469.63: Robert Anderson v. Missouri Highway and Transportation, Injury Nos. 15-021847, 15-058527, & 15-085074, Missouri Workers' Compensation Claim (Stipulation for Compromise Settlement in the amount of $74,469.63 for injury to back, left hand, and left knee with payment for future medical expenses),

2019

$40,000.00: Ronald Bonebrake v. Simmons Foods, Inc., Injury No. 17-025988, Missouri Workers' Compensation Claim (Stipulation for Compromise Settlement in the amount of $40,000.00 for injury to right shoulder and left shoulder),

2019

$125,370.94 + $399.37/week for life: Donna Sanders v. Neosho Fiberglass, Inc., et al., Injury Nos. 13-004749 & 15-022040, Missouri Workers' Compensation Claim (Award after final hearing against Employer/Insurer for permanent partial disability benefits and Second Injury Fund for permanent total disability benefits in amount of $125,370.94 + ongoing weekly payments of $399.27 for client's husband),

2019

$25,553.82: Christopher Wojtowicz v. Newton County, et al., Injury No. 15-034424, Missouri Workers' Compensation Claim (Stipulation for Compromise Settlement in the amount of $25,553.82 for injury to right shoulder),

2018

$40,000: Harold Willis v. Simmons Foods, Inc., et al., Injury No. 16-026743, Missouri Workers' Compensation Claim (Stipulations for Compromise Settlement with Employer and Second Injury Fund in the amount of $40,000.00 for injury to left knee),

2018

$104,606.80 + $423.02/week for life + Future Medical Care + Past Medical Expenses Paid: Ronald J. Prisch v. Andrew J. Durbin d/b/a Durbin Drywall, et al., Injury No. 13-101812, Missouri Workers' Compensation Claim (Award after final hearing against Employer/Insurer for permanent, total disability benefits in amount of $104,606.80 + ongoing weekly payments of $423.03 for client's lifetime + future medical care left open + past medical expenses paid),

2018

$145,320.94 + $493.33/week for life + Future Medical Care: Audie Martin v. Simmons Foods, Inc., et al., Injury No. 11-059853, Missouri Workers' Compensation Claim (Award after final hearing against Employer/Insurer for permanent, total disability benefits in amount of $145,320.94 + ongoing weekly payments of $493.33 for client's lifetime + future medical care left open),

2018

$110,000.00: Settlement in breach of contract lawsuit pending in federal court worth estimated value of $110,000,

2016

$260,00.00: David Ducham v. United Home Insurance Company, et al., Case No. 17AP-CC00020, Circuit Court of Jasper County, Missouri (policy limits settlement of $260,000.00 in breach of insurance contract case after summary judgment motion filed),

2017

$330,000.00: Barbara LaPlante v. Jasper Products, LLC, et al., Injury No. 11-045128, Missouri Workers' Compensation Claim (Stipulation for Compromise Settlement with Employer in amount of $270,000.00 and with Second Injury Fund in amount of $60,000.00 for client's injury to back, bilateral extremities, and development of psychological injury),

2017

$31,000 + Attorney Fees + 10% Interest Judgment: Jillian Willis v. Robert L. Spoon, Case No. 16NW-CV00209, Circuit Court of Newton County, Missouri (bench trial judgment in breach of promissory note action for $31,000.00 in principal, attorneys fees, and 10% interest),

2016

$55,433.02: Aaron Allen v. Hillhouse Services, Inc., Injury No. 16-051539, Missouri Workers' Compensation Claim (Stipulation for Compromise Settlement in the amount of $55,433.02 for injuries to the low back),

2018

$110,000.00: Settlement in personal injury lawsuit involving injuries client suffered during May 22, 2011 Joplin tornado,

2014

Federal Court Grants Motion to Dismiss: Kier v. Lowery, 2017 WL 1015319 (N.D. Okla. March 15, 2017) (Representing defendant in federal lawsuit in Oklahoma and the federal court granted client's motion to dismiss for lack of jurisdiction),

2017

$21,766.25: Gary Harper v. Ruan Logistics Corp., Injury No. 16-086462 (Stipulation for Compromise Settlement in the amount of $21,766.25 for work-related knee injury),

2018

$40,000.00: Settlement for client in wrongful termination lawsuit,

2015

$60,000.00: William Blake v. RDX Technologies Corp., et al., Injury No. 14-028740, Missouri Workers' Compensation Claim (Stipulation for Compromise Settlement in the amount of $60,000.00 for injuries to the left lower extremity and future medical expenses),

2017

$70,000.00: Confidential settlement agreement reached through mediation in civil lawsuit arising from insurance agent malpractice,

2017

$225,000.00: Settlement in wrongful death proceeding worth estimated value of $225,000.00,

2015

$61,789.14: Filiberto Garcia v. Cardinal Scale Manufacturing Co., Injury No. 15-064678, Missouri Workers' Compensation Claim (Stipulation for Compromise Settlement in the amount of $61,789.14 for injuries to left ankle, right ankle, and body as a whole for psychological disability),

2017

Permanent Writ of Mandamus and Judgment: The Community Newspaper Holdings, Inc. d/b/a The Joplin Globe v. City of Joplin and Barbara Hogelin, Case No. 14AO-CC00050, Circuit Court of Jasper County, Missouri (2014) (Sunshine Law action in behalf of local newspaper wherein the Court ordered the release of documents to the newspaper and the favorable result was reported by the prestigious Columbia Journalism Review, a magazine for professional journalists published by Columbia University Graduate School of Journalism, as "A small paper scores an open-records win in a recovering city - The Joplin Globe's court victory forces an investigation's findings public before local election"),

2014

$168,390.28 + $792.48/week for life + Future Medical Care: Ron Mitchell v. Thermal Engineering Intl Inc., et al., Injury No. 11-101896, Missouri Workers' Compensation Claim (Award after final hearing against Employer/Insurer for permanent, total disability benefits in amount of $168,390.28 + ongoing weekly payments of $792.48 for client's lifetime + future medical care left open),

2017

$95,000.00: Settlement in personal injury lawsuit for shoulder injury client suffered after defendant pushed a bread-cart into his shoulder,

2016

$81,916.99: Raymond Brown v. Show Me Trucking & Freight, Injury No. 16-016676, Missouri Workers' Compensation Claim (Stipulation for Compromise Settlement with Employer in amount of $81,916.99 for 32-year-old truck driver's work-related injuries),

2018

Jury Trial Verdict: State v. Jones-Drake, Case No. 12AO-CR00278-01, Circuit Court of Jasper County, Missouri (2012) (jury trial conviction for felony unlawful use of weapon),

2014

$75,000.00: Roy Eisnaugle v. Milnot Corp/Eagle Family Foods, Inc., et al., Injury No. 06-119876, Missouri Workers' Compensation Claim (Stipulation for Compromise Judgment in the amount of $75,000.00 for injury to the body as a whole due to bilateral shoulder conditions),

2016

$750,000.00: Confidential settlement agreement reached through mediation in a civil lawsuit arising from a motor vehicle accident,

2018

$92,500.00: Settlement for clients in trespass/contamination lawsuit,

2014

$180,000.00: William Howerton v. Neosho R-V School District, et al., Missouri Workers' Compensation Claim (Stipulation for Compromise Settlement in the amount of $150,000.00 with Employer/Insurer and $30,000.00 with Second Injury Fund for injuries to right upper extremity, upper back, and development of psychological injury),

2017

$65,018.70: Bobby Beyer v. Fleet Pride, Injury No. 14-044188, Missouri Workers' Compensation Claim (Stipulation for Compromise Settlement in the amount of $65,018.70 from work-related injury to lower back and related psychological injury),

2018

$1,200,000.00:  Richard Campbell (deceased) v. Trees Unlimited, et al., Injury No. 11-033989, Missouri Workers' Compensation Judgment (Award after final hearing with value of over $1,200,000 before present value analysis),

2014

$310,000.00: Adolfo Garcia v. United Contractors Camacho Installations, Injury No. 12-062946, Missouri Workers' Compensation Claim (Stipulation for Compromise Settlement in amount of $310,000.00 for 37-year-old client's injury to right upper extremity plus the development of psychological injury),

2017

Directed Verdict: The Court entered a directed verdict in Will's client's favor at the conclusion of petitioner's evidence in a protective order hearing finding there was no basis for entering a protective order and vacating the previous entry of a temporary ex parte protective order,

2016

$100,000.00: Cathy Bennett v. Spring River Christian Village, Inc., Injury Nos. 12-086143 & 12-064558, Missouri Workers' Compensation Claim (Stipulation for Compromise Settlement in the amount of $100,000.00 for injuries to the right lower extremity),

2017

$779,623.74: Kary Youngblood v. Missouri Highway & Transportation Commission, et al., Injury Nos. 11-080888 and 11-111214, Missouri Workers' Compensation Judgment (Award after final hearing with value of over $775,000.00 before present value analysis),

2016

$74,165.00: Confidential settlement reached through mediation in civil lawsuit arising from motor vehicle accident,

2017

Jury Trial Verdict: State v. Blair, Case No. 11AO-CR01872-01, Circuit Court of Jasper County, Missouri (2011) (jury trial conviction for felony drug distribution involving transport of large amount of drugs from California to Joplin),

2014

$175,000.00: Jorge Garcia v. Packers Sanitation Services, Inc., et al., Injury No. 12-095890, Missouri Workers' Compensation Claim (Stipulation for Compromise Settlement in the amount of $175,000.00 for injuries to right arm, hand, wrist, and fingers and body as a whole for psychological condition),

2016

$43,113.02: Jay Wilkins v. Crowder College, Injury No. 16-009732, Missouri Workers' Compensation Claim (Stipulation for Compromise Settlement in the amount of $43,113.02 for injuries to bilateral shoulders),

2018

$200,000.00: Settlement in personal injury lawsuit for leg injuries trucker-client suffered while bales were being loaded on trailer with a tractor,

2015

$312,500.00: Carson Beets v. Gilster-Mary Lee Corp, et al., Injury No. 13-053355, Missouri Workers' Compensation Claim (Stipulation for Compromise Settlement in the amount of $312,500.00 for injuries to arms, legs, and developing psychological injury),

2017

$23,012.34: Juan Ortiz v. Murphy Family Ventures, LLC, Injury No. 16-019276, Missouri Workers' Compensation Claim (Stipulation for Compromise Settlement in the amount of $23,012.34 for work-related injury to bilateral eyes),

2018

$33,391.75: Sage v. Talbot Industries, et al., Case No. 14AO-CC00247, Circuit Court of Jasper County, Missouri (2015) (summary judgment in favor of client entitling him to $33,971.75 in interest owed on earlier workers' compensation award, which represented 100% of what was sought in proceeding),

2015

$301,548.43 + $704.00/week for life: Leon Finner v. Americold Logistics, LLC, et al., Injury No. 07-118819, Missouri Workers' Compensation Claim (Award after final hearing against Second Injury Fund for permanent, total disability benefits in amount of $301,548.43 + ongoing weekly payments of $704.00 for client's lifetime),

2017

$25,000.00 Policy Limits: Soft tissue injury from low-speed rear-end automobile accident settled for insurance policy limits,

2015

$31,754.49: James McCulley v. Onin Staffing, LLC, Injury No. 15-098389, Missouri Workers' Compensation Claim (Stipulation for Compromise Settlement in the amount of $31,754.83 for injuries to the left shoulder), 2017,

2017
Show More
William E. Peterson:
Last Updated: 2/10/2021