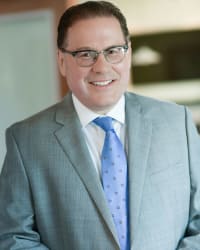 Bollwerk & Tatlow, LLC
Practice Areas: Personal Injury, Employment & Labor, Workers' Compensation; view more
Licensed in Missouri since: 1991
Education: Saint Louis University School of Law

Selected to Super Lawyers: 2014 - 2022
COVID-19 disclaimer:
Our office remains open, and in response to COVID-19 we have expanded our options for remote consultations and virtual meetings. Please contact our office to discuss what meeting option best fits your situation. Call 314-649-4771.

Virtual Appointments
Bollwerk & Tatlow, LLC
10525 Big Bend Road
St. Louis, MO 63122
Visit website
Details
An owner Partner at Bollwerk & Tatlow, LLC, Phillip A. Tatlow has developed a well-deserved reputation among his fellow attorneys as a premier civil litigator. He has received an AV Preeminent* peer review rating through Martindale-Hubbell and a 10.0 "Superb" peer review rating through Avvo for many years, and he has been named to The National Trial Lawyers: Top 100 Personal Injury Attorneys and the America's Top 100 High Stakes Litigators for Missouri (a $2,000,000 settlement or judgment is a prerequisite for consideration) and the Million Dollar and Multi-Millions Dollar Advocates Forum. Based in St. Louis, Missouri, Mr. Tatlow is admitted to practice in Missouri, Illinois and Wisconsin, and he is also admitted to practice before the U.S. District Court for the Eastern District of Missouri and the U.S. Court of Appeals for the 8th Circuit.
Mr. Tatlow focuses about 40% of his practice on ERISA litigation involving life, disability and accidental death cases in Federal Court. The other 60% of his practice involves personal injury litigation in trucking, automobile, premises liability and worker's compensation cases. He has been representing clients who have been harmed by the negligence of other parties in motor vehicle and trucking crashes, nursing home abuse, police misconduct, premises liability and worker's compensation matters since 1991. He has been able to obtain numerous sizable jury awards and has negotiated numerous settlements throughout his career. He has recovered results over one million and over two million dollars on a number of different cases, and this has resulted in his membership into the Million Dollar and the Multi-Million Dollar Advocates Forum and the America's Top 100 High Stakes Litigators. Mr. Tatlow represents many Union members in benefits and injury claims, but has also been hired by HR employees, corporate employees, Physicians, Doctors, Dentists, Attorneys and Insurance representatives when their own workers' compensation, ERISA disability, pension or life insurance claims are denied. He has obtained total disability benefits for orthopedic surgeons, foot surgeons, trial attorneys and even for a director of ERISA benefits who claimed that she was disabled and her fortune 500 company denied her disability claim. He has more recently been asked by out of state attorneys to handle ERISA cases against Ascension Health Care due to their venue selection clause saying that all cases against Ascension must be brought in the US District Court for the Eastern Division of Missouri.
About 40% of Mr. Tatlow's caseload involves the representation of employees and their family members who are members of group insurance plans governed by the Employee Retirement Income Security Act of 1974. The types of these ERISA plans have included life insurance, accidental death and long-term disability, and he has successfully handled lawsuits against many of the country's largest insurance companies that have delayed or denied his clients' claims, including Cigna Insurance Company (also called Life Insurance Company of North America), Liberty Mutual Insurance Company, Lincoln Life Insurance Company, Aetna Insurance Company, Provident Insurance Company, Great West Insurance Company, Prudential Insurance, Prudential Financial and The Hartford Financial Services Group, Inc.
In addition to his jury trial and bench trial courtroom successes in this part of his practice, Mr. Tatlow has also received many favorable results through arbitration and mediation. Many of the cases are confidential but have been fought in courts around Missouri and Illinois before resulting in mediation.
*AV®, AV Preeminent®, Martindale-Hubbell Distinguished and Martindale-Hubbell Notable are certification marks used under license in accordance with the Martindale-Hubbell certification procedures, standards and policies. Martindale-Hubbell® is the facilitator of a peer review rating process. Ratings reflect the anonymous opinions of members of the bar and the judiciary. Martindale-Hubbell® Peer Review Rating™ fall into two categories – legal ability and general ethical standards.
Practice areas
Personal Injury - General: Plaintiff, Employment & Labor: Employee, Workers' Compensation: Claimant
Focus areas
Animal Bites, Brain Injury, Construction Accident, Motor Vehicle Accidents, Personal Injury - Plaintiff, Premises Liability - Plaintiff, Trucking Accidents, Unions, Wrongful Death
40% Personal Injury - General: Plaintiff

40% Employment & Labor: Employee

20% Workers' Compensation: Claimant
First Admitted: 1991, Missouri
Professional Webpage: http://www.bollwerktatlow.com/bio/phillip-a-tatlow-tatlow.cf...
Educational Background:
Phil graduated from the Universiy of Missouri with a Bachelor of Arts in Sociology and Psychology

,

1986
Verdicts/Settlements:
$400,000 settlement of ERISA Pension case for death benefits and breach of fiduciary duty for adult children of woman who worked at a fortune 500 St. Louis company for 30 years before her death. (Names confidential due to settlement agreement). The company encouraged the woman to retire due to illness and she was to receive a pension with death benefits. Unfortunately, she died within two months and the company denied the pension saying she had to live two months to receive the benefits. The adult daughter hired Mr. Tatlow who brought a breach of fiduciary duty claim. The case was settled for 95 percent of the full value.

,

2020

Ferd Faulstich v. Second Injury Fund: Judgment for claimant in a Permanent Disability Case against Second Injury Fund. He was an Anheuser Busch retiree who claimed total disability after being unable to work due to a combination of disabilities. The Fund contested it and refused to pay and at trial the ALJ ruled that they owed all back pay and benefits for the rest of his life. He received approximately $150,000 in back pay and is receiving approximately $42,240 each year. Based on his life expectancy the future payout is expected to be $$844,800 if he lives through his life expectancy.

,

2020

$2,500,000 for 75 Anheuser Busch workers insured by General American and Great West Insurance Company. Mr. Tatlow handled 75 cases as part of a claim against these entities when they denied buyouts of he workers life insurance policies. When the became disabled under the policies, the law and ERISA regulations required a buyout of the total life insurance policy amount. Most of the workers had either a $31,500 or a $40,000 benefits amount provided by a negotiated labor contract between their Union and AB. When another attorney was working on the claims they were denied and the attorney said he could do no more on the claims. Mr. Tatlow took the cases and alleged that General American was breaching their ficuciary duties and violating state insurance regulations that were not preempted by ERISA. He filed numerous complaints with the Department of Insurance who conducted a market conduct survery of Great West. The Department found that the insurance company had violated the insurance regulations and required the company to reevaluate all of the cases once Mr. Tatlow was involved. He obtained the policy limits for every claim that was initially denied and later demanded and received 9% interest on each claim.

Crowley v. Unnamed attorneys (Names confidential): $1,027,000 for client against three attorneys on legal malpractice case in which attorneys blew the statute of limiations on rear end case against trucking company. Attorneys filed the worker's compensation case and blew the staute of limitatons on the civil case. They told client that they would handle worker's compensation claim for free. After firing them client hired Mr. Tatlow who made a one time demand for $400,000. When it was denied he filed suit, conducted depositions, hired experts and proved that client had a mild TBI with post-concussive syndrome, not just a soft tissue injury which the prior attorneys alleged. The case was mediated two times and settled for $1,027,000.

Lori Keller v. St. Louis Parking: $115,000 for a slip and fall accident that occured during Ms. Keller's employment on the way into the office from the parking garage when she fell on a wet mossy step and tore her medial meniscus. The worker's compensation case was settled and later Ms Keller had a subsequent knee replacement. Plaintiff claimed the garage was negligent by not monioring the steps and maintaining a dangerous condition of property and claimed the fall aggravated a preexisting condition to the knee and made it likely that the knee replacement was required. The case settled for $115,000. Mr. Tatlow and Mr. Milhazco worked on the case together. The worker's compensation numbers will be reported at a later time.

,

2020

 Hippe v. Confidential Insurance Company: This was a claim for ERISA life insurance benefits due to the death of Mrs. Hippe's husband. Mr. Hippe died during  an underwater boyscout dive trip in Illinois to get the boyscouts certified. The Hippe's had a large group life insurance policy issued by the employer and therefore it was subject to ERISA law. Another firm tried to handle the case and on two administrative appeals was denied. The appeals were denied and Mrs. Hippe turned to Mr. Tatlow when another attorney suggested they call him because he did a substantial amount of ERISA litigation in federal courts. Because the administrative appeals were concluded, Mrs. Hippe was limited to a case for benefits based upon the administrative record. He filed a law suit in Illinois even though the policy had a venue and choice of law provision for New York, arguing this was unenforceable.  He;argued the case was covered and was an accidental death. The insurance company had denied the claim saying Mr. Hippe died due to an underlying preexisiting heart condition and it was barred under the plan. After substantial work the case was resolved favorably to the Plaintiff and the details are subject to a confidential agreeement and further details can't be mentioned.

,

2020

Dalaura Dowell v. Simpco Plastics. This involved two injuries at work to the same knee with two different surgeries and two insurers. Both refused to pay so it went to trial. On the day of trial the first insurer settled for 45% ppd to the knee and agreed to pay $30,000 more for additional future treatment. Insurer two and the employer went to trial and the ALJ ruled for Mrs. Dowell for 21.5% more disability due to a tear of her medial menisus.

,

2020

Eddie Gray v. Mahammad Bashir and Twin City Carriers.  $500,000 for a trucker that rear ended another semi tractor trailer after Midnight where the highway in Southern Illinois had no street lights on it and the trucker was pulled off partially onto the shoulder and partially in the inside lane of the highway without proper warning signs, lights or flashers on. Mr. Gray could not stop or swerve to avoid the accident and rear ended the other truck resulting in injuries to him including a torn medial meniscus, a broken hip and various contusions. He received a settlement on his worker's compensation claim and pursued the other trucker and his company for personal injuries. He had approximately $110,000 in special damages and settled the case for approximately $500,000 after numerous depositions and discovery. The payback to worker's compensation was approximately $65,000.

,

2019

Webb v. Coatings Unlimited, KCI International, City of St. Charles et al: Mr. TAtlow handled this death case for the Webb family after Mr. Webb died underground coating pipes of a sanitary lift station with MEK and solvants. He alleged Coatings failed to train him, failed to provide proper respirators, failed to provide proper masks, failed to provide proper PPEs to protect him from breathing toxic fumes, failed to have a hole watch and was outside of worker's compensation due to numerous OSHA violations. He alleged KCI and their superintendant were liable under co-employee liability and that St. Charles was liable for negligent supervision of their property and job site. He also sued a safety company for negligence in designing the safey plan and failure to train Mr. Webb of risks on the job site. He had a worker's compensation claim but did not elect to receive beneftis and elected to proceed on the worker's compensation case. Interestingly enough the Peters case out of St. Charles was also proceeding and lost under a siimilar theory. Mr. Tatlow was able after beating motions to dismiss, motions for summary judgment to obtain a settlement for a confidential sum for Mr. Webb's widow and adult children with a present value that was far in excess of lifetime benefits under worker's compensation (The amount of which would have been approximately $900,000 had Mrs. Webb lived for 26 more years and collected it all). This is a rare case to be able to proceed in civil court against Mr. Webb's employer and he co-employees. The case file is in the Circuit Court of St. Charles.

Robert, MD (Last Name withheld due to need to keep private) v. New York Life: ERISA case for orthopedic surgeon who had a disablity due to a torn rotator cuff and diffuculty doing surery for some time due to the injury. The policy allowed disability if the individual could not perform the essential functions of the job. Even though the physician was working full-time the argument made was that the physician could still work as a doctor but not as a surgeon so that subtle distinction meant he was entitled to benefits due to suffering a decrease in income during the time he worked but was undergoing therapy. The claim resulted in approximately $13,500 per month for 6 to 7 months with the possiblity of more to be paid after we evaluate his income and disability to see if he has residual disability.

,

2020

Kimberliy Bell v. Donald Mayer: This was a case that settled for $80,000 after Mr. Mayer was distracted in driving and failed to yeild to Kim Bell in his automobile. SHe had soft tissue injuries to the neck and back and alleged her knee was injured when striking the dash. The medical was disputed but settled after the other side agreed that her future treatment needs could be related.

,

2019

Rebecca Wilcox v. Lawerence Fabric: Mr. Tatlow and Mr. Milhalzco handled this worker's compensation case for Ms. Wilcox who hurt her hands due to sewing and having nerve damage and carpal tunnel syndrome from her job. The settlement was obtained after mediation and opposing medical experts and reports. The PPD amount settled for $47,741 and the employer paid all medical care and costs of surgery and past benefits owed.

,

2019

Wilson v. Cigna/Lina Insurance and Iron Mountain. $57,315 plus $45,852 a year for ERISA LTD case in which Mr. Wilson was hurt at work when trying to lift boxes in the company warehouse after a tornado blew out the power and water was invading the space and destroying boxes of records being stored. He hurt it also twisting and lifting on the job buying products for work. He suffered a herniation in the low back and had a fusion surgery that did not heal and had to have a repeat fusion surgery. He alleged Permanent total disability in worker's compensation and Social Security disability and under a Long Term disability case against Cigna. He hired Mr. Tatlow both on the ERISA Cigna case and on the worker's compensation case. After several appeals and Mr. Tatlow arguing that Cigna/LINA was engaging in bad faith, Cigna paid Mr. Wilson his back benefts of $57,315 plus $3,821 per month. The expected recovery from Cigna is expected to be $45,852 a year as long as he remains disabled. The worker's compensation case is still being litigated.

,

2019

Ferd Faulstich v. Second Injury Fund: $141,014 plus $500,000 in future benefits awarded.  Mr. Tatlow tried this case after turning down the Second Injury Fund's maximum offer of $60,000 and obtained an award from the ALJ declaring Mr. Faulstitch totally disabled from his job at Anheuser Busch as a machinist due to a combination of his work injuries from repetitive work and his preexisiting disabilities over the years. He received $141,014 in past benefits and $4,946 per month thereafter. The value of such benefits depends upon how long Mr. Faulstich lives, but for the next 10 years are expected to be over $500,000 and if he lives his life expectancy of 17 years are expected to be over $800,000 total with a total recovery of approxiately $950,000. It is interesting to note that Mr. Tatlow had sued both the Second Injury Fund and Anheuser Busch in worker's compensation. He also sued Anheuser Busch in the Circuit Court for the City of St. Louis in the case Castillo v. AB for 13 clients, including Mr. Faulstich, alleging that Anheuser Busch was liable in Circuit Court for negligence causing injuries from defective work designs and negligently requiring the men to work on jobs with not enough workers an old outdated equipment. Anheuser Busch settled the case with Mr. Faulstich for approximately $30,000 representing 21.5% PPD to each wrist plus a 10% loading factor. They tried to dismiss the case saying that worker's compensation was the sole remedy but the City Judge denied the claim and allowed Mr. Tatlow to proceed on the case. These cases will be separately described by client but the case is called Castillo v. Anheuser Busch.

,

2019

Hopkins v. Ascension Health and Sedgwick: $88,463 plus $3,734 a month for an Erisa long term disability benefits claim that another attorney tried to handle and after a denial she hired Mr. Tatlow. Her took the case and she was paid the full back pay benefits and the insurer agreed to pay the future benefits agreeing that she was disabled for the maximum amount of time under her physical disability and her mental depression and anxiety claims. The past benefits paid were $88,463 and she was awarded montly benefits of $3,734 per month for at least another year. Plaintiff will have to continue to prove ongoing disability to keep obtaining monthly benefits.

,

2019

In Two ERISA Long Term disability benefits cases Phil's clients sued in Federal Court a carrier for the denial of LTD (Long Term Disability) benefits. The Complaint alleged a fraudulent scheme and unfair trade practices by the insurance company using Doctors that were either lying about medical evidence or ignoring all competent evidence in an effort to defraud insureds of benefits. These ERISA cases were unusual in that Mr. Tatlow convinced the US District Court to allow him to proceed with breach of fiduciary duty claims in addition to the denial of benefits claims even though this is generally not allowed. He also sued the plan sponsers in  The two cases were mediated and settled together for over $200,000. 

,

2019

Fletcher v. Tomlinson: Settlement of $850,000. Plaintiff sued four St. Louis City Police officers, Joseph Tomlinson, John Moton, Nicholas Martorano, Jonathan Carroll, the City of St. Louis, Corizon Medical Center and a Jail Doctor and nurses for excessive force during an arrest and for inadequate medical care while being held in the St. Louis City jail. Plaintiff's tried the case in the United States District Court Eastern Division of Missouri,  against the four officers and received a jury verdict for $600,000 in damages against two of the officers, John Moton and Nicholas Martorano ($200,000 in actual damages, and $400,000 in punitive damages). In addition, Plaintiff has received an award of $185,969.91 in attorney's fees and costs for a total judgment of $785,969.91. Plaintiffs resolved the case against Defendants Corizon Medical, the jail, the jail Doctor and the Nurses under a confidentiality agreement prior to trial and proceeded to trial against only the individual officers. This excessive force claim alleged that the officers punched, tasered and hit Plaintiff with baton and a blackjack, when he was being arrested and when he was already subdued in handcuffs and was not resisting arrest. He further alleged that the officers shut off the video camera in the arrest to prevent any evidence of the force used from coming into evidence. Plaintiff suffered a broken eye socket, a broken cheek, a broken nose, bruising about his body and kidney failure that needed hospitalization to improve. He alleges that he has headaches and needs periodic visits to a doctor due to the injuries suffered in the arrest. The verdict was in August 2016 and the Attorney's Fees and Costs awarded by the Court were in October, 2016.

,

2018

Fletcher v. Tomlinson: US Court of Appeals, 8th Circuit, Civil Rights Excessive Force case previously reported was affirmed on appeal. The court found that a police department and officers from the City of St. Louis involved in an excessive force case in which the victim suffered kidney damage, brain bleeding and other injuries properly read into evidence the testimony of a medical expert that was hired by the settling co-Defendant, City of St. Louis Jail (operated by Corizon), and the record showed that the officers had the opportunity to cross-examine the expert, and the discrict court properly admitted the out-of-court testimony under Rule 32 (a) (4) (B) since the expert worked in Chicago and was more than 100 miles away from the U.S. Disctict Court for the Eastern Division of Missouri. On the second count on appeal the court found that where an officer challenged a punitive damages award against him, the judgment is affirmed because the evidence established the use of excessive force, that one officer caused significant injuries to the victim and there was sufficient evidence of malice, recklessness or callous indifference to support ther verdict based on the victim's testimony and extensive injuries. After the judgement was affirmed, Mr. Tatlow, on behalf of Plaintiff moved for his attorney's fees on appeal. The 8th Circuit found that the fees were warranted but remanded to Judge White for consideration. Before that decision, the parties settled the case for $850,000 which consisted of the first verdict of $600,000, attorney's fees and costs that were awarded post trial by Judge White for $187,000 and an additonal sum of $63,000 for additional fees on appeal for a total settlement of $850,000.

,

2018

In Zigman v. Kaericher, Mr. Tatlow obtained $120,000, including, a policy limits settlement from State Farm Insurance for $50,000 and obtained an additional settlement of $80,000 from Ms. Zigman's underinsured motorist carrier for $80,000 for a total settlement of $120,000. Ms Zigman suffered a broken nose, abrasions and contusions to her pelvic area, sore wrists and sore shoulders after the defendant pulled out of a private drive to make a left turn. He failed to yield the right of way and tried to beat Ms. Zigman causing the accident. She was a student in college home from break and driving a vehicle insured by her Father. The defendant lived at home and was also insured by a policy provided by his parents. The amount billed and the amount paid were significantly different. The amount billed was nearly $80,000 but the amount paid was only about $6,000. 

,

2018

Kulp v. Name Confidential:Settlement of $110,000.  Automobile accident in St. Louis County. Rear-end collision when Plaintiff was driving a work truck in HWY 40 at 7:00 am on the way to a job. Plaintiff suffered soft tissue injuries to his neck and back and knee and to his shoulder with no surgeries. He aggravated two elbow prior injuries that were from a repetitive trauma worker's compensation claim that was still pending at the time of the automobile accident. His medical expenses that were paid at issue in the civil personal i jury case were approximately $11,000. The case settled at mediation two weeks before trial for $110,000. He had already recovered in the prior repetitive trauma injury under worker's compensation case for his elbow injuries and also had settled the worker's compensation claim arising out of the automobile accident for approximately $40,000. The combined worker's compensation and automobile accident settlements exceeded $150,000. 

,

2018

In Chapman v. Federal Express Custom Passport, Inc., $668,094 awarded in mediation after several hardship contested hearings for medical care and TTD. This case involved a worker who slipped and fell on the basement floor of her employer's building while she was on a break from work. The substance was a hidden fluid that was believed to have come from an antique automobile that had been stored there in the past few week. She alleged that the fall caused a torn rotator cuff tear, a wrist sprain, a knee contusion and a herniated disc in the neck. She alleged psychological depression and anxiety due to the hostile work environment of the employer.  The case was aggressively defended by the lawfirm for the Defendants and they alleged that her neck treatment was not all related due to her narcotic dependency and that her use of such medicines hindered her recovery. The argued her neck hernitation was from degeneration, but Mr. Tatlow got an independent physician appointed by the Judge who found that the fall caused a worsening of her condition and caused the need for a neck surgery. The Defendant/Employer also alleged that her preexisting conditions and her psychological condition disabled her and that these things weren't due to her fall. Mr. Tatlow argued that the employer either caused or aggravated her psychological condition by retaliating against her due to her worker's compensation claim and that his client had to quit work due to the employer's negative actions. He argued that they had constructively discharged her and that due to her physical conditions and her depression that she could never work again. She claimed permanent and total disability benefits against her employer and their insurance company. The Judge in mediation agreed with Mr. Tatlow and the employer and the employer and the insurer settled for a total of $668,094. This is comprised of payment of $186,358 in past medical expenses, Temporary Total benefits of $56,877.00, a lump sum of an additional $250,000 and $46,129.00 for present medical care and $128,730 in the future medical care with a payment of $6,130 each year for 21 years.

,

2017

In Touhey v. Cigna, Mr. Tatlow obtained $225,000 including policy limits on a Long Term Disablity Policy for a chief fundraiser for Maryville University along with 7 years of interest and an award of $75,000 in attorney's fees after Cigna twice denied him claiming he retained the ability to work in sedentary employment. This was a Federal ERISA case in St. Louis Missouri and is further discussed along with the award on his web site. The award with interest was approximately $225,000 and attorney's fees.

,

2014

Touhey v. Hartford, 2013, US Dist. Lexis, 174973

Phillip Tatlow obtained a confidential settlement in a recent OSHA Wrongful Death case in Webb v. Coatings Unlimited, INc., and KCI, International (Along with EMC, Inc. and the City of St Charles). The venue of the case was St. Charles Circuit Court in Missouri. The case alleged numerous OSHA violations against KCI and Coatings Unlimited for their failure to follow proper safety rules, failure to train Mr. Webb and other employees on hazaderous chemicals, failure to provide proper respiratory equipment to Mr. Webb, failure to provide proper air monitoring equipment at the site, failiure to provide a hole watch for Mr. Webb when he went underground to coat the pipes, failure to follow or train employees on confined space procedures and failure to have rescue equipment to retrieve a worker out of a confined space once they became unresponsive. OSHA charged KCI and Coatings Unlimited, Inc. with numerous OSHA violations, some willful, and fined them each a substantial sum. Coatings was assessed a total of $224,000 in fines by OSHA and while not admitting to liability paid the fines. KCI also paid fines but did not admit any wrongdoing.  Mr. Webb was 53 at the time of his death and survived by a spouse in her early 50's and two adult children. He died in an underground chamber which is a confined space afer a two day exposure to both MEK and paint solvents that he was ordered by his supervisor to use at the job site. He used these materials to clean and paint the pipes in the underground tanks of Boschertown sanitary lift station in St. Charles, MO. KCI was the general contractor and Coatings Unlimited was the subcontractor and employer of Mr. Webb. Mrs. Webb also sued the manager of the KCI jobsite for gross negligence for his failure to train Mr. Webb of the hazards of the work site and failure to monitor him when he was underground.  Mrs. Webb, the surviving spouse, at the urging of Phillip Tatlow returned the worker's compensation death benefit checks to the employer and elected to proceed in civil court for his death instead of in worker's compensation. This turned out to be a very valuable decision. After many motions were filed, Plaintiff prevailed and the Judge said she could proceed in civil court instead of worker's compensation and the case was scheduled for trial. Mrs. Webb and her two adult childred claimed damages of: $2,000,000 for the death of a spouse, $500,000 for the loss of a Father, $830,661 in past and future income loss and $500,000 in pain and suffering that Mr. Webb went through from the time he was trapped in the hole until when he died of MEK and paint fumes exposure. The City of St. Charles and EMC, Inc. had settled for a confidentil sum far in advance of trial. The two remaining Defendants, KCI International and Coatings Unlimited, Inc. settled shortly before trial for a confidential sum that exceeded the thiry year life expectancy of Mrs. Webb and the death beneftis that she would have received in worker's compensation had she lived thirty years and collected all benefits.   Mr. Tatlow notes that it is common in large civil cases for the Defendants to require a confidentiality agreement so the parties can't reveal the total amount settled for and in which the Defendants still settle but get to say they do so without any admission of liablity or wrongdoing. He also points out that it is rare to get to proceed outside of worker's compensation and that employers and insurers want to proceed in worker's compensation because the claims are worth alot less, based upon how the worker's compensation laws are written.

,

2016

Jordan v. Aetna Life Ins. Co., 2012 US Dist., LEXIS, 5158

Thompson v. Hubbard, 257 F.3d 920

Ballard v. Prudential Ins. Co of Am, 2013 US Dist LEXIS, 166067, ERISA disability CASE for computer operator resulted in confidental settlement.

Ennis v. Prudential Ins. Co. of AM, 2013 US Dist. LEXIS 7118

Feltrop v. Johnson, 864 S.W. 2d 360 (Mo App ED 1993)

Ahearn v. Fibreboard Corp., 162 F.R.D.505

Barnett v. Gibson, 986 S.W. 2d 509 (Mo App ED 1999)

Bauer v. Consolidated Freightways Co., 867 S.W. 2d 610 (Mo App ED 1993)

Dieser v. Continental Casualty Co., 440 F. 3rd 920 (CT. App 8th Cir. 2006)
Scholarly Lectures/Writings:
Phil authored and presented a topic on Erisa Liens in Personal Injury cases and how to navigate the field for the Burger Law Firm seminar.

,

Primary author and lecturer on ERISA topics

,

LIens ERISA and Stress

,

Gary Burger law firm

,

Personal Injury And ERISA Attorneys

,

2020

Settlement Options and Offsets of claims for ERISA, Social Security and other Benefits and Liens in Worker's Compensation Claims 

,

Author and Lecturer for NBI

,

Worker's Compensation Seminar

,

NBI : Worker's Compensation

,

Worker's Compensation

,

2019

Medical Issues and their role in the Complex Worker's Compensation Claims. Psychiatric Injuries and Permanent Disability.

,

Author and Lecturer for NBI

,

Worker's Compensation Seminar

,

NBI : Worker's Compensation

,

Worker's Compensation

,

2019

8th Circuit Social Security Conference on ERISA law

,

Lecturer

Missouri Paralegal Association Annual Conference on How to Handle Worker's Compensation Claims

,

Presenter

Washington University Law School Courtroom on behalf of USA&M

,

Lecturer

Phil presented a lecture and paper on Missouri Worker's Compensation for the Paralegal at the 2017 Annual Missouri Paralegal Association Meeting in Columbia, Mo. He spoke and wrote on an overview of PPD, PTD, TTD, accident, hardship hearings and the statutory changes in worker's compensation and about how the Second Injury Fund works.

,

Speaker

,

Missouri Worker's Compensation for the Paralegal

,

Worker's Compensation

,

2017

Missouri Association of Trial Attorneys, Personal injury topics

,

Lecturer

Phil was pleased to serve as a co-author of a seminar booklet on ERISA law on behalf of United States Arbitration and Medication. He along with three other attorneys presented a seminar at Washington University School of Law on ERISA law to other attorneys and practitioners on ERISA topics such as Current Issues in ERISA Claims and the Interplay with SSD, Workers Compensation and Personal Injury cases, Discovery and Breach of Fiduciary Duty Issues in ERISA policies and claims.

,

Presenter and Author

,

ERISA 101: Current Issues in ERISA Claims and the Interplay with SSD, Worker's Comp and Mediation

,

United States Arbitration & Mediation: The Best Practice Series Seminar

,

ERISA, Law

,

2016

Wrote paper and presented seminar to attorneys at the annual Missouri small firm and solo conference on how ERISA works and the implications that ERISA subrogation and reimbursement claims for health insurance has in Personal Injury cases and the interaction between ERISA and Social Security and worker's compensation Law.

,

Author and Presenter

,

ERISA Litigation in your non- Erisa Practice at the Annual Small firm and Solo Conference

,

Mo Bar Association

,

Missouri Small Firm And Solo Conference

,

2015

Wrote chapters and presented several topics including: Permanent Disablity and Ethical Considerations from the Claimant's Perspective for annual Fundamentals of Workers' Compensation Seminar.

,

Presenter and Author

,

Fundamentals of Workers' Compensation Law

,

Sterling Education Services

,

2014

Authored and presented topic of ERISA and the interplay with Social Security Law for 8th Circuit Social Security Disablility Annual Conference.

,

Author and Presenter

,

The Interplay between ERISA and Social Security

,

8th Circuit Social Security Disablity Conference

,

2014
Representative Clients:
Phil has been representing employees of Ascension Health for ERISA benefits in Federal Court.  The cases sometimes originate in other states but the contracts for benefits have a venue clause for all suits to be located in the US District Court on Missouri, Eastern Division.

,

2020

Phil represents many Anheuser Busch, Metal Container workers and GM union members on worker's compensation, ERISA long term disability, and hearing loss cases. He has done this since around 2007 when he represented an AB Union President and 75 other workers who were denied their Union life and Long Term disability benefits.

,

2020

Phil represents Union members, AB and Metal Container workers and many ERISA clients on long-term disability matters, life insurance cases, hearing loss cases and repetitive injuries due to work in the factory or on production lines. He also represents Doctors, Dentist, Attorneys and other people on ERISA long term disability benefits.

,

2019

Phil has represented many Anheuser Busch Local 1187 and Local 6 Union members in cases involving: ERISA Life Insurance and Long Term Disability claims, worker's compensation claims and civil claims for injuries and hearing loss. For the past 5 or more years he has represented many Metal Container Union members for hearing loss and repetitive trauma injuries and accidents at work.

,

2018

Phil routinely represents Anheuser Busch Union workers such as brewers and bottlers, as well as a variety of other trades on worker's compensation claims, work accidents, long-term (ERISA) disability issues, life insurance and accidental death benefit cases. He has also been representing more Doctors, Lawyers and Executives in cases against their company and the ERISA Long Term Disability Carriers when they become disabled and their benefits are denied.

,

2005
Other Outstanding Achievements:
Top Rated attorney by AVVO at 10.00

,

2021

AVVO Top Rated Attorney

,

2020

One of theTop 19 worker's compensaton lawyer and firm in St. Louis

,

2020

2000 to 2019 AV rated by Martindale

,

2000

AVVO Top Rated attorney

,

2018
Honors/Awards:
Phil has been selected as a lifetime member of the multi-million advocates forum which is limited to attorneys obtaining a verdict or settlement of in excess of 2 million dollars and being selected by a peer review process and a committee.

,

Multi-Million Advocates Forum

,

justicecounts.com and multimillion dollar advocates forum

,

2021

Phil was again selected as a top 100 trial lawyer in Missouri by the National Trial attorneys and a top 100 Missouri High Stakes Litigator

,

Top 100 Trial Attorney in Missouri

,

National Trial attorneys

,

2020

Phil is pleased to retain a top 10 rating by AVVO

,

10.0 AVVO TOP Rating

,

AVVO

,

2020

Phil is honored to be rated AV by Martindale-Hubbell since 2000, the first year he was reviewed. 

,

AV rated

,

Martindale-Hubbell

,

2019

Phil is pleased to be slected as a Top 100 High Stakes Litigators in Missouri. The minimum requirement for consideration is handling a case for a Plaintiff with a recovery of $2,000,000 or more.

,

American Top 100 High Stakes Litigators

,

American's Top 100

,

2018

Phil is pleased to retain his AV rating by Martindale-Hubbell.

,

AV Rated

,

Martindale

,

2018

Phil is pleased to be selected to Missouri Top 100 Litigators as a Lifetime Member in the category Civil Plaintiff.

,

Missouri Top 100

,

National Trial Attorneys

,

2018

Phillip is rated 10/10 by Avvo which is considered Superb and is Avvo's best rating for an attorney.

,

AVVO 10.00 rating

,

AVVO

,

2018

Member, Million Dollar Advocates forum

Member, Multi-Million Advocates Forum

Member, Super Lawyers

Phil is pleased to be selected in the Top 100 National Trial's Lawyer's Association for Personal Injury Attorneys.

,

Top 100 Trial Attorney in Personal Injury

,

National Trial Lawyer's Association

,

2017

Phil is pleased to retain his top rating by AVVO at 10.0

,

AVVO

,

AVVO

,

2017

Phil continues to be AV rated by Martindale Hubbell. 

,

Martindale AV rated

,

Martindale Hubbell

,

2017

Phil is pleased to retain his distinction of AV by Martindale Hubbell. This is considered the top rating by Martindale Hubblell.

,

Martindale

,

Martindale Hubbell

,

2016

Mr. Tatlow was AV rated the first time Martindale rated him as an attorney and is pleased to retain that distinction. He has been rated AV for greater than ten years.

,

AV rated

,

Martindale

,

2016
Pro bono/Community Service:
Phil continues volunteering for the annual 4th of July parade to benefit St. Louis and working as a volunteer for the annual VP ball.

,

2021

Phil continues his service in the Veiled Prophet organization working on the annual 4th of July Parade for St. Louis and the annual ball.

,

2020

Phil served the VP in driving in the St. Louis Parade and also in working in the ball for the VP.

,

2018

Deacon for First Presbyterian Church Kirkwood. Phil often helps church members with needs on a pro bono basis.

Volunteer for VP parade and VP ball

,

2019

Phil serves the VP and helps work at the annual VP parade and VP ball

,

2019

Phil continues to serve as a driver of floats in the annual St. Louis 4th of July VP parade.

,

2016
Transactions:
Phil's firm is selected as the top 19 worker's compensation firm in St. Louis

,

2021

10.00 AVVO, the top rating.

,

2021

AV rating by Martindale, the top rating

,

2021

Phil and his firm have been selected as a top 19 worker's compensation firm in St. Louis by Expertis as one of the Best Worker's Compensation Firms in St. Louis.

,

2020

Phil has retained the highest AV rating by Martindale.

,

2019

Phil was selected as a National Trial attorney's top 100 Trial Lawyer in Missouri.

,

2019

Phil has the highest AVVO rating at 10.0

,

2019

Phil retained the top High Stakes litigators award

,

2019

Phil retained his 10.0 Rating, the highest possible rating, from AVVO

,

2018

Phil Was selected to America's Top 100 High Stakes Litigators. This honor requires a minimum of $2,000,000 on a recovery in a Plaintiff's case.

,

2018

Phil retained an AV rating by Martindale

,

2018

Phil is pleased to retain his AV Martindale Hubbell rating.

,

2017
Bar/Professional Activity:
Lifetime member of Multi-Million Dollar Advocates which is limited to attorneys receiving a verdict or settlement of in excess of 2 million dollars.

,

2021

Million Dollar Advocates Forum limited to attorneys receiving a settlement or verdict in excess of 1 millions dollars.

,

2021

Top 100 High Stakes Litigators in Missouri. Requirements include a case of over 2 million dollars and selection by a committee.

,

2021

Top 100 Missouri trial attorney, National trial attorneys.

,

2021

Martindale AV rating, highest possible rating.

,

2021

10.00 Avvo rating, highest possible rating.

,

2021

Member, Top 100 Missouri Trial Attorneys

,

2020

Member, Top 100 High Stakes Litigators

,

2020

United States Court of Appeals for the 8th Circuit

Member, Illinois State Bar Association

Member, Bar Association of Metropolitan St. Louis

United States District Court for the Eastern District Court of Missouri

Member of Trial Lawyers Association St. Louis

,

2019

Member of BAMSL (Sustaining Member of Bar Association of Metropolitian St. Louis).

,

2019

Member of American Association of Justice (AAJ formally ATLA).

,

2019

Member of Missouri Association of Trial Attorneys (Mata)

,

2019

Member of Missouri, Illinois and Wisconsin Bar Associations.

,

2019
Industry Groups:
ERISA law
Long Term ERISA Disability and Employee Benefits
Nursing Home Cases
Personal Injury
Trucking
Worker's Compensation claims
Office location for Phillip A. Tatlow
10525 Big Bend Road
St. Louis, MO 63122
Phone: 314-649-4771
Selections
Super Lawyers: 2014 - 2022
Additional sources of information about Phillip A. Tatlow
Attorney resources for Phillip A. Tatlow