« Back to Results
Kyle Koichi Morishita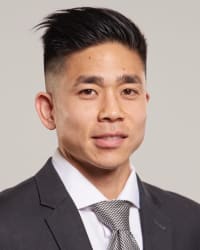 Attorney Profile
Top Rated Immigration Attorney in Las Vegas, NV
Phone: 702-222-9999
Fax: 702-383-8741
Selected To Rising Stars:
2020 - 2021
Practice Areas:
Immigration: Consumer (60%),
Personal Injury - General: Plaintiff (20%),
Personal Injury - Products: Plaintiff (20%)
Attorney Profile
Kyle received top honors from Chambers USA, Super Lawyers, Martindale-Hubbell, Avvo, and Nevada Business Magazine.  He also received client service awards from Martindale-Hubbell, Avvo, and the Las Vegas Sun.
During World War II, the U.S. government detained Kyle's U.S. citizen grandparents because of their Japanese ancestry.  Learning about this history inspired Kyle to protect immigrants' rights.
Kyle was born in Boston and raised in Oakland.  He interned for U.S. Senator Barbara Boxer and the U.S. Air Force.  Kyle also clerked for Cotchett, Pitre & McCarthy and the Honorable Kristin L. Mix of the U.S. District Court.  
In his legal practice, Kyle applies principles he learned from a ten-day silent meditation course, yoga, and coaching basketball.  Outside of work, he serves on the Board of Directors for the Immigration Law Clinic Alumni Council and Las Vegas Buddhist Sangha.
De Castroverde Law Group specializes in personal injury and immigration law.
About Kyle Morishita
Admitted: 2014, Nevada
Professional Webpage: https://www.dlgteam.com/attorneys/kyle-morishita/
Honors/Awards:
Band 1 is Chambers USA's highest ranking for technical legal ability, professional conduct, client service, commercial astuteness, diligence, and commitment

,

Band 1

, Chambers USA,

2021

Rising Stars honors a maximum of 2.5 percent of attorneys per state for peer recognition and professional achievements

,

Rising Stars

, Super Lawyers,

2021

Legal Elite honors the top 3 percent of Nevada attorneys recognized by their peers for their work and dedication to the legal field (2021).

,

Legal Elite

, Nevada Business Magazine,

2021

AV Preeminent is Martindale-Hubbell's highest rating for professional excellence in legal ability and ethical standards

,

AV Preeminent Peer Review Rating

, Martindale-Hubbell,

2021

Platinum is Martindale-Hubbell's top award for client satisfaction

,

Platinum Client Champion Award

, Martindale-Hubbell,

2021

10.0 is Avvo's highest rating for legal experience and professional achievements

,

10.0 Rating

, Avvo,

2021

The Clients' Choice Award honors attorneys for client satisfaction

,

Clients' Choice Award

, Avvo,

2021

Community Choice Customer Care honors Las Vegas' top lawyer recognized by the community for client service

,

Community Choice Customer Care

, The Las Vegas Sun,

2021

Rising Stars honors a maximum of 2.5 percent of attorneys per state for peer recognition and professional achievements

,

Rising Stars

, Super Lawyers,

2020

AV Preeminent is Martindale-Hubbell's highest rating for professional excellence in legal ability and ethical standards

,

AV Preeminent Peer Review Rating

, Martindale-Hubbell,

2020

Platinum is Martindale-Hubbell's top award for client satisfaction

,

Platinum Client Champion Award

, Martindale-Hubbell,

2020

10.0 is Avvo's highest rating for legal experience and professional achievements

,

10.0 Rating

, Avvo,

2020

The Clients' Choice Award honors attorneys for client satisfaction

,

Clients' Choice Award

, Avvo,

2020

CRLAF, Inc. awards attorneys for providing community and pro bono services

,

Outstanding Community Service Award

, California Rural Legal Assistance Foundation, Inc.,

2011

The Order of Barristers is a national honor society, which recognizes law students for oral advocacy and brief writing skills

,

Member

, The Order of Barristers,

2011

The University of California, Davis, School of Law hosts an annual moot court competition

,

First Place Oral Advocate

, University of California, Davis, School of Law,

2010

The Frances Carr Competition is an annual mock trial competition

,

First Place

, Frances Carr Competition,

2010
Bar/Professional Activity:
Board of Directors, Immigration Law Clinic Alumni Council

,

2021

Board of Directors, Immigration Law Clinic Alumni Council

,

2020

Volunteer, Las Vegas Asian Chamber of Commerce

,

2020

Board of Directors, Immigration Law Clinic Alumni Council

,

2019

Executive Committee, The Howard D. McKibben American Inn of Court

,

2019

Volunteer, Las Vegas Asian Chamber of Commerce

,

2019

Board of Directors, Immigration Law Clinic Alumni Council

,

2018

Executive Committee, The Howard D. McKibben American Inn of Court

,

2018

Volunteer, Las Vegas Asian Chamber of Commerce

,

2018

Board of Directors, Immigration Law Clinic Alumni Council

,

2017

Executive Committee, The Howard D. McKibben American Inn of Court

,

2017

Board of Directors, Immigration Law Clinic Alumni Council

,

2016

Executive Committee, The Howard D. McKibben American Inn of Court

,

2016

Volunteer Attorney, University of Nevada, Las Vegas, Thomas & Mack Legal Clinic

,

2016

Board of Directors, Immigration Law Clinic Alumni Council

,

2015

Executive Committee, The Howard D. McKibben American Inn of Court

,

2015
Pro bono/Community Service:
President, Las Vegas Buddhist Sangha

,

2021

Mentor, Huellas Mentorship Program

,

2021

Board of Directors, Las Vegas Buddhist Sangha

,

2020

Mentor, Huellas Mentorship Program

,

2020

Board of Directors, Las Vegas Buddhist Sangha

,

2019

Volunteer, Goodie Two Shoes Foundation

,

2019

Volunteer, Three Square Food Bank

,

2019

Board of Directors, Las Vegas Buddhist Sangha

,

2018

Volunteer, Goodie Two Shoes Foundation

,

2018

Volunteer, Three Square Food Bank

,

2018

Board of Directors, Las Vegas Buddhist Sangha

,

2017

Volunteer, Three Square Food Bank

,

2017

Board of Directors, Las Vegas Buddhist Sangha

,

2016

Big Brother, Big Brothers Big Sisters of Southern Nevada

,

2016
Scholarly Lectures/Writings:
Verdicts/Settlements:
Immigration Court (Matter of P-G-J-): Kyle and his colleagues attained cancellation of removal and lawful permanent residence for a mother of two U.S. citizens

,

2021

Immigration Court (Matter of J-M-M-G-): Kyle and his colleagues attained release on bond and lawful permanent residence for a husband of a U.S. citizen, father of four U.S. citizens, and son of a U.S. citizen

,

2021

Immigration Court (Matter of M-G-C-): Kyle and his colleagues attained release on bond and lawful permanent residence for a husband of a U.S. citizen, father of three U.S. citizens, and son of a U.S. citizen

,

2021

Immigration Services and Consulate General (Matter of L-M-C-): Kyle and his colleagues attained a waiver of grounds of inadmissibility and lawful permanent residence for a Mexican citizen

,

2021

Immigration Services and Consulate General (Matter of P-G-N-): Kyle and his colleagues attained a provisional unlawful presence waiver and lawful permanent residence for a husband of a U.S. citizen and father of three U.S. citizens

,

2021

Immigration Court (Matter of F-R-O-): Kyle and his colleagues attained release on bond, cancellation of removal, and lawful permanent residence for a son of lawful permanent residents and father of a U.S. citizen

,

2021

Immigration Court (Matter of G-M-H-): Kyle and his colleagues attained cancellation of removal and lawful permanent residence for a father of eight U.S. citizens

,

2021

Immigration Services (Matter of R-L-D-): Kyle and his colleagues attained lawful permanent residence for husband of a U.S. citizen

,

2021

Immigration Court (Matter of S-R-O-): Kyle and his colleagues attained reopening of removal proceedings and termination of removal proceedings for a TPS recipient and father of two U.S. citizens

,

2021

Immigration Court (Matter of E-S-P-): Kyle and his colleagues attained release on bond, cancellation of removal, and lawful permanent residence for a mother of four U.S. citizens

,

2021

Immigration Court (Matter of R-N-B-): Kyle and his colleagues attained release on bond and lawful permanent residence for a wife of a U.S. citizen and mother of a U.S. citizen

,

2021

Immigration Court (Matter of G-D-F-): Kyle and his colleagues attained release on bond, cancellation of removal, and lawful permanent residence for a father of four U.S. citizens

,

2021

Immigration Court (Matter of P-L-G-): Kyle and his colleagues attained cancellation of removal and lawful permanent residence for a mother of three U.S. citizens

,

2021

Immigration Court (Matter of A-M-M-): Kyle and his colleagues attained cancellation of removal and lawful permanent residence for a father of three U.S. citizens

,

2021

Immigration Court and Immigration Services (Matter of J-A-S-A-): Kyle and his colleagues attained dismissal of removal proceedings and lawful permanent residence for a Cuban citizen

,

2020

Immigration Court (Matter of J-F-D-L-H-): Kyle and his colleagues attained release on bond, cancellation of removal, and lawful permanent residence for a father of three U.S. citizens and two DACA recipients

,

2020

Immigration Court (Matter of A-M-G-): Kyle and his colleagues attained a favorable ruling regarding a contested statutory issue and release on bond for a son of a lawful permanent resident

,

2020

Immigration Court (Matter of A-D-J-C-C-): Kyle and his colleagues attained release on bond, two times, for a husband of a U.S. citizen

,

2020

Immigration Court and Immigration Services (Matter of A-M-N-R-): Kyle and his colleagues attained release on bond and termination of removal proceedings for a victim of domestic violence and mother of a U.S. citizen

,

2020

Immigration Court and Immigration Services (Matter of A-M-G-): Kyle and his colleagues attained termination of removal proceedings and lawful permanent residence for a Cuban citizen

,

2020

Immigration Court (Matter of P-C-D-L-R-): Kyle and his colleagues attained reopening of removal proceedings for a husband of a U.S. citizen and father of two U.S. citizens

,

2020

Immigration Services and Consulate General (Matter of A-R-C-V-): Kyle and his colleagues attained a provisional unlawful presence waiver and lawful permanent residence for a husband of a U.S. citizen and father of a U.S. citizen

,

2020

Immigration Court (Matter of P-L-O-): Kyle and his colleagues attained release on bond, cancellation of removal, and lawful permanent residence for a father of four U.S. citizens

,

2020

Immigration Court (Matter of J-M-N-): Kyle and his colleagues attained termination of removal proceedings for a lawful permanent resident and son of a U.S. citizen

,

2020

Immigration Services and Consulate General (Matter of Y-A-G-T-): Kyle and his colleagues attained a provisional unlawful presence waiver and lawful permanent residence for a wife of a U.S. citizen and mother of three U.S. citizens

,

2019

Immigration Court and Immigration Services (Matter of J-A-E-F-): Kyle and his colleagues attained release on bond and termination of removal proceedings for a victim of domestic violence

,

2019

Board of Immigration Appeals and Immigration Court (Matter of V-H-V-A-): Kyle and his colleagues won an appeal and attained cancellation of removal and lawful permanent residence for a father of three U.S. citizens

,

2019

Immigration Court, Detained (Matter of V-A-L-): Kyle and his colleagues attained release from detention and withholding of removal for a victim of sexual abuse

,

2019

Immigration Services and Consulate General (Matter of M-E-D-C-A-): Kyle and his colleagues attained a provisional unlawful presence waiver and lawful permanent residence for a wife of a U.S. citizen and mother of a lawful permanent resident

,

2019

Board of Immigration Appeals (Matter of S-B-B-): Kyle and his colleagues won an appeal to vacate an in absentia order, reopen proceedings, and remand proceedings for an asylum applicant

,

2019

Immigration Services (Matter of M-J-Q-H-): Kyle and his colleagues attained citizenship for a husband of a U.S. citizen and father of three U.S. citizens

,

2019

Immigration Services and Consulate General (Matter of T-D-L-): Kyle and his colleagues attained a provisional unlawful presence waiver and lawful permanent residence for a DACA recipient and wife of a U.S. citizen

,

2019

Board of Immigration Appeals (Matter of C-E-C-H): Kyle and his colleagues won an appeal to remand proceedings for an asylum applicant

,

2019

Immigration Services (Matter of L-A-S-S-): Kyle and his colleagues attained a provisional unlawful presence waiver for a husband of a U.S. citizen and father of a U.S. citizen

,

2019

Immigration Services and Consulate General (Matter of M-I-D-G-): Kyle and his colleagues attained a provisional unlawful presence waiver and lawful permanent residence for a wife of a U.S. citizen and mother of two U.S. citizens

,

2019

Immigration Court, Detained (Matter of E-A-S-): Kyle and his colleagues attained release from detention, cancellation of removal, and lawful permanent residence for a husband of a U.S. citizen and father of two U.S. citizens

,

2019

Immigration Services (Matter of J-C-S-G-): Kyle and his colleagues attained a provisional unlawful presence waiver for a husband of a U.S. citizen and father of five U.S. citizens

,

2019

Immigration Services (Matter of R-D-G-): Kyle and his colleagues attained a provisional unlawful presence waiver for a DACA recipient, husband of a U.S. citizen, and father of four U.S. citizens

,

2019

Immigration Services and Consulate General (Matter of S-F-C-): Kyle and his colleagues attained a provisional unlawful presence waiver and lawful permanent residence for a wife of a U.S. citizen and mother of a U.S. citizen

,

2018

Immigration Services and Consulate General (Matter of F-J-C-): Kyle and his colleagues attained a provisional unlawful presence waiver and lawful permanent residence for a husband of a U.S. citizen and father of three U.S. citizens

,

2018

Immigration Services (Matter of R-P-): Kyle and his colleagues attained a waiver of grounds of inadmissibility for a fiance of a U.S. citizen

,

2018

Immigration Services and Consulate General (Matter of G-V-): Kyle and his colleagues attained a provisional unlawful presence waiver and lawful permanent residence for a wife of a U.S. citizen and mother of two U.S. citizens

,

2018

Immigration Court (Matter of F-M-I-): Kyle and his colleagues attained reopening and termination of removal proceedings for a husband of lawful permanent resident and father of a U.S. citizen

,

2018

Immigration Court, Detained (Matter of P-T-C-): Kyle and his colleagues attained release from detention and cancellation of removal for a lawful permanent resident and father of a U.S. citizen

,

2018

Immigration Court (Matter of A-C-C-C-): Kyle and his colleagues attained a favorable ruling regarding a contested statutory issue and release on bond for a mother of three U.S. citizens

,

2018

Immigration Services and Consulate General (Matter of L-M-M-P-): Kyle and his colleagues attained a provisional unlawful presence waiver and lawful permanent residence for a husband of a U.S. citizen and father of two U.S. citizens

,

2018

Immigration Court (Matter of R-O-M-): Kyle and his colleagues attained suspension of deportation and lawful permanent residence for a father of two U.S. citizens

,

2018

Immigration Court (Matter of D-C-J-): Kyle and his colleagues attained cancellation of removal and lawful permanent residence for a father of four U.S. citizens

,

2018

Immigration Court (Matter of A-H-H-): Kyle and his colleagues attained cancellation of removal and lawful permanent residence for a mother of two U.S. citizens

,

2018

Immigration Court (Matter of J-J-A-D-R- and E-A-P-C-): Kyle and his colleagues attained cancellation of removal and lawful permanent residence for parents of two U.S. citizen children

,

2018

Immigration Court (Matter of V-B-C-): Kyle and his colleagues attained suspension of deportation and lawful permanent residence for a mother of three U.S. citizens

,

2018

Immigration Services (Matter of A-E-H-R-): Kyle and his colleagues attained a provisional unlawful presence waiver for a husband of a U.S. citizen and father of a U.S. citizen

,

2018

Immigration Services (Matter of M-S-M-M-): Kyle and his colleagues attained a provisional unlawful presence waiver for a husband of a U.S. citizen and father of a U.S. citizen

,

2017

Immigration Services and Consulate General (Matter of Y-C-U-D-C-): Kyle and his colleagues attained a provisional unlawful presence waiver for a wife of a U.S. citizen and mother of three U.S. citizens

,

2017

Immigration Court (Matter of J-R-H-): Kyle and his colleagues attained temporary protective status for a father of two U.S. citizens

,

2017

Immigration Court (Matter of E-D-E-): Kyle and his colleagues attained a waiver of deportability for a lawful permanent resident and father of a U.S. citizen

,

2017

Immigration Court (Matter of S-N-O-M- and A-N-O-M-): Kyle and his colleagues attained asylum for a victim of domestic violence and her daughter

,

2017

Immigration Court (Matter of D-F-A-M-): Kyle and his colleagues attained termination of removal proceedings and lawful permanent residence for a widower of a U.S. citizen

,

2017

Immigration Court (Matter of L-L-B-): Kyle and his colleagues attained cancellation of removal for a lawful permanent resident and mother of two U.S. citizens

,

2017

Immigration Court (Matter of O-J-H-): Kyle and his colleagues attained lawful permanent residence for a husband of a U.S. citizen and father of two U.S. citizens

,

2017

Immigration Court (Matter of M-P-P-): Kyle and his colleagues attained temporary protective status for a mother of two U.S. citizens

,

2016

Immigration Court (Matter of J-G-D-): Kyle and his colleagues attained lawful permanent residence for a husband of a U.S. citizen and father of two U.S. citizens

,

2016

Immigration Court, Detained (Matter of J-N-G-T-): Kyle and his colleagues attained withholding of removal for a victim of domestic violence

,

2016

Immigration Court (Matter of M-S-): Kyle and his colleagues attained cancellation of removal for a lawful permanent resident and father of two U.S. citizens

,

2016

Motor Vehicle Accident (Client v. Taxicab Driver): during litigation, Kyle and his colleagues attained a favorable settlement for their client, who suffered injuries after a taxicab caused a collision by swerving in front of the client

,

2016

Injunctive Relief (Casino v. Clients): at an evidentiary hearing, Kyle and his colleagues successfully defended their clients in preliminary injunction proceedings

,

2016

Motor Vehicle Accident (Clients v. Adverse Driver): Kyle and his colleagues attained a $125,000 settlement for their clients, who suffered injuries after the defendant rear-ended the clients on the freeway

,

2016

Motor Vehicle Accident (Client v. Adverse Driver): during litigation, Kyle and his colleagues attained a $125,000 settlement for their client, who suffered injuries after the defendant broadsided the client

,

2015

Homeowners Association Foreclosure (Bank v. Client): in a lawsuit filed by a bank, Kyle and his colleagues attained summary judgment and quiet title for their client, who purchased her home at a homeowners association foreclosure sale

,

2015

Motor Vehicle Accident (Client v. Adverse Driver): Kyle and his colleagues attained a verdict for their client, who suffered injuries after the defendant rear-ended the client

,

2015

Slip and Fall (Client v. Shopping Mall): through mediation, Kyle and his colleagues attained a favorable settlement for their client, who suffered injuries after slipping and falling in a shopping mall

,

2015

Immigration Court (Matter of L-C-M-): Kyle and his colleagues attained termination of removal proceedings for a lawful permanent resident, widow, and mother of five U.S. citizens

,

2012

Immigration Court (Matter of M-E-A-V-): Kyle and his colleagues attained cancellation of removal and lawful permanent residence for a mother of three U.S. citizens

,

2011

Immigration Court (Matter of F-M-): Kyle and his colleagues attained cancellation of removal and lawful permanent residence for a father of two U.S. citizens

,

2010
Other Outstanding Achievements:
The Science of Well-Being, Yale University

,

2020

Ten-Day Silent Vipassana Meditation, Northern California Vipassana Center

,

2019
Educational Background:
Juris Doctor, University of California, Davis, School of Law

Bachelor of Arts, University of California, Davis
Show More
Kyle Koichi Morishita:
Last Updated: 6/9/2021