Joshua Lim
Top rated business litigation attorney in Palisades Park, New Jersey
Kim, Cho & Lim, LLC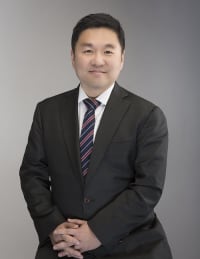 Kim, Cho & Lim, LLC
Practice Areas: Business litigation, Employment litigation, Civil litigation view more
Licensed in New Jersey since: 2004
Education: University of Minnesota Law School
Languages Spoken: English, Korean

Selected to Super Lawyers: 2020 - 2023

Selected to Rising Stars: 2014
Disclosure:
No aspect of this advertisement has been approved by the Supreme Court of New Jersey. Please visit the Super Lawyers Selection Process for a detailed description of the Super Lawyers selection methodology.
Kim, Cho & Lim, LLC
460 Bergen Blvd.
Suite 305
Palisades Park, NJ 07650
Visit website
Details
Attorney Seoung (Joshua) Y. Lim is a partner at Kim, Cho & Lim, LLC, in Palisades Park, New Jersey. Mr. Lim practices business litigation, employment law, labor law and family law. He has experience with employment law issues such as unlawful discrimination and sexual harassment, and family law matters including divorce. He serves clients in Bergen and Passaic counties in New Jersey and the five boroughs of New York City.
Mr. Lim has over a decade of legal experience and has helped many clients reach favorable verdicts and settlements during his career. He has represented workers as well as employers, and plaintiffs as well as defendants.
The National Trial Lawyers association listed Mr. Lim on its "top 40 under 40," "top 10 business tort litigation lawyers" and "top 10 wage and house trial lawyer" lists. The Supreme Court of New Jersey appointed him to serve on its Committee on Character and New Jersey Monthly magazine named him a "top young attorney."
Outside of his practice, Mr. Lim enjoys educating others within the profession, speaking at various seminars on employment law topics such as the Fair Labor Standards Act and federal wage and hour compliance.
Mr. Lim graduated with honors from the University of California, Berkeley. He earned his law degree from the University of Minnesota Law School. He holds licenses to practice law in New Jersey and New York and before the U.S. District Court for the District of New Jersey, the U.S. District Courts for the Eastern and Southern districts of New York and the U.S. Court of Appeals for the 3rd Circuit.
Practice areas
Business litigation, Employment litigation: plaintiff, Civil litigation: defense, Employment litigation: defense
40% Business litigation

40% Employment litigation: plaintiff

10% Civil litigation: defense

10% Employment litigation: defense
First Admitted: 2004, New Jersey
Professional Webpage: http://www.kcllawfirm.com
Educational Background:
The University of Minnesota Law School.  Dean's List

,

2004

University of California at Berkeley, B.A., High Honors

,

1998
Pro bono/Community Service:
Invited to be a Statewide Panel Member of the New Jersey Character Committee appointed by the NJ Supreme Court.  

,

2021
Bar/Professional Activity:
Continue to serve on New Jersey Fitness and Character Committee 

,

2021

Appointed by the Supreme Court of New Jersey to serve on the State Wide Panel of the Character and Fitness Committee.  

,

2021

Justice Morrison Pashman American Inn of Court

New Jersey Association for Justice Inc.

United States District Court of New Jersey

New Jersey State Bar Association

United States Southern District of New York

New York

United States Eastern District of New York

Bergen County Bar Association

New Jersey

United States Third Circuit Court
Honors/Awards:
Selected to be a Fellow of the LCA (Litigation Counsel of America).  Fellowship in the LCA is highly selective and by invitation only.  LCA is a trial lawyer honorary society whose membership is limited to less than one-half of one percent of North American lawyers, Judges and scholars.  

,

Fellowship of the LCA (Litigation Counsel of America)

,

LCA www.litcounsel.org

,

2021

Selected to be top 100 the National Trial Lawyers in 2017, 2018, and 2019.  Top 10 Wage and Hour Trial Lawyers selected by the National Trial Lawyers.   

,

Selection by the National Trial Lawyers

Dean's List, University of Minnesota Law School
Verdicts/Settlements:
Mr. Lim was selected as a mediator in complex commercial litigation involving four parties. Because of the complexity of the case, the parties were unable to resolve the dispute for 2 years.  Having meditated for 8 hours, Mr. Lim was able to resolve the disputes of all the parties in the case, settling all issues.  

,

2022

Defended a supermarket who got sued by an employee for a wage and hour claim.  After 5 full days of arbitration with a AAA arbitrator we won the case 100% with no damages owed to the employee.  It was a complete victory for the employer!  

,

2023

Represented a commercial tenant who got sued for unpaid rent.  During discovery we found that the landlord had altered the terms regarding rent via text and also discovered certain wrongdoings on the part of the landlord.  Using that information, we pressured the landlord to dismiss the claims against our client without any payment.  It was a complete victory for our client!  

,

2022

Represented two employees who worked at a clothing company in NY and obtained a settlement of $150,000 for their unpaid wages in federal court.  

,

2022

Filed a summary judgment motion against a commercial tenant and prevailed, obtaining a judgment of 1,246,035.00.  

,

2022

My client was owed more than $400,000 against a foreign government agency.  With one demand letter, our client was able to recover over $380,000 in a week.  

,

2022

Represented a corporate client that was sabotaged by an executive employee who criminally defrauded the employer.  Upon retention, the firm promptly prepared all the detailed evidence as well as affidavits setting forth the factual grounds for the crimes committed by the defendant and submitted them to federal authorities for prosecution.  During the process, the firm closely worked with federal authorities and eventually obtained a guilty plea by the Defendant including the restitution of $2,918,962.48.  ,

2022

Mr. Lim represented several diplomats of a UN member state in connection with a wage and hour claim.   He immediately filed a pre-Answer motion based on a federal law immunity applicable to foreign diplomats and dismissed them from suit.  

,

2021

Was retained by a client who claims that he was not properly paid wages by his employer.  With one demand letter, Mr. Lim secured a settlement making the client completely whole.  

,

2022

A client who was represented by another counsel came in in a panic.  He recently discovered that due to his attorney's negligence which had been concealed from him for a long time, his pleadings had been stricken with prejudice, and was about to face a half-million dollar judgment soon.  As soon as we got retained, we investigated the case.  Upon investigation, we noted that the file was in complete disarray, and seemed hopeless to recover it.  Within 2 weeks from retention, however, we reconstructed the file and completed the allegedly outstanding discovery.  Then, we filed a motion to restore the pleadings, arguing that it was the attorney's inexcusable neglect that led to the client's pleadings being stricken with prejudice and that the counsel's sins should not be imposed on the client.  After one hour-long oral argument, the Judge granted the motion, permitting the client's motion to be restored with certain conditions!  

,

2022

Represented a client who got into the dispute as to the ownership of a house with a couple who have been staying at the house in dispute for years.  She wanted to eject them from the house by establishing that she is the rightful owner of the house. After several days of bench trial, the Court ruled that our client is the rightful owner of the house and therefore the couple should be ejected.   

,

2022

Represented a client who brought a defamation claim against an individual and corporations, one domestic and one international.  Upon instituting a complaint and amending it, the Defendants offered to settle on the terms our client demanded: paying a portion of counsel fees, issuing a public apology, and terminating the individual who defamed our client from the corporation she is working for.  In addition, we dismissed all their counterclaims with prejudice.  

,

2022

Previously obtained a Judgment in Federal Court in the amount of $300,000 against several defendants and, after several years of vigorous , relentless collection efforts which included the retention of a professional investigator, the clients we able to be paid on the Judgment.  

,

2021

Represented a corporate client who got sued by an international law firm for fraudulent transfer.  Upon retention of the case, I undertook investigation of the claims and eventually served a frivolous litigation notice along with the facts we discovered.  Upon service of the notice, they dismissed the claims immediately.  

,

2021

Represented an individual client who got sued in NY state court for wage and hour violations where plaintiff sought hundreds of thousands of dollars in damages.  She later filed bankruptcy chapter 7 but plaintiff's counsel filed an adversarial proceeding against her to lift stay.  Upon investigating the claims, we served Rule 11 sanction motion upon plaintiff's counsel.  Shortly thereafter, they voluntarily dropped the claims against her in the federal adversarial proceeding and the state court.   The claims against her in both courts were dismissed with no litigation.  

,

2021

Represented a commercial tenant who owed about $90,000 in back rent, utilities, late fees, and attorney fees.  With one letter, we were able to settle the claim for $30,000. 

,

2021

Represented a minority shareholder in a multimillion deli business in NY who got oppressed by the other shareholders.  He could not access the store nor did he take any salary from it.  He initially had two other counsel who did not accomplish anything for six months and then retained our firm.  As soon as we got retained, we filed an OTSC seeking a number of reliefs, all of which were granted by the trial Judge.  Then, in a matter of three months, we settled for 2.3 million dollars for a buy-out.  We settled the case for a 2.3 million dollar buy-out in three months from the time of retention.  

,

2021

Represented a corporation and its principal that got sued for among other things assault and tortious interference.  We also filed a counterclaim against the Plaintiffs for tortious inference.  After conducting aggressive discovery, we settled the claim where our client pays no money to the Plaintiffs whatsoever.  In addition, we were able to have the Plaintiffs sign a statement that completely reflects the client's wishes which is to have the Plaintiffs acknowledge and apologize for what they did wrong.   It was a great result for the clients!  

,

2021

Represented a client who was charged with a felony for fraud in a while collar crime.  We submitted evidence to the state prosecutor to convince him to downgrade the charge to misdemeanor.   After the state prosecutor downgraded the charge, we further convinced the municipal prosecutor to ultimately dismiss the charge with prejudice for lack of evidence.  

,

2021

Prevailed on a summary judgment motion against a well known local restaurant in NY and its owner for breach of contract in the amount of $391.928.00 with interest accruing at the rate of 9% from December 24, 2019 which equals to $440,000.  In this summary judgment motion, we dismissed all their counterclaims with prejudice.  

,

2021

Represented a commercial tenant against the landlord in a case involving claims such as fraud, unjust enrichment, conversion based on a provision in the lease that the landlord could only charge its tenants "actual expenses" she incurred in providing service for common area.  We demanded accounting, which the landlord refused.  As a result, we filed a claim and obtained a judgment in the amount of $134,520.65 against the landlord.  

,

2021

Represented a member of Buddist Temple in connection with an Order to Show Cause whereby he sought to enjoin a religious leader from being involved in the corporate governance and financial management of the Temple.  All reliefs sought in the Order to Show Cause were granted.  

,

2021

Represented a mom (intervenor in a pending divorce action) who allegedly gifted $140,000 to her daughter when she got married and later bought a house with her husband.  The house was purchased under the husband's name, not the daughter's.  At the time of divorce, the husband claimed it was a gift, and therefore, the mom is not entitled to the money back.  Under the existing law and the circumstances, it was very difficult to argue that the money was not a gift, but a loan.  When we intervened in the divorce case, the Judge seemed to be already leaning on the side of the husband who claimed that it was a gift, not a loan, in which case, the mom would not receive any money back.  As soon as we intervened, we presented new evidence and argued why it is not a gift.  Shortly thereafter, the parties settled in a way that the money received $120,000 and the daughter received 50% of the remaining $20,000.  Ultimately, mom and her daughter recovered the vast majority of the $140,000.  

,

2020

Represented a CPA firm where a former partner secretly took some files containing trade secrets and proprietary information and set up a competing firm.  In doing so, she also solicited some high-profile clients from our client.  We immediately filed an Order to Show Cause.  As soon as the OTSC was filed against her, she admitted to her wrongdoing and settled the matter; the stolen clients were returned, the files she secretly took were restored, she agreed not to solicit any of our client's clients for the next five years, and she agreed to pay part of our client's legal fees   The entire matter was resolved within a few weeks from the time we discovered her wrongdoing.  

,

2021

Represented a doctor who got sued for emotional distress sounding in palimony claim seeking several hundred thousand dollars.  Dismissed the claim by filing a dispositive motion.  Since then, no demand has been made against him for monetary claims.  As a result, he has not paid her a dime for her claims.  

,

2020

Represented an individual client in a copyright violation case in Eastern Federal District of New York where multiple defendants are sued.  After serving a Rule 11 sanction motion against the Plaintiff and conducting limited discovery, the Plaintiff voluntarily dismissed the case against our client.  

,

2021

Our corporate client was sued for a breach of contract by a foreign company represented by an international firm, seeking over 3 million dollars in damages.  After more than 14 months of litigation, we settled the case for $5,000.  Complete victory!  

,

2021

Represented a client who was sued by his ex-girlfriend for personal injury claims sounding in defamation and filed a pre Answer motion to dismiss. The motion was granted.   

,

2020

Represented a client who has not received nearly $200,000 worth of assets from the divorce which was consummated almost 17 years ago.  With the exchange of two letters, we successfully secured an agreement where she could receive nearly $200,000 in marital assets.    

,

2020

Represented a corporate defendant who got sued for allegedly breaching a contract in connection with the sale of commercial property nearing 2 million in value.  After deposing the attorney who represented the buyer, we obtained complete dismissal of all claims by arguing that the contract in question was illegal, and therefore, unenforceable.  We also argued that the buyer elected to terminate the contract, and therefore, the contract no longer exists and therefore it cannot be breached.  Plaintiff' counsel voluntarily dismissed all claims after the deposition.  

,

2020

Represented a client who was wrongfully terminated for being injured.  She was an hourly employee over 70 years old that worked in the kitchen for a year.  Defendant took no-pay position.  We kept pushing the case through discovery without giving up on the claim.  Then on the day of trial, the Defendant settled for an amount that is favorable to the client.   

,

2020

Represented a commercial tenant who had a lease agreement where the landlord was supposed to be responsible for the noise emanating from another tenant in the building.  This matter was arbitrated by Retired Judge, James Rothschild.  In the course of arbitration, we obtained a decision that is worth close to $200,000 in monetary damages, including counsel fees.  In issuing the arbitration decision dated January 17 2020, the arbitrator, referring to Joshua Lim, wrote, "my experience as a lawyer, Judge, mediator and arbitrator, has not uncovered another case where a tenant achieved so much".  

,

2020

Represented an employee who was terminated after six months.  Obtained a favorable settlement against a global company which initially refused to pay much, after filing a complaint.  Entered into a confidential agreement in August 2020.  

,

2020
Office location for Joshua Lim
460 Bergen Blvd.
Suite 305
Palisades Park, NJ 07650
Phone: 201-740-2953
Selections
Super Lawyers: 2020 - 2023
Rising Stars: 2014
Additional sources of information about Joshua Lim
Attorney resources for Joshua Lim