« Back to Results
Stuart L. Finz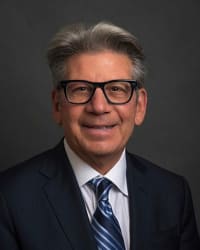 Attorney Profile
Top Rated Personal Injury Attorney in Mineola, NY
Phone: 516-433-3000
Fax: 516-433-3001
Selected To Super Lawyers:
2007 - 2021
Practice Areas:
Personal Injury - General: Plaintiff (40%),
Personal Injury - Medical Malpractice: Plaintiff (30%),
Personal Injury - Products: Plaintiff (30%)
Attorney Profile
A highly regarded civil litigator, Stuart L. Finz is the senior trial attorney at Finz & Finz, P.C. Located in Mineola, New York, he focuses his practice exclusively on personal injury, medical malpractice and wrongful death litigation, representing clients in Nassau and Suffolk and other parts of the greater New York City metropolitan area. Mr. Finz has been admitted to practice in New York since 1988, and he is also admitted to practice before the U.S. District Courts for the Eastern, Southern and Northern Districts of New York.
Mr. Finz has been able to obtain hundreds of millions of dollars through both jury verdicts and settlements that he has negotiated out of court on behalf of his clients who have been harmed by the negligence of other parties. Some of his representative results have included a $20.5 million jury award against a tobacco company for a client who contracted lung cancer, a $14.7 million verdict for a worker who was injured on the job and a $24.5 million settlement for a victim of a truck accident. These and other successes have led to his being a member of the invitation-only Multi-Million Dollar Advocates Forum.
In addition to the foregoing, Mr. Finz has prosecutes cases involving defective products, auto-pedestrian accidents, toxic torts and premises liability. His successful track record and high degree of ethics have led to a great deal of recognition from his fellow attorneys, including being named to The National Trial Lawyers: Top 100. Mr. Finz's professional affiliations include the American Association for Justice, the New York State Trial Lawyers Association and the Nassau County Bar Association. He is a graduate of the Thomas Jefferson School of Law in San Diego, California.
Practice Areas
40%

Personal Injury - General: Plaintiff

30%

Personal Injury - Medical Malpractice: Plaintiff

30%

Personal Injury - Products: Plaintiff
Focus Areas
Animal Bites, Assault, Motor Vehicle Accidents, Personal Injury - Plaintiff, Slip and Fall, Wrongful Death, Dram Shop Laws, Construction Accident, Brain Injury, Sexual Abuse - Plaintiff, Toxic Mold, Trucking Accidents, Premises Liability - Plaintiff, Dental Malpractice, Medical Malpractice, Birth Injury, Delayed or Incorrect Diagnosis, Informed Consent, Motor Vehicle Defects, Medical Devices, Pharmaceutical, Products Liability
Selections


Super Lawyers: 2007 - 2021
Email Me
To: Stuart L. Finz
Super Lawyers: Potential Client Inquiry
Additional Sources of Information About Stuart L. Finz
About Stuart Finz
Admitted: 1988, New York
Professional Webpage: https://finzfirm.com/our-team/stuart-l-finz/
Honors/Awards:
Proclamation for "Outstanding Service and Contributions," New York City Council   

The National Trial Lawyers Top 100

Recognition of "Exemplary Service to the Community, Advancing the Practice of Law and Promoting Civic Unity," New York State Assembly

New York Super Lawyers, Top Personal Injury Trial Attorney, 2007 - 2020

Listed in the New York Law Journal report of Largest Verdicts

Listed in Verdict Search for Top New York Verdicts of 2014.

, Verdict Search,

2014

Elected President of the Law School Student Body and listed in Who's Who in American Colleges and Universities

Selected by the Leaders of the Democratic party to run for United States Congress in the 3rd Congressional District

Listed in Verdict Search for Top New York Verdicts of 2015.

, Verdict Search,

2015

Selected as Member of the Multi-Million Dollar Advocates Forum

Listed in Verdict Search for Top New York Verdicts of 2012.

, Verdict Search,

2012
Bar/Professional Activity:
U.S. District Court, Southern District of New York

U.S. District Court, Northern District of New York

U.S. District Court, Eastern District of New York

Association of Trial Lawyers of America

New York

Member, American Bar Association

Member, American Association for Justice

Member, Nassau County Bar Association

Vice-Chair of the Queens County Medical Malpractice Committee

Member, New York State Trial Lawyers Association

Member, Queens County Bar Association

Board of Directors of Brandeis Association
Scholarly Lectures/Writings:
Lectured, New York County Lawyers Association

Co-authored, Problems of a DES-Exposed Woman in Her Childbearing Years, Legal Implications
Verdicts/Settlements:
$2,252,000 Settlement for our client, who at the age of 28 was pregnant with her second child. She had an uneventful pregnancy and was admitted to a Long Island, New York, hospital for labor and delivery. The delivery was to be conducted by a midwife. As the labor progressed, there were certain indications on the fetal monitoring strips that showed the potential for mild fetal distress. Both our client and the midwife wanted the delivery to be natural and not by c-section, so the labor continued with the midwife monitoring the fetal strips. The baby was born by vaginal delivery and had some mild complications that have now mostly resolved. A lawsuit was filed against the hospital and midwife for failing to deliver the child earlier by c-section. Had a c-section been performed when there were signs of potential fetal distress, the baby would not have suffered any post-birth complications. The defense asserted that the mother chose to prolong the pregnancy, so that she could have a natural delivery. The defense further asserted that the injury to the child, if any, was mild at best. The case came up for trial in Nassau County Supreme Court and settled just prior to jury selection. In addition, since this case involved labor and delivery, our firm successfully enlisted the child into the New York Medical Indemnity Fund, which will provide full medical coverage for life.

,

2020

$1,500,000 settlement for our client, a U.S. Navy veteran who served as a young solider, developed a cataract in his right eye at the age of 61. Since he served in the United States military, his medical care was provided through a Veterans Administration (VA) hospital. Unfortunately, the treatment provided was below the acceptable standard of care and our client suffered a permanent partial loss of vision in his right eye. Our law firm was retained, and a lawsuit was quickly commenced in Federal Court, Southern District of New York. After a long-fought battle, and shortly before trial, the U.S. Attorney agreed to a settlement in the sum of $1.5 million. This settlement will provide financial security to our client, and he is now pursuing his dream of enjoying his "golden years" without financial burden.

,

2020

$1,00,000 settlement for our client, a loving wife and mother, who was diagnosed with an abscess caused by diverticulitis when she presented with abdominal pain. After her initial diverticulitis treatment, her abdominal pain subsided. She then had a recurrence of pain and the treatment continued. Unfortunately, she had two simultaneous conditions: diverticulitis and colon cancer. Since the symptoms of the colon cancer were masked by diverticulitis, the proper diagnosis of cancer was not made until it was too late. On behalf of her estate, our firm was retained to file a lawsuit against the treating doctors and hospital. We immediately filed the lawsuit and litigated in New York State Supreme Court, Nassau County. We argued that the doctors treating our client should have had a differential diagnosis of neoplasm based on her symptoms and a family history of colon cancer. The delay in diagnosing the cancer was approximately six months and the defense fought hard, staking out the position that there was no departure from good and accepted medical practice because her symptoms were consistent with diverticulitis and not cancer. The defense also argued that had she been diagnosed with cancer six months earlier, based on the type of cancer she had, it would not have changed her outcome. We aggressively asserted that there were numerous red flags missed by the defendant doctors and hospital, and had they been more vigilant, the proper cancer diagnosis would have been made in time to prolong our client's life. The case was scheduled for trial in Nassau County during the COVID-19 pandemic. Prior to trial, the parties agreed to mediation, and based on our thorough preparation and in-depth knowledge of the medical issues, the defense was pressed to settle in the sum of $1.0 million.

,

2020

$1,200,000 settlement for our client, a 58-year-old New York City Transit worker, who had a history of hypertension and was taken by ambulance to a New York City hospital in Brooklyn with left upper body weakness. The initial examination indicated that he may have been suffering from a stroke, which meant that it was important to confirm the initial diagnosis and administer treatment as soon as possible. If it was a stroke, he would have to be transported to a hospital that treated stroke patients. In order for our client to get to a hospital with a "stroke team" in time to administer the appropriate medication, the Brooklyn hospital had to act quickly in confirming its initial diagnosis. Unfortunately, there was a delay in ordering, conducting and reviewing the appropriate tests. By the time the stroke was confirmed, and our client was transported to the stroke hospital, it was too late to administer what is called "clot buster" medication. Although he was treated for a stroke, the clot buster medication could not be administered and he now suffers from stroke-related injuries. The Brooklyn hospital defended the case vigorously, alleging that they acted swiftly in diagnosing his stroke, which had occurred prior arriving at the emergency room (ER), and that he was transported to the stroke center as quickly as possible. It was the hospital's position that nothing could have been done to prevent his injuries. They believed that by the time our client arrived at the ER, it was too late. We were fully prepared to proceed to trial, and based on the extreme level of preparation by our firm, the defendants agreed to a mediation. A full PowerPoint presentation and timeline of events demonstrated the strength of our legal theory and commitment to our client. Although the case did not settle at the mediation, it did settle a few days later for $1.2 million.

,

2020

$5,500,000 settlement for the estate of a 37 year old who gave birth to a baby girl and was discharged with some vaginal bleeding. She returned to the ER with pain in her back and legs, and after being in the ER for approx one hour began to bleed heavily and was taken to the operating room. It was determined that she had sepsis due to retained placenta. She died two weeks thereafter.

,

2019

$24,500,000 settlement in the Southern District of New York for a 2 two year old child and his mother who were seriously injured in a motor vehicle accident on the New Jersey Turnpike on July, 4, 2008.  The settlement for the infant in the sum of $21,000,000 is the largest settlement in New York for a single personal injury plaintiff

,

2009

$400,000 settlement for a senior citizen who died in a house fire.

,

2013

$2,375,000 Settlement for the death of a patient taken to the hospital with chest pain and permitted to go to the bathroom unattended when he suffered a heart attack and died

,

2011

$2,200,000 settlement for injured truck driver.

,

2015

$1,500,000 verdict for auto accident victim who sustained fractured leg.

,

2005

$1,225,000 settlement for passenger on a bus who sustained a herniated disk in his neck requiring surgery

,

2012

$500,000 settlement against a doctor on behalf of a pregnant woman who had high blood pressure and was not properly monitored during labor, which subsequently led to an injury that was disputed by the doctor's defense team.

,

2016

$400,000 settlement (full insurance policies) for auto accident victim who sustained cervical fracture

,

2007

$1,140,000 settlement for mother and son injured in a truck accident. The insurance company for the truck company tendered its full policy. The underinsurance carrier tendered its full policies. The truck company contributed to the settlement above all insurance limits.

,

2011

1,650,000 Settlement against a doctor for failure to diagnose scoliosis in a child. As a result of this medical departure bracing was not an option and surgery was performed.

,

2016

$450,000 settlement against Nassau County for failing to set-up proper road work site causing a driver to strike the rear end of a county maintenance vehicle. Nassau County instituted policies for road worksite safety after settlement

,

2008

$750,000 settlement for woman who aborted her pregnancy and sustained an emotional injury as a result of her doctor incorrectly advising her that she was pregnant with a Down Syndrome child.

,

2013

$3,000,000 Medical malpractice settlement against a doctor who failed to properly manage high grade stenosis of the left cerebral artery resulting in a stroke and neurological deficits.

,

2016

$500,000 settlement for a child that was exposed to lead paint.

,

2012

$20,520,000 verdict for a smoker that developed lung cancer

,

2005

$1,150,000 settlement for a 72 year old female with Parkinson's disease, who was in the hospital to regulate her medication and placed in a chair and left without a call button, got up to use the bathroom and fell fracturing her hip. The claim included traumatic exacerbation of Parkinson's disease

,

2011

$1,800,000 Medical malpractice settlement on behalf of the estate of a retired NYPD officer after a Queens hospital failed to diagnose a dissecting aorta.

,

2016

$760,000 settlement for lead paint victim

,

2007

$1,140,000 Settlement against a truck company for an accident in Pennsylvania. The settlement included the full liability insurance policy limit, underinsurance and a personal contribution from the trucking company

,

2012

$3,300,000 settlement for a farmer that was killed due to the failure to properly maintain farm equipment.

,

2015

$650,000 settlement for auto accident victim who sustained a herniated disc

,

2006

$390,000 settlement for girl who fell from a school bus and sustained an ankle fracture

,

2011

$500,000 settlement against a store owner who left a cellar door opened resulting in a fall and fractured vertebrate.

,

2016

$400,000 settlement just prior to opening statements for a 73 year old woman who fell in the lobby of her apartment building fracturing her arm which required surgery.

,

2012

$2,600,000 settlement for a construction worker that was struck in the head by the boom of an excavator and sustained a TBI.

,

2012

$1,500,000 settlement during trial against a landlord for head injuries sustained as a result of a trip and fall over a loose floor tile in an apartment

,

2011

$6,675,000 settlement against a drug manufacturer and medical malpractice defendants for a child who sustained a cardiac birth injury.

,

2013

$5,000,000 verdict for burn victim against chemical company.

,

2006

$400,000 Settlement for a school teacher that crossed the street in the middle of the block and was struck by a car sustaining a fractured hip

,

2011

$14,768,000 verdict for a New York City porter who was injured because the managing agent of the building did not see to it that he was properly trained and the compactor he was assigned to use was properly inspected and maintained.

,

2015

$5,000,000 settlement in brain damage baby case

,

2007

$465,000 settlement for woman who slipped and fell on ice in front of a department store and sustained a compression fracture in her back

,

2012

$2,300,000 Medical malpractice settlement against a doctor for prescribing inappropriate medication which promoted uterine cancer.

,

2016

$1,000,000 settlement against Frymaster for burns sustained due to alleged defectively designed deep fryer

,

2008

$345,000 settlement with New York City Housing Authority for failure to maintain the front door entrance lock which resulted in the plaintiff being assaulted in the apartment building where his sister was a tenant.

,

2011

$9,750,000 settlement for child who suffers from short bowel syndrome as a result of medical malpractice.

,

2013
Videos:
Some of the practice areas at the Finz firm

,

Finz Firm Videos

,

2012
Educational Background:
Long Island University, Bachelor of Arts, Cum Laude
Show More
Stuart L. Finz:
Last Updated: 3/22/2021