Susman Godfrey L.L.P.
1301 Avenue of the Americas
32nd Floor
New York, NY 10019
Phone: 212-336-8330
Fax: 212-336-8340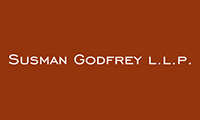 Firm Profile
The more than 85 trial lawyers at Susman Godfrey L.L.P. focus on high-stakes commercial litigation. With offices in Houston, Dallas, Los Angeles, New York, and Seattle, we have earned our reputation as one of the best litigation boutiques – and, according to Vault.com in 2012, the best litigation boutique in the United States.  Steve Susman founded the firm in 1980, and two years later Lee Godfrey joined him. Having won the largest antitrust verdict ever at the time in the Corrugated Containers case, Steve saw a need that no one else filled – the need of business clients for representation in large commercial cases on a contingency basis, the fee structure that until then only personal injury lawyers would offer. Steve believed if an attorney wouldn't take a case on contingency and willingly share the risk with the client, the lawyer ought not file the case.
Our attorneys are stand-up trial lawyers, not discovery litigators. Regardless of whether we represent the plaintiff or defendant in a case, everything we do aims to prepare the case for trial and help our attorneys persuade a jury. Having us involved often convinces the other side to offer a good settlement before trial. At Susman Godfrey, we strive to achieve the best possible result in the courtroom at the least possible cost to our clients.
Some of our recent high-profile victories include winning multi-million dollar awards after trial during 2012 in patent, oil and gas, and merger and acquisition cases; securing a $226 million jury award for Dillard's, Inc., against I2 Technologies and a $178.7 million verdict against NL Industries; and defeating at trial claims for $50 million, $70 million, and $500 million. When clients choose Susman Godfrey L.L.P., they know we are willing to share risk through our unique model and that we stand ready to handle any high-stakes commercial litigation case.
Attorney List
Show More
Practice Areas
50%

Business Litigation

20%

Intellectual Property Litigation

10%

Antitrust Litigation

10%

Energy & Natural Resources

10%

Securities Litigation