Derrelle Janey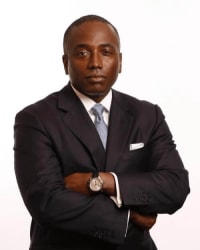 Attorney Profile
Top Rated Securities Litigation Attorney in New York, NY
Selected To Rising Stars:
2015 - 2020
Practice Areas:
Securities Litigation (30%),
Criminal Defense: White Collar (30%),
Business Litigation (20%),
Health Care (10%),
Antitrust Litigation (10%)
Attorney Profile
Mr. Janey is Of Counsel at Robert C. Gottlieb & Associates LLP where he advises on complex civil and white-collar defense litigation matters.  He was formerly a named partner of the predecessor firm, Gottlieb & Janey, where he was employed for nine years.  Mr. Janey is currently the managing partner at The Janey Law Firm LLP. 
Mr. Janey's litigation experience ranges across a broad spectrum including securities litigation, financial services litigation, healthcare litigation and bankruptcy litigation in federal and state courts across the United States.  He has considerable experience litigating securities matters, regulatory defense actions (e.g., actions commenced by the SEC), and complex healthcare matters (particularly those involving medical products distributors).  In addition to New York State and Federal courts within the Second Circuit, Mr. Janey has appeared on many occasions in the United States District Court for the Eastern District of Michigan where he is admitted to practice, as well as federal courts in Florida, Massachusetts, New Jersey, Alabama, and state courts in California and Nevada.
In addition, Mr. Janey has substantial experience, including trial experience, in the area of white collar criminal defense, and in particular where the defendant is charged with securities fraud, wire fraud, bank fraud or violations under the Computer Fraud and Abuse Act.  In fact, Mr. Janey has been involved in some of the leading white collar defense and investigative matters of the past several years. In 2018, Mr. Janey co-led with his former partner Robert Gottlieb the Ponzi Scheme trial of sports-radio talk show host, Craig Carton, resulting in a substantially reduced sentence from the Government's recommendation to the court.
In 2017, related to his representation of Michael Klein, the former town attorney for Ramapo, New York, in a SEC enforcement action alleging, inter alia, fraud, Mr. Janey successfully resolved the litigation prior to trial.  In 2015, Mr. Janey and his former partner, Robert Gottlieb, represented Galen Marsh, the Morgan Stanley financial adviser accused of stealing large portions of his employer's wealth management client data.  Mr. Marsh received probation.     
Some of Mr. Janey's recent non-criminal representations include commencing a securities fraud and breach of contract action against a public company and its officers on behalf of an investor where the investor, ultimately, successfully won a judgment, and defending medical products distributors from trade mark infringement and civil RICO claims, where Mr. Janey defeated RICO and fraud claims.  Notably, in 2014, Mr. Janey commenced an action in federal district court against the SEC challenging the constitutionality of trying his client, Jordan Peixoto, for insider trading in the SEC's administrative hearing forum.  The SEC dismissed the charges against Mr. Peixoto.
In the area of bankruptcy litigation, recently, Mr. Janey was retained by a bankruptcy trustee to serve as outside general counsel to the trustee in 15 bankruptcy matters.  Separately, in 2018, Mr. Janey was the trial lawyer representing a trustee on behalf of a bankruptcy estate in a fraudulent conveyance case against multiple defendants.  Further, unrelated, in 2018, Mr. Janey successfully settled a bankruptcy matter at the door step of trial, generating millions in recovery for the debtor estate.
In 2017, the New York Law Journal named Mr. Janey as among 22 "Distinguished Leaders" in the New York legal industry.
Practice Areas
30%

Securities Litigation

30%

Criminal Defense: White Collar

20%

Business Litigation

10%

Health Care

10%

Antitrust Litigation
Focus Areas
White Collar Crime, Criminal Law - Federal
Selections
Rising Stars: 2015 - 2020
Email Me
To: Derrelle Janey
Super Lawyers: Potential Client Inquiry
Articles about Derrelle Janey appearing in Super Lawyers
Additional Sources of Information About Derrelle Janey
About Derrelle Janey
Admitted: 2011, New York
Professional Webpage: http://www.gottliebjaney.com/attorneys/derrelle-janey
Honors/Awards:
For his demonstrated success and leadership in large, complex and national litigation, the New York Law Journal named Mr. Janey as among its Distinguished Leaders for 2017.

,

Distinguished Leader Award

, The New York Law Journal,

2017
Bar/Professional Activity:
United State District Court for the Northern District of Alabama - admitted pro hac

,

2019

United States Bankruptcy Court for the Western District of New York - admitted to practice

,

2020

District Court, Clark County, Nevada (Order Admitting Pro Hac)

,

2020

United States District Court for the Eastern District of Michigan- admitted to practice

,

2019

United States District Court for the District of New Jersey (pro hac vice)

,

2018

United States District Court for the Commonwealth of Massachusetts (pro hac vice)

,

2018

United States Court of Appeals for the First Circuit

,

2018

United States District Court for the Middle District of Florida (pro hac vice)

,

2018

United States District Court for the Southern District of Florida (pro hac vice)

,

2018

United States District Court of Appeals for the Second Circuit

,

2018

United States District Court for the Western District of New York

,

2018

New York

New York State Bar Association, Member

National Black Trial Lawyers Association, Member

American Bar Association, Member

Federal Bar Council Member

United States District Court for the Southern District of New York

,

2012

New York City Bar Association, Member

United States District Court for the Eastern District of New York

,

2013
Pro bono/Community Service:
Scholarly Lectures/Writings:
Critique of the Government's use of wiretaps in recent insider trading cases.

,

co-author

,

Wiretaps and Fourth Amendment: Lessons from the Galleon Prosecutions

, New York Law Journal,

2012

Analysis of recent regulatory expectations for chief compliance officers of financial services companies.

,

co-author

,

Broker-Dealer Compliance in Era of Regulatory Pressures

, New York Law Journal,

2014

Description of current state of the law regarding legal requirements for application to stay civil proceedings where defendant also faces concurrent criminal action.

,

author

,

Parallel Proceedings: Staying the Civil Action

, New York Law Journal,

2014

Analysis of the limitations for defendants defending against claims commenced in SEC administrative enforcement proceedings as compared to defending against such claims in federal court. 

,

Author

,

The Odds Are Stacked Against Insider Trading Defendants

, Law360,

2015

Description of the various ways in which parallel criminal cases impact and potentially hinder bankruptcy adversary proceedings, and approaches for overcoming those situations.  

,

Author

,

How Criminal Cases Affect Bankruptcy: Debunking the Myths

, Law360,

2016

Using the dismissal of RICO and unjust enrichment claims in Abbott Laboratories et al v. Adelphia Supply USA et al, 15-cv-5826, this article describes and analyzes the heightened pleading standards required for pleading RICO claims and the reasons courts in the Second Circuit carefully consider whether such claims should proceed beyond the pleading stage.

,

Author

,

Pleading Civil RICO: Lessons from the Abbott Litigation

, Law360,

2017
Verdicts/Settlements:
In Re Intuniv Antitrust Litigation, 18-MC-00062-CEM-DCI - won motion for protective order quashing non-party subpoena for documents and testimony on behalf of former CEO of competitor of Intuniv.

,

2019

Abbott Laboratories et al. v. Adelphia Supply USA et al., 15 Civ. 05826 (CBA)(LB)--settled this multi-year litigation in respect of defendants Coolrelic Inc. and Ralph Amato.

,

2020

Abbott Laboratories et al. v. Adelphia Supply USA et al, 15 Civ. 05826 (CBA)(LB)--settled this multi-year action in respect of defendant NWHOLESALDEALS

,

2020

In Re: Loestrin 24 FE Antitrust Litigation, United States District Court for the Southern District of Florida, Case No. 18-22581-MC-Altonaga/Goodman- won motion to quash subpoena for documents and testimony served upon former CEO competitor of Loestrin

,

2018

Direct Access Partners, LLC v. Rothstein, Kass & Co., P.C., Docket No. L-2107-14, New Jersey Superior Court Law Division, Essex County.  Trial counsel to broker-dealer in action against former accountant.  Matter settled during the course of trial. ,

2018

United States of America v. Jack Ventola, 15-cr-10356 (District Court of Masschusetts) (DPW).  Mr. Janey represented Jack Ventola in this white collar criminal tax prosecution.  Client entered into a plea arrangement with the Government and the judgment of conviction at the sentencing hearing was 24 months of incarceration for failing to pay taxes for 8 years.  Based on the defense sentencing submission, including the described acts of charity and involvement in the community, the Court sentenced Mr. Ventola to 24 months instead of the 36 month term requested by the Government. ,

2018

Peter Best v. Marva Layne & Asim Walker, Docket No. 18 2299 (Second Circuit Court of Appeals, 2018).  Mr. Janey represented the plaintiff-appellant, Peter Best, on appeal of District Court (SDNY) abstention of jurisdiction over defamation and tortious interference action on Colorado River grounds.  Following multiple sessions of Second Circuit CAMP mediation, the parties settled the matter by stipulation, more particularly, preserving Mr. Best's defamation and other tort claims for adjudication in a related state court action.,

2018

Securities and Exchange Commission v. Town of Ramapo, et al., 16 CV 2779 (CS)(SDNY).  Represented town attorney (corporation counsel) in an alleged municipal fraud action prosecuted by the SEC.  Settled the SEC matter with minimal restrictions and penalties on client.,

2018

Sugarhouse Casino, HSP Gaming, LP v. Craig Carton, Docket No DJ-041942-18 (Superior Court of New Jersey, Mercer County, Law Division).  Plaintiff commenced action against client while client was in the course of a federal criminal investigation.  Civil suit for money damages settled.

,

2018

City National Bank v. Carton, Index No. 153753/2018 (N.Y. Sup. Ct. 2018).  Financial institution action against client while client was in the course of a criminal indictment.  Civil suit for money damages settled.,

2018

United States of America v. Craig Carton et al, 17 cr 680 (CM) (SDNY).  White collar criminal case where the defendant was found guilty.  Mr. Janey served as trial counsel.,

2018

In re In the Matter of Jordan Peixoto, Administrative Proceeding File No. 3-16184.  Jordan Peixoto was charged by the SEC with substantive insider trading in the stock of Herbalife.  Following intense pre-trial motions and filing a petition to transfer the matter to the Federal District Court (suing the SEC), the Division of Enforcement filed a motion to dismiss the charges against my client, Mr. Peixoto.

,

2014

In what has been touted as the most important cybersecurity-related action to date at that time, the SEC fined Morgan Stanley $1 million for violations of the so-called safeguards rule, which requires firms to adopt policies and procedures to safeguard customer information.  This penalty occured in the context of the former Morgan Stanley employee, Galen Marsh, allegedly stealing data from 730,000 Morgan Stanley customer accounts.  I, along with my partner, Robert Gottlieb, represented Marsh in both the federal criminal case against him, as well as the SEC enforcement action.  In terms of the criminal case, Mr. Marsh was sentenced to 3 years of probation and, with respect to the regulatory enforcement action, Mr. Marsh was suspended from the securities industry for 5 years with an opportunity to reapply. 

,

2016

On behalf of an investor, Mr. Janey commenced a securities litigation action against a public company in federal court in New York alleging alternatively securities fraud and breach of contract in connection with a securities offering.  The defendants filed a motion to dismiss the complaint and were defeated.  In a rare instance, the court's order dismissing the motion to dismiss practically invited the plaintiff to file a motion for summary judgment.  The case is captioned as Cottam v. Global Emerging Capital Group, LLC et al, 16-cv-04584 (SDNY) (RJS).,

2017

In February 2018, in a multi-defendant action prosecuted by the SEC alleging a multi-million dollar fraud scheme by the municipality (issuer) against investors, Mr. Janey represented the Town's corporate counsel, who was named as a defendant in the SEC action.  Ultimately, Mr. Janey reached a settlement in principle with the SEC Enforcement Division staff (pending approval by the SEC Commission) to settle all claims against his client on "a neither admit nor deny basis."  (The case is captioned as SEC v. Town of Ramapo, et al., SDNY, No. 16-CV-02779.)  ,

2018

As special litigation counsel to a chapter 7 Bankruptcy trustee, Mr. Janey led an investigation that culminated in legal action against the chapter 7 debtor's former law firm alleging claims, including aiding and abetting criminal fraud, legal malpractice and fraudulent conveyance.  The matter is captioned as Ian J. Gazes, as chapter 7 trustee for debtor WJB Capital Group, Inc., v. Mark Skolnick and Platzer, Swergold, Levine, Goldberg, Katz & Jaslow, LLP, Adv. Pro No. 15-01298 (Bankr. SDNY) (SCC).  After extensive litigation in both federal bankruptcy and district court, Mr. Janey successfully settled this complicated federal litigation matter.,

2017

In February 2018, Mr. Janey, as counsel to the principal individual and corporate defendants, settled a multiyear litigation alleging, inter alia, claims of fraud and conversion.  The case is captioned as The MaxCure Foundation, Inc. and Richard L. Plotkin v. Taylor J. Van Deusen, Wendy Van Deusen, Longhouse Reserve, Ltd., Tailored Productions, and Duke+Van Deusen Events, LLC, Docket No. BER-L-1070-15, Superior Court of New Jersey Law Division: Bergen County. ,

2018

In the largest trade infringement action prosecuted by the global pharmaceutical giant, Abbott Laboratories, Mr. Janey represented five commonly owned distributor companies based in Florida (who were among over 200 other defendants) defending against Abbott's infringement, fraud and civil RICO claims.  Mr. Janey, on behalf of his clients, filed a motion to dismiss Abbott's RICO and unjust enrichment claims, and conducted the oral argument on behalf of his clients and the clients of two other law firms (combined representing 46 defendants in the case).  By memorandum and order, Judge Carol Bagley Amon, chief judge of the Eastern District of New York, dismissed Abbott's RICO and unjust enrichment claims.  The case is Abbott Laboratories et al v. Adelphia Supply USA et al, 15 CV-5826 (CBA)(LB).  Abbott was represented by the law firm Patterson Belknap. ,

2017

In February 2018, on behalf of the chapter 7 trustee for the estate of Direct Access Partners, LLC, Mr. Janey, along with co-counsel, successfully settled an auditor malpractice action against a national accounting firm that was the former auditor for the broker-dealer/debtor in bankruptcy.  The case settled during trial, after opening statements and after the jury had been sworn.  (The case is captioned as Direct Access Partners, LLC v. Rothstein, Kass & Co., P.C., Superior Court of New Jersey, Docket No. L-2107-14.) ,

2018
Representative Clients:
Ian Gazes, bankruptcy chapter 7 trustee, Southern District of New York

,

2018

Craig Carton, nationally syndicated sports radio talk show host

,

2017

Michael Klein, former Town Attorney, Town of Ramapo, New York

,

2018

Yann Geron, bankruptcy chapter 7 Trustee, Southern District of New York

,

2018

Laurence Doud III, former chief executive, Rochester Drug Cooperative

,

2018

Jack Ventola, former chief executive officer, National Fish & Seafood

,

2017
Other Outstanding Achievements:
Attorney cameo in HBO Documentary, Wild Card, which describes the crimes, sentencing and underlying causes of the Ponzi Scheme prosecution of client Craig Carton.  Mr. Janey presents a discussion of the alleged crime, the sentencing and the restitution. ,

2020

Lawyers of Distinction, Recognizing Excellence in Civil Litigation 

,

2020

Who's Who in America, The Marquis Who's Who Publications Board

,

2020

Member, America's Top 100 High Stakes Litigators

,

2020
Videos:
Derrelle Janey represented sports radio talk show host, Craig Carton, in a federal criminal trial where he was accused of effectuating a Ponzi Scheme.  At sentencing, the Government sought 6-7 years incarceration; however, based on the sentencing submission, the Court sentenced Mr. Carton to 3 1/2 years.  In this interview, Derrelle Janey discusses the crimes and the sentencing.

,

Derrelle Janey Speaks About Sentencing of Accused Ponzi Scheme Client

,

2019
Educational Background:
Kenyon College, B.A. in Political Science

,

1993

University of Michigan Law School

,

1996
Industry Groups
Financial Services
Health Care
Comments
"Mr. Janey has extraordinary knowledge of the intricacies of securities and regulatory representation of corporations, businesses and individuals. His background in finance, investment industry and corporate sets him apart to other attorneys in this same area. His preparation at all stages of investigation and litigation cannot be matched by any other attorney."
"Derrelle is one of the up and coming stars in the white collar litigation area - especially in the securities industry. A client favorite who works tirelessly for his clients."
Show More
Derrelle Janey:
Last Updated: 1/8/2021