Jeremy A. Lieberman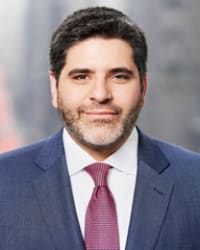 Attorney Profile
Top Rated Securities Litigation Attorney in New York, NY
Phone: 212-661-1100
Fax: 917-463-1044
Selected To Super Lawyers:
2016 - 2020
Selected To Rising Stars:
2014 - 2015
Attorney Profile
Jeremy A. Lieberman is the Managing Partner of Pomerantz LLP, overseeing Pomerantz's litigation practice.
Jeremy led the litigation of In re Petrobras Securities Litigation, in which Pomerantz achieved a stunning $3 billion settlement for defrauded investors. This closely-watched securities class action arose from a multi-billion-dollar kickback and bribery scheme involving Brazil's largest oil company, Petróleo Brasileiro S.A. – Petrobras, in which Pomerantz was sole Lead Counsel. The biggest instance of corruption in the history of Brazil ensnared not only Petrobras' former executives but also Brazilian politicians, including former president Lula da Silva and one-third of the Brazilian Congress. The Petrobras settlement is not only the largest securities class action settlement in a decade, but is the largest settlement ever in a securities class action involving a foreign issuer, the fifth-largest securities class action settlement ever achieved in the United States, the largest securities class action settlement achieved by a foreign Lead Plaintiff, and the largest securities class action settlement in history not involving a restatement of financial reports.
Beyond the exceptional financial recovery, Jeremy also secured a significant victory for Petrobras investors at the Second Circuit Court of Appeals, when the court rejected the heightened ascertainability requirement for obtaining class certification that had been imposed by the Third Circuit Courts of Appeals. The ruling will have a positive impact on plaintiffs in securities fraud litigation. Indeed, the Petrobras litigation was honored in 2019 as a National Impact Case by Benchmark Litigation. Jeremy was interviewed about Petrobras throughout the litigation by leading news media around the globe, and was featured in articles in, among others, the New York Times, the Financial Times, the Wall Street Journal, Forbes, and Piauí, a prominent Brazilian journal. Christopher Skroupa, in a January 8, 2018 article in Forbes (and featured online under the rubric "Leadership/#BigBusiness), wrote, "Lieberman continued, "These precedents will form the bedrock of class action jurisprudence in the Second Circuit for decades to come. Simply put, this litigation and its ultimate resolution have yielded an excellent result for the Class.""
Jeremy, with partner Michael Wernke, secured a $110 million settlement in 2019 in a securities class action against Fiat Chrysler. The settlement represents between 13.75% and 19% of maximum recoverable damages, which is between 8.5 and 11.8 times that of the median of 1.6% for settlements of similarly sized securities class actions.
In 2019, Jeremy achieved a $27 million settlement for the Class in Strougo v. Barclays PLC, a high-profile securities class action in which Pomerantz was Lead Counsel. The settlement amount was 28% of the alleged damages – an exceptionally high percentage. Plaintiffs alleged that Barclays PLC misled institutional investors about the manipulation of the banking giant's so-called "dark pool" trading systems in order to provide a trading advantage to high-frequency traders over its institutional investor clients. During the litigation, Jeremy achieved precedent-setting victories for investors, when the Second Circuit Court of Appeals held that direct evidence of price impact is not always necessary to demonstrate market efficiency to invoke the presumption of reliance, and that defendants seeking to rebut the presumption of reliance must do so by a preponderance of the evidence rather than merely meeting a burden of production. This will form the bedrock of securities litigation for decades to come.
Jeremy led the Firm's high-profile class action litigation against Yahoo! Inc., in which Pomerantz, as Lead Counsel, achieved an $80 million settlement for the Class in 2018 – the first significant settlement of a securities fraud class action filed in response to a data breach.
Jeremy led the litigation that in 2018 secured a $31 million partial settlement with three defendants in In re Libor Based Financial Instruments Antitrust Litigation, a closely watched multi-district litigation, which concerns the London Interbank Offered Rate (LIBOR) rigging scandal.
Jeremy leads the Firm's class action litigation against Perrigo Company plc, a global manufacturer of over-the-counter consumer healthcare products, generic drugs, and branded pharmaceuticals. On November 14, 2019, the District of New Jersey granted Class certification in the Perrigo class action. In addition to certifying a class of U.S. purchasers, and a class of investors impacted by the defeat of Mylan's tender offer, the Court also certified a class of investors who purchased their shares on the Tel Aviv Stock Exchange ("TASE"). This may be the first case, post-Morrison, where a Court has taken supplemental jurisdiction over a foreign traded security and then certified a Class for those foreign traded securities.
Jeremy heads the Firm's individual actions against pharmaceutical giant Teva Pharmaceutical Industries Ltd., Teva Pharmaceuticals USA, Inc. (together, "Teva"), and certain of Teva's current and former employees and officers relating to alleged anticompetitive practices in Teva's sales of generic drugs.  

In In re China North East Petroleum Corp. Securities Litigation, Jeremy achieved a significant victory for shareholders in the United States Court of Appeals for the Second Circuit, whereby the Appeals Court ruled that a temporary rise in share price above its purchase price in the aftermath of a corrective disclosure did not eviscerate an investor's claim for damages. The Second Circuit's decision was deemed "precedential" by the New York Law Journal and provides critical guidance for assessing damages in a § 10(b) action.
Jeremy had an integral role in In re Comverse Technology, Inc. Securities Litigation, in which he and his partners achieved a historic $225 million settlement on behalf of the Class, which was the second-largest options backdating settlement to date.
Jeremy regularly consults with Pomerantz's international institutional clients, including pension funds, regarding their rights under the U.S. securities laws. Jeremy is working with the Firm's international clients to craft a response to the Supreme Court's ruling in Morrison v. National Australia Bank, Ltd., which limited the ability of foreign investors to seek redress under the federal securities laws. Currently, Jeremy is representing several UK and EU pension funds and asset managers in individual actions against BP plc in the United States District Court for the Southern District of Texas.

Jeremy is broadly recognized as a leader in his field. He was honored by Benchmark Litigation as the 2019 Plaintiff Attorney of the Year. In 2018, Jeremy was named a Titan of the Plaintiffs Bar by Law360 and a Benchmark Litigation Star. The Pomerantz team that Jeremy leads was named Law360's Securities Practice Group of the Year in 2018. Jeremy has been honored as a Super Lawyers® "Top-Rated Securities Litigation Attorney" from 2016 through 2019. The Legal 500, in honoring Pomerantz as a Leading Firm for 2016 and 2017, stated that in New York, "Jeremy Lieberman is super impressive – a formidable adversary for any defense firm." Lawdragon, in profiling Jeremy, wrote, "It is hard to find a more compelling plaintiffs' securities litigator than Pomerantz Managing Partner, Jeremy A. Lieberman."
Courts, too, regularly commend Jeremy for his litigating skills. Judge Jed. S. Rakoff of the Southern District of New York, at the preliminary approval hearing for the $3 billion settlement in Petrobras, stated, "The lawyers in this case [are] some of the best lawyers in the United States, if not in the world." Judge Nicolas G. Garaufis, approving the $225 million settlement in Comverse, stated, "… the recovery in this case is one of the highest ever achieved in this type of securities action. … The court also notes that, throughout this litigation, it has been impressed by Lead Counsel's acumen and diligence."
Jeremy lectures worldwide on corporate governance and securities litigation issues. He also organizes and speaks at Pomerantz-sponsored educational conferences and seminars. Guest speakers that Jeremy has attracted to these international events have included such diverse figures as members of the British House of Lords, SEC Commissioner Robert Jackson, and Boris Johnson. President Bill Clinton will be the guest speaker at the Pomerantz 2020 Roundtable in California.
Jeremy graduated from Fordham University School of Law in 2002. While in law school, he served as a staff member of the Fordham Urban Law Journal. Upon graduation, he began his career at a major New York law firm as a litigation associate, where he specialized in complex commercial litigation.
Jeremy is admitted to practice in the State of New York; the U.S. District Courts for the Southern and Eastern Districts of New York, the Southern District of Texas, the District of Colorado, the Eastern District of Michigan and Northern District of Illinois; the U.S. Courts of Appeals for the First, Second, Third, Fourth, Sixth, Ninth, and Tenth Circuits; and the United States Supreme Court.
Practice Areas
100%

Securities Litigation
Selections
Super Lawyers: 2016 - 2020 Rising Stars: 2014 - 2015
Email Me
To: Jeremy A. Lieberman
Super Lawyers: Potential Client Inquiry
Additional Sources of Information About Jeremy A. Lieberman
About Jeremy Lieberman
Admitted: 2003, New York
Professional Webpage: http://pomerantzlawfirm.com/jeremy-lieberman
Honors/Awards:
Law360 elects 10 top plaintiff attorneys with significant victories. Titans of the Plaintiffs Bar excel in the courtroom in large-scale litigation and hold leadership roles in their firms.

,

Titan of the Plaintiffs Bar

, Law360,

2017
Bar/Professional Activity:
State of New York

U.S. District Courts for the District of Colorado

United States Supreme Court

U.S. District Courts for the Eastern District of Michigan

U.S. District Courts for the Southern District of Texas

U.S. Courts of Appeals for the Second, Third, Fourth, Ninth and Tenth Circuits

U.S. District Courts for the Eastern and Southern Districts of New York

U.S. District Courts for the Northern District of Illinois
Scholarly Lectures/Writings:
Speaker

,

Morrison and its Implications for TASE Investors

, Annual Provident Funds Coalition Conference in Eilat, Israel,

2013

Speaker at ICGN Conference in Frankfurt, Germany

,

2016

Speaker and Moderator of the Emerging Markets Panel at the SWFI Institutional Investor Forum, Scottsdale, Arizona

,

2016

Speaker for Institutational Investors in Mayfair, London to discuss Managing Political Risks in 2016

,

Sponsor and Speaker

,

2016

Participated in SACRS Conference in Costa Mesa, California.

,

2016

Speaker at the ICGN conference in Washington D.C.

,

Speaker

,

2017
Verdicts/Settlements:
Education Management Corporation,

2016

In re Petrobras Sec. Litig. Mr. Lieberman achieved a historic $3 billion partial settlement in Petrobras, a closely-watched securities class actions arising from a multi-billion dollar kickback and bribery scheme involving Brazil's largest oil company, Petróleo Brasileiro S.A. This is not only the largest securities class action settlement in a decade, it is the largest settlement ever in a class action involving a foreign issuer, the fifth-largest class action settlement ever achieved in the United States, and the largest settlement achieved by a foreign lead plaintiff.,

2018

Comverse Technology Sec. Litig.  Mr. Lieberman and his partners achieved a historic $225 million settlement on behalf of the Class, which was the second-largest options backdating settlement to date.,

2009

In re Columbia Laboratories, Inc. Sec. Litig.
Morrison v. Nat'l Australia Bank, Ltd.,

2010

BioScrip, Inc.,

2016

Polycom, Inc.,

2016

In re: China North East Petroleum Corp. Sec. Litig. Mr. Lieberman achieved a significant victory for shareholders in the United States Court of Appeals for the Second Circuit, whereby the Appeals Court ruled that a temporary rise in share price above its purchase price in the aftermath of a corrective disclosure did not eviscerate an investor's claim for damages. The Second Circuit's decision was deemed "precedential" by the New York Law Journal, and provides critical guidance for assessing damages in a § 10(b) action.,

2012

Barclays PLCMr. Lieberman is Lead Counsel in a putative securities class action that alleges Barclays misled institutional investors about the manipulation of the banking giant's so-called "dark pool" trading systems in order to provide a trading advantage to high-frequency traders over its institutional investor clients. This case turns on the duty of integrity owed by Barclays to its clients.,

2017

Corinthian Colleges,

2017

In re Linn Energy LLC Sec. Litig.
Altair Nanotechnologies Inc.,

2016

Lumber Liquidators, Inc.,

2016

In re Medicis Corp. Sec. Litig.Mr. Lieberman was Lead Counsel in Medicis, in which the court approved an $18 million settlement.,

2011

In re Mellanox Technologies, Ltd. Sec. Litig.
Affymax, Inc.,

2014
Other Outstanding Achievements:
" ... THE LAWYERS IN THIS CASE [ARE] SOME OF THE BEST LAWYERS IN THE UNITED STATES, IF NOT IN THE WORLD." Judge Jed S. Rakoff of the Southern District of New York, in Petrobras preliminary approval hearing
Show More
Jeremy A. Lieberman:
Last Updated: 7/28/2020