« Back to Results
Judd F. Kleeger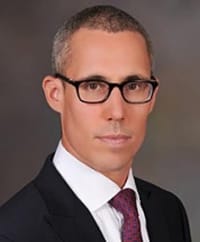 Attorney Profile
Top Rated Personal Injury Attorney in New York, NY
Phone: 212-490-5700
Fax: 212-490-4800
Selected To Super Lawyers:
2013 - 2021
Practice Areas:
Personal Injury - General: Plaintiff (60%),
Class Action/Mass Torts: Plaintiff (40%)
Attorney Profile
Attorney Judd F. Kleeger is a partner with the Hecht Kleeger & Damashek, P.C., law firm in New York, New York. Focusing solely on personal injury and wrongful death claims, Mr. Kleeger represents clients throughout New York City's five boroughs and the surrounding areas who need help securing their rightful compensation and benefits after suffering an injury or loss caused by another party's negligence or wrongdoing.
In addition to personal injury law, Mr. Kleeger also represents clients with their legal issues involving labor law, civil rights violations and other civil litigation matters. In all cases, Mr. Kleeger devotes his time and resources to protect his clients' rights and entitlements while delivering the personalized, compassionate support and assistance they deserve. Through his efforts, he has recovered millions of dollars in settlements and awards on behalf of those he serves.
A 1991 graduate of Boston University, Mr. Kleeger attended the Touro College Jacob D. Fuchsberg Law Center, obtaining his Juris Doctor in 1995. Along with being licensed to practice in both New York and New Jersey, he is also admitted to practice before the U.S. District Courts for the Southern and Eastern Districts of New York as well as the U.S. District Court for the District of New Jersey.
A consummate professional who is fully dedicated to his practice, Mr. Kleeger serves on the New York State Trial Lawyers Association Board of Directors, and he is heavily involved with the American Association for Justice.
As an attorney, Mr. Kleeger finds great reward in helping his clients who have suffered as a result of motor vehicle accidents, workplace accidents, premises liability accidents, defective medical devices, including transvaginal mesh implants and medical malpractice.
Practice Areas
60%

Personal Injury - General: Plaintiff

40%

Class Action/Mass Torts: Plaintiff
Focus Areas
Motor Vehicle Accidents, Personal Injury - Plaintiff, Slip and Fall, Wrongful Death, Construction Accident, Brain Injury, Trucking Accidents, Premises Liability - Plaintiff, Class Actions, Toxic Torts
Selections


Super Lawyers: 2013 - 2021
Email Me
To: Judd F. Kleeger
Super Lawyers: Potential Client Inquiry
Additional Sources of Information About Judd F. Kleeger
About Judd Kleeger
Admitted: 1996, New York
Professional Webpage: https://lawyer1.com/about-us/attorneys/judd-kleeger/
Honors/Awards:
Multi-Million Dollar Advocates Forum, Million Dollar Advocates Forum - Lifetime Member

,

2016
Bar/Professional Activity:
American Association for Justice, Eagle PAC Member

New York State Trial Lawyers Association Officer, Deputy Treasurer

,

2019

U.S. District Court for the Southern District of New York

New York State Trial Lawyers Association, Board of Directors, Member

American Bar Association, Member

New Jersey

U.S. District Court for the District of New Jersey

New York

U.S. District Court for the Eastern District of New York

Leaders Forum, Member
Verdicts/Settlements:
$900,000,000 - Elbow and Emotional Injuries Stephanie Campos v. City of New York Queens County 700868/15 Plaintiff, a bicyclist, was involved in a motor vehicle accident with a NYC Parks Department vehicle that was making a left turn.  The plaintiff sustained a fracture to her left arm that ultimately required arthroscopic surgery involving her left elbow and tendons.  The plaintiff also suffered from post-traumatic distress disorder following the collision.  Judd F. Kleeger, Partner, resolved this matter for $900,000.  ,

2020

$2,000,000 - Slip and Fall - Leak In Bathroom - Cervical Spine and Knee Injuries  David v. 1471 Taylor Street Owner, LLC, et al.  Supreme Court, County of Bronx Index No. 21615/2014E Plaintiff, 38 yrs old on the date of the accident, slipped and fell on water in her bathroom due to a leak sustaining injuries to her neck and knee. Following a course of physical therapy, plaintiff underwent arthroscopic surgery on her knee. Due to chronic complaints of neck pain and a failed course of conservative treatment, plaintiff eventually underwent cervical spine surgery.   Defendants claimed that plaintiff slipped and fell in the shower as per a statement attributed to plaintiff in the ambulance call report. Plaintiff denied making such a statement. In addition, defendants claimed they were not negligent, and there was no notice of a water leak in her bathroom ceiling. This matter was settled by Partner Judd F. Kleeger for $2,000,000 while the case was on the trial calendar.     ,

2021

$690,000 Pedestrian Knockdown - Knee Injury Dweck v. ADI Contracting, Supreme Court, New York County Index No. 151963/19 Plaintiff, a pedestrian, was crossing the street within the crosswalk when she was suddenly and unexpectedly struck by a motor vehicle owned and operated by the defendant. As a result of the collision, plaintiff sustained severe injuries to her knee requiring surgery.  Plaintiff's motion for partial summary judgment was granted on the issue of liability. Further, defendant was found to be 100% responsible for the accident.   This matter settled for $690,000 on the trial calendar. ,

2020

$3,000,000 - Labor Law - Neck & Shoulder Injuries Juan Carlos Guaman v. 125th & Lenox Owners, LLC and KSK Construction Group, LLC County of Bronx 6744/15 Plaintiff, a laborer, fell approximately 10 feet to the ground when the scaffold he was working on suddenly moved and shook. The plaintiff sustained serious injuries to his neck and shoulder, requiring cervical spine surgery as well as shoulder surgery. In addition, plaintiff was unable to return to work.  Judd F. Kleeger, Partner, resolved this matter prior to trial for $3,000,000.    ,

2020

$3,100,000  – Marcia Hardeman v. NYCTA and Clarence Jackson Bronx County 250198/14 Motor Vehicle Collision – Plaintiff Passenger  – Cervical Spine, Lumbar Spine and Shoulder Injuries   Plaintiff, 44 years old, was a passenger on a NYCTA bus that struck the curb as it pulled into a bus stop on Baychester Avenue in the Bronx.  At the time of the incident, plaintiff was seated in a front-facing single seat.  As a result of the bus striking the curb, plaintiff's chest struck the rear of the seat in front of her and then recoiled back into her seat.  Plaintiff did not fall out of her seat following the incident.  As a result of the impact, plaintiff sustained whiplash injuries to her neck and back as well as internal damage to her left shoulder.   Plaintiff left the scene on the next bus and reported to work. However, plaintiff left work and went to the emergency department complaining of neck and chest pain, where he was treated and released.  Ten days following accident plaintiff began a course of conservative treatment.  Eventually plaintiff underwent cervical spine fusion surgery, pain management treatment to her neck and back and left shoulder surgery.   Plaintiff moved for partial judgment on liability and the motion was granted.  The case proceeded to trial on the issue of damages. Defendants claimed that the impact was a low-speed impact and was so minimal that the injuries could not have been caused by the accident. Defendants retained a biomechanical engineer to testify that the low-speed impact caused a change in velocity of only 1.71 MPH and thus there was no mechanism of injury regarding claims to her neck, back and shoulder injuries. Defendant also claimed that there was minimal property damage to the bus.  Defendants also claimed plaintiff's complaints were due to degenerative changes and pre-existed the happening of the incident, and thus were unrelated to the accident.   Judd F. Kleeger, settled this matter just prior to jury selection.  ,

2020

$1,000,000 – Motor Vehicle Collision – Back InjuryAyala v. Pascarelli, et al. Supreme Court, Bronx County 306555/12Plaintiff, 44 years old female, was operating her vehicle along the roadway when a terramite construction vehicle pulled out in front her and struck the right passenger side of her vehicle. Plaintiff's motion for partial summary judgment on the issues of liability was granted, although the issues of comparative fault on behalf of the plaintiff was an issue for the jury.   As a result of the collision, plaintiff felt an onset of pain to her low back and left knee. Plaintiff refused medical assistance at the scene of the accident.  Although plaintiff felt pain in her low back and knee she did not seek medical attention for six weeks following the collision. Thereafter plaintiff began a course of physical therapy involving various medical specialties including physical therapy, acupuncture, chiropractic and topical modalities such as heating pads and electrical stimulation for three (3) months.  Ultimately underwent surgery to her lumbar spine four (4) years following the accident.  Plaintiff returned to her full-time job and did not have a claim for lost wages.   Defendants claimed the property damage to plaintiff's vehicle was minimal. Defendants claimed that plaintiff injuries were degenerative in nature, were related to pre-existing conditions and she did not need any future care or treatment.  In addition, defendants claimed that plaintiff's surgery was unrelated to the motor vehicle collision. Judd F. Kleeger, Partner, settled this matter prior to trial for $1,000,000.  ,

2019

$1,125,000 – Pedestrian Knockdown – Neck Injury Deniece Buffaloe v. Remo Sarati, Supreme Court, County of Bronx Index Number 300741/16Plaintiff, 29 years old female, was a pedestrian crossing the street within the crosswalk when she was struck by the defendant's vehicle making a left turn. Defendant claimed plaintiff failed to cross within the crosswalk, defendant completed his left turn and was driving straight along the roadway, and plaintiff walked into the side of his vehicle. Lastly, defendant claimed that plaintiff stated at the scene that the car only rolled over her foot. Plaintiff complained of neck and back pain and presented at a medical clinic for treatment on the date of the incident. Plaintiff underwent a course of conservative care, including physical therapy, acupuncture, chiropractic and electrical stimulation. Plaintiff eventually underwent cervical spine surgery. Defendant claimed plaintiff's injuries were degenerative and unrelated to the motor vehicle accident since the tire of the car only ran over her foot. Judd F. Kleeger, Partner, settled this matter prior to trial for $1,125,000 as there was limited insurance coverage.   ,

2019

$2,250,000 - Premises – Slip and Fall on Ice - Back And Knee Injuries   Carmen Nunez v. Merriam Avenue Associates, L.P. Index No. 301177/15 Plaintiff, 48 year old female, was walking her son to school when she slipped and fell on ice in front of a residential building, causing her to fall. Plaintiff claimed the superintendent of the subject building was using a hose to clean the glass entrance façade and doors prior to the accident during below freezing temperatures, thus causing a creating a dangerous and hazardous condition on the sidewalk abutting the premises.  As a result of the accident plaintiff complained of neck, back and left knee pain.  Plaintiff was taken by ambulance to the emergency room and was treated and released. Following the accident plaintiff began a course of physical therapy and ultimately underwent surgery to her back and left knee.  Defendant's superintendent claimed that he was not using a hose at any time prior to the accident. In addition, the defendant's superintendent denied the presence of ice on the sidewalk where plaintiff fell.  Defendants also claimed that all of plaintiff's injuries were degenerative in nature and not caused by the alleged incident. Defendants also claimed that plaintiff suffered no objective orthopedic or neurological deficits as a result of the accident.   Judd F. Kleeger, Partner, settled this matter prior to jury selection (2019). ,

2019

$1,750,000 - Premises – Slip and Fall on Wet Stairs – Neck InjuryTracy Andrews v. 20-30 Realty LLC  Supreme Court Kings County 522396/16Plaintiff, 45 years old female, was walking down the stairs in her apartment building when she slipped and fell on wet stairs that had recently been mopped by the building's porter. Plaintiff claimed that there were no signs placed to warn tenants that the stairs were wet.  As a result of the fall, plaintiff fell down the stairs, injuring her neck. Immediately following her fall, plaintiff complained of shoulder pain and sought treatment in the emergency room, where she was treated and released. Two weeks after the accident plaintiff began to feel neck pain with associated numbness and tingling down her arm and into her hand and fingers. Thereafter plaintiff began a course of physical therapy and ultimately underwent surgery to her cervical spine.  Defendants denied that the stairs were wet or that the stairs had been mopped prior to her fall.   In the alternative, defendants claimed plaintiff should have seen the water on the stairs and was partially at fault for slipping and falling. Defendants also claimed that plaintiff injuries were degenerative in nature, her complaints were related to pre-existing conditions and she did not need any future care or treatment.     Judd F. Kleeger, Partner, settled this matter prior to trial for $1,750,000.,

2019

$1,975,000 Slip And Fall On Ice - Neck and Wrist InjuriesMaria Aparicio v. Seward Park Housing Corporation, et al. Supreme Court, Kings County Index No. 5724/14 Plaintiff, 51 years old, slipped and fell on ice on a sidewalk in front of a commercial strip mall. As a result of the fall plaintiff sustained neck and wrist injuries, requiring surgery. Plaintifff also sustained injuries to her back. Defendants claimed that they properly performed snow and ice removal and were not negligent. In addition, defendants claimed that since there were 5 days of temperatures above 45 - 50 degrees prior to the date of the accident that there could not have been ice on the sidewalk.  Defendants also claimed that plaintiff had prior neck and back injuries and complaints, as well as prior degenerative disc disease in her neck and back. Accordingly, the slip and fall was not the cause of her injuries and/or treatment.  Judd F. Kleeger settled this matter after jury selection was completed. ,

2019

$450,000 - Labor Law - Gean Damazio v. 99-105 Third Avenue Realty, LLC, et.al. Supreme Court, New York County. Index # 101265/11.

,

2014

$1,800,000.00 Slip and Fall on Wet Stairs; Back and Shoulder Injuries. Rene Tlaseca v. Elmaz835, LLC Supreme Court, Kings County 592/14 Plaintiff, 32 year old male para-professional, was walking down the stairs in his building when he was caused to slip and fall on wet stairs. Plaintiff claimed that the defendant mopped the stairs, left water and residue on the stairs and failed to place caution / wet floor signs.  As a result of the fall, plaintiff sustained injuries to his low back and shoulder. After a course of conservative care and physical therapy failed, plainitff underwent lumbar spine surgery as well as arthroscopic surgery to his shoulder. Plainitff did not assert a lost earnings claim, but claimed future medical care for his back and shoulder.  The defendants denied mopping the stairs on the date of the accident and claimed that they do not mop or clean stairs on the weekend. Since plaintiff's accident occurred on a Saturday the defendant claimed they did not clean the stairs that day. Defendant also claimed that plaintiff suffered from a pre-existing congenital lumbar spine condition and his back surgery was unrelated to the fall. Defendant also claimed that plaintiff did not need any further treatment for his back or his shoulder.  Partner, Judd F. Kleeger, settled this matter before trial for $1,800,000.,

2018

$4,300,000 Work Related Injury - Falling Object; Neck, Back and Ankle Injuries.  Deno Pestic v. Stern Projects, LLC, et al. Supreme Court, Kings County 18828/12 Plaintiff, a 49 year old painter, was working on a jobsite when a free-standing unsecured window was caused tip over and fall, striking the plaintiff on his neck and back.  As a result of the being struck by the window, plaintiff was caused to fall down to the ground.  As a result of the accident, plaintiff sustained injuries to his neck, back and left ankle. Plaintiff underwent a conservative course of physical therapy and pain management.  Ultimatley plaintiff was required to undergo neck, back and left ankle surgery. Plaintiff asserted a claim for past and future lost earnings as well as future medical care.  The defendants claimed that they did not know why the window fell or how the window was caused to fall but did not dispute that a window fell and struck plaintiff. With regards to damages, defendants claimed his neck and back unjuries and subsequent surgeries were unrelated to this accident. Moreover, defendants claimed defendant was capable of returning to work without restrictions.  Partner, Judd F. Kleeger, settled this matter prior to trial for $4,300,000.  ,

2018

$625,000 - Slip And Fall - Hernriett Cesar v. Hotel Chandler, LLC, et al. Supreme Court, Kings County, Index No. 7031/2009. 

,

2014

$1,650,000 - Motor Vehicle Accident - Question of Lights - Plaintiff Driver - Donald V. Bynoe Index # 300931/08, Supreme Court, Bronx County. 

,

2012

Verdict - $1,120,000 - Labor Law - Julio Hurtado v. Roebling Park, LLC and YBG Construction of NY, LLC. Supreme Court, County of Kings. Index # 23775/08.

,

2015

$3,000,000 - Motor Vehicle - Stop Sign - Neck, Back, Shoulder and Knee Injuries  Jose Ramon Martinez v. Robert Cofer And A.R.E.B.A. - Casiel, Inc. Bronx County, Index No: 301486/2011. Plaintiff Martinez, 47 year old auto mechanic, was operating his vehicle on October 10, 2010, when defendant Cofer failed to yield the right of way at a posted stop sign. Defendant Cofer claimed he came to a complete stop at the stop sign and plaintiff was speeding, thus responsible for the happening of the accident.  Plaintiff moved for partial summary judgement on the issue of liabilty and the motion was granted.  Following the accident, Martinez was taken by ambulance to an emergency room where he made complaints of chest, rib and mid/upper back pain. Martinez was treated and released from the emergency the same day. Martinez presented to a chiropractor the following day and made complaints of neck, back, shoulder and knee pain. Martinez underwent a left shoulder arthroscopy and a left knee arthroscopy shortly following the accident. Martinez missed 5 months of work following the accident and then returned to his job as an auto mechanic.  As a result of cervical and lumbar disc herniations, Martinez eventually underwent surgery to his neck in 2013 and surgery to his back in 2014. Plaintiff was unable to return to work following his back surgery.  Defendants claimed plaintiff did not make any complaints to his neck, lower back, shoulder and knee in the emergency room and his injuries were unrelated to the motor vehicle accident. In fact, defendants claimed his injuries were degenerative in nature as a result of wear and tear and working as an auto mechanic.  Judd F. Kleeger, partner, settled this matter at a mediation in May 2017 for $3,000,000.    ,

2017

Louisy v. 362 West 53rd, LLC Index # 21963/08, Supreme Court, Kings County.

,

2012

$1,500,000 Pedestrian Knockdown - Knee Injury - Aggravation of Pre-Exising Condition Clinton Harris v. Peter J. Valasiadis Supreme Court, Bronx County. Index No. 301908/12 Plaintiff, 59 year old male U.S. Post Office worker, was in the roadway directing traffic to assist a post office truck backing up into the bay, when he was struck by the defendant's motor vehicle causing him to fall to the ground. More specifically the defendant's car ran over plaintiff's left foot as he passed by and drove around plaintiff. Plaintiff was taken by ambulance to Beth Israel Medical Center complaining of left foot pain.  Plaintiff was seen by an orthopedist one month after the accident complaining of left knee pain, and underwent arthroscopic surgery to his left knee approximately 1 1/2 years following the accident.  Ultimately plaintiff underwent a left total knee replacement three years following the accident.  In 2003 plaintiff underwent arthroscopic surgery to his left knee due to degenerative joint disease. However, plaintiff returned to work following without restrictions. Defendant claimed that plaintiff stepped into the path of his vehicle, and that he was not aware that plaintiff was assisting a post office truck. Defendant also claimed that there was minimal contact to plaintiff and plaintiff did not fall as a result of the incident. Defendant claimed that plaintiff's knee condition and surgeries were unrelated to the accident, were degenerative in nature and pre-existed the date of the incident. Aditionally, defendant claimed that plaintiff made an excellent recovery from his treatment and was able to return to work without any restrictions.  Judd F. Kleeger, Partner, settled this matter settled at a mediation while the case was on the trial calendar.              ,

2018

$1,150,000 - Trip and Fall - Karin Reyes v. The City of New York, 421 Melrose, LLC. and Pat Management, LLC. Index No. 14159/06. Supreme Court, Bronx County. 

,

2013

$825,000 - Labor Law / Motor Vehicle - Anthony Calandrillo v. 343 Broadway Properties LLC. Index # 26927/07, Supreme Court, County of Kings.

,

2014

$1,900,000 - Labor Law - Darrin Harsch and Mary Ellen Harsch v. City of New York, Brooklyn Union Gas Company and Felix Equities, Inc. Supreme Court, Kings County. 44521/98.

,

2014

Kenneth Juarez, Infant by Mother and Natural Guardian, Maurillia Gregorio v. 508 West 140th Street., Corp.  Supreme Court, New York County. Index Number 103762/10.

,

2013

$1,000,000 - Motor Vehicle Accident - Hit In Rear - Plaintiff Driver - Nicholas Joplin v. City of New York, Supreme Court, Bronx County. Index # 310197/09.

,

2015

Verdict - $3,609,743.20- Recovery After Judgment - $4,500,000.00 - Julia Nunez v. MTA Bus Co.: Motor Vehicle Accident – Plaintiff Passenger – Cervical and Lumbar Spine Injury, Index Finger Injury Index No: 401596/09 Supreme Court New York County    ,

2016

Collazo v. Coastal At Lincoln, Inc. Index # 102797/08, Supreme Court, New York County.

,

2013

Lee v. SS.Cosmas, Index # 102321/09 Supreme Court, Richmond County. 

,

2012

Verdict $6,832,284  – Roberto Passos v. MTA Bus Co. and Victor Moses (Index No. 300386/11) Motor Vehicle Collision – Plaintiff Operator – Lumbar Spine, Knee, Shoulder, and Foot Injuries Plaintiff, a 45 year old employee of a moving company, was the driver of a box truck that was stopped at a red light on Second Avenue and 78th Street, New York, New York, when he was rear-ended by an MTA Bus. As a result of being struck in the rear, plaintiff's truck was caused to strike the rear of an SUV vehicle stopped in front of him. As a result of the impacts, plaintiff sustained injuries to his back, right shoulder, left knee and left foot. Plaintiff was removed from the scene of the collision by EMS and taken to the emergency room, where he was treated and released.  A few days following the accident plaintiff began a course of conservative treatment.  Eventually plaintiff underwent lumbar spine fusion surgery, right shoulder and left knee arthroscopy, and mid-foot surgery due to post traumatic arthritis.  Plaintiff moved for partial judgment on liability and the motion was granted.  However, the First Department Appellate Division reversed on grounds that the driver of the SUV testified that his vehicle was struck in the rear twice.  Therefore, defendants argued that plaintiff struck the SUV first resulting in a sudden stop, and thus the MTA Bus was unable to avoid rear-ending plaintiff's vehicle.  Defendants claimed that plaintiff was 100% responsible for the happening of the accident and all of his injuries were caused when his van struck the rear of the SUV before the bus rear-ended plaintiff.  Defendant also claimed that there was minimal property damage to the bus and plaintiff's van, but moderate damage to the rear of the SUV. Defendants introduced several hours of video surveillance of plaintiff and argued he is capable of performing all of his daily activities, including an ability to work without restrictions.  Defendants also argued that plaintiff had a prior motor vehicle accident six years earlier and was recommended lumbar spine surgery to his low back, thus the subject motor vehicle collision did not result in a back injury. Moreover, defendants claimed plaintiff's back condition was degenerative, pre-existing, due to congenital defects and unrelated to the within bus collision. Judd F. Kleeger, tried this matter to verdict in the Supreme Court, Bronx County.  The jury found defendants 100% responsible for causing the collision, and awarded $6,832,284 for past and future pain and suffering, as well as future medical expenses and future loss of earnings.  The parties stipulated to past medical expenses and past loss of earnings. ,

2018

Rancy Carrasco v. Hazcar Management. Index # 103426/2010, Supreme Court County of New York.

,

2013

$1,650,000 - Motor Vehicle Accident - Hit In Rear - Samnang Him v. Bernard Hopkins, et al. Supreme Court, County of Bronx. Index Number 307168/09.

,

2014

$800,000 - Slip and Fall - Snow And Ice - Theresa Favor v. RP Stellar Riverton, LLC and Stellar Management, LLC. Supreme Court, New York County, Index No. 105435/10

,

2015

Tacuri v. New York University, Index # 18207/07, Supreme Court, Queens County.

,

2012

$1,750,000 – Slip and Fall on Stairs  – Neck and Shoulder injuries  Lensley Reece v. Gamma Beford, LLC, et. al. Supreme Kings County Index No. 7825/2012.

,

2015

- $3,750,000 - Motor Vehicle Collision - Ankle And Wrist Injuries - Bus Failed To Yield Before Left Turn - Virginia Gordon v. MTA Bus Co, Inc. Index # 306684/09 Supreme Bronx County    On April 22, 2009, plaintiff, 47 year old sonographer, was driving westbound on Nereid Avenue, near its intersection with Baychester Avenue. While plaintiff was proceeding through the intersection, her vehilce was involved in a head-on collision with a transit bus that was being driven by Marcos Henriquez, who was making a left turn onto Baychester Avenue, from the opposite side on Nereid Avenue.  Plaintiff sustained injuries to her left foot/ankle and left wrist.  Plaintiff filed suit against the bus operator and the MTA Bus Co. and in a separate filing the bus operator filed suit against plaintiff Gordon.  Plaintiff Gordon claimed that she proceeded into the intersection with a green light and the bus operator failed to yield the right of way before proceeding to make his left turn. The Bus operator claimed the collision occured after he had entered the intersection, stopped, and allowed two oncoming vehilces to pass.  The bus operator claimed his bus was struck while it was stopped.  Plaintiff Gordon sustained a comminuted fracture of her right calcaneus (heel) and a non-displaced fracture to her left radius (wrist). Plaintiff subsequently underwent surgery to her right ankle and her left wrist. In addition, plaintiff underwent a subtalar fusion due to posttraumatic arthritis. Plaintiff claimed residual damage of a nerve in her right ankile, posttraumatic arthritis in her right ankle. Plaintiff sought recovery for past and future loss of earnings, past and future medical expenses, as well as past and future pain and suffering. Defense counsel contended Gordon achieved an excellent recovery, Gordon can resume work, and that Gordon did not require further treatment. This matter was settled by Judd F. Kleeger, Partner, just prior to jury selection.,

2016

Tomasell v. Beach 65th Street Development, LLC. Index # 18115/08 Supreme Court, Kings County.

,

2012

$875,000 - Ceiling Collapse - Rosa Diaz v. 210 East 198th Street Realty, LLC. Index # 307123/2008, Supreme Court, County of Bronx. 

,

2014
Transactions:
$4,300,000 Settlement: Work Related Injury - Falling Object; Neck, Back and Ankle Injuries. Deno Pestic v. Stern Projects, LLC, et al. Supreme Court, Kings County 18828/12 Plaintiff, a 49 year old painter, was working on a jobsite when a free-standing unsecured window was caused tip over and fall, striking the plaintiff on his neck and back.  As a result of the being struck by the window, plaintiff was caused to fall down to the ground.  As a result of the accident, plaintiff sustained injuries to his neck, back and left ankle. Plaintiff underwent a conservative course of physical therapy and pain management.  Ultimatley plaintiff was required to undergo neck, back and left ankle surgery. Plaintiff asserted a claim for past and future lost earnings as well as future medical care.  The defendants claimed that they did not know why the window fell or how the window was caused to fall but did not dispute that a window fell and struck plaintiff. With regards to damages, defendants claimed his neck and back unjuries and subsequent surgeries were unrelated to this accident. Moreover, defendants claimed defendant was capable of returning to work without restrictions.  Partner, Judd F. Kleeger, settled this matter prior to trial for $4,300,000.  ,

2018
Representative Clients:
$1,800,000.00 Settlement: Slip and Fall on Wet Stairs; Back and Shoulder Injuries.Rene Tlaseca v. Elmaz835, LLC Supreme Court, Kings County 592/14 Plaintiff, 32 year old male para-professional, was walking down the stairs in his building when he was caused to slip and fall on wet stairs. Plaintiff claimed that the defendant mopped the stairs, left water and residue on the stairs and failed to place caution / wet floor signs.  As a result of the fall, plaintiff sustained injuries to his low back and shoulder. After a course of conservative care and physical therapy failed, plainitff underwent lumbar spine surgery as well as arthroscopic surgery to his shoulder. Plainitff did not assert a lost earnings claim, but claimed future medical care for his back and shoulder.  The defendants denied mopping the stairs on the date of the accident and claimed that they do not mop or clean stairs on the weekend. Since plaintiff's accident occurred on a Saturday the defendant claimed they did not clean the stairs that day. Defendant also claimed that plaintiff suffered from a pre-existing congenital lumbar spine condition and his back surgery was unrelated to the fall. Defendant also claimed that plaintiff did not need any further treatment for his back or his shoulder.  Partner, Judd F. Kleeger, settled this matter before trial for $1,800,000.,

2018

$2,250,000 - Premises – Slip and Fall on Ice - Back And Knee Injuries Carmen Nunez v. Merriam Avenue Associates, L.P. Index No. 301177/15Plaintiff, 48 year old female, was walking her son to school when she slipped and fell on ice in front of a residential building, causing her to fall. Plaintiff claimed the superintendent of the subject building was using a hose to clean the glass entrance façade and doors prior to the accident during below freezing temperatures, thus causing a creating a dangerous and hazardous condition on the sidewalk abutting the premises.  As a result of the accident plaintiff complained of neck, back and left knee pain.  Plaintiff was taken by ambulance to the emergency room and was treated and released. Following the accident plaintiff began a course of physical therapy and ultimately underwent surgery to her back and left knee.  Defendant's superintendent claimed that he was not using a hose at any time prior to the accident. In addition, the defendant's superintendent denied the presence of ice on the sidewalk where plaintiff fell.  Defendants also claimed that all of plaintiff's injuries were degenerative in nature and not caused by the alleged incident. Defendants also claimed that plaintiff suffered no objective orthopedic or neurological deficits as a result of the accident.   Judd F. Kleeger, Partner, settled this matter prior to jury selection (2019). ,

2019
Educational Background:
Boston University, B.A., 1991

,

1991
Show More
Judd F. Kleeger:
Last Updated: 3/17/2021