Robert Vilensky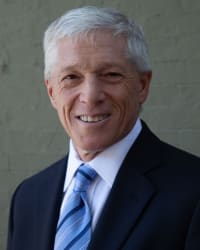 Attorney Profile
Top Rated Personal Injury Attorney in New York, NY
Phone: 212-779-7070
Fax: 212-686-2490
Selected To Super Lawyers:
2007 - 2020
Practice Areas:
Personal Injury - General: Plaintiff (50%),
Personal Injury - Medical Malpractice: Plaintiff (50%)
Attorney Profile
Robert Vilensky, a partner of the Manhattan-based firm of Ronemus & Vilensky, focuses his practice primarily on matters of civil litigation. With more than three decades of experience, he provides dedicated representation to clients in a variety of personal injury cases, including medical malpractice, lead poisoning cases and other complex torts. Mr. Vilensky represents clients in New York City and in the surrounding communities, and he has dedicated his career to helping victims of personal injury obtain the compensation that they deserve. His firm has secured a number of multimillion-dollar verdicts, including a $7.4 million verdict in a brain injury case and a $4.75 million settlement for a young family devastated by the effects of lead poisoning.
In 1980, Mr. Vilensky obtained his law degree with highest honors from the University of Dayton, serving as an editor for the university's Law Review and acting as chief of the Litigation Support Team. He earned his undergraduate degree from the State University of New York at Courtland with summa cum laude distinction.
When he is not representing clients in court, Mr. Vilensky is an accomplished speaker, delivering speeches before the Brooklyn Bar Association, the New York State Trial Lawyers Association and other organizations on diverse legal topics that include lead poisoning, legal discovery, trial tactics, anatomy and physiology, and medical records. He is a member of the New York State Trial Lawyers Association, the American Bar Association and the Association of Trial Lawyers of America, now known as the American Association for Justice. In addition, he has published numerous legal articles for The New York Law Journal and The Trial Lawyers Quarterly on state and federal tort issues.
Practice Areas
50%

Personal Injury - General: Plaintiff

50%

Personal Injury - Medical Malpractice: Plaintiff
Focus Areas
Assault, Motor Vehicle Accidents, Personal Injury - Plaintiff, Slip and Fall, Wrongful Death, Construction Accident, Brain Injury, Sexual Abuse - Plaintiff, Toxic Mold, Trucking Accidents, Premises Liability - Plaintiff, Dental Malpractice, Medical Malpractice, Birth Injury, Delayed or Incorrect Diagnosis
Selections
Super Lawyers: 2007 - 2020
Email Me
To: Robert Vilensky
Super Lawyers: Potential Client Inquiry
Additional Sources of Information About Robert Vilensky
About Robert Vilensky
Admitted: 1980, New York
Professional Webpage: http://www.ronvil.com/about/robert-vilensky/
Honors/Awards:
Chosen by the Court to be the Committee chairperson overseeing the Harlem explosion cases which consists of over 230 claims and was also chosen by the Court to be the Committee chairperson on the Second Avenue Explosion cases overseeing over 60 claims.

,

Chairperson

, NYC Court,

2017
Bar/Professional Activity:
Member of the NYS Bar Association committee on medical malpractice  

,

2018

Member of NYC Committee to review safety standards for apartment buildings. Specifically as these standards apply to low-income housing to provide protection against building fires.

,

2019

 Chairperson of the NYS Bar Association committee on medical malpractice  

,

2017

New York

Member, American Association for Justice

Member, New York State Trial Lawyers Association

Member, Association of Trial Lawyers of the City of New York

Member, American Bar Association
Pro bono/Community Service:
Gave away over 200 gifts this Christmas to kids in need in Harlem. 

,

2019
Scholarly Lectures/Writings:
Speaker, Functions conducted by the New York State Trial Lawyers Association, The Brooklyn Bar Association, New York State Bar Association, and the Lorman Education Services on topics including medical records, lead poisoning, trial tactics, anatomy and physiology, and legal discovery
Verdicts/Settlements:
$900k settlement in a wrongful death case that involved a substandard and slippery staircase in Burger King restaurant. 

,

2019

$5.1 million settlement in a case involving an MTA truck that hit our client when he was suspended in a cherry picker fixing a traffic light. 

,

2019

$2 Million settlement against the MTA involving one of their truck that hit our client while he was driving home. 

,

2019

$415k settlement for injuries sustained by a commuter on a train that derailed. The suit was brought against Metro North. 

,

2019

$1.7 million settlement for a delivery truck driver who tripped in a hole in a defective sidewalk and fell and the jack he was pulling fell onto his foot causing disabling reflex sympathetic dystrophy nerve injury to his foot. The settlement payments were shared between the City of New York and the corporate property owner.  

,

2018

Confidential settlement for a patient who was dropped off of an operating room table and sustained traumatic brain injury.  The patient was having injection into his spine for a prior spinal injury and when he was being transferred off of the table, the stretcher wheels were not locked and he fell between the operating room table and the stretcher.  He sustained persistent serious headaches and also vertigo which prevented him from driving and performing the other activities he previously performed.

,

2018

$4.25 million settlement for a physician who was struck by a stop sign that blew over and struck her on her head on a windy day.  She sustained traumatic brain injury, and although was able to continue working, her injuries prevented her from performing all of the many duties she performed before the accident.

,

2018

$900,000.00 for a 60 year old woman from Staten Island who undergoes a gallbladder surgery.  In doing the surgery the surgeons nick what is called the common bile duct.  She spills fluids into her belly causing perontinits. She ends up with liver damage and needs 2 subsequent surgeries

,

2018

Confidential Settlement of electrical injury and brain injury to employee who suffered electrical shock when he turned a key to turn on a freight elevator that was improperly wired.  He sustained disabling injuries and medical bills of approximately one million dollars that were paid by worker's compensation.

,

2018

$1.9 million for 35 year old laborer who fell on a job site. Our client suffered neck and back injuries when he slipped from a scaffolding and fell 15 feet while working on a construction site. 

,

2018

$150,000 for a 9 year old girl who was playing in a City park in the Bronx.  The steel swinging door to the park was old and rusty and we contended that it swung back too fast hitting her in the finger causing her to lose a tiny part of her nail bed on one finger.

,

2018

$300,000 for a 21 year old girl who spent the night drinking and then ran across 57th Street at 3 am and didn't realize a garbage truck was coming.  She was hit and killed.  We contended that the truck should have seen her and bene able to stop in time.

,

2018

$550,000.00 for a 60 year old obese woman who underwent knee surgery at Lincoln Hospital.  She develops an infection that isn't recognized and goes on to have 3 subsequent surgeries.  She now walks with a slight limp.  

,

2018

$7 million for a brain damaged infant.  Born at Montefiore hospital we contended that the fetal monitor strips showed signs of distress that should have led the doctors to do a C section.  Infant has Cerebral palsy and will never live a normal life.

,

2018

$7.4 million verdict for a traumatic brain injury case. Our client, a 28-year-old female accountant, sustained a brain injury when she was struck while crossing in a crosswalk. The driver claimed that she ran out between parked cars. Our client did not recall the accident, but remembered standing on the corner waiting for the walk light. She struck her head on the ground and was later diagnosed with mild traumatic brain injury (TBI). She had recently been hired to work at a large accounting firm, and tried for two years to work, but was unable to do so due to concentration and memory problems. She was later diagnosed with traumatically induced epilepsy and is on social security disability. The jury found the van driver and his employer responsible and awarded a total of $7.4 million for past and future pain and suffering and economic losses.,

2013

$600,000 for a 70 year old man who went to see his primary doctor in Staten Island.  Doctor did EKG which was read as normal.  Guy went home and the next day collapsed at home. Autopsy showed he had artery blockage, which if diagnosed could have been operated on and saved his life.  Left wife and no children.

,

2018

$565,000 for a 45 woman who had to undergo chemo therapy for cancer at Bellevue Hosp.  The chemo drugs caused her to become constipated.  A nurse placed an enema in her colon and perforated her colon.  She underwent surgery to repair the colon, known as a colostomy and then had to undergo surgery to put the colon back together again.  

,

2018

$750,000 for an IV infiltration of a baby's left ankle. Child born at Bronx Leb Hospital and needed an IV. An IV infiltration is where a nurse places the IV in the wrong spot.  The liquid from the IV escaped into the tissues and caused a burn of the baby's ankle resulting in scarring

,

2017

$2.3 million for police abuse case. Our client, a 20 year-old who suffered from Asperger syndrome was with a group of his friends in a shopping center parking lot simulating a "motorcross". His car's engine frequently backfired and did so many times when the police drove into the parking lot. The police thought he had fired a gun, so they dragged him out of his car and beat him and kicked him. Even though they realized that he had no gun, and that it was indeed his car that made the noise, they held him for more than an hour and released him with multiple tickets. Because of the violent beating, our client sustained multiple injuries including a concussion and two lumbar disc injuries that will cause permanent spinal damage. The City offered our client $150k which we said was unacceptable. We took the case to trial and the jury awarded our client $2.3 million.,

2015

$10.8 million verdict for a traumatic brain injury case. Our client, a 26 year-old college physics student, who also worked as an actress, a model, and as an executive assistant, was hit by another car while in a NYC taxi. Our client's head struck the plexiglass divider behind the driver's seat. She was treated and released from the hospital, but continued to have headaches and cognitive difficulties. She returned to the hospital and was found to have slight bleeding of the brain and was admitted for four days for observation. She returned to school and completed three more semesters, but continued to have problems in school understanding the professors. Her memory was diminished and she was unable to comprehend what she had read. She eventually was unable to complete her classes and lacks three courses to complete her degree. She has suffered with cognitive deficits, headaches, anxiety, depression, memory problems and confusion. She was accepted into the New York State Brain Injury Waiver program, so she has assistants come to her apartment three days per week to help her with shopping, cooking, cleaning, paying bills and laundry. Plaintiff's doctors said she developed a traumatic brain injury (TBI) known as the "silent epidemic" because its effects are not immediately obvious to a stranger. She returned to college but was unable to graduate due to inability to read or remember. She has tried to work several jobs, but has been unable to hold a job. Her doctors said she is permanently disabled and can't work. The jury awarded a total of $10.8 million dollars. This included $1.2 million in lost earnings, $6 million in future medical costs, $3.6 million in pain and suffering.,

2013

$2.5 million settlement for woman burned by flammable fabric. Our client is a relative of a now-deceased 50-year-old woman. This woman was cooking rice on her stove while wearing a robe, when her sleeve caught fire and the poor design and material of the robe caused a "chimney effect," where the fire went up the material too quickly. The woman got in the shower immediately, but still ended up burned over 80% of her body. She was placed into a medical coma and died 4 weeks later. We believe she was still in pain while in the coma. This case settled in our favor for $2.5 million.

,

2017

$9.9 million verdict in a personal injury lawsuit.  When an accident happens, an individual's life can be turned upside down in the blink of an eye. Take, for example, the case of Rose Nudelman, a photographer and multi-media artist who was dependent on her mobility and manual dexterity to make a living. Ms. Nudelman was ascending a Costco escalator in Sunset Park, Brooklyn, when the mechanism intended to lock her shopping cart in place failed. The packed cart, which became dislodged, fell back onto the woman, causing injuries that have disrupted her personal life and have prevented her from being able to work. Ms. Nudelman developed a rare neurological condition called complex regional pain syndrome following the accident. "I am no longer able to pursue my avocation as a multimedia artist," she said recently, in an article by Selim Algar in the New York Post. Once able to dance and move freely, the 52 year-old woman now relies on a cane to get from place to place, and faces mounting medical bills, as well as daily pain and suffering. Michael Ronemus, who represented Ms. Nudelman in her case against the well-known chain store, fought for an outcome that would award the working mother some assistance with these issues. The jury not only found Nudelman's claims to be believable, they also awarded her $9,903,825. "There is no one you or I know who would change places with Ms. Nudelman for any amount of money," said Ronemus in the same New York Post article.  ,

2013

$5 million verdict for medical malpractice case. Our client suffered a stroke and was left unattended for six hours in a hospital emergency room hallway. The ER doctor ordered a CAT scan, but hospital employees said that the CAT scanner was not operating properly. The patient was finally transferred to another hospital, where the stroke was diagnosed and an operation was performed to attempt to remove a blood clot from his brain. However, due to the delay in treatment, our client's condition deteriorated and he died after living six months in a nursing home. Our client had worked as a dental technician and earned approximately $25,000 annually. He had lived with and helped to support his 80 year-old father.,

2013

$3.5 million verdict for erbs palsy case Our client, now a five year-old girl from Brooklyn, NY, suffered damage to the nerves which come out of the spinal cord during delivery. This web of nerves is known as the brachial plexus. The damage to her brachial plexus was the result of excessive force applied by the doctor to the baby's head during delivery. This resulted in restricted motion to her left arm. The doctor encountered shoulder dystocia, which is an emergency which occurs when the baby's shoulder becomes stuck behind the mother's pubic bone during delivery. The doctor improperly applied force to the baby's head in order to deliver the baby. Ronemus & Vilensky sued the negligent doctor and the hospital for the baby's permanent injuries. The jury rendered a verdict in favor of our client and awarded the child $3.5 million.,

2017

$4.75 million settlement for cerebral palsy case. Our client, a six year-old girl, sustained brain damage at birth due to medical malpractice. The child's mother had gone to the hospital. She was admitted and placed on a fetal monitor. Over the course of three days, the monitor showed signs of fetal distress and abrupted placenta. Doctors initially scheduled the patient for a Cesarean section, but for reasons no one could explain, cancelled it. On the third day at the hospital, a Cesarean section was finally performed. The infant was born with poor response and breathing and spent three weeks in the ICU. The child was eventually diagnosed with neurological damage. The child is now six years old, walks with braces, cannot hear without using a hearing aide and has a very limited vocabulary. The settlement money will pay $37 million over the course of the child's life.,

2103
Other Outstanding Achievements:
In March of 2014, there was a major explosion in Harlem, destroying 2 buildings.  11 people were killed and scores injured.  There are 260 cases from that explosion.  Our firm was chosen to serve with 2 other firms as lead counsel on all the cases. That case has active discovery going on.

,

2014

Received press for investigations into the Bronx fires that uncovered faulty stove switches that made it possible for stoves to be ignited by children. Also uncovered the fact that automatic closing doors were not present in the buildings which made the fires spread quickly and became deadly. 

,

2019

In 2016-2017 I was the chairperson for the NYS Bar Association section on Medical Malpractice cases.  Among other things I was in charge of arranging conferences and putting out continuing legal education programs for lawyers on med mal issues and met with Judges to discuss how cases can best be handled.

,

2017

In Feb 2015 a Metro North train derailed killing 3 and leaving hundreds injured.  I serve on that committee.

,

2015

In March 2015 there was another explosion in a building under construction on Second Avenue.  5 people were killed and scores injured again.  Again our firm was chosen to serve as lead counsel with 4 other firms.  That case likewise has active discovery.

,

2015
Videos:
 Attorney Robert Vilensky discusses the issues surrounding workplace injury cases.

,

Workplace Injury

,

2015

WABC - TV News Interviews Attorney Robert Vilensky of Ronemus & Vilensky about the Harlem Gas Explosion. Vilensky is representing families in a multi-million dollar lawsuit.

,

Vilensky Interviewed on Harlem Gas Explosion

,

2016

Robert Vilensky of Ronemus & Vilensky will be representing the Melendez-Lapuma Families. They were among scores seriously injured In March 2014 East Harlem Gas Explosion in NYC

,

East Harlem Explosion Victims Sue

,

2016
Educational Background:
University of Dayton, Magna Cum Laude, Law Review Editorial Staff and Chief, Litigation Support Team, 1980
State University of New York, Cortland, Summa Cum Laude
Show More
Robert Vilensky:
Last Updated: 8/10/2020