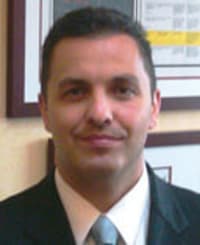 Georgaklis & Mallas PLLC
Practice Areas: Personal injury, Medical malpractice
Licensed in New York since: 1998
Education: St. John's University School of Law
Languages Spoken: English, Greek

Selected to Super Lawyers: 2013 - 2022

Selected to Rising Stars: 2011 - 2012
Details
Mr. Mallas has tried numerous cases for severely injured people and has obtained seven- and eight-figure verdicts for his clients. He has obtained millions of dollars in settlements for his clients -- the victims of serious injuries. He has the reputation amongst his peers for being able to win the tough case. He treats each case as his most important case because for each individual client it is. Mr. Mallas has lectured for the New York State Trial Lawyers on the topic of trial techniques and strategies.
First Admitted: 1998, New York
Professional Webpage: https://gmlawny.com/attorney-new-york-kostantinos-mallas
Honors/Awards:
Mr. Mallas has been listed in the New York Law Journal's highest verdicts and settlements edition for 2002, 2010, 2011, and 2012.

Mr. Mallas has appeared in the New York Law Journal's highest settlement edition for 2011 and 2013.
Verdicts/Settlements:
$200,000.00 – For a 50-year-old woman who tripped and fell on a piece of broken sidewalk and sustained a broken wrist.
$280,000.00 – For a victim of a medical malpractice. A 61-year-old woman who went in for a routine colonoscopy and had her colon perforated. The perforated colon was in fact  a risk of a colonoscopy, our firm showed that this particular case due to a poor prep, the colonoscopy should have been aborted. In failure to abort the colonoscopy that was a departure from good and accepted medical practice. 
$300,000.00 – For a man who had an arthroscopic surgery to his shoulder as a result of a motor vehicle incident that occurred while he was making a left hand turn.
$340,000.00 – For a woman who tripped and fell on a sidewalk and broke her elbow.
$375,000.00 – For an elderly driver of a motor vehicle that crashed with another car on the highway and sustained spasms to his spine.
$380,000.00 – For a delivery man that slipped on grease at a diner and broke his ankle.
$400,000.00 – For a pedestrian who was struck by a motor vehicle and suffered neck, back, and hip injuries. 
$400,000.00 – For a man whose car collided with a bus and suffered an injury to his knee which required surgery.
$400,000.00 – For a firefighter that fell on debris on a roof and suffered a torn labrum in his shoulder.
$500,000.00 – For a driver whose car was struck by a Department of Transportation vehicle which failed to yield at a stop sign.
$500,000.00 – For a 59 year old man that slipped and fell on ice while he was doing roofing work. As a result, he sustained a fracture of his orbital bone.
$585,000.00 – For a middle aged woman whose vehicle was struck in the rear which caused her spinal injuries.
$600,000.00 – For a painter who fell from a ladder and suffered spinal injuries as well as an injury to his knee.
$606,000.00 – For the family of an elderly man who broke his hip after he tripped and fell on a sidewalk in front of his home. Prior to trial the man died of complications from his injuries. The 86 year old man never testified the proof was entirely circumstantial evidence of how he tripped and fell.
$625,000.00 – For a school safety officer who slipped and fell while at work. As a result, she suffered injuries to her wrist, shoulder and back which prevented her from returning to her job.
$650,000.00 – For an ambulance driver that crashed with another vehicle at an intersection. As a result, she sustained a herniated disc in her spine.
$675,000.00 – For a man who tripped and fell on a sidewalk as a result of a hole on the sidewalk. He broke his ankle, necessitating surgical intervention.
$750,000.00 – For a construction worker that was injured on a job-made ladder, when he fell a short distance and injured his back.
$762,500.00 – For a 38 year old woman who injured her back when she slipped and fell on ice in a Costco parking lot.
$770,000 – For the estate of a 49-year-old woman following a jury trial in Westchester County. Kostantinos Mallas, the partner in charge of the personal injury department and senior trial attorney, proved that the defendant committed malpractice by failing to provide blood thinners to his patient who injured her knee on Christmas day in 2009. The defendants argued that the medical standard did not indicate the need for blood thinners in this instance. Through expert testimony, Mr. Mallas was able to convince the jury that it was a deviation from good an accepted medical practice not to prescribe blood thinners. The decedent ultimately developed a deep vein thrombosis (blood clot) which led to a pulmonary embolism, causing her death on January 20, 2010.
$830,000.00 – For a steamfitter who was injured when he tripped and fell while working at a construction site. As a result, he sustained fractures to his arm which necessitated surgical intervention.
$875,000.00 – For a 46 year old motorcyclist, who was struck in the rear by a motor vehicle. As a result there were serious spinal injuries which necessitated surgery.
$900,000.00 – For a victim of medical malpractice case where a 67-year-old had a nerve severed in her dominant arm causing her to lose some use of that arm which required a further surgery to transplant a nerve for her to regain use of the function in that arm. The defendants argued that there was no departure from good and accepted practice and that this was simply a risk of the surgery. However, we were able to demonstrate, through the use of experts, that in fact the defendants' surgeon was unaware that he had transected the nerve causing the damage, and thus, departed from good and accepted medical practice.
$1,000,000.00 – For the family of a woman who died as a result of medical malpractice. The victim died due to the defendants failure to recognize a pulmonary embolism, which ultimately led to a stroke and her death.
$1,000,000.00 – For a woman that was injured while a passenger in a motor vehicle that was struck in the rear. Our client sustained serious spinal injuries which require surgical intervention. Defendants contended that the accident involved a light impact and could not have caused the injuries to our client. Defendants claimed that the injuries stemmed from pre-existing conditions that occurred as a result of two prior car accidents. We were able to show that the injuries were as a result of this accident and that our client was unable to return to work as a school teacher as a result.
$1,650,000.00 – For a woman who tripped and fell down the stairs and sustained serious and severe spinal injuries which necessitated surgical intervention. The defendants claimed that our client should have used the handrail and would have avoided falling. We were able to show that the plaintiff tried to grab the handrail but was unable to do so. Additionally, contrary to what the defendants claimed, that our client achieved a good recovery. We were able to show that she in fact continues to have residual problems.
$1,850,000.00 – For a 46-year-old union electrician who had fallen from an "A" frame ladder while performing his work. The defendants had argued that the injuries were not severe and that he should be able to return to work. However, we were able to show, through the retention of the appropriate experts, that there was significant injuries and lost wages. We were able to show the defendants violated Labor Law Sections 240(1) and 200 and we were granted Summary Judgment on the issue from Court.
$2,500,000.00 – For an elderly woman that was injured upon a bus that stopped abruptly. The driver of the bus claimed that a car had cut him off requiring him to stop short. We were able to show that even if that were the case, there was still sufficient time to stop safely and avoid the happening of this incident.
$3,300,000.00 – For a disabled 57-year-old carpenter who had significant back injuries prior to his accident. We were able to demonstrate that our client's injuries were exacerbated due to his fall from an "A" frame ladder while he was performing his work. In this construction accident case, we were able to show that the defendants failed to provide the appropriate safety devices to our client causing him to fall and become injured. We were able to show defendants violated Labor Law Sections 240(1), 241(6) and 200.
$3,500,000.00 – For an elderly man whose car was struck by a Police vehicle that was on an emergency run and entered the intersection. The defendants contented that the police vehicle had a green light and slowed down before entering the intersection. We were able to show that the police vehicle was driven at an imprudent speed considering the time of day and amount of traffic. This was the 7th highest verdict for a motor vehicle accident in 2002.,

2002

$18,681,323.00 – For a 44 year old man who was severely burned over 60% of his body. This case was tried and won despite a vigorous defense which blamed the victim. We were able to show that the defendants were negligent in the maintenance of their building through expert testimony and cross examination of witness. We showed the severity of our client's injuries to the jury. Which made this the ninth highest verdict in the State of New York for 2011.,

2011
Bar/Professional Activity:
Memger of the Nathan Sobel Kings County Inns of Court

Member of The Helenic Lawyers Association

Member and Lecturer for the New York State Trial Lawyers Association

,

1998
Scholarly Lectures/Writings:
Lectured on the changes in Law including the new City sidewalk Laws.

,

Speaker

,

Changes in Landlords Liability

,

Bay Ridge Realtors Association

,

2007
Selections
Super Lawyers: 2013 - 2022
Rising Stars: 2011 - 2012
Additional sources of information about Kostantinos Mallas
Attorney resources for Kostantinos Mallas