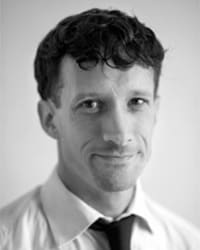 Matthew Blaisdell, Esq.
Practice Areas: Immigration
Licensed in New York since: 2010
Education: Pace University Law School

Selected to Rising Stars: 2018 - 2020
Matthew Blaisdell, Esq.
159 20th Street
Suite 1B
Brooklyn, NY 11232
Visit website
Details
Matthew Blaisdell, Esquire, is a general immigration practice based in Brooklyn, NY. In addition to his practice, he is deeply involved in advocacy related to professional ethics and consumer protection.
We provide ongoing, in-depth consulting, at a flat rate, on a full range of legal immigration services.
Our focus is on developing a plan designed to accomplish your individual goals.
We won't push you into a certain type of case, but will empower you to make decisions that are in your best interest.
Our practice is guided by respect for our clients. I have been deeply involved with legislation at local and state levels to protect foreign nationals from exploitation in immigration services, and I have long been active on these topics on a national level. These principles are incorporated into a process that is designed to identify the strategy that best fits your individual goals.
While the solution is sometimes straightforward, for others it may require a longer period of dialogue and consideration. Rather than charge you for a single meeting or call, we will charge a flat fee to consult with you for as long as it takes to develop a plan that you feel confident in.
Our personalized approach is designed to evaluate your situation from all angles: family-based, employment-based or skills-based, humanitarian, removal defense, or naturalization, or general trouble-shooting. Whether you have already identified the path you wish to pursue or believe that you might benefit from additional guidance, our job is to help you get to where you want to go––doing as much or as little as you need.
So we may reserve time and prepare for you, we require payment of the consulting fee when making the appointment; this may be refunded if you cancel or reschedule more than 24 hours in advance, or if I do so at any time. 
We understand that getting an estimate of the fees involved is helpful in deciding whether to schedule an initial consultation. While we cannot provide a quote for your case outside of a consultation (for both professional and ethical purposes), we will do our best to give you an idea of what to expect throughout this process while you consider making an appointment.
Practice areas
Immigration: Consumer, Immigration: Business
50% Immigration: Consumer

50% Immigration: Business
First Admitted: 2010, New York
Professional Webpage: http://www.blaisdelllaw.com/
Bar/Professional Activity:
American Immigration Lawyers Association, Ethics Committee, Member and Vice-Chair

Brooklyn District Attorney, Justice 2020 Task Force

,

2020

American Immigration Lawyers Association, Rapid Response Team, Member and Chair

New York State Bar Association Special Committee on Immigration Representation, Member

Protecting Immigrant New Yorkers Task Force, Member

American Immigration Lawyers Association (AILA) National Consumer Protection and Unauthorized Practice of Law Committee, Chair & Member
Educational Background:
Pace Law School

,

2009

LL.M Environmental Law, Pace Law School

,

2011

New York City Environmental Law Leadership Institute

,

2011
Scholarly Lectures/Writings:
CLE. Provide overview of the unauthorized practice of immigration law.

,

panelist

,

AILA Monthly Meeting, I-9 Compliance & the Unauthorized Practice of Law

,

AILA, New York City Chapter

,

2013

CLE. Assist immigration attorneys in understanding the procedures surrounding a Lozada motion and disciplinary complaint, as well as best practices when responding to the motion and related bar complaint.

,

panelist

,

Calmly Navigating the Treacherous Waters of Lozada Ineffective Assistance of Counsel Complaints

,

AILA Annual Conference

,

2022

CLE. Assist attorneys in managing their risk in individual situations while developing a philosophy of lawyering to help manage potential conflicts in a manner that reflects who they are as attorneys.

,

co-presenter

,

Walking the Line: Professionalism, Ethics, and the Limits of Zealous Advocacy

,

Lawline

,

2021

CLE. Help attorneys identify the weaknesses in their work from home systems with regards to the attorney-client privilege, and make sure they are protecting client information and staying ethical while working remote. 

,

co-presenter

,

How to Meet Your Affirmative Duty of Protecting Attorney Client Privilege in a Work From Home Environment.

,

Lawline

,

2021

Address what happens when a complaint is filed, what to do (and not to do) while responding, and how to protect yourself and your practice for the future.

,

panelist

,

The Ins and Outs of Responding to and Avoiding Ethics and Bar Complaints

,

AILA Annual Conference,

,

2021

CLE. Assess the effects of recent actions by various federal agencies on various groups of foreign nationals in the United States and provide the updated information that attorneys need to provide counsel to clients affected by the pandemic-related events.

,

panelist

,

Immigration Updates and Strategies amid the COVID-19 Pandemic

,

Lawline

,

2020

CLE. Examine issues concerning advertising, paying for referrals, and directly contacting prospective clients and how they apply to attorney websites, social media, and other forms of online presence, and understand what it means to be technologically competent.

,

presenter

,

Managing Risk with your Online Presence

,

Judicial Title

,

2018

CLE. Provide an understanding of the relevant enforcement frameworks and how they operate today, various background issues related to immigration enforcement, and the relevant legal issues that have given rise to litigation.

,

presenter

,

ICE Interior Enforcement and Sanctuary Cities

,

Lawline

,

2017

CLE. Overview of ICE prosecutorial discretion in the field of immigration

,

presenter

,

Prosecutorial Discretion

,

New York Immigration Coalition

,

2014

CLE. Provide assistance to attorneys representing or advising immigrants in anticipation of the Biden administration.

,

moderator & presenter

,

Immigration in 2021: Anticipating Changes under a New Administration

,

Lawline

,

2021

CLE. Walk attorneys through pitfalls to be aware of regarding use of their trust accounts. 

,

co-presenter

,

Avoiding Trust Account Terrors: How to Ethically And Effectively Manage a Lawyers Trust Account

,

Lawline

,

2021

CLE. Assist immigration attorneys, as well as criminal defense attorneys, in advising noncitizen clients regarding the implications of criminal activity. 

,

presenter

,

Analyzing Criminal Activity for Immigration Consequences

,

Lawline

,

2021

CLE. Provide a background understanding of the ethical issues at play in these conflicts, and will attempt to provide a framework to assist in managing your risk of discipline.

,

presenter

,

Enhanced Enforcement and Desperate Clients: Managing Ethical Risk in Immigration Law

,

Lawline

,

2018

CLE. Monthly meeting of the Indiana Chapter of the American Immigration Lawyers Association.

,

panelist

,

Monthly Meeting, Hot Topics In Ethics

,

AILA, Indiana Chapter

,

2020

CLE. Immigration-specific responses to the Covid-19 pandemic for practitioners. 

,

presenter

,

Immigration Updates and Strategies amid the Covid-19 Pandemic

,

Lawline

,

2020

CLE. Survey the most common immigrant and non-immigrant visas, discuss how to evaluate a client's suitability for each, and identify special issues that should be addressed from the outset to provide the client with the best chance of success.

,

presenter

,

Immigration Pathways from Studies to Employment

,

Lawline

,

2020

CLE. Provide a survey of nonimmigrant visa categories that typically apply to these circumstances, including their benefits and drawbacks, timeframes, and eligibility requirements. We will also explore how several of these categories might fit with or conflict with each other. The program will provide attorneys with as much information as they need to help a client feel informed about and comfortable with the options presented. 

,

presenter

,

Alternatives to the H-1B Visa (update)

,

Lawline

,

2020

CLE. Understand the regulatory, judicial, and model rule foundations for practicing immigration law across multiple states.

,

panelist

,

Whose Rules Do I Follow? Ethical Concerns for Multi-jurisdictional Practitioners.

,

AILA, Annual Conference

,

2019

CLE. Provide an overview of the various regulatory schemes governing the conduct of immigration lawyers, apply these rules to basic areas of litigation and practice management, provide a background understanding of the ethical issues at play in these conflicts, and will attempt to provide a framework to assist in managing your risk of discipline.

,

presenter

,

Legal Ethics: 10 Rules for New Immigration Practitioners

,

Lawline

,

2019

CLE. Provide a unique perspective for attorneys seeking a better understanding of not only the ins-and-outs of various non-immigrant visas for foreign national students, but also the concerns and practical realities of both students and the schools and programs with which they interact.

,

presenter

,

Immigration Strategies for International Students

,

Lawline

,

2018

CLE. Provide an overview of the most common, and a few of the often-overlooked, options for clients seeking to launch and develop businesses and other projects in the United States, while providing the practical information needed to identify the option that is most appropriate for the circumstances.

,

presenter

,

Immigration Strategies for Investors and Entrepreneurs

,

Lawline

,

2018

CLE. Review the executive orders currently being litigated. Understand the constitutional challenges to those orders within current litigation. Anticipate further constitutional challenges and litigation related to the orders.

,

presenter

,

Constitutional Challenges to Recent Executive Orders in Immigration

,

Lawline

,

2017

CLE. Examine the cases that were heard by SCOTUS in the last year, with an eye towards several decisions and issues that may be front and center in the next term, including the "travel ban" and "sanctuary cities."

,

presenter

,

The Supreme Court Immigration Roundup (2017-2018 Term)

,

Lawline

,

2018

CLE. Provide an overview of the CAT and the manner in which it has been adopted into U.S. law, explain the differences between relief under asylum law and under the CAT, and explore the elements needed to establish a claim. 

,

presenter

,

Immigration Relief under the U.N. Convention against Torture

,

Lawline

,

2017

CLE. Contemporary issues related to professional responsibility in immigration practice.

,

panelist

,

AILA Monthly Meeting, Ethics Issues for New Attorneys, Asylum, and Disciplinary Issues

,

AILA, New York City Chapter

,

2016

CLE. Enable attorneys to provide strong counsel in the environment following the Presidential election of 2016.

,

presenter

,

What Comes Next: Immigration Law and the New Administration

,

Lawline

,

2017

CLE. Provide attorneys with an understanding of the different points in the enforcement process at which they may advocate that ICE exercise its discretion in a favorable manner, as well as provide an idea of how a new President may take executive action to change the manner in which ICE exercises its discretion.

,

presenter

,

Prosecutorial Discretion in Individual Immigration Cases

,

Lawline

,

2017

CLE. Examine practices in the context of pursuing humanitarian-based relief, as well as issues involving the use of translators and paralegals, working with children and victims of crimes or persecution, and dual representation, with the objective of empowering attorneys to better manage their risk while advocating for their clients. 

,

presenter

,

Ethical Considerations in Applying for Humanitarian-Based Immigration Relief

,

Lawline

,

2017

CLE. Survey of nonimmigrant visa alternatives to the H-1B classification.

,

presenter

,

Alternatives to the H-1B Visa

,

Lawline

,

2017

CLE. Assisting attorneys to provide effective intakes for immigrant clients.

,

panelist

,

Improving the Client Intake Process

,

AILA Annual Conference

,

2017

CLE. Help to develop a strategy for consultations that fits both your personality and the objectives for your practice.

,

presenter

,

Preparing for an Immigration Consultation

,

Lawline

,

2015

CLE. Provide an overview of the various regulatory schemes governing the conduct of immigration lawyers and apply them to basic areas of litigation and practice management, with a close analysis of specific, practice-related issues that immigration attorneys should become familiar with. 

,

presenter

,

Immigration Ethics

,

Lawline

,

2016

CLE. Overview of pathways for obtaining benefits for minors via both USCIS and the U.S. Immigration Court system.

,

co-presenter

,

Navigating the U.S. Immigration System for Immigrant Youth

,

Lawline

,

2016

CLE. Survey of relief available to minors in removal proceedings.

,

co-presenter

,

Representing Unaccompanied Children in Immigration Court

,

Lawline

,

2016

CLE. Presented panel on issues related to potential and recent Executive actions related to immigration benefits and protections.

,

presenter

,

Implementing Executive Action on Immigration: Executive Grants of Administrative Relief

,

New York City Bar Association

,

2015

CLE. Provide both an overview and a 'nuts-and-bolts' approach to family-based cases, detention, asylum, deferred action, and parole into the United States for LGBT clients. 

,

co-presenter

,

Immigration Concerns for LGBT Persons

,

Lawline

,

2015
White Papers:
A Resource Guide for Law Enforcement, Government Agencies and Advocates; a product of the Protecting Immigrant New Yorkers task force

,

Collaborating to Protect New Yorkers from Immigration Fraud

,

2016

Assist immigration attorneys in understanding the procedures surrounding a Lozada motion and disciplinary complaint, as well as best practices when responding to the motion and related bar complaint.  

,

Calmly Navigating the Treacherous Waters of Lozada Ineffective Assistance of Counsel Complaints

,

2022

Discuss the extent to which successor counsel: may provide legal advice regarding prior counsel's representation; advise clients regarding an asserted file lien; articulate a claim for relief pursuant to Matter of Lozada and what actions would that entail; and is required to report these suspected violations to the local disciplinary body, irrespective of Lozada's requirements.

,

What to Make of This Mess? How Successor Counsel Ethically Rights as Wonky Case

,

2022

Address what happens when a complaint is filed, what to do (and not to do) while responding, and how to protect yourself and your practice for the future. 

,

Disciplinary Complaints Unraveled: What Happens When a Complaint is Filed and How to Respond Effectively

,

2021

Describe the regulatory, judicial and model rule foundation within which attorneys may practice immigration law, including states in which they are not admitted.

,

Ethical Concerns for Multi-Jurisdictional Practitioners

,

2019

A guide to navigate the ethical questions posed by the practice of submitting an affirmative asylum application with the goal of being placed in removal proceedings so that an application for cancellation of removal for nonpermanent residents may be submitted.

,

Ethical Considerations Related to Affirmatively Filing an Application for Asylum for the Purpose of Applying for Cancellation of Removal and Adjustment of Status for a Nonpermanent Resident

,

2017

Provides ethical considerations and potential liabilities attorneys must consider when advertising legal services on social media.

,

Truth in Advertising: an Ethics Case Study

,

American Immigration Lawyers Association

,

2021
Office location for Matthew Blaisdell
159 20th Street
Suite 1B
Brooklyn, NY 11232
Phone: 347-352-9573
Selections
Rising Stars: 2018 - 2020
Additional sources of information about Matthew Blaisdell
Attorney resources for Matthew Blaisdell