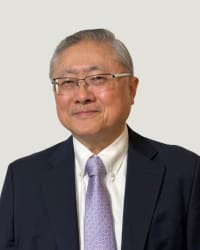 Alan Lee & Arthur Lee, Attorneys at Law
Practice Areas: Immigration
Licensed in New York since: 1982
Education: Cleveland State University Cleveland-Marshall College of Law

Selected to Super Lawyers: 2011, 2013 - 2023
Alan Lee & Arthur Lee, Attorneys at Law
408 8th Avenue
Suite 5A
New York, NY 10001
Phone: 212-564-9496
Email: Alan Lee Visit website
Details
Alan Lee exclusively practices immigration law and covers the spectrum from non-immigrant visas such as H-1B and L-1, to federal court litigation including employment and family-based matters, investment immigration, asylum, and citizenship. He holds an AV preeminent rating in the Martindale-Hubbell Law Directory and is on the Bar Register of Preeminent Lawyers, the highest rating in both legal ability and ethical standards as judged by his peers. He has successfully concluded cases before USCIS, DOS, DOL, Consuls, Immigration Courts, Federal Circuit and District Courts, BIA, BALCA, USCIS Appeals Adjudication Office, and Regional Commissioners. Mr. Lee has authored approximately 2,040 legal writings in newspapers and journals on immigration, including Interpreter Releases, Immigration Daily, and Chinese language dailies World Journal and Sing Tao. His staff has fluency in multiple dialects of Chinese.
First Admitted: 1977, Ohio
Professional Webpage: https://alanleelaw.com/about-the-firm
Verdicts/Settlements:
BIA Affirms IJ Grant on Certification on Crime, Overbroad Statute, and Second Circuit Changed Law In Our Case (2022) – Alan Lee, Immigration Daily, 8/16/22, AILA website postings, #22081700(8/18/22), Benders Immigration Bulletin daily edition, 8/18/22,  in an unpublished decision, In re A079 683 165, August 1, 2022, the BIA affirmed on certification the favorable decision that we received from the immigration court in one of our cases terminating proceedings against a permanent resident with a Virginia burglarious tools possession conviction. The issue was whether our client had to show that someone was actually prosecuted under the facially overbroad Virginia statute for the type of conduct which was not an immigration crime under the federal definition. The Board concluded that "the respondent was not required to make the showing, as the statute was facially overbroad and this case is under the jurisdiction of the United States Court of Appeals for the Second Circuit." It further said that "The Second Circuit has interpreted the realistic probability test as being inapplicable if a state statute is facially overbroad" and "as the Immigration Judge correctly recognized, the Second Circuit has extended its case law to depart from the Board's requirement of prosecution to satisfy the realistic probability test."

Matter of Leacheng International Inc., 26 I&N Dec. 532 (AAO 2015); Firstland International v. INS, 377 F.3d 127 (2d Cir. 2004);  Chavan v. Drysdale, 513 F.Supp.990 (NDNY 1981). 
Honors/Awards:
Rated AV in Martindale-Hubbell Law Directory since 1994, AV Preeminent rating since 2010 with legend of highest possible rating in both legal ability and ethical standards, & in the Bar Register of Pre-eminent Lawyers since 2011.  Also named Client Champion Platinum 2018 - 2021 by Martindale-Hubbell. Awarded twice by the government of the Republic of China in 1985 for outstanding work in immigration and human rights affairs; selected for Who's Who in American Law; honorary editor of newspaper, Pakistan Calling; Sidney A. Levine Award winner at Cleveland Marshall College of Law for best legal writing in 1976/77. Recognized as one of New York area's "Top Rated Lawyers" by Martindale-Hubbell for 2012, 2014 - 2021.,

Martindale-Hubbell
Scholarly Lectures/Writings:
Lectures before student groups at universities, colleges, and institutes on immigration laws.  Approximately 2,025 legal writings in newspapers and journals on immigration law; and a regular contributor to Martindale-Hubbell's Ask-a-Lawyer program.
Educational Background:
B.A. graduate in English of UCLA 1973 and J.D. graduate of Cleveland-Marshall College of Law, 1977. Ohio bar, 1977; New York bar, 1982.
Pro bono/Community Service:
Appearances before community groups, universities, colleges and institutes on immigration issues of interest to them. Participant in Ask-A-Lawyer program of LexisNexis/Martindale-Hubbell since 2013.   Before moving to New York, staff attorney in Bowling Green, Ohio, for Ohio Migrant Legal Action Program (OMLAP) & then lead attorney in Bowling Green for its successor, Advocates for Basic Legal Equality (ABLE).
Other Outstanding Achievements:
Firstland Int'l v. INS successfully challenged Legacy INS' policy of over 40 years of revoking approval of immigrant visa petitions under a nebulous standard of law.  It was short-lived, however, as it was legislatively overturned by the Bush administration. Yet Firstland lives on as precedent that the government must comply with nondiscretionary duties established in law, and such failure is reviewable in federal courts.
Matter of Leacheng International Inc. established nation-wide standards on the definition of "doing business" for multinational executives and managers to gain immigration benefits.
Bar/Professional Activity:
Panel expert in seminars of the Immigration Law Weekly in areas of labor certifications and litigated employment cases.
Representative Clients:
Withheld for client privacy
Special Licenses/Certifications:
Practice before governmental agencies dealing with immigration law such as Department of Homeland Security, U.S. Department of State, and Department of Labor - including Visa Office and consul posts, Board of Immigration Appeals (BIA), Administrative Appeals Office (AAO), and Board of Labor Certification Appeals (BALCA).  Licensed to appear before Southern, Eastern and Western District Courts in New York and Second Circuit Court of Appeals
Transactions:
SEACHANGE IN LINE FOR N-648 MEDICAL CERTIFICATION FOR DISABILITY EXCEPTIONS ADJUDICATIONS BY ALAN LEE, ESQ. (2022) – Alan Lee, Immigration Daily, 11/7/22, aligns the new changes in form and policy guidance by USCIS with historical past practices not conducive to use of the form in calling the changes encouraging and a possible seachange in the way that the applications will now be adjudicated.

,

2022

"USCIS RECOMMENDATIONS ON FILING PAPER PETITIONS AND APPLICATIONS - WHAT WORKS AND WHAT NEEDS SOME THOUGHT" (2022) – Alan Lee, Immigration Daily, 12/6/22, explores the recommendations for submitting paper petitions and applications to USCIS put out by the agency on 11/16/22 and praises, pans, and requests clarifications on them. The author's major concern is that in the haste to simplify filings by not binding documents, there may not be sufficient safeguards to ensure that the applications and petitions remain complete or parts adequately separated or highlighted before they are adjudicated.

,

2022

"IMMIGRATION NEWS THAT YOU CAN USE – USCIS PRONOUNCES FINALITY TO H-1B SELECTIONS; CONSULAR PRACTICE; HAPPINESS OR SADNESS WHEN IJ'S DISMISS CASES; LITTLE TO DO IN OFFICE WITH SEPTEMBER VISA CHARTS; NRC NEWS; ETA 9089 FILLING WHERE NO SUNDAY NEWSPAPER."  (2022) – Alan Lee, Immigration Daily, 8/23/22, sundry news including a very interesting article from the Wall Street Journal on the National Record Center, a place that in the past has been the graveyard of cases and from where it is very difficult to retrieve cases that are required to continue processing of applications; that NRC in Lee's Summit, Missouri, is the central hub of storage, preservation, and overall management of A-Files prior to their long term, inactive storage in a NARA (National Archives and Records Administration) Federal Records Center and eventual permanent transfer to the National Archives. The WSJ article was occasioned by a suit for delayed citizenship revealing that citizenship officers are required to look through the histories when considering an immigration application; and that before the pandemic, USCIS routinely requested immigration histories from the archives in Kansas City without issue, but due to COVID and to minimize the time employees spent underground, the National Archives stopped responding to all but emergency requests. Finally in March, the archives fully reopened its facilities and as of May, it was processing all incoming requests. At the time of writing, there were 87,500 pending requests for immigration histories, down from a high of 350,000 in January. ,

2022

IMMIGRATION NEWS THAT YOU CAN USE: USCIS DOES THIRD ROUND OF H-1B PICKS FOR FIRST TIME; FILING ADDRESSES EXTREMELY IMPORTANT TO PAY ATTENTION TO; EAD CHANGES FOR H-4, L AND E DEPENDENTS; DECEMBER VISA CHART HOLDS A FEW BRIGHT SPOTS; NEW YORK DISTRICT OFFICE/CONTACT CENTER MEETING POINTS.  (2022) – Alan Lee, Immigration Daily, 11/23/22, highlighting the mixed emotions that individuals have over the third round of H1B selection on November 19, 2021, as some are happy that they have another chance at being selected, but pointing out the downside of a number of organizations that might not be so willing and able to sponsor as they were earlier in the year and that the selectees may have moved on to other jobs, gone back to school, taken other nonimmigrant/immigrant options, or left the country.

,

2022

IMMIGRATION NEWS THAT YOU CAN USE – NEW H-1B CAP SEASON RAMPING UP; DROPBOX USE EXPANDED FOR US VISAS OVERSEAS; F, M and J VISA APPLICATIONS MADE EASIER; MFL TERMINATION LETTERS AND NVC NEED FOR QUALITY CONTROL; FLEXIBILITY EXTENDED FOR TIME TO RESPOND TO USCIS ACTIONS; VISA PROBLEMS WHERE APPLICANTS LEAVE US BEFORE DECISIONS ON EXTENSION/CHANGE OF STATUS REQUESTS. (2022) – Alan Lee, Immigration Daily,  1/18/22, including alerting readers of a seeming need at the NVC for quality control as even we have been receiving MFL termination letters where we timely requested extensions from the agency; and the problems that applicants can face where they have filed timely request for extensions or changes of their stay and then leave the US before a decision is made – a situation made more common by scarcity of flights and cancellation of many during the time of pandemic.

,

2022

IMMIGRATION NEWS THAT YOU CAN USE: CAP H-1B SELECTION PROCESS ANNOUNCED COMPLETE; EB-5 REGIONAL CENTER REAUTHORIZATION/REFORM LAW TO BEGIN IN MAY; TITLE 42 NEWS INCLUDING UKRAINIANS; NO MORE PAPER I-94S AT THE BORDER; THE DEPARTURE OF EXPANDED EXPEDITED REMOVAL. (2022) – Alan Lee, Immigration Daily, 3/31/22, alerting readers that the selection process for H-1B's for FY-2023 was announced complete by USCIS on 3/29/22; that the EB-5 investor regional center reauthorization and reform law is to begin on 5/14/22, 60 days after the President's signature; that under a CBP 3/11/22 memorandum, Ukrainians have gained an exemption from the pandemic bar of Title 42 to enter the US at the border in reaction to the invasion of their country by Russia; that CBP announced by notice on 3/18/22 it will no longer issue I-94 entry cards at land crossings on the border; that under a new 3/21/22 regulation, expanded expedited removal is rescinded so that it will be generally applied to individuals caught within 100 miles of the border or who have not yet been in the US for two weeks. The expanded Trump rule had applied to individuals who could not prove that they had been in the US for two years.

,

2022

IMMIGRATION NEWS THAT YOU CAN USE – SOME MOVEMENT ON JULY VISA BULLETIN; RENEWED GUIDANCE ON DISTANCE LEARNING; CHANGED LOCKBOX FOR SOME I-485 EB FILINGS; NVC CURRENT PROCESSING TIMES; USCIS SAYS "GO FISH" (2022) – Alan Lee, Immigration Daily, 6/20/22, highlights USCIS guidance on 5/31/22 that the policy of allowing schools and students to engage in distance learning in excess of regulatory limits due to Covid-19 only applies to students who were actively enrolled on 3/9/20, and have continually complied with the terms of their nonimmigrant status. Students enrolling after 3/9/20 must adhere to the existing regulations regarding online learning. Under the March 2020 guidance, active F and M students are permitted to temporarily count online courses towards a full course of study in excess of the regulatory limits. Under the regulatory limits, online courses cannot count toward a full course of study for M and English language training students, and only one online or distance learning class can count toward a full course of study for an F-1 student during each term or semester.

,

2022

IMMIGRATION NEWS THAT YOU CAN USE – CONTACTING USCIS ON REJECTED AND NO RECEIPT CASES; 3/10 YEAR BARS CAN BE SATISFIED IN SOME CASES WHILE LIVING IN US: NYC CIS DISTRICT OFFICE POLICY CHANGES COMING; FLEXIBILITY PERIOD FOR RFE'S, RFI'S, NOID'S, ETC. LIKELY AT AN END; AUGUST VISA CHART SHOWS MULTIPLE FB AND FEW EB CHANGES. (2022) – Alan Lee, Immigration Daily, 7/22/22 , educates readers on a little-known procedure on how to contact the agency on rejected filings and those on which no receipt is received; how individuals who are barred from returning to the US for three or 10 years can actually satisfy those bars while living in the US; new changes coming to the New York District immigration office on how it conducts adjustment of status interviews involving marriages by allowing "Stokes" type interviews to be conducted on the first interview and that it will require individuals to bring their own interpreters rather than using its own interpreters as in the past.

,

2022

"New Texas Preliminary Injunction Against Prosecutorial Discretion Focused on Detention Only; Visa Chart Largely Humdrum for September Except for Indians – Will There Be an October Surprise? H-1b Restrictions Continuing under Biden Administration; Multiple Reports on Dearth of F-1 Visa Interest Around the World; Congressional Research Service Report Shows in Absentia Rate for Hearings Only 17%." Alan Lee, Immigration Daily, 8/25/21, looks at multiple topics including the misleading way that the Executive Office for Immigration Review counts those not showing up for hearings to make it appear higher than the actual total, and how and why H-1B restrictions are continuing under the Biden Administration.

,

2021

"IMMIGRATION NEWS THAT YOU CAN USE – NEW STUDENTS FROM CHINA TO BE ADMITTED AND GUIDANCE FOR DISTANCE LEARNING, EOIR RE-OPENINGS, H-1B REGISTRATIONS FOR 2021 AN ALL-TIME HIGH, SSA NO MATCH LETTERS NIXED", ENTREPRENEUR PAROLE PROGRAM RETURNS, EXPANDED BIOMETRIC RULE NIXED, BIDEN BACKUP PLAN FOR LEGALIZATION, TIPS IN DEALING WITH THE NVC" Alan Lee, Immigration Daily, 6/1/21, highlights the bar being lifted on entry for new students from China and the biometrics rule being abandoned that might even have forced US citizens sponsoring persons financially to submit to having fingerprints and photographs taken.

,

2021

"S386/HR1044 – Passed By Senate – Goes to Conference with Part That Must be Fixed" Alan Lee, Immigration Daily, 12/7/20, outlines the flaw in the proposed legislation that would have basically given most of the employment-based immigrant visa numbers to one nationality in future years.

,

2020

Recommendations for U.S.C.I.S. Reopening Offices During Covid-19  Alan Lee, Immigration Daily, 5/7/20, gives a list of recommendations on how USCIS can reopen its offices as safely as possible during the pandemic including how to handle the lines, elevators, contacts between USCIS staff workers and between USCIS and the public.

,

2020

The Importance of Setting the Record Straight on East Coast Infections – It's the Europeans; Why not just excuse the LCA posting requirement during the Pandemic? Alan Lee, Immigration Daily, 4/16/20, takes a look at the true cause of the East Coast Covid-19 infections as being European-based in the author's attempt to tamp down the rising anti-Asian sentiment being egged on by the Trump Administration.

,

2020

Coronavirus China Travel Ban Reveals Prejudice Against Parents And Six Nation Ban Hodgepodge Thinking  Alan Lee, Immigration Daily, 2/5/20, considers the coronavirus travel ban and that the Trump Administration devalued the worth of parents of US citizens by placing them under the ban while US immigration law has always regarded parents as invaluable as being part of the "immediate relative" category to US citizens (parents, spouses, and children under the age of 21 and unmarried).

,

2020

S.2603, The Relief Act, In The Season Of Hope; Two Proposed Regulations Likely To Become Law; December Visa Chart Movement And Prognostication; Stockwell Lives. Alan Lee, Immigration Daily, 12/4/19, a multi-topic article highlighting a visa bill, S.2603, that would have fairly distributed and increased the number of immigrant visas, but was ultimately not passed by Congress.

,

2019

"Naturalize Now!" Alan Lee, Immigration Daily, 7/30/19, seeks to encourage everyone who is eligible to begin the naturalization process now as USCIS announces changes to the naturalization civics test with an implementation date in December 2020 or early 2021 as there is a presumption that in the age of Republican politics and a president wishing to reduce immigrant voting that the test will be much harder to pass, and even USCIS's memorandum describing the change purpose is filled with phrases and sentences hinting that adjudication of the test will be harder. It is now taking a year or more in many USCIS offices to complete the naturalization procedure.

,

2019

"Examination of EB-2 Visa Demand Vis-a-Vis H.R. 3012," Alan Lee, Interpreter Releases, Vol. 89, No. 10, 3/5/12; "Important Developments in Labor Certification Applications," Alan Lee, Interpreter Releases, Vol. 88, No. 6, 2/7/11; "The Renewed Hope for Immigration Legislation in 2011," Alan Lee, Interpreter Releases, Vol. 88, No. 2, 1/10/11; "Legalization is Alive but has a January 31, 2010, Deadline in Underpublicized "Known to the Government" Settlement," Alan Lee, Arthur Lee, and Melissa Paquette and edited by Robert Pauw, Interpreter Releases, Vol. 86, No. 47, 12/14/09;  "In Absentia Hearings and Proper Service of NTAs and NOHs with Emphasis on Second Circuit Law Development, Alan Lee, Interpreter Releases, Vol. 84, No. 37, 9/24/07;  "The Bush Temporary Worker Proposal and Comparative Pending Legislation: an Analysis," Alan Lee, Interpreter Releases, Vol. 81, No. 15, 4/12/04,

2012

"I-601A Expansion Rule Comes Out To Cover All Case Classes with Eligibility to Immigrate Including Family Members And Those with Removal Orders" Alan Lee, The Immigration Daily, 8/1/16; "The Peter Liang Case – A Potential Horror for Democrats and Immigration Reform" Alan Lee, The Immigration Daily, 2/22/16; "You Can And Should Have Input On U.S.C.I.S.'s Upcoming "Extreme Hardship" Interpretation For Its Policy Manual" Alan Lee The Immigration Daily, 11/12/15;  "Landscape for Undocumented Immigrant Relief Appearing Bleaker - I-601A Looking Brighter" Alan Lee, The Immigration Daily, 6/2/15.

,

2016

"A Sense of Timing on Available Numbers under Senate Bill 744 (Comprehensive Immigration Reform" Alan Lee, Interpreter Releases, Vol. 90, No. 20, 5/20/13,

2013
Industry Groups:
Immigration Law
Nationality Law
Selections
Super Lawyers: 2011, 2013 - 2023
Additional sources of information about Alan Lee
Attorney resources for Alan Lee