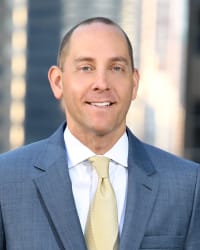 Rosenberg & Estis, P.C.
Practice Areas: Real Estate
Licensed in New York since: 2006
Education: Hofstra University School of Law

Selected to Super Lawyers: 2020 - 2023

Selected to Rising Stars: 2013 - 2019
Details
Eric Orenstein joined the New York City law firm of Rosenberg & Estis, P.C. in 2005 and is a member of the firm's transactional real estate group.
He currently represents owners and developers of commercial properties in the tri-state New York area providing his legal expertise in all aspects of real estate including leasing, development and purchase and sale transactions. In addition, Mr. Orenstein has a national lending practice. Among the lending clients Mr. Orenstein represents is an EB-5 Lender that is one of the most active EB-5 Lenders in the country based on the volume of loans and size of each loan transaction. This puts Mr. Orenstein at the forefront of the EB-5 market.
Orenstein's close interaction with his clients and assistance in evaluating his clients' deals from their inception has allowed him to develop an understanding of all the issues concerning commercial real estate from both a legal and business prospective. His experience provides him with the ability to protect his clients' interests while achieving their goals.
Orenstein received his bachelor's degree from Binghamton University, a State University of New York and his juris doctorate from Hofstra School of Law. He is licensed to practice law in New York.
First Admitted: 2006
Professional Webpage: http://www.rosenbergestis.com/Attorney-Profiles/Eric-S-Orens...
Educational Background:
State University of New York at Binghamton B.A. - 2001
Transactions:
City Point Project, Brooklyn, NY: Represented The Brodsky Organization in its acquisition of a ground leasehold position, and the subsequent financing and development of a 450-unit residential tower at the City Point project in Brooklyn. The transaction included complex development/construction agreements, negotiations with the city of New York, and complicated condominium structure and agreements with adjoining owners.(Closed: 2014)(R&E Team: Richard Sussman, Eric Orenstein and Stefanie Graham),

2014

Nassau County, New York: Served as lead counsel representing the EB-5 lender in a $100 million construction loan for the renovation and rehabilitation of the Nassau Coliseum.(Closed: October 30, 2015)(R&E Team: Eric Orenstein and Stefanie Graham),

2015

Times Square, New York, NY: Served as lead counsel representing the EB-5 lender in a $200 million construction mezzanine loan for a mixed-use (retail/hotel) project in the Times Square district in New York.(Closed: April 17, 2015)(R&E Team: Eric Orenstein, Steven Goldberg and Stefanie Graham),

2015

Wooster Street, New York, NY: Served as lead counsel representing the developer in connection with the acquisition, financing and development of a $50.5 million mixed-use condominium on Wooster Street in New York.(Closed: September 23, 2014)(R&E Team: Eric Orenstein, Stefanie Graham and Steven Goldberg),

2014

Water Street, New York, NY: Served as lead counsel representing the seller in connection with the $23 million sale of a mixed-use (residential/retail) building on Water Street in New York.(Closed: May 28, 2014)(R&E Team: Eric Orenstein),

2014

West 113th Street between Morningside Avenue and Amsterdam Avenue, NY:Represented The Brodsky Organization in its acquisition of a ground leasehold position, and the subsequent financing and development of a 450-unit residential complex adjacent to The Cathedral of St. John the Divine. The transaction included complex development/construction agreements involving historic architectural elements and design.(Closed: 2014)(R&E Team: Richard Sussman, Eric Orenstein, and Stefanie Graham),

2014

New York and Brooklyn, NY: Represented Quinlan Development Group in connection the acquisition, financing and development of numerous sites in Brooklyn and Manhattan for new construction of residential buildings, both rental and condominium. Certain of the developments included joint venture arrangements, 421a certificates and/or inclusionary housing bonus rights.(R&E Team: Richard Sussman, Eric Orenstein, Steven Goldberg, Arielle Frost and David Fries)
Boca Raton, Florida: Served as lead counsel representing the EB-5 lender in a $96 million construction mezzanine loan for a mixed-use (retail/hotel) project in Boca Raton, Florida.(Closed: April 31, 2015)(R&E Team: Eric Orenstein and Stefanie Graham),

2015

Jupiter, Florida: Served as lead counsel representing the developer in a $63.2 million construction/bridge financing for a mixed-use (hotel/office/retail/entertainment) project in Jupiter, Florida.(Closed: October 10, 2014)(R&E Team: Eric Orenstein, Steven Goldberg and Stefanie Graham),

2014

West 57th Street, New York, NY: Served as lead counsel representing the EB-5 lender in a $180 million construction mezzanine loan for a mixed-use (residential/retail) project on West 57th Street in New York.(Closed: May 29, 2014)(R&E Team: Eric Orenstein and Steven Goldberg),

2014

Melrose Place, Melrose, CA: Served a lead counsel representing the developer in connection with the leasing, subleasing and development of a retail project on Melrose Place in Melrose, California.(Closed: April 4, 2014)(R&E Team: Eric Orenstein and Jolie Meer),

2014

Willoughby Square, Brooklyn, NY: Representing an affiliate of American Development Group in connection with the negotiation of agreements with New York City Economic Development Corp. and other public and quasi-public agencies with respect to the long-term leasing and development of an underground automated parking garage. (R&E Team: Richard Sussman, Steven Goldberg, Patricia Cleary, Eric Orenstein and Robert Kessler)
Raleigh, NC: Served as lead counsel representing the lender in a $16.45 million mortgage loan for the acquisition and repositioning of a retail strip mall in Raleigh, North Carolina.(Closed: January 8, 2014)(R&E Team: Eric Orenstein and Steven Goldberg),

2014

Park Slope, Brooklyn: Served as lead counsel representing the property owner/developer in connection with a $30 million acquisition and $23.5 million financing of four mixed-use buildings in Park Slope, Brooklyn.(Closed: October 27, 2015)(R&E Team: Eric S. Orenstein, Steven Goldberg and Brie Dorfman),

2015

Brooklyn Heights, NY: Served as lead counsel representing the lender in a $34.5 million fee and leasehold mortgage loan for the acquisition of a mixed-use (office/retail) development site located in Brooklyn Heights, New York.(Closed: February 26, 2015)(R&E Team: Eric Orenstein, Steven Goldberg, Stefanie Graham and Brieana Dorfman),

2015

Downtown Brooklyn, NY: Served as lead counsel representing the EB-5 lender in a $249 million construction mezzanine loan for a redevelopment in downtown Brooklyn, New York.(Closed: September 9, 2014)(R&E Team: Eric Orenstein and Steven Goldberg),

2014

South 4th Street, Williamsburg, NY: Served as lead counsel representing the developer in connection with the acquisition, financing and development of the $6 million townhome project on South 4th Street in Williamsburg.(Closed: May 16, 2014)(R&E Team: Eric Orenstein and Steven Goldberg),

2014
Industry Groups:
Development
Financing (including EB-5 Financing)
Purchase & Sale
Selections
Super Lawyers: 2020 - 2023
Rising Stars: 2013 - 2019
Additional sources of information about Eric S. Orenstein
Attorney resources for Eric S. Orenstein