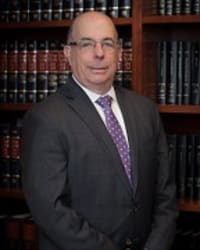 Sivin, Miller & Roche, LLP
Practice Areas: Civil Rights, Criminal Defense; view more
Licensed in New York since: 1985
Education: Boston University School of Law

Selected to Super Lawyers: 2018 - 2023

Virtual Appointments
Sivin, Miller & Roche, LLP
20 Vesey Street
Suite 1400
New York, NY 10007
Visit website
Details
Glenn D. Miller is the principal trial lawyer and a senior partner at Sivin & Miller, LLP Attorneys at Law in New York, New York, where he handles civil rights, criminal and personal injury cases. He represents clients in the New York City metropolitan area and New York statewide.
Mr. Miller has over 30 years of experience working with civil rights issues such as excessive force against incarcerated individuals, false arrest, malicious prosecution, police brutality, and wrongful incarceration. 
Over the course of his career, Mr. Miller has secured millions of dollars for his clients through settlements and verdicts. He has extensive litigation experience and is a recognized speaker on litigation and trial methods.
Mr. Miller earned a bachelor's degree in political science from the University of Rochester in Rochester, New York. He received his law degree from Boston University School of Law and obtained his license to practice law in 1985. He is qualified to appear before all New York state and federal courts.
Prior to joining Sivin & Miller, LLP Attorneys at Law, Mr. Miller worked at the Legal Aid Society, serving as supervisor of the criminal defense division. While in that role, he became the youngest attorney to litigate homicide cases, trying these and other major criminal cases. He uses that experience to provide exceptional legal services to his clients in his private practice.
Practice areas
Civil Rights, Criminal Defense
Focus areas
Police Misconduct
First Admitted: 1985, New York
Professional Webpage: https://www.sivinandmiller.com/Attorneys/Glenn-D-Miller.shtm...
Bar/Professional Activity:
Supervisor, Criminal Defense Division, Legal Aid Society
Educational Background:
University of Rochester, Political Science

,

1981
Representative Clients:
George Williams was assaulted by corrections officers at Attica Correctional Facility and suffered extensive injuries as a result. He suffered broken shoulder, several cracked ribs, two broken legs (one of which required surgery), and several facial fractures including his orbit surrounding his left eye. As a result of this incident, for the first time in state history criminal charges were brought against the corrections officers for an incident not involving sexual assault. Glenn Miller is now the trial attorney handling Mr. Williams' civil case. This case was featured on the cover of the Sunday New York Times. http://www.nytimes.com/2015/03/01/nyregion/attica-prison-infamous-for-bloodshed-faces-a-reckoning-as-guards-go-on-trial.html

,

2015
Other Outstanding Achievements:
The New York Times recently published an article covering a massive assault on inmates by corrections officers at Midstate correctional facility in which over 30 inmates were beaten and verbally assaulted. Glenn Miller is the trial attorney for all of the inmates in the ongoing civil law suit in relation to this incident and the firm is mentioned in the article.  (http://www.nytimes.com/2016/11/15/nyregion/new-york-prison-inmates-guards-beatings.html?hp&action=click&pgtype=Homepage&clickSource=story-heading&module=second-column-region&region=top-news&WT.nav=top-news&_r=0)

,

2016

Ex-prisoner awarded $400,000 after correction officers repeatedly kicked his head during upstate prison transfer - A federal jury Friday awarded a former prisoner $400,000 for injuries he suffered after a group of state correction officers beat him bloody while he was fully restrained. (http://www.nydailynews.com/new-york/ex-prisoner-400g-brutal-attack-correction-officers-article-1.3031697),

2017
Verdicts/Settlements:
Prison Brutality - $655,000 Verdict for a 37 year-old Sing Sing Correctional Facility inmate, who was assaulted by other inmates and suffered multiple lacerations and TMJ disorder due to the negligence of corrections staff.,

2019

Prison Brutality - $612,500 Settlement for a 30 year-old Riker's Island inmate, who suffered multiple facial fractures from getting beaten by corrections officers.,

2019

False Arrest/ Malicious Prosecution – $550,000 Settlement for a 43 year-old female who was falsely arrested and charged with criminal possession of a controlled substance by detectives from the Narcotics Borough Manhattan.,

2019

Prison Brutality - $525,000 Settlement for a 35 year-old Manhattan Detention Complex inmate, who was assaulted by inmates and a correction officer causing him to sustain multiple injuries to his hands.,

2019

False Arrest/ Malicious Prosecution – $350,000 Settlement for a for a 32 year-old male who was falsely arrested and charged with attempted assault on a police officer by officers from the 42nd precinct.,

2019

False Arrest/ Excessive Force – $300,000 Settlement for a 41 year-old female who was beaten outside Club Fight Night in Brooklyn by undercover officers from the 71st precinct.,

2019

False Arrest/ Malicious Prosecution – $200,000 Settlement for a couple in their 60s who were falsely arrested and charged with possession of a control substance by detectives from the 32nd precinct.,

2019

False Arrest/ Malicious Prosecution – $175,000 Settlement for a 32 year-old male who was falsely arrested and charged with attempted assault on a police officer by officers from the 42nd precinct.,

2019

Police Brutality – $1,200,000 settlement for a 49-year-old politician who was beaten by NYPD officers at the 70th Precinct in Brooklyn causing an exacerbation of pre-existing injuries.   ,

2018

Car Accident - $1,000,000 settlement for a 12-year-old boy whose leg was fractured as a result of being hit by a vehicle during school dismissal.,

2018

Prison Brutality - $875,000 settlement for a 46-year-old former inmate whose ankle was fractured in a retaliation attack by corrections officers at Southport Correctional Facility who were concerned our client would snitch on their fellow officers.,

2018

Prison Brutality – $875,000 settlement for a 53-year-old former Riker's Island inmate, with a history of mental illness, who was beaten by corrections officers when he couldn't give a urine sample.,

2018

False Arrest/ Malicious Prosecution – $450,000 settlement for a 25-year-old woman who was falsely arrested by the NYPD and falsely charged and maliciously prosecuted for attempted murder.,

2018

False Arrest/ Malicious Prosecution – $450,000 settlement for a 25-year-old woman who was falsely arrested by the NYPD and falsely charged and maliciously prosecuted for attempted murder.,

2018

Police Brutality/ False Arrest/ Malicious Prosecution – $350,000 settlement for a 30-year-old dental resident who was assaulted by an NYPD officer causing a broken nose and subsequently falsely charged and maliciously prosecuted for disorderly conduct and resisting arrest.,

2018

False Arrest/ Excessive Force – $300,000 settlement for a 31-year-old single mother of two who was falsely arrested by the NYPD and held for over 21 hours in their custody.,

2018

False Arrest/ Excessive Force – $250,000 settlement for a 53-year-old man who was falsely arrested by the NYPD and subsequently falsely charged with various drug-related crimes because he wouldn't cooperate with the NYPD.,

2018

Prison Brutality - $655,000 settlement for 40-year-old former Riker's Island inmate whose jaw was fractured in an attack by another inmate while a corrections officer took no action. (MUNIZ, EDGARDO vs. CITY OF NEW YORK (300173/2013)),

2017

Prison Brutality - $400,000 verdict (including $300,000 in punitive damages) in the Western District of New York for a 37 year-old former inmate who was assaulted by corrections officers at an upstate prison in retaliation for writing grievances against fellow officers. (MALIK, SULTAN vs. CRAIG L. SKELLY, ET AL., (09-CV-6283)),

2017

Prison Brutality - $250,000 verdict (including $50,000 in punitive damages) for a Riker's Island inmate who was beaten, while handcuffed, by a gang of corrections officers who were concerned that our client would snitch on one of their fellow officers. (MAURA, ELIBARDO vs. CITY OF NEW YORK (310884/2011)),

2017

(Police brutality) $3,500,000 million verdict for a 21-year-old security guard who sustained multiple hand and wrist fractures as a result of gunshots by NYPD. Both Glenn Miller and partner, Edward Sivin worked this case together as co-council  (WILLIAMS,TARRELL vs. CITY OF NY) (042210/2003),

2016

(Negligent Security) $1,205,000 settlement awarded to family of fatally assaulted resident of homeless shelter. (CORPORAN,KIRSIS vs. ST. RAYMOND CEMETERY (304437/2013)),

2016

(Police Brutality/ False Arrest)- $850,000 settlement to two sisters and their neighbor who were assaulted by a police officer inside their home and then falsely detained. (NJIE,CURA vs. CITY OF NEW YORK (301354/2012)),

2016

(Police Misconduct) $700,000 settlement for a man who was denied access to his catheter during a false arrest and detention and suffered permanent kidney damage as a result. (SARNICOLA,NICHOLAS vs. CITY OF NEW YORK 014757/2013) ,

2016

(Prison Brutality)- $612,500 dollar settlement for a man who was badly beaten by guards at Rikers on multiple occasions and suffered fractured bones and a ruptured ear drum as a result. (CRUZ,MICHAEL NELSON vs. THE CITY OF NEW YORK (306492/2013)),

2016

(False Arrest/ Imprisonment & Malicious Prosecution) $250,000 settlement for a man who was falsely arrested by a NYPD officer and falsely charged and maliciously prosecuted for murder. ( KIRSIS CORPORAN vs. BARRIER FREE LIVING INC. (300799/2011) ),

2016

Police Brutality/False Arrest/Malicious Prosecution - $450,000 settlement for a Brooklyn porter who was falsely accused of theft and assaulted by New York City Sanitation Department police officers. (Harford v. The City of New York, et.al.    7047/09),

2015

False Arrest/Imprisonment - $450,000 settlement for Queens beauty salon attendant falsely accused of prostitution. (Xiaoning He v. The City of New York et al. (7000008/12)),

2015

(Police Brutality/False Arrest)$350,000 settlement for a 20-year-old man who sustained serious injuries to his leg when run over by an NYPD vehicle and then falsely arrested.  (Ramon Duarte v. The City of New York 19643/2013),

2015

(ASSAULT) $1,000,000 verdict for a 22 year old student who was accosted with racial slurs and stabbed in the chest by a student who became intoxicated at a fraternity event.  HOLIDAY,CHARLES vs. POFFENBARGER,NATHAN (038046/2006),

2014

(Prison Brutality) - $1,400,000 verdict (including $900,000 in punitive damages) for a 40-year-old inmate who was beaten by corrections officers and then held in solitary confinement under false charges. (Martinez),

2009

Police Negligence - $10,000,000 verdict for a 30-year-old student who was shot multiple times by an ex boyfriend against whom she had obtained an order of protection (Carmen Valdez v. City of New York (16507/1997)),

2008

(Negligent Security) $2,300,000 settlement for a 41-year-old nursing home administrator who was the victim of a brutal gay-bashing inside a nightclub. (Ivan Carbajal v. Bobo Robo Inc et al. (16938/01)),

2007

(Sexual Assault) - $3,200,000 verdict for a 30-year-old ticket employee who was sexually assaulted by her supervisor. (NYAT Operating Corp., etc., Plaintiff, Renata Cabrera, Plaintiff-Respondent, v GAN National Insurance Company, et al., Defendants-Appellants. 2295, 2295A, 2295B, 600462/02),

2007

Police Brutality - $3,100,000 verdict for a 31-year-old nursing-home porter who was beaten by police who mistook him for a rioter during the 1991 Crown Heights riots. (Pierre Regis v. City of New York, No. 44341/91),

1998
Office location for Glenn D. Miller
20 Vesey Street
Suite 1400
New York, NY 10007
Phone: 646-561-9150
Selections
Super Lawyers: 2018 - 2023
Additional sources of information about Glenn D. Miller
Attorney resources for Glenn D. Miller