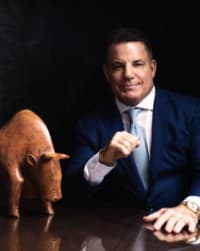 Law Offices of Michael S. Lamonsoff, PLLC
Practice Areas: Personal Injury, Workers' Compensation; view more
Licensed in New York since: 1991
Education: Yeshiva University Benjamin N. Cardozo School of Law
Languages Spoken: English, French, Polish, Russian, Spanish

Selected to Super Lawyers: 2014, 2018, 2020 - 2023
COVID-19 disclaimer:
Our office remains open, and in response to COVID-19 we have expanded our options for remote consultations and virtual meetings. Please contact our office to discuss what meeting option best fits your situation. Call 800-517-0583.

Virtual Appointments
Law Offices of Michael S. Lamonsoff, PLLC
32 Old Slip
8th Floor
New York, NY 10005
Visit website
Details
Michael S. Lamonsoff, ESQ. is the founder and owner of the Law Offices of Michael S. Lamonsoff, PLLC. One of the largest and highest rated personal injury law firms in New York concentrating its practice in construction accidents, worksite accidents, motor vehicle accidents, slips and falls, premises liability and workers compensation.
When asked to identify the most rewarding part of handling plaintiffs' personal injury cases, Michael S. Lamonsoff, Esq., doesn't hesitate to answer: "I love to win, and my clients love me for it."  His clients call him "The Bull" because he never stops fighting for their rights.
He is licensed to practice law in the State Courts of New York and the Federal District Courts for the Southern and Eastern Districts of New York. His firm's reputation is fueled by a track record that includes some of the largest personal injury verdicts and settlements in New York history which includes over $500,000,000.00 in personal injury awards for their clients.
No case is too large or too small for Mr. Lamonsoff and his firm. His "no holds barred" approach to litigation and his unyielding settlement negotiation style has led his firm to attain some of the highest verdicts and settlements in New York in the representation of his clients.  
Mr. Lamonsoff has represented clients in some of the highest profile personal injury and civil rights cases in recent New York history. These cases include: 
The families of the victims of the tragic American Airlines Flight 587 disaster, in which all aboard the doomed 747 airliner died  
The victims of the 2012 Empire State Building shootings  
The 2014 Harlem Gas explosion  
Many recent train disasters, including those involving Metro North in New York, Connecticut and Halifax, North Carolina, in which scores of people were injured and killed. 
In 2017, Mr. Lamonsoff's firm secured a settlement of $11,750,000.00 to a man who spent 18 years in prison as a result for being wrongfully convicted for a murder he did not commit. $4.75 million of the award paid by the State of New York is the highest in State history. The $7,000,000.00 award paid by the City of New York for Mr. Bermudez's civil rights violations is one of the largest paid to date.  
In 2018, the firm obtained a verdict of $16,000,000.00 against the City of New York in a sexual abuse case. This was one of the highest verdicts ever awarded for this type of claim.
The firm also obtained a settlement, days before trial, of $6,500,000.00 for an injured construction worker and was awarded over $8,000,000.00 for several claimants against a public transportation carrier.
Mr. Lamonsoff has made numerous television appearances and has been interviewed and widely quoted in the press regarding high profile cases handled by the firm. He has been interviewed on CNN, MSNBC, ABC, NBC, CBS, FOX, Univision, and Telemundo, as well as various other local networks like NY1, MY9, Channel 10, News 12, 1010 WINS, Hot 97, and iHeart Power 105.1. He has also been interviewed and quoted in print including the New York Times, Newsday, Daily News, the Village Voice and the New York Post. Internationally, he has appeared on German and Chinese national television and in international publications. 
Mr. Lamonsoff says, "I founded this firm to create not just the biggest law firm concentrating in personal injury, but the most successful, professional and aggressive firm. I have instilled my team with an unyielding 'no-holds-barred' attitude toward litigation and fighting for our clients." 
His Philosophy: 
While the vast majority of cases settle, Mr. Lamonsoff believes in speedily preparing every case for trial. "The insurance companies are afraid to go to trial, yet they want to control the amount of compensation our clients should get for their injuries. They know that once the case goes to trial, they have lost this control to a jury. Juries are far more sympathetic to our clients' plight than multi-national insurance corporations. The insurance companies will use an overburdened Court system to delay our clients' cases from going to trial hoping the pressure of waiting will force our clients to settle for far less than what a jury may award them. That is why, the closer we come to trial the more money they will offer. We know all of their delay tactics. I have assembled a special team of highly aggressive attorneys, paralegals, experts and paraprofessionals to defeat these tactics and push the cases forward. We beat the insurance companies at their own game. Our success speaks volumes. We have consistently obtained the highest verdicts and settlements in New York." 
Memberships & Recognitions: 
Board of Directors for the New York State Trial Lawyers' Association, where he is serving as its subcommittee chairman for the Anti-Runner's Ethics Committee  
American Association for Justice and the New York County Lawyers' Association  
Super Lawyers 2014, 2018, 2020, 2021, 2022, 2023
Multi-Million Dollar Advocate  
Million Dollar Advocates Forum
Nationwide Top 100 Verdicts Best of the Bar 2020
New York Magazine: Leaders in Law, Top Rated Personal Injury Attorney 2019  
New York Magazine: Top Verdicts & Settlements for Personal Injury Lawyers 2015, 2017  
New York Magazine: Leading Personal Injury Lawyer 2016  
Top New York Verdicts 2013, 2014  
Top New York Settlements 2014
Top 10 Best of The Best Attorney Award
Lawyers of Distinction
Education, Scholarships, & Internships: 
Mr. Lamonsoff graduated from the University of Arizona with a Bachelors of Arts degree. Thereafter, he began his postgraduate studies program at Columbia University. As one of the postgraduate program's most accomplished students, he was awarded a meritorious scholarship for his academic achievements.  While at Columbia, he served as the editor of the student newspaper. 
Mr. Lamonsoff graduated with dual post-graduate degrees, a Masters of Arts and Masters of Education in the field of Psychology. 
Following his graduation from Columbia, he attended the Benjamin N. Cardozo School of Law. During law school, he was selected by the Honorable Justice Simone E. Chrein, Chief Magistrate of the Federal Court for the Eastern District of New York, to serve as his Student Law Clerk Intern. Thereafter, he was selected as a Student Law Clerk Intern to the United States Attorney's Office for the Southern District of New York, Civil Division, serving under the then acting United States Attorney, Rudolph Guliani. After completing his work with the United States Attorney's Office, Mr. Lamonsoff was hired as a Law Clerk specializing in drafting appeals for an insurance defense firm. 
Upon his graduation from law school, he was hired as a staff attorney/litigator by the law firm of Garfinkel & Lesman, in house counsel to one of America's largest insurance companies, the American International Group. After serving with distinction there, Mr. Lamonsoff accepted a partnership with a large plaintiff's personal injury law firm in New York City. In 1995, Mr. Lamonsoff left that firm and founded the Law Offices of Michael S. Lamonsoff, PLLC. As a result of his aggressive and results-based litigation style, the Law Offices of Michael S. Lamonsoff, PLLC. has become one of the largest law firms concentrating in the representation of victims in personal injury, medical malpractice and police abuse cases. 
Practice areas
Personal Injury - General: Plaintiff, Workers' Compensation: Claimant
Focus areas
Construction Accident, Motor Vehicle Accidents, Personal Injury - Plaintiff, Premises Liability - Plaintiff, Sexual Abuse - Plaintiff, Slip and Fall, Trucking Accidents, Wrongful Death
70% Personal Injury - General: Plaintiff

30% Workers' Compensation: Claimant
First Admitted: 1991, New York
Professional Webpage: https://www.msllegal.com/
Educational Background:
The Benjamin N. Cardozo School of Law

Columbia University, Master of Arts in Psychology, Meritorious Scholarship and Editor Columbia University Student Newspaper

Columbia University, Master of Education in Psychology, Meritorious Scholarship and Editor Columbia University Student Newspaper

University of Arizona, Bachelors of Arts
Other Outstanding Achievements:
Elected to the Board of Directors of the New York Trial Lawyers Association

,

2019

Largest Settlement in New York State History Awarded to Fernando Bermudez for his wrongful conviction in 1992
Verdicts/Settlements:
$16,000,000 verdict against the New York City Department of Education for a young girl that was sexually abused by her teacher over a two-year period.  This is a case that is highly confidential.  If you have questions, please contact Michael Lamonsoff directly at 9298 407 3036 The jury also found that the Department of Education was reckless in their supervision of the teacher.  $5,500,000 verdict awarded construction worker who was injured when a wood bracing collapsed while exiting a ditch resulting in spinal injuries.   $4,750,000 awarded to a construction worker who was injured when a concrete slab fell and struck him resulting in multiple injuries.  $7,000,000 awarded to Fernando Bermudez, now an internationally acclaimed speaker, for due process violations by members of the NYPD which resulted in an 18 year wrongful conviction for a murder he did not commit. The award is one of the highest settlements ever paid by the City of New York for civil rights violations.  $4,750,000 was awarded to Fernando Bermudez, as a result of the wrongful conviction. The award is the highest against the State in New York State history.   $4,100,000 settlement in a case involving a construction worker who was injured when he tripped over a loose beam.   $4,000,000+ for family members of victims of the fatal American Flight 587 Airline Disaster.   $3,500,000 awarded to an injured construction worker after he tripped and fell over a plumbing pipe that was covered and obscured by snow at a construction site.   $3,200,000 recovered in a case involving a construction worker who was injured when he was struck by falling construction material.   $3,000,000 obtained for a laborer who was injured when he fell from an 18 foot ladder that was not secured properly.   $2,500,000 awarded in a case involving a union laborer who was injured when struck by an improperly secured lumber.   $2,000,000 awarded to a construction worker who was injured when a trench collapsed.   $2,000,000 recovered for a 14 year old boy was struck by a van while riding a bicycle. $1,675,000 awarded to a driver of a car which struck by another car.   $1,600.000 awarded to a woman who was a passenger in a vehicle rear-ended by an 18-wheel tractor trailer. Injuries included back neck and shoulder injuries.   $1,500,000 recovered in a case involving a construction worker who was injured when he fell from unsecured scaffold.   $1,495,000 awarded to a passenger of a vehicle in which the driver lost control of his vehicle and struck a tree.   $1,250,000 awarded to a 35 year old taxi cab driver whose vehicle was rear-ended by another vehicle.   $1,000,050 jury award to a driver of a vehicle that was rear-ended by an MTA bus.   $1,000,180 awarded to the family of a 1 year old infant who fell and drowned in a full bucket placed to catch water leaking from a ceiling.   $1,000,000 awarded to a union plasterer who was injured on the job when he was burned by a torch.   $1,000,000 awarded to a construction worker who fell through a skylight in a warehouse.,

2019

$11,750,000.00 to a man who spent 18 years in prison as a result of a being wrongfully convicted for a murder he did not commit. 

$9,157,000 awarded to clients who were victims of a train derailment. The case was a high profile case which appeared all over the media. Michael S. Lamonsoff, Esq. obtained some of the highest awards for the incident. Pursuant to the settlement agreement, specifics of the case must remain confidential.  Kindly contact me at 919 407 3036 if you have any questions.,

2019

$9,000,000 verdict against the City of New York for a pastor of a church, who was falsely arrested after being racially profiled.

,

2020

$6,500,000 settlement awarded to a union construction worker who fell from an unsecured ladder which resulted in a leg fracture and spinal injuries.,

2018

$5,500,000 verdict awarded for a construction worker who was injured when a wood bracing collapsed on him while he was exiting a ditch resulting in spinal injuries.,

2017

$4,750,000 awarded to a construction worker who was injured when a concrete slab fell and struck him resulting in multiple injuries.
$4,750,000 awarded to Fernando Bermudez, who spent 18 years in prison as a result of being wrongfully convicted for a murder he did not commit. The award is the highest against the State in New York State history.
$4,000,000+ for family members of victims of the fatal American Flight 587 Airline Disaster.
$3,500,000 awarded to an injured construction worker after he tripped and fell over a plumbing pipe that was covered and obscured by snow at a construction site.
$3,200,000 recovered in a case involving a construction worker who was injured when he was struck by falling construction material.
$3,100,000 awarded to a union construction worker injured in a fall. Our client, a 27-year-old Local 731 union laborer, was pouring cement for the conversion of a hospital into luxury residential apartments in Manhattan when he stepped into an exposed opening causing his entire body to impact the ground. As a result of the incident, he suffered shoulder, neck and back injuries requiring conservative treatment, numerous injections and ultimately surgeries to his shoulder and cervical spine. During the course of litigation, the defendants requested that we attend a mediation. We appeared and presented our case in front of an agreed upon neutral Mediator. The mediation went on for hours and the defendants presented us with their last offer of $750,000.00. We advised our client to reject the offer. He agreed, and we walked out of the mediation having rejected the offer on behalf of our client. Thereafter, we continued to aggressively litigate the case. On the eve of trial, a second mediation was held at the request of the defendants. Jury selection was to commence on 11/14/2019 in Queens Supreme Court. On November 4, 2019, just ten days prior to jury selection, our firm obtained a $3,100,000 settlement at the mediation.,

2019

$3,000,000 obtained for a laborer who was injured when he fell from an 18 foot ladder that was not secured properly.
$2,800,000 settlement for an iron worker who was caused to slip and fall on a construction site resulting in significant lower back injuries.,

2017

$2,500,000 awarded in a case involving a union laborer who was injured when struck by an improperly secured lumber.
$2,400,000 awarded to a construction carpenter that sustained serious injuries when struck by plywood that fell from the floor above.,

2017

$2,350,000 awarded to a construction laborer that sustained serious injuries when he fell into an unprotected hole at a jobsite.

$2,250,000.00 Awarded to our client. (Mason,Kenneth) Case is confidential. Please contact Michael S. Lamonsoff for more information.

,

2017

$2,200,000 awarded to a construction worker who was catastrophically injured when a trailer rolled back and crushed him against a jersey barrier.
$2,100,000 million settlement for a construction worker injured by heavy equipment.
$2.1 million settlement for a construction worker injured by heavy equipmentOur 28 year old client was one of five or six laborers directed to move a four to five thousand pound concrete pump trailer from one part of the new high rise construction site to a different part of the jobsite. While our client and the others were pushing the concrete pump trailer, one of the trailer wheels hit one of several two by four wooden planks scattered on the floor of the work area, causing the concrete pump trailer to roll onto and over our client's left foot. Our client suffered multiple fractures of bones in his foot (Lisfranc fractures), for which he had surgery about two weeks after the accident, and two herniated discs in his lower back for which he received physical therapy and other conservative treatment. At a mediation on December 6, 2018, Michael S. Lamonsoff, Esq., settled our client's case for $2.1 million with the insurance companies for the owner of the building and the general contractor of the project. Joes M. Rodriguez v. 150 Wooster LLC and Bravo Builders, LLC.,

2019

Award of $2 million obtained for a construction worker who was hit on his head by a falling objectAt a mediation on April 20, 2018, Michael S. Lamonsoff, obtained an award of $2 million for our client. While helping to dismantle concrete forms at a new building site at 57th Street and Second Avenue, an unsecured beam fell onto our then 25 year old client's head, causing loss of consciousness and neck injuries. After conservative treatment failed, the client had neck surgery.. Tinneny v. New York City Educational Construction Fund, et al.,

2018

$2,000,000 recovered for a 14 year old boy was struck by a van while riding a bicycle.
$2,000,000 awarded to a construction worker who was injured when a trench collapsed.
$2,000,000 obtained for a woman who was injured when her vehicle was rear-ended by a box truck.
$2,000,000 recovered for a sanitation worker who was injured when a garbage truck crashed into his vehicle resulting in serious injuries.
$2,000,000 awarded to a construction worker laborer who got struck by an unsecure beam.
$2,000,000 million award obtained for a construction worker who was hit on his head by a falling object.
$1,950,000 awarded to a laborer who was severely injured when a platform he was working on collapsed.
$1,800,000 million awarded to the passenger of a cab.
$1,785,000 settlement for a woman who was severely injured as the result of a misleveled elevator.
$1.75 million settlement for a construction worker who sustained neck and shoulder injuriesAt a mediation on April 24, 2018, our client obtained a settlement of $1.75 million, as a result of the negotiations of Michael S. Lamonsoff. Our construction worker client was seriously hurt while performing demolition at 555 West End Avenue, a former school that was being converted into luxury condominiums. A large portion of the ceiling collapsed onto him while he was working, After conservative medical treatment, including physical therapy, injections and nerve blocks, the client finally microdiscectomy surgery to his lower back and an arthroscopic surgery to his knee to repair a torn meniscus and ACL. Hickman v. SHS Upper City NY II LLC et al,

2018

Passenger of a cab awarded $1.8 million settlement Our client was a back seat passenger in a taxicab that was heading southbound on York Avenue, when it was T-boned by another vehicle which had just exited the FDR Drive at 61st Street, and was also heading southbound. Defendant driver admitted that he did not have the green light but claimed that a traffic agent waved him through the intersection. Our client suffered torn rotator cuff tears in both shoulders, requiring arthroscopic surgery, and also had a neck surgery. At a mediation on July 10, 2019, Michael S. Lamonsoff,  settled this case for $1.8 million. Gualtiere v. Donovan et al,

2019

$1,675,000 awarded to a driver of a car which struck by another car.
$1,650,000 for Rig driver not cautious in snowy conditions
$1,600,000 awarded to a woman who was a passenger in a vehicle rear-ended by an 18-wheel tractor trailer. Injuries included back neck and shoulder injuries.
Union laborer obtains settlement award of $1.5 millionOur client, a union laborer, was struck by a concrete bucket which was being lifted by a crane, at a new construction site that was part of New York Presbyterian Hospital. While the bucket was being hoisted, the crane turned abruptly, causing the concrete bucket to strike our client in the chest, making him fall backwards where he tripped over improperly stored materials. As a result, he sustained several herniated lumbar discs, which were initially treated very conservatively with pain management and physical therapy. Eventually, our client had surgery to his lumbar spine, to remove the herniated discs. After our attorneys obtained a Court Order granting judgment in favor of our client on certain claims that were made against the hospital and the general contractor, on April 11, 2019, at a mediation, the client obtained a settlement of $1.5 million. Talarico v. The New York Presbyterian Hospital et al,

2019

$1,500,000  for a fall from scaffold that ended career,

2018

$1,500,000 recovered in a case involving a construction worker who was injured when he fell from unsecured scaffold.,

2018

$1,495,000 awarded to a passenger of a vehicle in which the driver lost control of his vehicle and struck a tree.
$1,350,000 award settlement obtained for a 14-year-old High School freshman, injured in a pedestrian accident by the defendant in a road rage accident. The plaintiff sustained serious injuries, including a closed head injury, post concussive syndrome and cognitive deficits. After a slow recovery process, Plaintiff is currently enrolled in Special Education. At the outset and throughout the litigation process, The Law Offices of Michael S. Lamonsoff demanded the entirety of the available insurance policies and made it clear they would not engage in any negotiations for anything less. Litigation ensued and plaintiff's counsel refused to back off their position. Just days before trial, the Defendants offered the entirety of the available insurance policies totaling $1,350,000.,

2019

$1,300,000.00 Awarded to our client. Case is confidential. Please contact Michael S. Lamonsoff for more information.

,

2014

$1,250,000 awarded to a 35 year old taxi cab driver whose vehicle was rear-ended by another vehicle.

1,037,500.00 Award. This was a wrongful death case involving a seaman who was on a tugboat that struck a renovation barge for the Tappan Zee Bridge which is The tug crashed into "Tower Crane Barge N181" causing the 84 foot tug to sink. Our client went down with the sinking ship and drowned. His body was recovered approcimately a year later. This was a maritime Jones Act case in which we represented the wife of the client that passed away. Litigation dragged on for years until the defendant finally tendered its policy. This award reflects the tender of the entire insurance policy.

,

2019

$1,000,180 awarded to the family of a 1 year old infant who fell and drowned in a full bucket placed to catch water leaking from a ceiling.
$1,000,050 jury award to a driver of a vehicle that was rear-ended by an MTA bus.

$1,000,000.00 award. Our client tripped on a broken sidewalk. At the time of the accident,  the plaintiff was pushing her grocery cart.  The cart got  stuck and as a result the client fell to the sidewalk.  As a result she suffered injuries to her back that required surgery.

,

2019

$1,000,000.00 Award to our client who went to the bathroom at her residence to shower, when she came out shower she sat on the toilet and all of a sudden the ceiling collapsed. Client injured her lower back and neck. She went to Lincoln hospital the same day. QAs a result of the accident the client had to undergo back and neck surgery. NOTE: Client had a prior slip and fall that he handle which she claimed same injuries, back and neck. 

,

2019

$1,000,000.00 awarded to our client. She was injured while operating her motor vehicle and was stopped at a red light. The defendant, who was driving a commercial vehicle rear-ended her. She injured her shoulder which required surgery. She also suffered injuries to her neck and back, both of which required surgery.

,

2019

$1,000,000 settlement for a man rear ended at a stoplight. He sustained serious personal injury to his cervical spine, lumbar spine and the right shoulder which required surgery to repair his rotator cuff as well as a SLAP tear.

$1,000,000.00 Award. Our client while traveling as backseat passenger in a taxi was T-boned by a commercial vehicle. At the time of the accident the taxi in which client was a passenger had green light.  Client sustained injuries to the neck for which he had 2 surgeries Causation - was an issue because our client was treating for neck and back issues prior to this accident. 

,

2019

$1,000,000 awarded to a union plasterer who was injured on the job when he was burned by a torch.
$1,000,000 settlement for a NYPD traffic officer whose vehicle was struck by a negligently operated forklift resulting in serious injuries.

$1,000,000 award. Construction Accident - our client fell from a scaffold that rolled away from the wall on which he was working, causing he and the scaffold to fall forward. Client suffered a tibial plateau fracture and a right minimally displaced volar distal lip schapoid fracture requiring rods and screws (ORIF) of his left knee as a result of the fall. 

,

2019

$1,000,000 awarded to a construction worker who fell through a skylight in a warehouse.
$1,000,000 awarded to a laborer who fell through an open roof
Pro bono/Community Service:
Bike to Beat Cancer 2019

,

2019

The Folds of Honor has carried forth this singular, noble mission. To provide educational scholarships to spouses and children of America's fallen and disabled service members.

,

2019

New York Road Runners

,

2019

CUNY School of Law Foundation

,

2019

St. Judes Children Research Hospital

,

2019

Woodbury Jewish Center

,

2019

AIDS Walk

,

2019

The Salvation Army 

,

2019

Sacred Heart Church: Haitian Fund Relief

Lustgarten Foundation - Cure Pancreatic Cancer

,

2016

New York State Trial Lawyers Institute

Changing Life Ministry

Howard University Education

Maya's Hope
Scholarly Lectures/Writings:
Honors/Awards:
Established in 1993, the Million Dollar Advocates Forum (which includes the Multi-Million Dollar Advocates Forum) is one of the most prestigious groups of trial lawyers in the United States.  Membership is limited to attorneys who have won million and multi-million dollar verdicts and settlements. There are over 5000 members throughout the country.  Fewer than 1% of U.S. lawyers are members.

,

Multi-Million Dollar Advocate

,

Million Dollar Advocates Forum

,

2021

We are pleased to present to you the list of top 20 plaintiff verdicts obtained in the State of New York in the year 2020. The list is comprised of various case types that were tried either in state or federal courts.

,

Top 50 New York Verdicts

,

Top New York Verdicts

,

2020

Established in 1993, the Million Dollar Advocates Forum (which includes the Multi-Million Dollar Advocates Forum) is one of the most prestigious groups of trial lawyers in the United States.  Membership is limited to attorneys who have won million and multi-million dollar verdicts and settlements. There are over 5000 members throughout the country.  Fewer than 1% of U.S. lawyers are members.

,

Multi-Million Dollar Advocates Forum

,

Million Dollar Advocates Forum

,

2020

Expertise Looked at 2,066 Car Accident Lawyers serving New York City and Picked the Top 19

,

Best Car Accident Lawyers in New York

,

Expertise

,

2019

The National Trial Lawyers has identified you as one of the Top 100 Civil Plaintiff Trial Lawyers in New York.

,

The National Trial Lawyers Top 100

,

The National Trial Lawyers

,

2019

Expertise Looked at 1,658 Workers Compensation Attorneys serving New York City and Picked the Top 18

,

Best Workers Compensation Attorney in New York City

,

Expertise

,

2019

The American Institute's Personal Injury Division, recognize excellence and select very few attorneys. Attorney client satisfation.

,

Highest Verdicts and Settlement Winner

,

American Institute of Personal Injury Attorneys

,

2019

Top Attorney with Highest Ranking of 10, Avvo

,

Top Attorney with the Highest Ranking of 10

,

Avvo

,

2019

Clients' Choice Award of 2019 from Avvo

,

Clients' Choice Award

,

Avvo

,

2019

Martindale-Hubbell 2019 Client Champion

,

Client Champion

,

Martindale-Hubbell

,

2019

Featured in The New York Law Journal

,

Verdict Search Top New York Verdicts

,

The New York Law Journal

,

2019

Recognized as New York's Leading Personal Injury Lawyers

,

New York's Leading Personal Injury Lawyers

,

New York Magazine

,

2019

As published in New York Magazine

,

Top Verdicts & Settlements Personal Injury Litigators

,

New York Magazine

,

2019

Million Dollar Advocates Forum and Multi-Million Dollar Advocates Forum; two of the most prestigious groups of trial lawyers in the United States.

,

Multi-Million Dollar Advocates Forum

,

Multi-Million Dollar Advocates

,

2019

Member for at least 6 years

,

Million Dollar Advocates Forum

,

Million Dollar Advocates Forum

,

2019

New York Metro Super Lawyers

,

New York Metro Super Lawyers

,

Super Lawyers

,

2018

Top 20 Jury Verdicts in All Practice Areas

,

Top 20 Jury Verdicts

,

TopVerdict.com

,

2018

Featured in The New York Law Journal

,

Verdict Search Top New York Verdicts

,

The New York Law Journal

,

2018

Recognized as New York's Leading Personal Injury Lawyers

,

New York's Leading Personal Injury Lawyers

,

New York Magazine

,

2018

Awarded by Lawyers of Distinction for being the top candidate to be awarded their "Recognizing Excellence in Personal Injury".

,

Recognizing Excelllence in Personal Injury

,

Lawyers of Distinction

,

2018

Recognized as New York's Leading Personal Injury Lawyers

,

New York's Leading Personal Injury Lawyers

,

New York Magazine

,

2017

Featured in The New York Law Journal

,

Verdict Search Top New York Verdicts

,

The New York Law Journal

,

2017

As Published in New York Magazine

,

Leading Personal Injury Lawyers

,

New York Magazine

,

2016

Featured in The New York Law Journal

,

Verdict Search Top New York Verdicts

,

New York Law Journal

,

2016

As published in New York Magazine

,

Top Verdicts & Settlements Personal Injury Litigators

,

New York Magazine

,

2015

Featured in The New York Law Journal.

,

Verdict Search Top New York Verdicts

,

The New York Law Journal

,

2015

New York Metro Super Lawyers

,

New York Metro Super Lawyers

,

Super Lawyers

,

2014

Featured in The New York Law Journal

,

Verdict Search Top New York Verdicts

,

The New York Law Journal

,

2014

Verdict Search New York's Top 25 Settlements

,

2014

We are pleased to present to you the list of top 20 plaintiff verdicts obtained in the State of New York in the year 2014. The list is comprised of various case types that were tried either in state or federal courts.

,

Top New York Verdicts

,

Top New York Verdicts

,

2014

We are pleased to present to you the list of top 20 plaintiff verdicts obtained in the State of New York in the year 2013. The list is comprised of various case types that were tried either in state or federal courts.

,

Top New York Verdicts

,

Top New York Verdicts

,

2013
Bar/Professional Activity:
Board of Directors, New York State Trial Lawyers' Association since 2009

,

2023

 American Association for Justice, Member in 2012

,

2021

New York State Bar of New York, est 1991

,

2021

Member, New York County Lawyers' Association, since 2012

,

2021

Member, New York State Bar Association, since 2012

,

2021

Federal District Courts for the Southern and Eastern Districts of New York, since 1996

,

2021

Member, "Super Lawyers" Panel
Office location for Michael S. Lamonsoff
32 Old Slip
8th Floor
New York, NY 10005
Phone: 800-517-0583
Selections
Super Lawyers: 2014, 2018, 2020 - 2023
Additional sources of information about Michael S. Lamonsoff
Attorney resources for Michael S. Lamonsoff