Thomas I. Sheridan
Top rated Class Action & Mass Torts attorney in New York, New York
Simmons Hanly Conroy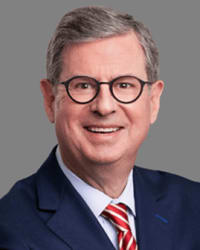 Simmons Hanly Conroy
Practice Areas: Class Action & Mass Torts
Licensed in New York since: 1977
Education: Fordham University School of Law

Selected to Super Lawyers: 2021 - 2023
Simmons Hanly Conroy
112 Madison Avenue
7th Floor
New York, NY 10016-7416
Visit website
Details
Tom Sheridan is a partner at Simmons Hanly Conroy LLP in the Complex Litigation Department. Based in the New York office, he has more than 40 years of experience trying cases and arguing appeals in the state and federal courts in New York and throughout the country. In recent years, Tom's practice has focused on representing plaintiffs in pharmaceutical, medical device, and other mass tort litigation.
Tom joined the firm as part of the 2014 merger of Simmons Browder Gianaris Angelides & Barnerd LLC and Hanly Conroy Bierstein Sheridan Fisher & Hayes LLP, which Tom joined as a named partner in 2004. Prior to 2004, Tom was a partner in the New York office of Torys LLP, an international law firm.
Before entering private practice, Tom served for two years as a Law Clerk to the Honorable Thomas J Meskill, Chief Judge of the United States Court of Appeals for the Second Circuit.
Tom has represented plaintiffs and defendants in trials and appeals involving a wide range of cases, including those involving pharmaceuticals, medical devices, automobiles, securities fraud, fiduciary duties, products liability, contracts, intellectual property, unfair competition, professional liability, insurance, real estate, and employment. Tom is known for his careful analysis and thorough preparation of the case, well-written motions and briefs, and superior trial and oral argument skills.
In addition to his trial and appellate practice, Tom has served as a court-appointed mediator in numerous cases involving employment, contract, partnership, fiduciary duty, insurance, products liability, real estate, negotiable instruments and personal injury.
Tom has also served as appellate counsel by appointment of the Court of Appeals to represent individuals in civil rights cases unable to afford a lawyer.
Tom has three sons and resides in New York City with his wife Meg, a fund-raising professional who works with non-profit organizations.
Representative cases:
Tom and the firm are currently at the forefront of unprecedented nation-wide litigation that seeks to resolve the ongoing opioid epidemic. The litigation seeks to secure meaningful funds for communities that incurred millions in costs related to dealing with the estimated 400,000 opioid-related deaths since 1996. These cases include the federal multi-district litigation, In re: National Prescription Opiate Litigation, MDL 2804 (N.D. Ohio), and a coordination of cases filed by sixty-eight governmental entities in New York State court, In re Opioid Litigation, No. 400000/2017 (Supreme Court, Suffolk County).
Tom was a member of the firm's team of lawyers who recovered tens of millions of dollars on behalf of women who suffered injuries arising from transvaginal mesh, including. In re: Pelvic Repair System Products Liability Litigation, MDL 2187, 2325, 2326, 2327 & 2387 (S.D. W. Va.); In re Mentor Corp. Obtape Transobturator Sling Products Liability Litigation, MDL 2004 (M.D. Ga.)
Tom was a member of the team of lawyers who achieved a $1.69 billion global settlement for women injured by Yaz birth control. In Re Yasmin and YAZ (Drospirenone) Marketing, Sales Practices and Products Liability Litigation, MDL 2100 (S.D. Ill.).
Tom was a member of the team of lawyers who achieved a $1.1 billion settlement of class action litigation against Toyota arising from the sudden unintended acceleration of its vehicles. In re: Toyota Motor Corp. Unintended Acceleration Marketing, Sales Practices, and Products Liability Litigation, MDL 02151 (C.D. Cal.).
Tom represented Turner & Newall PLC in the defense of asbestos-related property damage litigation, including, for example Chase Manhattan Bank, N.A. v. Turner & Newall PLC, 964 F.2d 159 (2d Cir. 1992), in which Tom secured a writ of mandamus to restrain the district judge, who had ordered the production of attorney-client privilege materials pursuant to an "attorneys-eyes-only" procedure. Tom also served as Turner & Newall's lead trial counsel in its successful litigation to secure insurance reimbursement for the cost of asbestos-related property damage claims. Turner & Newall PLC v. Canadian Universal Ins. Co., 87 Civ. 1027 (S.D.N.Y.).
Tom served as New York counsel to Glidden Company and SCM Corp. in their defense of lead paint litigation, including City of New York v. Lead Indus. Ass'n, Inc., 222 A.D.2d 119 (1st Dep't 1996), and Sabater ex rel. Santana v. Lead Indus. Ass'n, Inc., 183 Misc. 2d 759 (Sup. Ct. Bronx Cty. 2000).
In investors rights and securities cases, Mr. Sheridan represented:
An investor in a derivative action involving claims arising from a joint venture to finance Russian communications satellites. Reid v. Spazio, 970 A.2d 176 (Del. Sup. Ct. 2009) (en banc).
Investors prosecuting claims for breach of contract and breach of fiduciary duty in connection with a conspiracy to deprive them of their interest in a joint venture. Richbell Information Services, Inc. v. Jupiter Partners L.P., 309 A.D.2d 288, 765 N.Y.S.2d 575 (1st Dep't 2003).
An issuer of securities defending securities fraud class action litigation. In Re MTC Electronic Technologies Shareholder Litigation, 329 F.3d 297 (2d Cir. 2003).
A pension fund in an action against an auditor arising from the auditor's failure to investigate and uncover a Ponzi scheme. Iowa Pub. Employees' Ret. Sys. v. Deloitte & Touche LLP, 558 F. App'x 138 (2d Cir. 2014).
Venture capital investment funds prosecuting fraud and related claims arising from their investments in a medical device company. Easton Capital Partners, L.P. v. Rush, No. 09 CIV. 1307 LLS, 2011 WL 3809927 (S.D.N.Y. Aug. 26, 2011).
Mutual fund investors in derivative and class action litigation against fund managers and advisors who illegally invested and lost tens of millions of dollars investing in off-shore Internet gambling companies, including, for example, Seidl v. American Century Cos., 10-cv-4152 (W.D. Mo.).
Public companies victimized by "death spiral" financing schemes, including, for example, ATSI Communications, Inc. v. Levinson, 493 F.3d 87 (2d Cir. 2007).
In business litigation matters, in addition to cases listed above, Mr. Sheridan has represented:
Merrill Lynch in Gillon v. Merrill Lynch Interfunding, Inc., 221 A.D.2d 234, 633 N.Y.S.2d 956 (1st Dep't 1995), defending an action by a former CEO seeking damages and declaration of invalidity of a non-competition provision in a management contract and prosecuting counterclaims for breach of the non-competition clause, misappropriation of corporate opportunity, breach of management services agreement, fraud and mismanagement.
People's Insurance Company of China, as a judgment creditor successfully imposing liability upon the debtor's successor in interest. People's Ins. Co. of China v. Indep. Radiator Sales, Inc., No. 97 CIV. 7935 KNF, 1999 WL 144521 (S.D.N.Y. Mar. 17, 1999).
Purchasers of tickets to entertainment events prosecuting a putative class action arising from illegal sale of non-transferrable paperless tickets. Pires v. The Bowery Presents, LLC, 44 Misc. 3d 704 (Sup. Ct., N.Y. Cty. 2014).
Small business owners prosecuting putative class actions for fraud and breach of contract arising from merchant credit card services and leasing of credit card swiping equipment. Simington v. Lease Fin. Grp., LLC, 10 CIV. 6052 KBF, 2012 WL 6681735 (S.D.N.Y. 2012).
An art gallery prosecuting claims of breach of contract and breach of fiduciary duty against an auction house arising from disputed claims of attribution of a work of art under the Federal Visual Artists Rights Act. Marc Jancou Fine Art Ltd. v. Sotheby's, Inc., 107 A.D.3d 637 (2d Dep't 2013).
An international holding company defending indemnification claims arising from intellectual property litigation. WagerLogic Limited v. Paramount Digital Entertainment, 11-cv-04310-KBF (S.D.N.Y.).
An automotive parts distributor prosecuting an action to enforce a non-competition agreement against a former executive. ATC Distribution in ATC Distribution Group, Inc. v. Conroy (Ala. Sup. Ct. 2007).
A famous New York City pizzeria in Patsy's Brand, Inc. v. I.O.B. Realty, Inc., 317 F.3d 209 (2d Cir. 2003), in securing an appellate modification of an injunction in a trademark action.
The petitioning creditors in an involuntary bankruptcy proceeding that arose from a purchasers' default under a stock sale agreement. In re Sutton, 99-10630/1 (S.D.N.Y.).
A corporation prosecuting fraud and related claims arising from the purchase of a corporate division. Thermo Electric Wire & Cable, LLC v. Thermo Electric Co, Inc., Docket No. L-8429-99 (N.J. Sup., Bergen Co.).
A medical equipment maintenance and repair services provider prosecuting an action against a competitor and former executive for breaches of contracts and fiduciary duties and for unfair competition. Serviscope Corporation v. Swissray International, Inc., Index No. 605091/97 (N.Y. Sup. Ct., N.Y. Co.).
Various parties prosecuting False Claims Act ("whistleblower") actions, including, for example U.S. ex rel. ATC Distribution Grp., Inc. v. Ready-Built Transmissions, Inc., No. 03 CIV2150GWG, 2007 WL 2522638, at *1 (S.D.N.Y. Sept. 7, 2007).
In employment-related matters, in addition to cases listed above, Mr. Sheridan has represented
An international securities firm defending claims for discrimination in federal court and for breach of contract before the New York Stock Exchange. Ferrand v. Credit Lyonnais, 110 Fed. Appx. 160 (2d Cir. 2004); Alban-Davies v. Credit Lyonnais Securities, 2002 WL 498630 (S.D.N.Y. 2002).
A printing company defending gender discrimination claims. Kalathakis v. Vanguard Group of Printing Companies, Inc., Index No. 2413/92 (N.Y. Sup. Ct., N.Y. Co.).
Practice areas
Class Action/Mass Torts: Plaintiff
100% Class Action/Mass Torts: Plaintiff
First Admitted: 1977, New York
Professional Webpage: https://www.simmonsfirm.com/about-us/our-attorneys/thomas-sh...
Scholarly Lectures/Writings:
"Disloyal Employees Risk All," New York Law Journal, February 23, 2004.

"When Attorney–Client Privilege Fails to Shield," New York Law Journal, June 23, 2003.
Bar/Professional Activity:
American Association for Justice

New York, 1977, U.S. Supreme Court, 1980, U.S. Court of Appeals, Second Circuit, 1982, U.S. Court of Appeal, Seventh Circuit, 2008, U.S. Court of Appeal, Eighth Circuit, 2012, U.S. Court of Appeals, Ninth Circuit, 2009, U.S. District Court, Southern District of New York, 1978, U.S. District Court, Eastern District of New York, 1986

New York City Bar Association
Educational Background:
St. Michael's College (B.A., cum laude, 1973)
Representative Clients:
I represent  counties (e.g., County of Suffolk, New York) and cities (e.g., City of New York) in the opioid litigation.  

,

2021
Office location for Thomas I. Sheridan
112 Madison Avenue
7th Floor
New York, NY 10016-7416
Phone: 646-491-9310
Selections
Super Lawyers: 2021 - 2023
Additional sources of information about Thomas I. Sheridan
Attorney resources for Thomas I. Sheridan