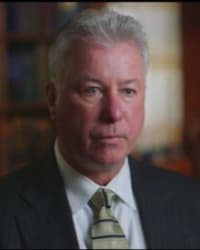 Timothy J Dennin, P.C.
Practice Areas: Securities Litigation
Licensed in New York since: 1984
Education: St. John's University School of Law

Selected to Super Lawyers: 2021 - 2023

Free Consultation
Timothy J Dennin, P.C.
316 Main Street
Northport, NY 11768
Visit website
Details
Attorney Timothy J. Dennin represents clients in securities fraud litigation at his firm, Timothy J. Dennin, P.C., in Northport, New York. He represents investors from throughout the country, Puerto Rico and overseas who suffered financial losses after broker misconduct. His practice also extends to the following legal matters: whistleblower protection, annuities sales practice abuses, FINRA arbitration-mediation cases, securities fraud victim representation and securities litigation. 
Mr. Dennin is a former assistant district attorney for the Nassau County District Attorney's Office and a former attorney for the Division of Enforcement of the U.S. Securities and Exchange Commission. Admitted to practice in Massachusetts and New York, Mr. Dennin is also admitted to practice before the U.S. District Court for the Northern, Eastern and Southern Districts of New York. For his high ethical standards and long list of successful results, he is AV Preeminent* peer-review rated, the highest rating, through Martindale-Hubbell.
After graduating from the College of the Holy Cross with a Bachelor of Arts in history in 1978, Mr. Dennin attended St. John's University School of Law for his Juris Doctor, graduating with honors in 1983. During his long, successful career, his clients have included the city of Richmond, Virginia; the Benjamin Companies; Citizens Securities, Inc.; and Citizens Bank, N.A.
A faculty member at the Practicing Law Institute, Mr. Dennin teaches Securities Arbitration. He is also a member of the Public Investors Arbitration Bar Association, the National College of District Attorneys, the New York State Bar Association and the Securities and Commodities Law Panel of the New York City Bar Association.
* AV®, AV Preeminent®, Martindale-Hubbell Distinguished and Martindale-Hubbell Notable are certification marks used under license in accordance with the Martindale-Hubbell certification procedures, standards and policies. Martindale-Hubbell® is the facilitator of a peer review rating process. Ratings reflect the anonymous opinions of members of the bar and the judiciary. Martindale-Hubbell® Peer Review Rating™ fall into two categories – legal ability and general ethical standards.
Practice areas
Securities Litigation
100% Securities Litigation
First Admitted: 1983, Massachusetts
Professional Webpage: https://www.denninlaw.com/attorney/timothy-j-dennin/
Honors/Awards:
Rated AV by Martindale-Hubbell

Listed in the Bar Register of Preeminent Lawyers
Scholarly Lectures/Writings:
"Chopping the Chop Shop," Securities Arbitration Handbook, Practicing Law Institute, 1997

Faculty Member, Securities Arbitration, Practicing Law Institute

"The Ramifications of U.S. v. Vogel Fertilizer", 5 St. John's University, Tax Forum, No. 1, 1983
Educational Background:
College of the Holy Cross, Worcester, Massachusetts, B.A., Major: History - 1978
Bar/Professional Activity:
New York, 1984

Public Investors Arbitration Bar Association, Member

National College of District Attorneys, Member

New York State Bar Association, Member

Association of the Bar of the City of New York, Member, Securities and Commodities Law Panel

U.S. District Court Northern District of New York, 1998

U.S. District Court Eastern District of New York, 1985

U.S. District Court Southern District of New York, 1985

Massachusetts, 1983

Active member of the Suffolk County Bar Association Securities Law Panel

,

2020

Along with JP Morgan Chase & Co.'s General Counsel and Compliance Director, I was invited Guest Speaker St. John's University School of Law to lecture law students regarding Wall Street Reforms and the proposed fiduciary duty rule as well as various practical issues facing practitioners in securities arbitrations and litigation; lectured securities lawyers PIABA Annual Meeting

,

2016
Representative Clients:
Citizens Securities and Citizens Bank (FINRA litigation in a securities employment dispute) 
Verdicts/Settlements:
Stella Patterson and Jack Patterson v. Ladenburg Thalmann & Co. Inc., FINRA No. 16-00972 Date of Award October 2017 Amount of Award $357,775. Very significant case involving sales of closed end funds, selling away and conversion - conduct that occurred eleven years before the Statement of Claim was filed. At trial was able to establish that Claimants could not have reasonably known of the improper conduct until years after they left Ladenburg and that the Statute of Limitations should be tolled. Panel rejected Ladenburg's argument that the case should be dismissed based upon Statute of Limitations and that Claimants suffered no losses (through receipt of "interest" received through the "ponzi scheme", the Panel awarded Claimants in excess of $350,000.,

2017

The Regina Company, Inc. Securities Litigation, Index No. 88-4149 (NHP)

HMO America Securities Litigation, Index No. 92-Civ.-3305 (CPK)

Prudential Securities Litigation, Index No. MDL 1005

Prudential Securities Litigation, Index No. MDL 1005

PaineWebber Limited Partnerships Litigation, Index No. 94-Civ-8457 (SHS)

Frist Capital Partners, Thomas F. Frist and Patricia F. Elcan v. Ideon Group, Inc., Paul G. Kahn and William Lackey, 96 Civ.3906 (WK) U.S. District Court S.D.N.Y.

G. Brooks Biddle et. al. v. Comprehensive Environmental Systems, Inc. et. al., Case No. 96 Civ. 343

Jeffrey B. Sciallo et al. v. Tyco International Ltd. et al., Civil Action No. 03-1354-B

Metropolitan Life Derivative Litigation, Index No. 93-Civ-9035 (DC), Date of Settlement: 1995

Richard Shandelman v. Jordan Belfort, Daniel Porush, Ken Greene and Stratton Oakmont, Inc. et.al., NASD No. 94-05085, NASD Arbitration: Amount Requested: $109,000, Date of Decision: 5/22/96

Capital Realty Investors Tax Exempt Fund, Delaware Chancery Court, Index No. 14558, Date of Settlement: 1996

Stonewall Farms, Ltd. and Robert Barsk v. Jordan Belfort, Daniel Porush and Stratton Oakmont, Inc. et.al., NASD No. 95-00733, NASD Arbitration: Amount Requested: $170,000, Date of Decision: 5/30/96

Peter and Jeanne Celiberti v. Daniel Porush, James Kelly and Stratton Oakmont, Inc., NASD No. 96-01053, NASD Arbitration: Amount Requested: $223,000, Date of Decision: 6/19/97

George Pentz, Arlemont Ranch et.al. v. Jordan Belfort, Daniel Porush, Stratton Oakmont, Inc. et. al., NASD No. 94-02830, NASD Arbitration: Amount Requested: $713,000, Date of Decision: 4/1/98

Carol Hovanec, Dr. Marshal Pitts, et.al. v. Allan Viscardi, World Invest Corporation et. al., NASD No. 97-03034, NASD Arbitration: Represented twelve Claimants through hearing. Amount requested: $1,146,500, Date of Decision: 8/28/98

Matter of the Estate of Sam Gottlieb v. Robert Stier, NASD # 97-00571, NASD Arbitration: Amount Requested: $192,000

Louis and Dorothy Dequine et. al. v. Daniel Porush, Eric Blumen and Stratton Oakmont, Inc., NASD No. 95-01335, NASD Arbitration: Amount requested: $283,000, Date of Decision: 2/10/99

Robert and Fran Lax v. Kensington Wells, Inc., Joel Grant et. al., NASD No. 97-00061, NASD Arbitration: amount requested: $436,250, Date of Decision: 11/17/99

Carmine and Mary Ricca v. Adam Sanders, Salvatore Tacher, Kessington Wells, Inc. et.al., NASD No. 98-03031, NASD Arbitration: amount requested $75,000., Date of Decision 8/17/01

Nationwide Life Insurance Company v. Helen Constans Christopher Rutland and Barbara Grahams, Index No. 01 CIV 3320 (DRD), Date of Court Order: January 2002

Naomi Sayegh v. J. Peter Ricketts, Ameritrade, Inc., Ameritrade Holding, Corp., and Accutrade, Inc., NASD No. 02-00652

David and Jonathan Libman v. David Garfinkel, First Montauk Securities Corp. et.al., NASD No. 03-02094, NASD Arbitration: Amount Requested: $300,000, Date of Decision: 2/24/06

Lyons v. Merrill Lynch and Phua Young, Case #03-04172, NASD Arbitration: Amount Requested: $625,000, Date of Decision: July 16, 2006

Louis Pitch and Donna Pitch v. Mark C. Hotton et. al., Index No. 09-5599, United States District Court, Eastern District of New York, Date of Filing: December 2009

D. Vollstedt and S. Vollstedt TTEE, Steven and Deborah Vollstedt v. Charles Schwab & Co. Inc., FINRA No. 09-06446, Date of Decision: July 22, 2011

Charles Schwab & Co. Inc. v. D. Vollstedt and S. Vollstedt TTEE, Steven and Deborah Vollstedt, No. Civ. 11-0709 RB/CEG, Date of Decision: January 10, 2012

Denefrio v. Investors Capital Corporation et al., FINRA No. 10-04721, Date of Settlement March 2012

Pitch et al. v. American Capital Partners LLC, FINRA No. 11-01760, Date of Settlement September 2012

Louis Pitch and Donna Pitch v. Oppenheimer & Oppenheimer & Co. Inc., FINRA No. 09-07047, Date of Decision: January 29, 2013

Dennis Spina v. Oppenheimer & Co. Inc., FINRA No. 11-0366, Date of Settlement: April 2013

Dennis Spina v. Ladenburg Thalmann & Co. Inc., Docket No. 2013-CP-07-02232, Court of Common Pleas, South Carolina, 14th Judicial District, Date of Court Order August 2013

John S. Patterson and Stella C. Patterson v. Oppenheimer & Co. Inc., FINRA No. 12-01229, Date of Settlement: August 2013

Weiss v. David A. Noyes & Co., FINRA No. 12-01628, Date of Settlement: March 2014

TWC Financial LLC SIPIC Liquidation Proceedings, Docket No. 13-01152-ess, United States Bankruptcy Court Eastern District New York, Date of SIPIC settlement: March 5, 2014

John S. Patterson and Stella C. Patterson v. Ladenburg Thalmann & Co. Inc., Docket No. L-1435-14, Superior Court of New Jersey, Law Division Ocean County, Order dated October 24, 2014

John S. Patterson and Stella C. Patterson v. Ladenburg Thalmann & Co. Inc., Docket No. L-1435-14, Superior Court of New Jersey, Law Division Ocean County, Order dated December 19, 2014

SEC Investigation World-Wide Martial Arts, Inc.et al(NT-8832), Administrative Proceeding File No.3-16505

Julio Cay-Montanez and Gloria S. Martinez-Torres v. UBS Financial Services Inc. and UBS Financial Services Inc. of Puerto Rico, FINRA No.13-03785, Dated October 2015

Iris Rodriguez v. UBS Financial Services Inc. and UBS Financial Services Inc. of Puerto Rico, FINRA No. 13-03625, Date Settled: February 2016

FINRA Regulatory Enforcement Proceeding (AWC No. 2015046355401) against Oppenheimer & Co. Inc., Dated November 2016, Restitution Awarded: $336,081.00

TWC Financial LLC SIPIC Liquidation Proceedings, Docket No. 13-01152-ess, United States Bankruptcy Court Eastern District New York, Date December 2016

Rafael Vizcarrondo and Mercedes Imbert DeJesus v. UBS Financial Services Inc of Puerto Rico, FINRA # 14-02464; Date of Award December 2016 Amount of Award $18,577,413.00 Historic award. The amount awarded exceeded by many multiples, any award obtained in the more than 1,800 cases filed against UBS in connection with the sale of UBS proprietary Closed End Funds. Client Rafael Vizcarrondo was Harvard educated, managed one of the most prestigious law firms in Puerto Rico and was considered by many to be the most prominent attorney in Puerto Rico.  Despite UBS' assertion that Claimants had a net gain of over $5,000,000 as clients of UBS, after 50 hearing sessions (the longest trial to date against UBS in PR), the panel awarded 100 percent of the net out-of-pocket losses (as alleged by Claimant during the relevant time period) of $12,716,722, nine percent NY state interest of $2,517,911, $163,00 in expert witness fees, $600 in filing fees and $3,179,180.50 in attorneys' fees. In addition, the panel assessed all hearing session fees of $64,500 against UBS.,

2016

Herbert Voss v. Danard Warthan Brown, Legend Securities, Inc. et.al., after trial the Panel awarded $375,000 (100% of compensatory damages) plus punitive damages of $700,000 against the broker dealer and the financial advisor. In addition the panel awarded $25,000 against Frank Fusco individually as his role of Chief Compliance Officer. Total award $1,075,000 plus interest. Claims involved churning (excessive trading) and lack of supervision.,

2018

Maria Cadilla v. Popular Securities LLC, FINRA #15-02330 amount of award $250,000 including $50,000 in attorneys' fees. case involved sale of Puerto Rico CEFs and Municipal bonds. Allegations involved concentration, unsuitable recommendations and elder fraud.,

2018

John J. Price v AXA Advisors LLC and Eric Christopher Erb, FINRA # 17-02969 Allegations of conversion and fraud against financial advisor Eric Erb and lack of supervision against AXA Advisors LLC. Erb subsequently prosecuted by the United States Attorneys' Office and pled guilty to a felony and is in prison. AXA settled the case in mediation - amount subject to a confidentiality agreement.,

2018

Wendy Morasco v. Citizens Securities, Inc., FINRA # 18-02156 Represented Citizens Securities Inc. in a case brought by former financial advisor in employment dispute alleging breach of contract and negligence in the hiring process. Case settled - terms subject to confidentiality agreement.,

2018

Ursula Buono Anavitate and Guadalupe Buono Anavitate v. UBS Financial Services and UBS Financial Services of Puerto Rico; FINRA # 18-00878 Case involved allegations of misrepresentations in connection with the sale and hold recommendations of millions of dollars of UBS proprietary Puerto Rico CEFS and Municipal Bonds. After three days of cross examining the UBS broker during the hearing on the merits in San Juan, Puerto Rico, the case settled - amount subject to a confidentiality agreement.,

2019

Guadalupe Anavitate Buono v Popular Securities, FINRA # 18-00879 Case involved allegations of misrepresentations in connection with the purchase and hold recommendations of Puerto Rico CEFs and Municipal bonds. Case settled - amount subject to a confidentiality agreement.,

2019

Blue Sunsets LLC and Jences Software and Technologies Inc. v. Collectors Café and Mykalia Kontilia, 2:17 cv-01418 JAD-CWH Las Vegas, Nevada Federal Court. Allegations of 10b-5 of the 1934 Securities and Exchange Act in connection with the Private Placement sale of $1,500,000 of securities that were purportedly collateralized by the original signed Jackie Robinson Major League Baseball contracts. Resulted in settlement of 100% of compensatory damages. After recouping $1,125,000 from defendants, defendants reneged on last payment of $375,000. Thereafter judgment was entered on March 9, 2020 against defendants for $625,000; $250,000 more than the amount due on the final payment of $375,000,

2020
Special Licenses/Certifications:
Serve on the securities law panel providing guidance to investors on securities legal issues through the Suffolk County Bar Association

,

2020
Pro bono/Community Service:
Countless hours spent pro bono providing free securities litigation/arbitration advice to investors.

,

2020
Industry Groups:
Banking
justice department
Securities
Security Regulators including FINRA and the SEC
Office location for Timothy J. Dennin
316 Main Street
Northport, NY 11768
Phone: 631-261-0250
Selections
Super Lawyers: 2021 - 2023
Additional sources of information about Timothy J. Dennin
Attorney resources for Timothy J. Dennin