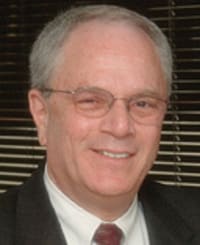 Silverberg Zalantis LLC
Practice Areas: Land Use & Zoning, Real Estate, State, Local & Municipal; view more
Licensed in New York since: 1973
Education: New York University School of Law

Selected to Super Lawyers: 2010 - 2023
Silverberg Zalantis LLC
120 White Plains Road
Ste 305
Tarrytown, NY 10591
Visit website
Details
Steven M. Silverberg is of counsel to the law firm Silverberg Zalantis, LLC, located in Tarrytown, New York. A business and real estate law attorney, he represents developers and municipalities in land use, zoning and environmental law matters. His experience includes negotiating and litigating residential and commercial development cases, including complex development agreements.
Mr. Silverberg has served as counsel for municipal land use boards and as special counsel for several municipalities. He has served as a town and village attorney in various municipalities. He is a former adjunct professor of law at New York Law School, is currently an adjunct professor at the Pace University Elizabeth Haub School of Law and frequent lecturer on land use, zoning and municipal law issues. He has authored several articles and publications on real estate law, including co-authoring Wetlands and Coastal Zone Regulation and Compliance.
Active in his legal community, Mr. Silverberg is a member of the board of editors of the New York Real Estate Law Reporter. In the past he served as the second vice president of the Rockland Municipal Planning Federation,  as a board member of the Westchester Municipal Planning Federation, chair of the Environmental Law Committee of the Westchester County Bar Association, chair of the Education Board of the American Bar Association, Law Practice Division, chair of the planning board of the Village of Piermont, a member of the Village of Piermont Village Board. and as a member of the governing Council of the American Bar Association, Law Practice Division.
Practice areas
Land Use/Zoning, Real Estate: Business, State, Local & Municipal
Focus areas
State, Local & Municipal Litigation
40% Land Use/Zoning

30% Real Estate: Business

30% State, Local & Municipal
First Admitted: 1973, New York
Professional Webpage: http://www.szlawfirm.net/lawyer-attorney-1078430.html
Representative Clients:
Town of Haverstraw, Village of Tarrytown, Town of Ossining
Verdicts/Settlements:
Xavier Contracting LLC v. City of Rye, 29 A.D.3d 687, 815 N.Y.S.2d 638 (2d Dep't 2006)

Wickes v. Kaplan, 304 A.D.2d 769, 758 N.Y.S.2d 383 (2nd Dept. 2003)
Bronxville Field Club v. Irwin Davison, 305 A.D.2d 591, 759 N.Y.S.2d 382 (2d Dep't 2003)

  South Liberty Partners LP v. Town of Haverstraw, 82 A.D.3d 956, 918 N.Y.S.2d 563 (2d Dep't 2011)

,

2011

Chambers v. Old Stone Hill, 1 N.Y.3d 424, 774 N.Y.S.2d 866 (2004)

  Matter of Vinrus Corp. v. Village of Pelham Manor Building Inspector, 66 A.D.3d 690, 885 N.Y.S.2d 444 (2d Dep't 2009)

,

2009

LaRusso v. Neuringer, 105 AD3d 743 (2d Dept. 2013)
Honors/Awards:
Fellow of the American Bar Association

In recognition of contributions to planning and land use issues

,

Distinguished Service Award

,

Rockland Municipal Planning Federation

,

2012
Educational Background:
Brooklyn College of the City University of New York

,

1969
Bar/Professional Activity:
Second Vice President, Rockland Municipal Planning Federation

,

2019

Chair of the Rockland County Planning Board

,

2022

Associate Director Rockland Municipal Planning federation

,

2018

Past Chair - Education Board ABA Law Practice Division

Past Chair - Planning board of the Village of Piermont,  2008 to 2009

U.S. Supreme Court

Member of Council of the ABA Law Practice Division 2008 to 2012

Past Member - Board of Directors of the Westchester Municipal Planning Federation, 2001 to 2008

U.S. District Courts (Southern and Eastern Districts)

Member Board of Editors, New York Real Estate Law Reporter

Past Chair -  Environmental Law Committee of the Westchester County Bar Association, 1998 to 2005

New York Bar

U.S. Court of Appeals, Second Circuit
Pro bono/Community Service:
Member, Rockland County New York Planning Board

,

2022

Chair of the Rockland County Planning Board

,

2023

Member of the Village of Piermont, Waterfront Resiliency Commission

Member- LWRP update steering committee for the Village of Piermont 2016-2019

Second Vice President Rockaldnd Municipal Planning Federation 2019-2020

Chair - Village of Piermont Planning Board 2008-2010

Chair Piermont LWRP Update Committee

,

2015

Board of Directors - Westchester Municipal Planning Federation 2001-2006

Co-Chair- Piermont Waterfront Resilience Task Force 2013-2014

Board of Trustees - Village of Piermont 2010 to 2011 and 2013 to 2015
Scholarly Lectures/Writings:
Three credit course on the legislative and regulatory process for federal, state and local government

,

Adjunct Professor of Law

,

Legislative and Regulatory Process

,

Pace University Elisabeth Haub School of Law

,

Legal

,

2023

An article discussing the recently expanded definition of Waters of the United States (WOTUS) issued by the EPA and the initial court challenge to the regulation.

,

Author

,

Revision to the Definition of Waters of the United States

,

New York Real Estate Law Reporter

,

Real Estate And Legal

,

2023

Presentation of zoning case law update.

,

Speaker

,

Land Use Law Update

,

NYS Bar Real Property Law Scetion

,

Legal

,

2023

Article reviewing the application of RLUIPA by the Court in Livingston Christian Sch. v. Genoa Charter Twp., 858 F.3d 996, 998 (6th Cir. 2017),

Author

,

Requiring a Religious Use to Locate in Another Township Is Not a Substantial Burden Under RLUIPA

,

New York Real Estate Law Reporter

,

2017

The Supreme Court addressed the question of whether strict scrutiny, under the First Amendment, was applicable to a local sign law which restricted signs advertising activities or businesses not located on the same property as the sign.

,

Author

,

Supreme Court Again Addresses Municipal Sign Regulations

,

New York Real Estate Law Reporter

,

Municipal, Advertising, Real Estate

,

2022

As part of litigation that has been ongoing for 14 years, the Court dismissed an action by a rabbinical college, claiming local regulations barred its proposed development. The court found the issue was not ripe for adjudication, due to the fact that no formal application had been submitted and there had been no final municipal determination regarding the proposal.

,

author

,

Court Finds Rabbinical College Lawsuit Against Village Is Not Ripe For Determination

,

New York Real Estate Law Reporter

,

Real Estate, Municipal

,

2021

The article summarizes issues addressed by the court, related to the application of the Religious Land Use and Institutionalized Persons Act (RLUIPA) when a municipality modifies objectionable zoning provisions involving houses of worship, prior to an application for relief from the offending provisions.

,

Author

,

Court Addresses Issues Relating to RLUIPA Safe Harbor and the Equal Protection Clause

,

New York real Estate Law Reporter

,

Legal, Real Estate And Municipal

,

2021

An analysis of the Ninth Circuit Court of Appeals decision in the City of Portland v. United States, with regard to the authority of the FCC to implement the 2018 regulations regarding local regulation of "small cell" wireless telecommunications facilities.

,

Co-Author

,

Ninth Circuit Upholds Most Restrictions on Local Government Review of Wireless Installations

,

New Yorke Real Estate Law Reporter

,

Real Estate

,

2020

Discussion of the decision of the New York Court of Appeals in Town of Delaware v. Leifer, ___ NY3d ___ (2019).,

author

,

Local Law Banning Music Festival is Not Unconstitutional Restraint of Speech

,

New York real Estate Law Reporter

,

Legal, Real Estate

,

2020

Semi-annual certification program for members of zoning boards and planning boards in Rockland County

,

Speaker

,

Land Use Case Law Update

,

2019

A program addressing ethical constrains on attorneys who appear before and represent municipal boards, as well as members of those boards.

,

Speaker

,

Ethics in Land Use: Guiding Principles for Attorneys and Land Use Board Members

,

Pace Universiy Land Use Law Center

,

Legal And Municipal

,

2018

The Article discusses a recent appellate case applying what appears to be a new interpretation on the authoirty of municipalities to charge back fees by their consultants for review of land use and zoning applications,

,

Co-Author

,

Appellate Division Complicates the Rules for Municipalities Charging Consultants' Fees

,

New York Real Estate Law Journal

,

Real Estate

,

2018

Annual certification course for members of municipal boards, providing an update on case law and new regulations, such as SEQRA and the new FCC Shot Clock.

,

Speaker

,

Land Use Case Law Update

,

Rockland Municipal Planning Federation

,

Municipal Planning And Zoning Board Members

,

2018

Provided update on case law and regulations relating to matters relevant to planning boards and zoning boards, for Rockland County municipal officials.

,

Speaker

,

Land Use Case Law Update

,

Rockland Municipal Planning Federation

,

2018

Provided update on cases involving SEQRA, RLUIPA and telecommunications to the Planning Federation, as part of the annual certification class for zoning and planning board members.

,

Speaker

,

Land Use Case Law Update

,

Rockland Municipal Planning Federation

,

2017

Speaker reviewing zoning and planning cases handed down during the last year.

,

Speaker

,

Case Law Update

,

Pace Law School/ Westchester Municipal Planning Federation

,

2017

Former Adjunct Associate Professor of Law, New York Law School, taught State and Local Government Law

Author, Court of Appeals Upholds Atlantic Yards Condemnation, New York Real Estate Law Reporter (2010)

Author, The Ultimate Challenge to SEQRA, New York Law Journal (2008) 

Author, The Application of RLUIPA to Land Use Regulation, ABA State & Local Government News (Vol. 28, No. 4, 2005)

Co-author of the book Wetlands and Coastal Zone Regulation and Compliance (John Wiley & Sons, 1993) and a chapter in American Jurisprudence Proof of Facts 3d, Vol. 31, "Zoning Proof of Inverse Condemnation From Excessive Land Use Regulation" (Lawyers Cooperative Publishing, 1995).

Author of "Subdivisions and Site Plan Review", a chapter in Warren's Weed New York Real Property Law (Matthew Bender, 1990)

Presented lecture at the annual meeting of the Municipal Law Section of the NYS Bar Association regarding recent Federal cases relating to municipal law issues such as RLUIPA, wireless telecommunications and sign regulations.

,

Speaker

,

Federal Case Law Update

,

Municipal Law Section, NYS Bar Association

,

2011

Speaker at training program for municipal officials reviewing the environmental impact statement process under SEQRA.

,

Speaker

,

State Environmental Quality Review Act

,

Rockland County Municipal Planning Federation

,

2011

Discussion of cases analyzing local laws which require pre-occupancy inspection of residential rental units.

,

Author

,

The Constitutionality of Pre-Occupancy Inspections

,

New York Real Estate Law Reporter

,

2012

Discussion of RLUIPA and other laws impacting land use applications in New York by religious groups, as part of a day long program at Pace Law School.

,

Speaker

,

Land Use Applications for Religious Uses

,

Pace University School of Law

,

2012

Article summarizing the Second Circuit's holding in Fortress Bible Church v. Feiner, 694 F.3d 208, that held the Town violated the Religious Land Use and Institutionalized Persons Act (RLUIPA).

,

Second Circuit Upholds RLUIPA Verdict Against Town of Greenburgh

,

New York Real Estate Law Reporter Vol. 29 Number 2

,

2012

Speaker at the Pace Law School Land Use Law Update 2013

,

Speaker

,

Religious and Educational Uses-Treatment Under RLUIPA and NY Law

,

Pace University School Of Law

,

2013

Annual certification program for members of Zoning and Planning Boards in Rockland County, NY.

,

Speaker

,

Land Use Law Update

,

Rockland Municipal Planning Federation

,

2013

Westchester County Bar Association Environmental Law Committee program on local impacts of climate change

,

Speaker

,

Climate Change

,

Environmental Law Committee Westchester County Bar Association

,

2013

Program on ability of municipalities to regulate location of wireless telecommunications facilities

,

Speaker

,

Recent Developments in Wireless Telecommunications

,

Westchester Women's Bar Association

,

2013

Annual certification program for members of Zoning and Planning Boards in Rockland County, NY., Speaker, Land Use Law Update, Rockland Municipal Planning Federation

,

Speaker

,

2014

Seminar on Compliance with RLUIPA

,

Speaker

,

Religious Land Use & Institutionalized Persons Act (RLUIPA) Seminar

,

Rockland Municipal Planning Federation

,

2014

CLE on aspects of selling, leasing and purchasing commercial real estate

,

Speaker

,

Commercial Real Estate

,

Pace University Law School

,

2014

Article summarizing recent case law on standing to challenge DEC regulations and other governement actions.

,

Co-Author

,

Court of Appeals Determines Standing to Challenege DEC Regulations

,

NY Real Estate Law Reporter

,

2014

In June, 2015 the U.S Supreme Court issued a decision in Reed v. Town of Gilbert. The Court determined a local sign law that distinguished the permitted size, location and duration of signs, based upon the nature of the sign, was content based and subject to the strict scrutiny rule. The Article discusses the decisions and the Court's rationale in finding the law unconstitutional.

,

Author

,

U.S.Supreme Court Holds Local Sign Law Unconsititutional

,

New York Real Estate Law Reporter

,

2015

Discussion of the potential far reaching implications of the U.S. Supreme Court decision in Reed v. Town of Gilbert and the cases that have already followed that decision.

,

Speaker

,

Reed v. Gilbert- Why Mroe Than your Sign Law May be Unconstitutional

,

Westchester County Bar Association

,

2015

Annual certification course for Rockalnd County Zoning and Planning Officials regarding land use, zoning SEQRA and RLUIPA

,

Speaker

,

2015

A discussion of the New York Court of Appeals decision in Sierra Club v. Vill. of Painted Post, 26 N.Y.3d 301 (2015), which addressed the issue of standing to challenge local land use and SEQRA determinations.,

Author

,

Court of Appeals Modifies Standing Test In Land Use Cases

,

New York Real Estate Law Reporter

,

2016

Presented a case law update on issues related to land use, including SEQRA, RLUIPA and wireless telecommunications.

,

Lecturer

,

Land Use Law Update

,

Westchester Municipal Planning Federation

,

2016

Presented update on case law and statutes related to land use and zoning at the annual certification course for municipal planning and zoning officials provided by the Rockland County Municipal Planning Federation.

,

Presenter

,

Land Use Law Update

,

Rockland Municipal Planning Federation

,

2016

Speaker addressing ethical issues facing attorneys and members of land use boards in processing land use and zoning applications.

,

Speaker

,

Ethics in Land Use

,

Pace University

,

Land Use Law Center

,

2016
Office location for Steven M. Silverberg
120 White Plains Road
Ste 305
Tarrytown, NY 10591
Phone: 914-873-4166
Selections
Super Lawyers: 2010 - 2023
Additional sources of information about Steven M. Silverberg
Attorney resources for Steven M. Silverberg