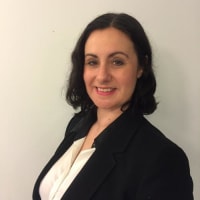 Zelenetsky & Associates, P.C.
Practice Areas: Personal Injury, Alternative Dispute Resolution, Appellate view more
Licensed in New York since: 2000
Education: Pace University Law School
Languages Spoken: Albanian, English, Hebrew, Russian, Spanish, Yiddish

Selected to Super Lawyers: 2019 - 2023

Free Consultation
Zelenetsky & Associates, P.C.
75 South Broadway
4th Floor
White Plains, NY 10601-4413
Phone: 914-649-5192
Email: Ava L. Zelenetsky Visit website
Details
Our law firm is a boutique law firm located in White Plains, near to where the owner, Ava L. Zelenetsky, Esq. went to law school at Pace Law School.  Ms. Zelenetsky, who has been an attorney for nearly twenty years, has a strong background in both insurance defense and plaintiff's practice, which has served her well when she started Zelenetsky & Associates, P.C., a firm dedicated and devoted to only practicing in the area of plaintiff's personal injury. While Ms. Zelenetsky is a solo practitioner, she relies upon the valuable service of some skilled attorneys who do work for her firm on a per diem and of counsel basis.
Our motto is "it's your case, your call" and we see our role to properly guide our injured clients, inform them of all of their options, and then help advocate for the best outcome that both the client wants.  We will never pressure a plaintiff into accepting or rejecting a settlement.  We merely provide our suggestions, caution the client about all of the potential risks, and then dilligently pursue the case and outcome the client desires.
In 2017 our firm settled a case that was referred to us a few years ago by another law firm where the client sustained what appeared to be soft tissue injuries and there was a ten thousand dollar settlement offer at that time.  With our diligence and professionalism, we ultimately settled that case, which was venued in the Supreme Court of Queens County for One Million and Five Hundred thousand dollars after plaintiff's deposition and a couple of weeks after mediation.
Ms. Zelenetsky has also received various awards in 2017, including The National Trial Lawyers, Top 100 Civil Plaintiff's Trial Lawyers; The Lawyers of Distinction, Top 10% in the USA; and received a perfect score from Avvo of a 10/10.
                                                                                          Manhattan Office
                                                                              420 Lexington Avenue, Suite 300
                                                                                          New York, NY 10170
Practice areas
Personal Injury - General: Plaintiff, Alternative Dispute Resolution, Appellate, Civil Litigation: Plaintiff, Civil Rights, Construction Litigation: Consumer

First Admitted: 1999, Connecticut

Professional Webpage: https://law4accidents.com/lawyer/Ava-L.-Zelenetsky,-Esq._cp1...

Educational Background:
Pace University School of Law

,

1999

Queens College, B.A., magna cum laude, with Highest Honors in English,

1994
Honors/Awards:
,

Top 100 Civil Plaintiff's Trial Lawyers

,

The National Trial Lawyers

,

2017

,

Top Attorneys New York Metro/ Westchester

,

As Published in Westchester Magazine November 2020

,

2020

Awarded for achieving a settlement in excess of $1 Million Dollars in the case of Angel Ortiz Morales v. Randy S. Reif which was in suit in the Supreme Court of Queens County and which settled in 2017

,

7 Figure Litigators

,

America's Premier High-Stakes Trial Lawyers

,

2022

,

10 Best Client Satisfaction Award

,

American Institute of Personal Injury

,

2022

,

America's Most Honored Lawyers Top 5%

,

The American Registry

,

2022

,

NY Metro Super Lawyers

,

Super Lawyers

,

2022

,

Elite Lawyer Recognizing Excellence in Plaintiff's Personal Injury

,

Elite Lawyer Award

,

2022

,

Lawyers of Distinction Excellence in Personal Injury Law

,

Lawyers of Distinction

,

2021

,

America's Top 100 Personal Injury Attorneys

,

America's Top 100

,

2021

,

10 Best Attorneys

,

American Institute of Personal Injury Attorneys

,

2021

,

Avvo 10 out of 10

,

Avvo

,

2022

,

Avvo 10 out of 10

,

10

,

2023

,

National Trial Lawyers Top 100

,

National Trial Lawyers

,

2022

Superb, Top Attorney, Perfect 10

,

Avvo

,

2017

Personal Injury, Top 10% in the USA

,

Lawyers of Distinction, Top 10%

,

2017

Lifetime Charter Member

,

Rue Ratings America's Best Attorneys

,

2017
Pro bono/Community Service:
Donations and sponsored Gospel Festival for New Vision Church of Deliverance in Fishkill NY.  Also donated a dozen turkeys for Thanksgiving for their food pantry.  This year I was able to "adopt" three families in need for the holidays and will purchase the toys and items they have listed on their lists and have it given to them anonomously through the organization. 

,

2017

Helping and representing local pizza shop owner and his wife to claim the value of their inventory following breaking a lease with their landlord who was supposed to reimburse them the value of the fixtures they left behind pursuant to their lease which is an estimated six figure value and which the landlord had completely ignored them. 

,

2023

Donations to New Vision Church of Deliverance in Fishkill, NY.  Also donated a dozen turkeys for Thanksgiving for their food pantry.

,

2016
Scholarly Lectures/Writings:
Guest speaker in Martindale-Hubbel webinar focusing on solo practitioners and the practice of law.

,

Speaker

,

Martindale-Hubble

,

2017
Verdicts/Settlements:
$70,000-- Plaintiff, a restrained female passenger in her 30's, suffered injuries when the host vehicle she was traveling in failed to obey the traffic control signal, injuring her shoulder.  As a result she underwent an arthroscopic procedure to repair the small tear in her shoulder, with a good medical outcome.  The plaintiff was not working at the time of the accident and did not work.  This case would have been venued in the Supreme Court of Dutchess County had it been placed into suit, but I was able to settle it pre-suit in the course of settlement negotiations with the adjuster.

,

2017

$650,000 settlement reached during private mediation for passenger of car in minimal property damage side swipe accident. Plaintiff, a woman in her late 60's, had a two level cervical fusion but had a prior bad fall down stair two years before this accident where she injured her neck and her own medical records diagnose her with degenerative disc disease. This case was venued in the Supreme Court of Westchester County. 

,

2022

$1.5 Million Dollar Settlement during private mediation for injured construction hurt by a falling object who sustained a mild traumatic brain injury (TBI) and had a shoulder arthroscopy about 4 1/2 years after the accident 

,

2022

$145,000 settlement against Enterprise (Elrac) for minor rear end collision where plaintiff claimed an injured biceps tendon repair and had surgery to repair it over a year after the accident. 

,

2021

$700,000 awarded to injured carpenter in slip and fall on black ice at job side with two arthroscopic knee surgeries and who returned to work following his accident

,

2022

$72,250-- This case involved a female driver injured in a motor vehicle accident with another vehicle.  Both drivers claimed the other driver hit the side of their car.  The defendant was in a left turn only lane and plaintiff was travelling in the lane next to her.  As a result of the accident, plaintiff had to undergo a knee arthroscopy.  I rejected the defendant's settlement offer of $25,000 and negotiated for a high/low arbitration with parameters of $20,000-$100,000 (the policy limits).  I further negotiated for what NAM calls an "accelerated hearing" which is a hearing with the only witnesses testifying who are the parties to the lawsuit.  The defendant had a passenger with her at the time of the accident who would have offered favorable testimony to the defendant's version of the events.  Following the arbitration, during with I provided submitted not only Plaintiff's Arbitration Submission, but a Memorandum of Law and the defendant only provided a submission packet, the arbitrator awarded a total award to plaintiff of $72,250 and found that the defendant was not credible, that plaintiff was credible, and that plaintiff was only found 15% negligent because she admittedly failed to take any action at all to avoid the accident, such as sounding her horn or moving away from the defendant's car.

,

2017

$25,000-- Settled pedestrian knockdown case for entire policy after initial referring attorney attempted to settle the matter for approximately $15,000 and was unable to get any settlement offers from the defendant.  This matter was in litigation and we had depositions prior to the case settling.  I also had to negotiate and satisfy the workers comp lien.  I was thrilled to be able to get every penny I could for the injured client and believe that there are no small cases, but only small-minded attorneys if they view them that way.

,

2017

$19,000-- Pedestrian knock-down in a hit and run matter. Plaintiff sustained a very slight facial scar and some neck and back soft-tissue injuries.  This matter was settled pre-suit with MVAIC.

,

2017

$35,000-- This premises matter settled pre-suit when a man in his 50's tripped and fell on a loose tile on a rooftop garden, sustaining a small fracture in his hand, that was splinted, and healed with a good medical result.  Plaintiff required no surgical intervention and surgery was not recommended.  After settling the matter, I significantly reducted my legal fee so that plaintiff would receive a total of $30,000.  This case was an especially rewarding one for me because the plaintiff was a kind, appreciative man who unfortunately suffered some unrelated economic difficulties at the time of the settlement.  After I told him I was drastically reducing my legal fee for him, he told me that he was releived because now he was able to pay for his child's college tuition.

,

2017

$16,000-- Action against a daycare for a toddler's falling while playing with other children and sustaining a cut underneath her chin which required stitches and healed with a tiny, barely noticable scar.  The children were being supervised and liability was extremely difficult with this matter as well as dealing with extremely minor injuries.  The parents of the child were thrilled with this settlement.

,

2017

$100,000-- Entire primary policy and SUM policies both exhausted for man injured in a motor vehicle accident, hurting his neck and back, and required surgery.  This plaintiff changed law firms because the prior attorney was not moving his case fast enough.  This matter settled within a year of my representation of him and settled pre-suit, so there was more money that went to the client.

,

2016

$95,000-- Woman in her 40's was rear-ended with minimal property damage.  There was only a small scratch to the back of her vehicle.  She was not working at the time of the accident and did not work.  She sustained a "mallet finger" to her pinky as well as soft-tissue neck and back injuries.  She sought continued chiropractic treatment and had no recommendations for any kind of surgery.  She did not have surgery.  After lengthy settlement negotiations, this matter settled for the entire $25,000 limit of the primary policy and another $70,000 of the available $75,000 SUM limits.  The matter settled pre-suit but would have been venued in Dutchess County had it been placed into suit.

,

2015

$210,000-- A female restrained driver in her 30's was struck by a vehicle exiting a parking lot onto the adjoining road in this T-bone accident.  After lengthy settlement negotiations, the primary policy limits of $100,000 were tendered and an additional $110,000 was obtained from the plaintiff's SUM limits.  This matter was settled pre-suit and would have been venued in Dutchess County if it would have been placed in suit.

,

2015

$60,000-- An elderly lady in her 80's slipped and fell while visiting her husband in the hospital, fracturing her hip and claimed she slipped on a small puddle of water.  Her husband subsequently passed away.  There were no witnesses to her accident and the incident report made no reference to water.  This case was venued in the Supreme Court, Bronx County based on the defendant's hospital's residence.  The matter was litigated, tried in a regular jury trial, including medical testimony by both plaintiff's expert orthopedist (who was not plaintiff's treating physician) and defendant's examining orthopedist.  The matter settled prior to summations by counsel.

,

2015

$18,000-- Man in his early 40's sustained soft tissue injuries, sought physical therapy and some medical treatment in this hit and run accident.  I proceeded with this UIM (underinsured motorist cliam) against claimaint's own insurance company and the matter settled shortly before we would have arbitrated the matter.  The insurance company excercised their right to conduct an Examination Under Oath (EUO) of the claimaint and he testified well.

,

2015

$350,000-- Injured carpenter in his 20's was pulling a rope and injured his back while at work on a contstruction site.  Another lawyer who is extremely well known for handling Labor Law cases told him he did not have a personal injury case and only had a workers compensation case.  After meeting with this injured man and discussing his accident at length, so that I could understand exactly what happened and how he injured himself, I discovered that he had slipped/tripped slightly on the construction and debris that he was forced to work with day in and day out on this job, causing him to twist his back and get hurt.  There was no mention of the rubble and debris because the injured carpenter didn't even know that there was anything wrong with it being there because he was so used to such debris always being on various job sites.  This matter was litigated but settled shortly after a mediation and before any depositions.  Plaintiff had a lumbar discectomy with a good result and returned to work in his field.  This matter was venued in the Supreme Court, New York County based on the defendant's residence.

,

2014

$88,000-- A young man injured in a car accident had a shoulder arthroscopy.  Initially he had medical treatment to his neck because he did not realize that the pain was actually coming from a tear in his shoulder until an orthopedist ordered an MRI for him and diagnosed him with a SLAP tear.  He responded well to the arthroscopy and was able to resume his employment as a waiter.  This matter settled pre-suit but would have been venued in the Supreme Court, Westchester County if it had to be litigated.

,

2014

$60,000-- A bicyclist in his 20's sustained injuries while he was riding his bicycle and a parked car opened the door into the bicycle lane without looking.  The young man sustained a facial lasceration and stitches.  He only went for medical treatment twice following this accident: once to get the lasceration treated at the hospital where they gave him several stitches and once to get the stitches removed.  He also went to a plastic surgeon for a consultation who reported that the scar was "well healed" and that surgical intervention was not recommended and would likely worsen plaintiff's appearance.  The case settled pre-suit after a lengthy course of settlement negotiations with the defendant's insurance adjuster.  

,

2014

$50,000-- Elderly woman was rear-ended by a truck in a very low impact accident during traffic.  She had pain in her neck and back with soft tissue injuries and a CT scan revealed a small spinal, compression fracture.  I expected the insurance adjuster to have this reviewed and argue that it was pre-existing and degenerative, especially based on plaintiff's age in her 80's as well as her history of prior accidents and falls.  Instead, the matter settled pre-suit after lenghty settlement negotiations with the insurance adjuster.

,

2014

$25,000-- Pedestrian knockdown accident with fractures.  This matter settled pre-suit for the entire policy limits. 

,

2014

$1.5 Million-- A twenty five year old man was rear-ended in a motor vehicle accident and was referred to our firm by another law firm.  There was a ten thousand dollar settlement offer at that time and the man appeared to have soft tissue injuries and was also out of work, permanently disabled by his own doctor and receiving workers' compensation for a back injury.  We maintained that he aggravated his prior back injury and also injured his neck in this accident and he ultimately had a neck and back fusion.  The case was venued in Queens.  Following the plaintiff's deposition, and a mediation (during which the case did not settle and I rejected a settlement offer of One Million Dollars), the case settled a couple of weeks later for One Million and Five Hundred Thousand Dollars.

,

2017
Bar/Professional Activity:
National Trial Lawyers, Top 100

,

2022

Avvo 10 Rating out of 10

,

2022

Lawyers of Distinction

,

2022
Industry Groups:
Auto Accidents
Civil Litigation
Civil Rights
Elevator Accidents
Labor Law
Municipal Liability
Plaintiff's Personal Injury
Police Misconduct
Premises Liability
Prisoner's Rights
Slipping/Trippijg Accidents
Snow and Ice cases
Supermarket Liability
Truck Accidents
Selections
Super Lawyers: 2019 - 2023
Additional sources of information about Ava L. Zelenetsky
Attorney resources for Ava L. Zelenetsky