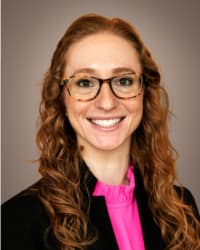 Nurenberg Paris Heller & McCarthy Co., L.P.A.
Practice Areas: Personal injury; view more
Licensed in Ohio since: 2013
Education: Cleveland State University Cleveland-Marshall College of Law

Selected to Rising Stars: 2019 - 2023
Nurenberg Paris Heller & McCarthy Co., L.P.A.
600 Superior Avenue East
Suite 1200
Cleveland, OH 44114
Visit website
Details
Dana M. Paris joined Nurenberg, Paris, Heller & McCarthy as an associate trial attorney in 2013. Since then, she has represented individuals who have been injured as a result of automobile collisions, trucking collisions, medical negligence, wrongful death, and traumatic brain injuries.
As an advocate for her clients, Dana litigates cases throughout Ohio and has successfully obtained favorable verdicts and settlements on behalf of her clients.
Dana also serves as an active member in numerous professional organizations, including the Cleveland Academy of Trial Attorneys, the Ohio Association for Justice, the William K. Thomas American Inn of Court, and the Cleveland Metropolitan Bar Association.
"As a trial attorney at Nurenberg Paris, I have the great honor of representing individuals and families who have suffered as a result of someone else's negligence, and this allows me to be an advocate on behalf of my clients so that I can hold the responsible parties accountable for their actions and misdeeds."
Outside of the office, Dana enjoys reading, traveling, playing tennis, running, yoga, and skiing.
Practice areas
Personal injury - general: plaintiff
Focus areas
Animal bites, Motor vehicle accidents, Personal injury - plaintiff, Wrongful death, Brain injury, Trucking accidents, Premises liability - plaintiff
100% Personal injury - general: plaintiff
First Admitted: 2013, Ohio
Professional Webpage: https://www.nphm.com/about-us/attorneys/dana-paris/
Bar/Professional Activity:
Cleveland Academy of Trial Attorneys, Board of Directors, Member, 2014-Present

Cleveland Metropolitan Bar Association

U.S. District Court for the Northern District of Ohio, 2013

William K. Thomas American Inns of Court, 2016-2018

Ohio State Bar Association

Ohio, 2013

American Association for Justice
Scholarly Lectures/Writings:
"Beyond the Practice: CATA Members in the Community," CATA News, Winter 2015–2016

"Recent Ohio Appellate Decisions," CATA News, Winter 2015–2016

"Beyond the Practice: CATA Members in the Community," CATA News, Spring 2016

"Recent Ohio Appellate Decisions," CATA News, Spring 2016

"Beyond the Practice: CATA Members in the Community," CATA News, Winter 2016–2017

"Beyond the Practice: CATA Members in the Community," CATA News, Spring 2017

"Recent Ohio Appellate Decisions," CATA News, Winter 2017–2018

NPR's The Sound of Ideas, Cleveland Dynasties, January 17, 2018

|C M Law School| Presenter of the NPHM Scholarship, Oct 2014

Hawken High School – End Distracted Driving, Speaker

Live on Lakeside – Rainbow Babies, 2015

"Recent Ohio Appellate Decisions," CATA News, Spring 2017

"Autonomous Future Could Question Legal Ethics," Cleveland Jewish News, November 2017

"Beyond the Practice: CATA Members in the Community," CATA News, Winter 2017–2018

"Recent Ohio Appellate Decisions," CATA News, Winter 2014–2015

"Beyond the Practice: CATA Members in the Community," CATA News, Spring 2015

"Recent Ohio Appellate Decisions," CATA News, Spring 2015
Honors/Awards:
YWCA Greater Cleveland, Distinguished Young Woman Award, 2018
Pro bono/Community Service:
Cleveland-Marshall College of Law Alumni Association, Life Member, 2013–Present

UH Rainbow Babies & Children's Hospital: Special Events Committee, 2015-2018
Educational Background:
Miami University

,

2009

Cleveland State University, Cleveland-Marshall College of Law, J.D.

,

2012
Verdicts/Settlements:
Plaintiff was a tenant in a four-unit apartment building in Lakewood. While outside on her rear porch, she fell forward and came into contact with the porch railing which gave way and caused her to fall approximately nine feet to the ground below. Plaintiff suffered non-surgical fractured ribs, fractured pelvis, and abrasions. Defendant denied liability, denied damages and claimed that plaintiff was contributorilynegligent. Case settled for $237,500. 

,

2022

Plaintiff was involved in a rearend collision with very minor damage to the defendant's vehicle. Early on in the case, State Farm classified the claim as a minor impact crash only involving soft tissue injuries. However, the injuries were far more serious. As a result of the collision, the Plaintiff suffered a nerve injury to the upper and lower extremities, ataxia and severe physical deconditioning. After years of failed conservative treatment, the plaintiff began treating with a pain management specialist, Dmitri Souza, M.D., who recommended and surgically placed neuromodulation stimulators in each leg to address the nerve injury. The stimulators reduced the severity of the pain, but were neverable to eliminate it, thus, requiring on-going pain management. Dr. Souza also served as the medical expert. He opined that the plaintiff's injuries were caused by the collision, were permanent in nature, and future treatment was required. State Farm retained neurologist, Lisa Kurtz, M.D. who minimized the injuries and made it a focal point of her opinions that there were no objective findings on the nerve study to justify the treatment and surgical intervention. In terms of damages, the Plaintiff claimed economic damages for her past and future medical expenses, lost earning capacity as she was no longer able to work as a nurse, and out of pocket expenses. It was Plaintiff's position that the cap on noneconomic damages did not apply in this case. The issue was briefed with the Court, but the case settled prior to the Court issuing its ruling. The case settled for $825,000.00 a week prior to trial.

,

2022

Our 20 year old client was riding his motorcycle southbound on a rural state route in Northeast Ohio. A semi tractor trailer was travelling northbound at a slow rate of speed and made a continuous left turn into a gas station. Our client applied his front and rear brakes and skidded into the passenger rear corner of the trailer sustaining multiple factures and vascular injuries to his right hip and leg. Multiple surgeries to salvage the limb culminated in a "through knee" amputation. We assemble a team of experts to address the issues of fault and damages. An accident reconstructionist examined the motorcycle, the truck, the physical evidence at the scene and observations of witnesses to opine that there was a very long site line with nothing to obstruct the truck driver's view of the oncoming motorcycle. The orthopedic experts opined that the resulting fractures to our client's pelvic ring, acetabulum and femoral head would result in traumatic arthritis in his hip join requiring hip replacement and multiple hip revisions during his lifetime. A life care plan projected his lifetime future medical needs. Functional capacity evaluations limited his occupational pursuits to sedentary work and a vocational rehabilitation expert quantified his reduced earning capacity. The defense of the case centered around the likely speed of the motorcycle, thus eliminating his preferential right of way; a prosthetist who opined that advanced technologies would enable him to work and enjoy recreation at the same levels as before the injury; and a vocational rehabilitation expert who opined that there would be no impaired earning capacity. The case settled for the insurance policy limits with the trucking company contributing $250,000 of it's own funds. Case settled for $5,200,000. ,

2021

Our client had been suffering from a fever, headache, and sinus pain for a few days. He presented to the Emergency Department with complaints of a severe headache, neck, and sinus pain. He did not have a temperature, altered mental state, nor did he have nuchal rigidity. His labs were unremarkable except for some elevation in his neutrofils. A head CT scan was consistent with sinus infection and he wasdischarged home. 36 hours later, he was brought back by EMS to the Emergency Department with symptoms of late stage bacterial meningitis, sepsis, hypotension, and seizures which resulted in brain death. Defendant argued that he was correctly diagnosed at the first Emergency Department visit with sinus infection; since signs and symptoms for bacterial meningitis were not present, the standard of care did not require a lumbar puncture; and even if a lumbar puncture had been performed, it would not have been abnormal at that time.  Case settled for $750,000.

,

2021

Defendant was a commercial driver operating a commercial vehicle on a 70 mph state route in rural Northeast Ohio. His ford F 550 trailered a load of drywall weighing 7,700 lbs. The state route had 2 northbound lanes and 2 southbound lanes, separated by a grassy median strip. It was winter and although the roadway was clear, the median was snowy, damp, and muddy. The defendant lost control of his truck and ended up stuck in the mud. He called his boss for guidance and was told to wait for a towing service that he would call. He called back to tell the driver that the tower would be about 60-90 minutes. The driver then flagged down a good Samaritan in a pick-up truck and asked if he had strap to pull him out. The driver called his boss who, without asking about the training or qualifications of the good Samaritan, gave his consent to proceed. The rear of the disabled truck was strapped to the front of the good Samaritan's truck. The good Samaritan then slowly traveled in reverse partially on the berm and partially on the roadway closest to the median in a southbound direction while in the northbound lanes. Contrary to the discussed plan, the driver placed the disabled truck from neutral to reverse and began to gun the engine and spin the rear wheels. When the wheels contacted the asphalt berm, his truck catapulted across the first lane into the second lane directly into our client's northbound vehicle. Our client was pronounced dead at the scene. He left surviving a wife and minor son. The defense centered around our client's comparative negligence based on his speed, his failure to slow and alcohol in his system. Case settled for $3,050,000. ,

2021

Plaintiff was rear-ended by the defendant causing significant property damage to both vehicles. Plaintiff had neurologic complaints following the collision, but all imaging studies failed to demonstrate a spinal cord injury. Several months later, plaintiff's neurological symptoms substantially progressed leading to several surgeries. Although defense acknowledged that some of plaintiff's injuries were caused bythe collision, the case was primarily defended on the basis of exaggeration. Cased settled for $1,250,000.,

2020

Our client registered to participate in a bike race event located in Sandusky County. The race intended to raise funds for a local charity. During the race, our client was pedaling his bike westbound on a country road. He was approaching an intersection. Although he had a stop sign, he was waved into the intersection by a volunteer race marshal who failed to see and warn him of an approaching southboundcar. Although the driver did not have a stop sign, there was a small sign posted near the intersection advising drivers of the bike race as well as the presence of the race marshal at the intersection. The driver denied that either was visible to him as he approached. The collision occurred in the middle of the intersection and our client was killed instantly. There was limited insurance from the driver and the race marshal's homeowner's policy. The race director had no insurance. The plaintiff had underinsurance coverage. Motions for summary judgment were filed. The issues raised included 1) The UM carrier could not be liable because the underinsured motorist had the right of way, was traveling in a lawful manner and had no time to react once our client appeared in the intersection; 2) Express assumption of the risk precluded recovery of a wrongful death claim because our client signed a waiver acknowledging that being hit by a motor vehicle was a risk in the race; 3) Primary assumption of the risk precluded recovery because being hit by a motorvehicle in a bike race on a rural county road was an inherent risk of this recreational activity; 4) Implied assumption of the risk/comparative negligence precluded recovery because our client was hit after failing to stop at a stop sign; and 5) Apportionment of damages, pursuant to ORC 2307.22, must include the conduct of non-parties with limited or no insurance. The case resolved at private mediation. Case settled for $953,500.00.,

2020

Plaintiff's decedent was riding his motorcycle to work on a through highway when the defendant tortfeasor pulled out of a private driveway into his path. Our client remained hospitalized for 10 days until he passed away. His medical bills exceeded $500,000. His self insured ERISAplan only paid approximately 15% of the bills and the hospital pursued the estate and widow for the balance under Ohio's necessaries statute. Plaintiff filed suit against the tortfeasor, the hospital, and the self insured ERISA plan. After cross claims, counterclaims, and extensive motion practice, the case proceeded to private mediation where all claims were resolved for policy limits, contribution from the tortfeasor,and significantly reduced allocations to the hospital. Case settled for $1,300,000.,

2019

A bar/restaurant was established as an LLC with John Doe as it's CEO. John Doe was also the CEO of another LLC that owned the land and was landlord to the bar/restaurant. The property on which the bar sat was at the corner of 2 state routes. The ODOT right of way extendedbeyond the paved portion of one of the state routes up to the edge of the building of the bar. ODOT required the bar to post "no parking" signs in the right of way. There was some evidence that the manager of the bar had been designated by John Doe to act as agent for the landlord in all matters of compliance with ODOT's rules and regulations. Our client was employed by the bar/restaurant as a server. The bar manager and the chef decided to move its Food Truck into the ODOT right of way to be cleaned using the water spigot and hose attached to the bar. Our client was instructed to participate in cleaning the truck. He was standing at the rear of the Food Truck when a pick-up truck failed to see stopped traffic ahead and veered into the ODOT right of way.Plaintiff was pinned between both bumpers severing his right leg, fracturing his left lower leg and right humerus. A second vehicle also swerved off the road into the rear of the pick-up causing second collision. The primary dispute involved 1) whether the landlord had exercised sufficient control over the premises and activity which led to plaintiff's injury to be liable – or whether it was truly a landlord out of possession who had signed an arms length "net-net lease", and 2) whether, as a matter of law, the errant vehicles were an intervening superseding cause of plaintiff's injuries. The court overruled the landlord's motionfor summary judgment holding that these were questions of fact for the jury. The parties settled the matter with the court's assistance after an unsuccessful mediation. Case settled for $1,650,000.,

2018
Office location for Dana M. Paris
600 Superior Avenue East
Suite 1200
Cleveland, OH 44114
Phone: 216-586-5912
Selections
Rising Stars: 2019 - 2023
Additional sources of information about Dana M. Paris
Attorney resources for Dana M. Paris