Gary Cowan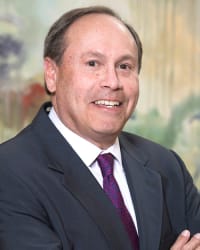 Attorney Profile
Top Rated Personal Injury Attorney in Mayfield Heights, OH
Phone: 877-456-4171
Fax: 440-442-7944
Selected To Super Lawyers:
2011 - 2021
Practice Areas:
Personal Injury - General: Plaintiff
Attorney Profile
Gary Cowan is a personal injury attorney and trial lawyer with more than 29 years of experience. He joined Elk & Elk Co., Ltd. in 2001. Since 1988, he has acted as lead trial counsel in more than 95 jury trials throughout the state of Ohio. 
Attorney Gary Cowan is deeply committed to preserving the rights of injured individuals. His background in science is invaluable to his clients. It affords him the ability to explain to insurance carriers and juries the nature and enormity of his client's injuries, their losses and the effects on their family.
Whether your loss is due to a motor vehicle, motorcycle, truck, a defective product or a dog attack, Attorney Cowan can secure you the benefits you are entitled while allowing you the time to focus on healing.
If you have sustained a loss of life of a family member or friend due to the negligence of another, Gary Cowan is well versed in wrongful death actions, having obtained record verdicts and settlements throughout the state of Ohio.
Attorney Cowan is a motivated, knowledgeable and accessible attorney who is always there for his clients to answer their questions and guide them through the legal process.
Gary Cowan is a member of many prestigious organizations for trial lawyers, including the Million and Multi-Million Dollar Advocates and the National Trial Lawyers Top 100 in Ohio. He has been included in high profile cases that have been reported locally and nationally. His practice emphasis is on serious personal injury claims, motor vehicle and trucking accidents, wrongful death and products liability.
In his spare time, Gary is an avid fan of baseball and standardbred horse racing. He enjoys spending time with his wife and two boys, especially while vacationing in warm-weather climates. 
Practice Areas
100%

Personal Injury - General: Plaintiff
Focus Areas
Motor Vehicle Accidents, Personal Injury - Plaintiff, Wrongful Death, Dram Shop Laws, Brain Injury, Trucking Accidents
Selections
Super Lawyers: 2011 - 2021
Email Me
To: Gary Cowan
Super Lawyers: Potential Client Inquiry
Additional Sources of Information About Gary Cowan
About Gary Cowan
Admitted: 1988, Ohio
Professional Webpage: https://www.elkandelk.com/attorneys/gary-cowan/
Honors/Awards:
 2012 - 2020

,

The National Trial Lawyers

, Top 100 Trial Lawyers in Ohio

,

Ohio Super Lawyers

Million Dollar Advocates

Multi-Million Dollar Advocates
Bar/Professional Activity:
Federal Courts

,

1988

Member, Ohio State Bar Association

District of Columbia

,

1988

Ohio Supreme Court, Bar No: 0039852

,

1988
Verdicts/Settlements:
$520,233 Wrongful death verdict. Greene County , Ohio.    35 year old operating a tractor trailer crashed into the rear of another tractor trailer as a result of the wrongdoer pulling out onto I-71 from the berm and cutting off the assured cleared distance ahead. Verdict was for $963,376 but was reduced  due to comparative fault of the decedent. Jury awarded $250,000 for conscious pain and suffering for the 5-10 minutes he was  alive.

,

2019

$255,000 settlement.  4 month old back seat passenger in a car seat involved in a head on collision . He sustained a closed head injury with bilateral subdural hematomas.

,

2019

$245,000 settlement. 24 year old male operating a bicycle with no lights was struck by a vehicle at nightime who failed to yield the right of way while making a left hand turn. He sustained a comminuted fractured left femur ,a fractured patella and torn ligaments in his foot.

,

2019

$105,000 settlement.   90 year old female operating her vehicle when struck by a driver who failed to yield the right of way coming out of a private drive.  She sustained numerous rib fractures, fractured sternum and fractured ulna. No surgery was necessary.

,

2018

$100,000 settlement.  9 year old female passenger in a vehicle that lost control and struck a guardrail. She sustained a Type II comminuted fracture of the distal tibia and a tenolysis of her posterior tibialis tendon and required an open reduction internal fixation surgery to her ankle.

,

2018

$160,000 Settlement.   58 year old female at complete stop rear-ended in a low-moderate speed impact resulting in a disc herniation at C3-C4 and aggravation of cervical degenerative disc disease . Conservative treatment ultimately requiring an anterior cervical discectomy surgery.

,

2018

$420,000 Wrongful death settlement.   55 year old female crossing an intersection with her bicycle at night with no lights was struck by a Semi making a right hand turn who rolled through a stop sign.

,

2018

$765,000 Settlement.  Plaintiff was a back seat passenger on a motorcycle  that was struck at an intersection. Plaintiff sustained a skull fracture,multiple facial bone fractures, C1 fracture, intracranial trauma/TBI, ankle fracture and medial meniscus tear.

,

2017

$895,000  VERDICT and Settlement.  Summit County Ohio.     Plaintiff was a city worker who was struck by a vehicle backing out of a driveway at a construction site who sustained a  mild to moderate traumatic brain injury. Settlement with the flagging company and verdict against the driver.

,

2017

$125,000 settlement . Plaintiff was a passenger in a vehicle that went into a ditch. Sustained a fractured ankle ,fractured ribs and collapsed lung.

,

2017

$125,000 Settlement.  Plaintiff was riding his bicycle when a dog ran out onto the roadway and caused a collision. Plaintiff sustained a right clavicle mid-shaft fracture requiring surgery.

,

2017

1.2 MILLION  settlement . Allen County , 74 year old male struck by a semi while at a stop . Cardiac arrest, abdominal compartment syndrome  TBI with intracranial bleed , C-2 fracture, L-3 burst fracture,sternal fracture,scapular fracture ,scalp laceration. 4 1/2 months hospitalization. 

,

2016

$550,000 settlement. Plaintiff, a correctional worker was struck by a driver that went left of center . Susutained a fractured tibia, fracured tibial plateau fracture , compression fractures to T11,T12 and L1,subdural hematomas,loss of consciousness and alateral meniscus tear.

,

2017

  $2.76 MILLION   Verdict in Fulton County ,Ohio.   Wrongful Death and  Bodily Injury claim  Husband and wife traveling on a county road on a trike. The rear axle fractured causing the trike to veer off the road way and into a ditch resulting in husband's death and wife sustaining multiple fractures and surgeries. Counsel was successful on a breach of the implied warranty of merchantability against the store that sold the axle to the Plaintiff.

,

2015

$325,000 policy limit settlement. Plaintiff injured while driving on a rural highway in Huron County during a storm when a large 75-foot red oak fell on the roof of her vehicle. Plaintiff sustained multiple facial fractures, skull fracture and a TBI.

,

2014

$510,000 settlement.  Plaintiff was a dock worker injured in a fall in Medina County when a truck driver pulled his trailer forward without permission and notice. Plaintiff sustained comminuted fractures of the lower tibia and fibula as well as his ankle and underwent 2 operations.

,

2015

$625,000 settlement    Auto /Pedestrian/ Dram Shop case   Sale of alcohol to an underage  patron  who later collides with Plaintiff  and is arrested for DUI and Aggravated Felonious Assault      Traumatic Brain Injury ,fractured skull and seizures.

,

2013

$450,000 Auto Accident Settlement - Our client, 18-years-old at the time, was traveling with three passengers when an 18-wheeler in the left-hand lane negligently merged into the Plaintiff's lane, striking the driver-side door and forcing the vehicle off the highway and into the woods. A rescue crew had to extricate her from the tangled wreck and she was taken to an area trauma center where she remained for 11 days. The Plaintiff was diagnosed with severe craniofacial trauma, multiple facial lacerations, a large laceration on her neck and an eye injury. She sustained severe head, face and chest trauma, including a collapsed lung, blown-out eye socket, bleeding of the brain, fractures to the nose, jaw and eye and a severe concussion. In addition to rehab and therapy, she underwent several reconstructive surgeries.

$130,000 settlement. Plaintiff injured when his vehicle collided with another vehicle partially blocking the roadway in Fairfield County. Soft tissue injuries.

,

2014

1.75 MILLION settlement. Trucking/Improper Loading accident. Disputed liability.Milwaukee Wisconsin. Severe crush injuries to both legs resulting in an above the knee amputation of left leg, comminuted fracture of right tibial shaft right ankle fracture ,multiple surgeries.,

2012

$490,000 settlement  Auto Accident struck head on by a  delivery truck. Fractured femur,fractured patella and fractured ankle

,

2012

$450K - Collision causing orbital (eye socket) fracture, fractured mandible, subdural hemorrhage, fractured face and skull, traumatic brain injury and a collapsed lung
$275K – Collision resulting in neck and back pain
$2.8 MILLION  Auto Accident, Left of center, Franklin County,multiple pelvic fractures,ruptured spleen,mild traumatic brain injury,fractured humerus,tibial plateau and right heel,multiple facial fractures,10 opearions including hip relacement,

2011

$100K – Head laceration, broken teeth, a fractured shoulder, fractured legs, fractured vertebra, lacerations to an arm, hand and approximately 200 stitches resulting from collision
$130K – Collision causing fractured ankle, concussion, shoulder problems and injured finger

$460,000 settlement, Work accident, Meigs County,crush injury to left hand , amputation of left index finger, 3 operations.

,

2012

$100K - Second- and third-degree burns to both legs and feet and from the waist down to the buttocks resulting from collision
$100K – Slip-and-fall resulting in herniated disc, hip fracture

$150,000 settlement. MVA ,left of center. Logan County.Femur fracture,acetabular fracture and hip dislocation.

,

2012

$100K - Shattered ankle caused by collision

$450,000 settlement.  Wrongful death of a 20 year old passenger in a semi that lost control and plummeted over a steep embankment in southern Ohio.

,

2015

$130,000 settlement. Dog bite, 17 year old female. Stark County. Avulsion injury to lower lip requiring complex closure of lower lip. Permanent scar on lower lip.

,

2013

$1.025 MILLION Settlement in fatal motorcycle accident v.trailer,

2009

$125K - Fractured wrist and femur, fractured back and punctured colon, lung and knee resulting from collision

$630,000 settlement. MVA ,left of center. Putnam County. Comminuted left femur fracture,left patella fracture,left ankle fracture,left talus and calcaneal fractures,acetabular fracture and right hip dislocation. Multilpe surgeries.

,

2012

$325,000  policy limits settlement  Plaintiff struck by a homeowner's 75 foot tree that fell on her motor vehicle while driving on a county road during a storm. Traumatic brain injury,multiple facial fractures, craniotomy,coma, extensive rehabilitation 

,

2013

Second And Third Degree Burns In Torch Explosion Case Settles For $85K
$130K - Personal injury causing fractured arm, fractured ring finger, fractured leg, forehead, left eye and nose
$2.1 MILLION  Motorcycle/truck  collision , Indiana, Traumatic Brain Injury ,lumbar fractures,

2011

$100K - Fractured skull, hemorrhaging, brain swelling, a fractured cheek bone, contusions, a cervical sprain and suffers dizzy spells from a collision
$380K – Collision causing ruptured sinus cavity, fractured cheek bone, multiple contusions and abrasions
$240,000  Auto Accident Failure to Yield, Toledo, Fractured ribs and sternum,torn meniscus requiring arthroscopic surgery,

2012

$250K - Fractured femur requiring two surgeries, fractured hand and lacerated ankle from collision
$100K – Collision causing fractured vertebrae, facial abrasion and loss of feeling in both arms

$200,000 settlement. MVA. failure to yield at a stop sign . Fairfield County. Liver and spleen lacerations, acetabular fracture,rib fracture and collapsed right lung

,

2012

$117.5K - Collision resulting in neck, shoulder and head pain

$225,000 settlement. Plaintiff injured while a pedestrian in a parking lot in Montgomery County when another vehicle backed up into him crushing his knee and injuring his rotator cuff. Arthroscopic surgeries to repair ACL and rotator cuff.

,

2015

$175,000 settlement. MVA,failure to yield at a stop sign.Cuyahoga County. Comminuted right tibia/fibula fracture.

,

2012

$1.5 MILLION   Pedestrian /Auto Accident , Findlay, multiple pelvic fractures,fractured knee and dislocation requiring 4 operations including 2 knee replacements.,

2012

$250K - Wrongful death collision
$2.761 MILLION  jury verdict . Largest verdict in Fulton County. Verdict was against an automotive parts and machining store for breach of the implied warranties of merchantibility and fitness for particular purpose for the sale of a defective motorcycle axle that fractured in two on a county road without warning resulting in a death of the operator and severe permanent injuries to the passenger,

2015

$595,000 settlement  Auto accident, moderate damage , displaced greater tuberosity fracture  and rotator cuff tear requiring 2 operations  and future shoulder replacement.

,

2013

Fractured Arm from Clients' Car Being Struck and Pushed into Her Case Settles for $55K
$150K - Fractured hip and pelvis, punctured lung, left leg and left side of body punctures due to collision
  $600,000  Auto Accident, Allen County  Failure to Yield    Fractured acetabulum,fractured pelvis ,fractured patella,collapsed lung,

2010

$940,000 settlement from manufacturer and UIM carrier. Three passengers were in a golfcart that was struck by a moped in which a gas tank exploded and caught fire. Passengers sustained multiple second- and third-degree burns. They were life-flighted and hospitalized for 7 - 10 days.

,

2013

$100K+ - Fractured right humerus necessitating skin grafts following collision
$1.1M – Wrongful death resulting from collision
$250,000 settlement  Auto Accident, Failure to yield. Columbus, Fractured C5-C6 requiring cervical  fusion surgery,

2012

$210K - Collision resulting in two chipped teeth, a lacerated lip, a lacerated arm, punctured lung, bruised ribs and broken leg
$115K – Collision resulting in road rash, sprained wrist, cracked tooth and concussion

$420,000 settlement. Motorcycle accident.Failure to yield on left turn. Cuyahoga County. Left femur fracture,right femur fracture and left tibia/fibula fracture. Multiple surgeries

,

2012

$500K – Wrongful death collision
$160K – Collision resulting in broken front tooth, bruised chest, pain and swelling in knee, 8 staples in head, headaches

$195,000 settlement. Passenger in a taxi that lost control. Franklin County Fractured right ankle,maxillary sinus fracture ,nasal bone fracture and chest wall contusion.

,

2012
Representative Clients:
Gary Cowan has successfully been involved in high profile medical malpractice cases that have been televised and reported on Court TV and A Current Affair, as well as cases covered by local television stations and newspapers. His practice and emphasis is on serious and catastrophic inury claims.

Personal injury including motor vehicle accidents, trucking accidents ,wrongful death ,products liability, dram shop claims, premises liability and dog attacks.
Videos:
Learn how attorney Gary Cowan helped a young car accident victim.Samantha was a happy 18-year-old with dreams of becoming a nurse when she was severely injured a horrific car accident. A large truck crushed the driver's side of her vehicle, leaving her trapped in the mangled wreckage. She had to be air-lifted to the hospital, where she nearly died. Doctors discovered a dozen complicated fractures and internal bleeding, resulting in 10 separate surgeries. "I was sick of lying in bed," recalls Samantha. "I was sick of being in a wheelchair 24/7. I just wanted to get better.",

Samantha's Story - Client Testimonial

,

Personal Injury

,

2015
Educational Background:
University of Ottawa, Masters Degree in Health Administration

,

1983

University of Ottawa, B.Sc. With Honors

,

1981
Show More
Gary Cowan:
Last Updated: 7/30/2020