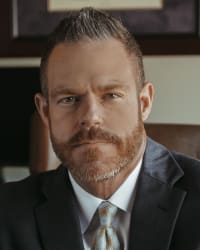 The Law Offices of Adam R. Banner, P.C.
Practice Areas: Criminal Defense; view more
Licensed in Oklahoma since: 2011
Education: Oklahoma City University School of Law

Selected to Super Lawyers: 2022 - 2023

Selected to Rising Stars: 2018 - 2021
The Law Offices of Adam R. Banner, P.C.
1900 NW Expressway
Suite 603
Oklahoma City, OK 73118
Visit website
Details
Focusing his practice exclusively on criminal defense, Adam R. Banner is the founder of his own firm that is based in Oklahoma City. He provides representation to residents of the greater metropolitan area who have been charged by the state with misdemeanor or felony offenses. The types of cases that Mr. Banner has handled have included drug possession and trafficking, armed robbery, assault and battery, child abuse, domestic violence, driving under the influence, rape, incest, money laundering, embezzlement, weapons violations, and kidnapping. He has secured dismissals or acquittals in regards to almost every Oklahoma crime imaginable, including:
Acquiring Proceeds From Drug Activity
Aggravated Assault and Battery
Aggravated Possession of Child Pornography
Aggravated Trafficking in Illegal Drugs
Armed Robbery
Assault and Battery
Assault and Battery with a Dangerous Weapon
Assault and Battery with a Deadly Weapon
Assault with a Dangerous Weapon
Assault and Battery on an Officer
Child Abuse by Injury
Child Neglect
Child Sexual Abuse
Conspiracy to Commit a Felony 
Cruelty to an Animal
Disorderly Conduct
Domestic Abuse
Domestic Abuse by Strangulation
Domestic Abuse Resulting in Great Bodily Injury
Driving Under the Influence (DUI) 
Driving While Intoxicated (DWI)
Driving While Privileges Suspended
Drug Conspiracy
Endangering Others While Eluding Police
Endeavoring to Possess a CDS (Heroin)
Embezzlement by State Employees
Exploitation of Elderly Person or Disabled Adult
Failure to Report Child Neglect
Failure to Report Child Abuse
False Claim for Insurance
Felon in Possession of Firearms
First Degree Burglary
First Degree Murder
First Degree Rape
First Degree Rape by Instrumentation
First Degree Robbery
Forcible Oral Sodomy
Gang Related Offense
Grand Larceny 
Human Trafficking
Incest
Indecent or Lewd Acts with a Minor
Kidnapping 
Knowingly Concealing Stolen Property
Larceny of Merchandise
Leaving the Scene of an Accident Resulting in Personal Injury
Lewd Molestation
Lewd Acts with Child Under 16
Lewd Molestation of a Child Under 12
Making Lewd or Indecent Proposals to a Child Under 16
Maintaining a Dwelling Where CDS is Kept or Sold
Maintaining Drug-Involved Premises
Maintaining a House of Prostitution
Malicious Injury to Property (Felony)
Manufacturing Controlled Dangerous Substance (CDS)
Money Laundering 
Offering to Sell False Identification Documents
Offering to Engage in an Act of Prostitution
Obstructing an Officer 
Obtaining CDS by Forgery
Obtaining Property Under False Pretenses
Pointing a Firearm
Possessing an Altered Operator's License
Possession of CDS
Possession of CDS with Intent to Distribute
Possession of CDS without a Valid Prescription
Possession of CDS w/ Intent to Distribute w/in 2000 Feet of School
Possession of CDS w/in 1000 Feet of a School or Park
Possession of CDS in the Presence of a Minor
Possession of a Firearm During Commission of a Felony
Possession of Marijuana 
Possession of Drug Paraphernalia
Possession of Drug Proceeds
Procuring a Child for Lewd Acts
Providing Pornographic Material to a Minor 
Public Intoxication
Racketeering (RICO)
Rape in the First Degree by Instrumentation
Rape in the Second Degree by Instrumentation
Reckless Driving
Robbery by Two or More Persons
Second Degree Rape
Second Degree Robbery
Second Degree Burglary 
Sexual Abuse of a Child
Sexual Battery
Shooting With Intent to Kill
Threatening to Perform an Act of Violence 
Trafficking in Illegal Drugs
Transporting an Open Container of Liquor
Unlawful Possession of a Weapon 
Use of a Vehicle to Discharge Weapon
Using a Computer to Violate Oklahoma Statutes
Victims Protection Orders
Violation of Compulsory Education Act
Violation of the Oklahoma Computer Crimes Act
Mr. Banner has in many cases been able to obtain acquittals for his clients, while in other instances he has achieved favorable results through plea agreements negotiated with the prosecution. His fellow professionals have taken note of his track record, and they have awarded him a 10.0 "Superb" peer review rating through Avvo. Mr. Banner has also been named to The National Trial Lawyers: Top 100 for several consecutive years.
In 2007, Mr. Banner received a Bachelor of Arts in philosophy with distinction from the University of Oklahoma. He then went on to pursue his legal studies at Oklahoma City University School of Law, and he was awarded his Juris Doctor magna cum laude in 2011. Mr. Banner is admitted to practice before all Oklahoma state courts. He is also admitted to practice before the U.S. District Courts for the Northern, Eastern and Western Districts of Oklahoma, the U.S. Court of Appeals for the 10th Circuit, and the Supreme Court of the United States. Mr. Banner has delivered several continuing legal education presentations on various criminal defense topics, and his professional affiliations include the National Association of Criminal Defense Lawyers and the Federal Bar Association.
Practice areas
Criminal Defense
Focus areas
Assault & Battery, Criminal Domestic Violence, Criminal Fraud, Criminal Law, Drug & Alcohol Violations, Expungement, False Accusations, Felony, Murder, Sex Offenses, Theft
First Admitted: 2011, Oklahoma
Professional Webpage: https://www.oklahomalegalgroup.com/team/adam-r-banner
Verdicts/Settlements:
NOT GUILTY - First Degree Rape

,

2021

NOT GUILTY - Sexual Battery

,

2021

Oklahoma Court of Criminal Appeals Victory - First-degree murder jury conviction reversed and remanded for dismissal

,

2021

NOT GUILTY - Rape in the Second Degree by Instrumentation

,

2019

NOT GUILTY - Sexual Battery

,

2019

NOT GUILTY - First Degree Rape

,

2018

NOT GUILTY - Lewd or Indecent Proposals to Child Under 16

,

2017

NOT GUILTY - Assault with a Dangerous Weapon

,

2016

NOT GUILTY - Indecent or Lewd Acts with a Child Under 16

,

2016

NOT GUILTY - Violation of Oklahoma Computer Crimes Act

,

2015

NOT GUILTY - Child Abuse by Injury

,

2014

Oklahoma Supreme Court Appeal Victory - Successful challenge to retroactive application of Oklahoma Sex Offender Registry laws

,

2013

Oklahoma Court of Criminal Appeals Victory - First-degree rape jury conviction reversed and remanded for a new trial

,

2013

NOT GUILTY - Aggravated Possession of Child Pornography

,

2012

NOT GUILTY - Lewd or Indecent Acts in the Presence of a Child

,

2012

NOT GUILTY - Indecent or Lewd Acts with a Child Under 16

,

2011
Educational Background:
Oklahoma City University School of Law, J.D., Magna Cum Laude

,

2011

 University of Oklahoma, B.A., Distinction

,

2007
Pro bono/Community Service:
Volunteer, "Breathe Hope Run/Walk" - Oklahoma Lung Cancer Initiative

,

2019

Lecturer, "False Confessions" - Robert J. Turner American Inn of Court

,

2019

Lecturer, "Sex, Violent, and Drug Crimes Registration" - Cindy Foley Criminal Defense Basics Seminar

,

2018

Volunteer, "Breathe Hope Run/Walk" - Oklahoma Lung Cancer Initiative

,

2018

Lecturer, "Use of Technology in Legal Practice" - Chickasaw Nation Bar Association 2017 Winter Seminar

,

2017

Volunteer, "Breathe Hope Run/Walk" - Oklahoma Lung Cancer Initiative

,

2017

Lecturer, "Sex, Violent, and Drug Crimes Registration" - Cindy Foley Criminal Defense Basics Seminar

,

2017

Volunteer, "Oklahoma City Free to Breathe Run/Walk" - Free to Breathe

,

2015

Lecturer, "When Should I Hire a Criminal Defense Attorney?" - Oklahoma City Business Network

,

2015

Volunteer, "Oklahoma City Free to Breathe Run/Walk" - Free to Breathe

,

2014
Bar/Professional Activity:
Adjunct Law Professor, Oklahoma City University School of Law

,

2022

United States Supreme Court

,

2015

Member, National LexisNexis Firm Manager Advisory Board

,

2014

United States Court of Appeals for the Tenth Circuit

,

2012

U.S. District Court, Northern District of Oklahoma

,

2012

U.S. District Court, Eastern District of Oklahoma

,

2012

U.S. District Court, Western District of Oklahoma

,

2011

Oklahoma Supreme Court

,

2011

All Oklahoma District Courts

,

2011

All Oklahoma Municipal Courts

,

2011

Member, Oklahoma Bar Association

,

2011

Member, Oklahoma Lawyers Association

,

2011

Member, National Association of Criminal Defense Lawyers

,

2011

Member, Oklahoma Criminal Defense Lawyers Association

,

2011

Member, American Bar Association

,

2011

Member, Oklahoma County Bar Association

,

2011

Member, Federal Bar Association

,

2011
Scholarly Lectures/Writings:
Honors/Awards:
Client's Choice Award

,

Avvo

,

2023

Top 3 Criminal Defense Lawyers in Oklahoma City

,

Three Best Rated

,

2023

The National Trial Lawyers

,

Top 100 Trial Lawyers in Oklahoma

,

2023

Top 100 Criminal Defense Attorneys in Oklahoma

,

America's Top 100 Attorneys

,

2023

"Superb" Rated Criminal Defense Attorney

,

Avvo

,

2023

Lead Counsel Rated for Criminal Law - State Felony & Misdemeanor

,

Lead Counsel

,

2023

Platinum Client Champion

,

Martindale-Hubbell

,

2023

Super Lawyer

,

Super Lawyers

,

2022

Platinum Client Champion

,

Martindale-Hubbell

,

2022

Clients' Choice Award

,

Avvo

,

2022

Top Attorneys 2022 - Criminal Defense

,

405 Magazine

,

2022

"Superb" Rated Criminal Defense Attorney

,

Avvo

,

2022

Top 100 Trial Lawyers in Oklahoma

,

The National Trial Lawyers

,

2022

Top 100 Criminal Defense Attorneys in Oklahoma

,

America's Top 100 Attorneys

,

2022

Top 3 Criminal Defense Lawyers in Oklahoma City

,

Three Best Rated

,

2022

Best Criminal Defense Lawyers in Oklahoma City

,

Expertise

,

2022

"Lead Counsel" rated

,

Lead Counsel

,

2022

Top Attorneys 2021 - Criminal Defense

,

405 Magazine

,

2021

Gold Client Champion

,

Martindale-Hubbell

,

2021

Rising Star

,

Super Lawyers

,

2021

Clients' Choice Award

,

Avvo

,

2021

"Superb" Rated Criminal Defense Attorney

,

Avvo

,

2021

"Lead Counsel" rated

,

Lead Counsel

,

2021

Top 100 Trial Lawyers, Oklahoma

,

The National Trial Lawyers

,

2021

Best Criminal Defense Lawyers in Oklahoma City

,

Expertise

,

2021

Top 3 Criminal Defense Lawyers in Oklahoma City

,

Three Best Rated

,

2021

Top 100 Criminal Defense Attorneys, Oklahoma

,

America's Top 100 Attorneys

,

2021

Top Attorneys 2020 - Appellate Law

,

405 Magazine

,

2020

Top 100 Trial Lawyers, Oklahoma

,

The National Trial Lawyers

,

2020

Rising Star

,

Super Lawyers

,

2020

Clients' Choice Award

,

Avvo

,

2020

Top 100 Criminal Defense Attorneys, Oklahoma

,

America's Top 100 Attorneys

,

2020

Gold Client Champion

,

Martindale-Hubbell

,

2020

Top 3 Criminal Defense Lawyers in Oklahoma City

,

Three Best Rated

,

2020

Best Criminal Defense Lawyers in Oklahoma City

,

Expertise

,

2020

"Superb" Rated Criminal Defense Attorney

,

Avvo

,

2020

"Lead Counsel" rated

,

Lead Counsel

,

2020

Top 100 Criminal Defense Attorneys, Oklahoma

,

America's Top 100 Attorneys

,

2019

Gold Client Champion

,

Martindale-Hubbell

,

2019

Clients' Choice Award

,

Avvo

,

2019

Rising Star

,

Super Lawyers

,

2019

Top 100 Trial Lawyers, Oklahoma

,

The National Trial Lawyers

,

2019

Top 3 Criminal Defense Lawyers in Oklahoma City

,

Three Best Rated

,

2019

Best Criminal Defense Lawyers in Oklahoma City

,

Expertise

,

2019

 "Superb" Rated Criminal Defense Attorney

,

Avvo

,

2019

"Lead Counsel" rated

,

Lead Counsel

,

2019

Rising Star

,

Super Lawyers

,

2018

Silver Client Champion

,

Martindale-Hubbell

,

2018

Top 100 Trial Lawyers, Oklahoma

,

The National Trial Lawyers

,

2018

Top 3 Criminal Defense Lawyers in Oklahoma City

,

Three Best Rated

,

2018

Best Criminal Defense Lawyers in Oklahoma City

,

Expertise

,

2018

Clients' Choice Award

,

Avvo

,

2018

 "Superb" Rated Criminal Defense Attorney

,

Avvo

,

2018

"Lead Counsel" rated

,

Lead Counsel

,

2018

Top 100 Trial Lawyers, Oklahoma

,

The National Trial Lawyers

,

2017

Top 3 Criminal Defense Lawyers in Oklahoma City

,

Three Best Rated

,

2017

Best Criminal Defense Lawyers in Oklahoma City

,

Expertise

,

2017

Clients' Choice Award

,

Avvo

,

2017

 "Superb" Rated Criminal Defense Attorney

,

Avvo

,

2017

"Lead Counsel" rated

,

Lead Counsel

,

2017

Top 100 Trial Lawyers, Oklahoma

,

The National Trial Lawyers

,

2016

Clients' Choice Award

,

Avvo

,

2016

 "Superb" Rated Criminal Defense Attorney

,

Avvo

,

2016

"Lead Counsel" rated

,

Lead Counsel

,

2016

Top 100 Trial Lawyers, Oklahoma

,

The National Trial Lawyers

,

2015

Clients' Choice Award

,

Avvo

,

2015

 "Superb" Rated Criminal Defense Attorney

,

Avvo

,

2015

"Lead Counsel" rated

,

Lead Counsel

,

2015

Top 100 Trial Lawyers, Oklahoma

,

The National Trial Lawyers

,

2014

"Lead Counsel" rated

,

Lead Counsel

,

2014

Top 100 Trial Lawyers, Oklahoma

,

The National Trial Lawyers

,

2013
Office location for Adam R. Banner
1900 NW Expressway
Suite 603
Oklahoma City, OK 73118
Phone: 405-778-4800
Selections
Super Lawyers: 2022 - 2023
Rising Stars: 2018 - 2021
Additional sources of information about Adam R. Banner
Attorney resources for Adam R. Banner