James C. Prince
Top rated Employee Benefits attorney in Oklahoma City, Oklahoma
Hartzog Conger Cason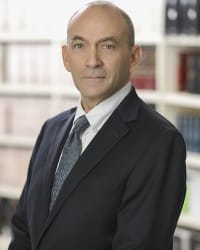 Hartzog Conger Cason
Practice Areas: Employee Benefits, Health Care
Licensed in Oklahoma since: 1981
Education: The University of Oklahoma College of Law

Selected to Super Lawyers: 2010 - 2018
Details
Jim Prince's practice is concentrated in the representation of employers, employee benefit plans and individuals primarily in the areas of ERISA, taxation and corporate law. He has extensive experience in organizing new business entities and in representing clients, including employee benefit plans, in matters involving the Internal Revenue Service and the Department of Labor. Jim has also represented taxpayers in matters before the U.S. Tax Court.
Jim's experience and expertise have earned him inclusion in The Best Lawyers in America (employee benefits/ERISA law; health care law) and Oklahoma Super Lawyers. He is also a certified public accountant and frequent speaker at seminars and conferences on employee benefit related topics.
Jim previously served as leader of the firm's Employee Benefits and Executive Compensation Group, overseeing one of the Southwest's largest and most experienced teams of employee benefits lawyers.
Prior to law school, Jim worked in both auditing and management consulting for two different international accounting firms.  As part of that experience, he lived on the Queen Mary in Long Beach, California, for approximately a year.
First Admitted: 1981, Oklahoma
Honors/Awards:
Selected by peers for inclusion in The Best Lawyers in America (employee benefits/ERISA law; health care law),

The Best Lawyers in America

Listed in Oklahoma Super Lawyers,

Oklahoma Super Lawyers

Rated AV Preeminent by Martindale-Hubbell Peer Review Ratings

,

Martindale-Hubbell Peer Review Ratings
Bar/Professional Activity:
Oklahoma County Bar Association

Oklahoma Bar Association

SouthWest Benefits Association

IRS Employee Plans / Exempt Organization Gulf States Council
Special Licenses/Certifications:
Certified Public Accountant, 1974

,

1974
Educational Background:
J.D., University of Oklahoma, 1981; Order of the Coif; Research Editor, Oklahoma Law Review,

1981

B.S., Oklahoma State University, 1974 (Accounting)

,

1974
Scholarly Lectures/Writings:
"New coronavirus law allows new 401(k) distributions and loans" McAfee & Taft LINC Alert, March 27, 2020

,

Author

,

New coronavirus law allows new 401(k) distributions and loans

,

McAfee & Taft LINC Alert

,

2020

"Health Plan Update" 2019 Oklahoma Labor/Management Conference, Oklahoma City, OK. May 9, 2019 While speaking at the 2019 Oklahoma Labor/Management Conference, employee benefits attorney Jim Prince provides a review of the top trending issues in the administration of health and welfare plans and retirement plans.  Topics include: Status of efforts to repeal the Affordable Care Act Cross-plan offsetting Mental health parity requirements Birth control coverage Wellness program compliance Cybersecurity New rules governing association health plans (AHPs),

Featured Speaker

,

Health Plan Update

,

2019 Oklahoma Labor/Management Conference

,

2019

"Analyze This: Trending topics in welfare plan administration and compliance" EmployerLINC19, Oklahoma City and Tulsa, OK. April 3 and 4, 2019

,

Featured Speaker

,

Analyze This: Trending topics in welfare plan administration and compliance

,

EmployerLINC19

,

2019

"The Fantastic Four: Answers to your FAQs from our all-star panel" EmployerLINC19, Tulsa and Oklahoma City, OK. April 3, 2019

,

Featured Speaker

,

The Fantastic Four: Answers to your FAQs from our all-star panel

,

EmployerLINC19

,

2019

"The Top 10 List of Employee Benefits Issues for 2019 and Beyond" SWBA 2019 Benefits Administration Workshop, Dallas, Texas and Oklahoma City, Oklahoma. March 1 and April 12, 2019 While speaking at the SouthWest Benefits Association's 2019 Benefits Administration Workshop in Oklahoma City, OK, employee benefits attorney Jim Prince provides a review of the top 10 trending issues in the administration of health and welfare plans and retirement plans. Topics include: New rules governing association health plans (AHPs) Proposed new rules concerning Health Reimbursement Accounts (HRAs) offered by employers Status of the Affordable Care Act Mental health parity requirements New rules governing hardship withdrawals from retirement accounts Birth control coverage Prescription drug costs Cross-plan offsetting.

,

Featured Speaker

,

The Top 10 List of Employee Benefits Issues for 2019 and Beyond

,

SWBA 2019 Benefits Administration Workshop

,

2019

"Health Plan Update" Oklahoma Labor/Management Conference 2018, Midwest City, OK. May 10, 2018

,

Featured Speaker

,

Health Plan Update

,

Oklahoma Labor/Management Conference 2018

,

2018

"Affordable Care Act Update" 2018 Oklahoma Labor & Management Conference, Midwest City, OK. May 10, 2018

,

Featured Speaker

,

Affordable Care Act Update

,

2018 Oklahoma Labor & Management Conference

,

2018

"Welcome Relief in Recent Tax Legislation and Regulations" EmployerLINC18: Workplace Issues in the News, Oklahoma City and Tulsa, OK. March 27 and 29, 2018

,

Featured Speaker

,

Welcome Relief in Recent Tax Legislation and Regulations

,

EmployerLINC18: Workplace Issues in the News

,

2018

"Employee Benefits All-Star Q&A Panel" EmployerLINC18: Workplace Issues in the News, Oklahoma City and Tulsa, OK. March 27 and 29, 2018

,

Featured Speaker

,

Employee Benefits All-Star Q&A Panel

,

EmployerLINC18: Workplace Issues in the News

,

2018

"Fiduciary Rule cancelled, subject to further appeal by DOL" McAfee & Taft EmployerLINC Alert, March 20, 2018

,

Author

,

Fiduciary Rule cancelled, subject to further appeal by DOL

,

McAfee & Taft EmployerLINC Alert

,

2018

"Health Care Update and HIPAA Basics" 2017 Oklahoma Labor/Management Conference, Midwest City, OK. April 20, 2017

,

Featured Speaker

,

Health Care Update and HIPAA Basics

,

2017 Oklahoma Labor/Management Conference

,

2017

"HIP-HIPAA-RAY!! – A practical guide to HIPAA compliance" SouthWest Benefits Association 2017 Benefits Administration Workshop, Oklahoma City, Oklahoma. April 7, 2017

,

Featured Speaker

,

HIP-HIPAA-RAY!! – A practical guide to HIPAA compliance

,

SouthWest Benefits Association 2017 Benefits Administration Workshop

,

2017

"Employer Obligations and Liabilities for Health Plan Administration" EmployerLINC17: Back to Basics, Oklahoma City and Tulsa, Oklahoma. March 22 and 23, 2017

,

Featured Speaker

,

Employer Obligations and Liabilities for Health Plan Administration

,

EmployerLINC17: Back to Basics

,

2017

"Marriage is What Brings Us Together Today" EmployerLINC16: Employers under pressure, Oklahoma City and Tulsa, OK. March 30 and April 5, 2016

,

Featured Speaker

,

Marriage is What Brings Us Together Today

,

EmployerLINC16: Employers under pressure

,

2016

"Affordable Care Act" Central Oklahoma Manufacturers' Association, Oklahoma City Community College, Oklahoma City, Oklahoma. September 17, 2015

,

Featured Speaker

,

Affordable Care Act

,

Central Oklahoma Manufacturers' Association

,

2015

"Affordable Care Act" Business & Industry Counsel, Shawnee, Oklahoma. June 16, 2015

,

Featured Speaker

,

Affordable Care Act

,

Business & Industry Counsel

,

2015

"Retirement Plans: Plan restatements, common mistakes" EmployerLINC 2015: Case studies in costly mistakes, Tulsa and Oklahoma City, Oklahoma. April 28 and 30, 2015

,

Featured Speaker

,

Retirement Plans: Plan restatements, common mistakes

,

EmployerLINC 2015: Case studies in costly mistakes

,

2015

"Affordable Care Act: Frequently asked questions" EmployerLINC 2015: Case studies in costly mistakes, Tulsa, Oklahoma. April 28, 2015

,

Featured Speaker

,

Affordable Care Act: Frequently asked questions

,

EmployerLINC 2015: Case studies in costly mistakes

,

2015

"New rules further limits health plan's out-of-pocket expenses" The Oklahoman. July 15, 2015

,

Author

,

New rules further limits health plan's out-of-pocket expenses

,

The Oklahoman

,

2015

"New ruling limits out-of-pocket expenses at individual level in 2016" McAfee & Taft EmployerLINC Update, July 8, 2015

,

Author

,

New ruling limits out-of-pocket expenses at individual level in 2016

,

McAfee & Taft EmployerLINC Update

,

2015

Featured speaker on the topic of "Health Care Reform" at the Central Oklahoma Manufacturers Association

,

Speaker

,

"Health Care Reform"

,

Central Oklahoma Manufacturers Association

,

2010

Featured panelist on "Health Plans and the New Laws" at the Spring 2010 McAfee & Taft Labor & Employment and Employee Benefits Seminar

,

"Health Plans and the New Laws"

,

Spring 2010 Labor & Employment and Employee Benefits Seminar

,

2010

Featured speaker on the topic of "Qualified Retirement Plans" at the McAfee & Taft Healthcare Lucnheon Seminar: Responding to Economic and Reimbursement Challenges

,

"Qualified Retirement Plans"

,

McAfee & Taft Healthcare Luncheon Seminar

,

2009

Featured panelist on the topic of Employee Benefits at McAfee & Taft's LEEB University

,

"Employee Benefits"

,

LEEB University

,

2009

"Same-Sex Spouses: What the changing legal landscape means for employers," EmployerLINC Webinar, October 22, 2014

"Time to Play or Pay - Health Care Reform," Oklahoma Association of Electric Cooperatives - Human Resources Association Meeting, Oklahoma City, OK, September 11, 2014.

"Review-Revise-Restate - A 'how-to' guide for retirement plan sponsors," EmployerLINC webinar, May 21, 2014

"Health care reform update," EmployerLINC 2014: In Compliance, Out of Court," Oklahoma City, OK, April 16, 2014

"Health care reform update," EmployerLINC 2014: In Compliance, Out of Court," Tulsa, OK, April 17, 2014

"The Affordable Healthcare Act (PPACA): Are you ready?" Reed Conference Center, Midwest City, OK, May 22, 2013

"Health Care Reform Update," EmployerLINC 2013: Government Gone Wild, Oklahoma City, OK, April 23, 2013
Selections
Super Lawyers: 2010 - 2018
Additional sources of information about James C. Prince
Attorney resources for James C. Prince