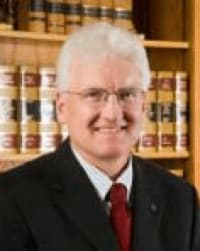 Andersen & Linthorst
Practice Areas: Medical Malpractice, Personal Injury, Products Liability view more
Licensed in Oregon since: 1979
Education: Brigham Young University J. Reuben Clark Law School

Selected to Super Lawyers: 2007, 2009 - 2023

Free Consultation
Andersen & Linthorst
1730 East McAndrews Road
Suite A
Medford, OR 97504
Phone: 541-773-7000
Email: Kelly L. Andersen Visit website
Details
With cases primarily in Oregon, Kelly L. Andersen serves those harmed by the negligence of others. He is a 1979 graduate of the J. Reuben Clark Law School at Brigham Young University in Provo, Utah. As a dedicated trial attorney, Mr. Andersen has represented the needs of his clients for over 40 years.
In 2014 the Oregon Trial Lawyers Association named Mr. Andersen its "Distinguished Trial Lawyer of the Year." That same year the National Trial Lawyer Board of Regents presented Andersen its "Litigator Award," an honor reserved for law firms ranked in the top 1% of all firms in the United States.  In 2018 the Oregon State Bar's New Lawyers Division awarded Andersen its prestigious John V. Acosta Professionalism Award in recognition of his high ethical standards.  
Mr. Andersen primarily focuses on devastating injuries caused by medical negligence, attorney negligence, and faulty products. He has successfully handled thousands of injury cases, including serving as lead counsel for clients injured in Oregon, California, Washington, and Hawaii. As a member of the Oregon State Bar Association, Andersen serves on the State's Council of Court Procedures, and has served on the Bar's Litigation Section and its Product Liability Section. He also serves on the Board of Directors of the Oregon Trial Lawyers Association and has served as President of the William V. Deatherage American Inns of Court, as President of the Southern Oregon Federal Bar Association, and as President of the Oregon Chapter of the American Board of Trial Advocates (ABOTA), an invitation-only organization that limits its members to about 75 of the top-rated trial attorneys in Oregon. He is also an active member of the American Association for Justice.  
Mr. Andersen also has served on the Board of Directors of Rogue Retreat, a charitable non-profit organization that helps the homeless of Jackson County, Oregon. 
Having written extensively, Mr. Andersen has compiled a long list of scholarly publications. He has often taught legal education courses to other attorneys and serves as a volunteer pro-tempore judge in Jackson County. He is highly committed to his own continuing legal education.  
Mr. Andersen is an invited member of the Million Dollar Advocates Forum, the Multi-Million Dollar Advocates Forum, the Society of Outstanding Lawyers of America, the Best Lawyers in America, and he has been included in Martindale-Hubbell's Bar Register of Preeminent Lawyers.
He loves the practice of law and cares deeply about his clients. His experience, education and commitment are to your advantage when you become his client.
The mission of Andersen & Linthorst is to serve the people of Oregon according to the highest national legal standards. 
Practice areas
Personal Injury - Medical Malpractice: Plaintiff, Personal Injury - General: Plaintiff, Personal Injury - Products: Plaintiff, Professional Liability: Plaintiff

First Admitted: 1979, Oregon

Professional Webpage: https://andersenlaw.com/team-member/kelly-l-andersen/

Educational Background:
Brigham Young University, B.A., 1976
Honors/Awards:
Member, Multi-Million Dollar Advocates Forum, 1997

This award is given each year by the Oregon New Lawyers Division to one attorney in Oregon whom the New Lawyers have judged to be a role model of professionalism for all young lawyers to follow and emulate. 

,

Honorable John V. Acosta Professionalism Award

,

Oregon New Lawyers Division

,

2017

Bar Register of Preeminent Lawyers by Martindale-Hubbell

Distinguished Trial Lawyer of the Year

,

Oregon Trial Lawyers Association

,

2014

Member, Society of Outstanding Lawyers of America, 2004

Best Lawyers in America

,

2015

Litigator Award

,

Trial Lawyers Board of Regents (National)

,

2014

A.V. Preeminent with Martindale-Hubbell, 2003

Multi-Million Dollar Advocates Forum, 2008

The American Board of Trial Advocates (ABOTA) is a national organization dedicated to preserving the right to jury trial and promoting the highest ethical standards. Each year it inducts a small number of highly accomplished plaintiff and defense attorneys after carefully vetting each new inductee. Mr. Andersen currently serves as Vice President of the Oregon Chapter of ABOTA and is slated to become its President on January 1, 2022.  

,

American Board of Trial Advocates

,

https://www.abota.org/

,

2010
Scholarly Lectures/Writings:
Article written at the request of the Oregon Trial Lawyers Association, which asked me to write about dealing with a Stage 4 cancer diagnosis in 2013. 

,

Author

,

"Life Comes at Your Fast"

,

Oregon Trial Lawyer Magazine, Summer 2020

,

Legal

,

2020

Medford Mail Tribune, "Guest Opinion: Bill would restore justice for those injured by negligence," April 23, 2017 [urging passage of then-pending Senate Bill 737 to remove damage caps]  ,

Author

,

"Guest Opinion: Bill would restore justice for those injured by negligence"

,

Medford Mail Tribune, April 23, 2017

,

2017

This article describes the challenge of successfully climbing 14,179-foot snow-capped Mt. Shasta at age 68. 

,

Author

,

"Medford Man's 13th Ascent of Mr. Shasta is Cause for Reflection"

,

Medford Mail Tribune, July 14, 2020

,

Community

,

2020

This article gives 10 tips on how to spot a case you don't want, either because the case might be frivolous or the client may have unreal expectations. 

,

Author

,

"10 Warning Signs of the Client You Don't Want"

,

Oregon Trial Lawyer Magazine Winter 2021

,

Legal

,

2021

This article provides advice on how to pick a jury in a civil trial.  

,

Author

,

"Balance and Understanding: The Art of Jury Selection"

,

Oregon Trial Lawyer Magazine, Fall 2020

,

Legal

,

2020

Trial Lawyer, "Keep Balance, Keys to Good Law Firm Economics", Summer, 2009

Trial Lawyer, "Lessons Learned – What David Ball Can Teach Us," Spring, 2009

Southern Oregon Federal Bar Association Newsletter, "What You Don't Know You Don't Know," Winter, 2006

Products Liability Newsletter, "Informal Focus Groups," Winter, 2004

Southern Oregon Federal Bar Association Newsletter, "To Be Free," April, 2003, reprinted in the Oregon State Bar Bulletin, February/March, 2004

Oregon State Bar Product Liability Newsletter, "Filing in State or Federal Court," Fall, 2001, reprinted in the Oregon Law Journal, December, 2001

Southern Oregon Federal Bar Association Newsletter, "Sleeping When the Wind Blows," Summer, 2001, reprinted in Oregon State Bar Bulletin, January, 2002

Oregon State Bar Bulletin, "Piloting Your Practice," September, 2001

Oregon Trial Lawyers Association Magazine, "Making a Difference: Persistence Prevails, Spousal Support Payment Secured," Winter, 2001

Oregon State Bar Bulletin, "The Genie is Out of the Bottle," February/March, 2000

Oregon State Bar Bulletin, "Lincoln the Lawyer," February/March, 1998, reprinted in the Clark Memorandum, Brigham Young University Law School Magazine, Fall, 1998

Oregon State Bar Bulletin, "It's Not So Bad," June, 1992

Oregon Trial Lawyers Association Magazine, "Beating the Statute of Limitations in a Products Liability Case," October/December, 1990

Washington State Association for Justice, "Increasing Productivity in the Practice of Law," Vancouver, BC, July. 2010

Oregon State Bar CLE, "Evaluating the Wrongful Death Case," Portland, Oregon, June 18, 2010

Oregon Trial Lawyer's Association Annual Convention, "Time Management," Bend, Oregon, August, 2009

Southern Oregon Federal Bar Association, "Differences in State and Federal Evidence Codes," Klamath Falls, Oregon, May, 2006

Lorman Education Seminars, "Fourteen Steps to Greater Productivity," Eugene, Oregon, August, 2004

Jackson County Bar Association, "Keeping Up With the Times: Presentation of Evidence in Electronic Form," Medford, Oregon, October, 2003

HIPAA: Privacy of Medical Records, "Disclosure of Medical Records and Pending Litigation," Salem, Oregon, September, 2003

Southern Oregon Federal Bar Association, "Shepherding a Case in Federal Court," Klamath Falls, Oregon, October, 2001

Oregon Trial Lawyers Association, "Discovery Issues in Civil Cases," Sun River, Oregon, August, 2001

Southern Oregon Federal Bar Association, "Choosing Between a State and Federal Forum in Civil Cases," Medford, Oregon, Fall 1999
Verdicts/Settlements (Case Results):
$4,500,000 settlement in Graves v. City of Eagle Point, et al,  United States District Court, 1:18-cv-02093-CL. A hot-tempered police officer shot to death of an unarmed man with mental illness who had not committed any crime. ,

2020

$12,647,009.06 verdict in Smith v. United States, U.S. District Court Case No. 16-CV-00690-CL. Over a six week period Smith had sought medical treatment at a federally funded health care clinic in Oregon. During this time medical providers at the clinic failed to recognize and treat a condition known as Methicillin-Resistant Staphylococcus Aureus (MRSA). As a result, 16 levels of Smith's spinal column became so badly infected that he became an "incomplete quadriplegic." Witnesses called to testify on behalf of Smith included a family nurse practitioner teaching at John Hopkins University in Baltimore, a medical doctor specializing in emergency room medicine and infectious diseases teaching at UCLA in Los Angeles, and an economist teaching at Southern Oregon University. The case involved complex medical issues, as well as projections of future economic losses including long term medical care and the loss of future income as well as reductions (or increases) of these future losses to "present value."  Estate of Pauline Allen v. Brookdale Senior Living Communities, Inc. Jackson County Case No. 15CV06555Verdict: $500,000 Date: 10/28/16 Brookdale, a senior living facility, failed to give its resident, Pauline Allen, age 89, needed medication to combat a life threatening condition known as sepsis. Brookdale alleged that Ms. Allen's subsequent death was not from sepsis but instead from a rupture aortic aneurysm. The jury heard extensive medical testimony from doctors on both sides of this issue and concluded that Ms. Allen's death was indeed from sepsis and that her Estate should be compensated in the full amount it had asked for, $500,000. In the related case of Brookdale Senior Living Communities, Inc. v. Estate of Pauline Allen, U.S. District Court Case No. 15-CV-01400CL, Brookdale had sued Ms. Allen's Estate to compel it to resolve the case through arbitration. After briefing and oral argument, the United States District Court held that the arbitration provisions of the senior living contract were procedurally and substantively unconscionable and one-sided in favor of Brookdale. The court thus held that the contract was not enforceable, thus allowing a jury rather than arbitrators to decide liability and damages. Rulon v. Hoffman, Hart & Wagner, Jackson County Case No. 10-3209-L2Verdict: $3.5 Million Date: 6/25/13 In this legal malpractice case, Dr. Michael Rulon sued the Oregon's largest medical malpractice defense firm because of the bad conduct of its first-named partner, Michael D. Hoffman. In an underlying medical malpractice case, Hoffman had withheld vital evidence from opposing counsel, and then blamed his own client, Dr. Rulon, for its late production. In a trial lasting over two weeks involving a medical malpractice case inside a legal malpractice case, and using one of the most difficult of all torts to prove – intentional infliction of emotional distress – jurors awarded Dr. Rulon his full prayer of $3,000,000 in non-economic damages and $500,000 in lost income. With the consent of Dr. Rulon, I had rejected all pretrial settlement overtures because I felt that Hoffman's conduct was so unscrupulous that the case had to be tried for the public good. Through the process of preparing for trial, I also more fully realized that attorneys can conduct their own focus groups, without the expense of hiring outside vendors. In Rulon two different focus groups gave me the words and phrases that later would resonate with jurors, and also gave me confidence that we would achieve a verdict for the full prayer. The initial pre-trial offer was $20,000 and the last offer, just before trial, was $100,000.  ,

2018

$500,000 verdict in Estate of Pauline Allen v. Brookdale Senior Living Communities, Inc. Jackson County Case No. 15CV06555. Date: 10/28/16 Brookdale, a senior living facility, failed to give its resident, Pauline Allen, age 89, needed medication to combat a life threatening condition known as sepsis. Brookdale alleged that Ms. Allen's subsequent death was not from sepsis but instead from a rupture aortic aneurysm. The jury heard extensive medical testimony from doctors on both sides of this issue and concluded that Ms. Allen's death was indeed from sepsis and that her Estate should be compensated in the full amount it had asked for, $500,000. In the related case of Brookdale Senior Living Communities, Inc. v. Estate of Pauline Allen, U.S. District Court Case No. 15-CV-01400CL, Brookdale had sued Ms. Allen's Estate to compel it to resolve the case through arbitration. After briefing and oral argument, the United States District Court held that the arbitration provisions of the senior living contract were procedurally and substantively unconscionable and one-sided in favor of Brookdale. The court thus held that the contract was not enforceable, thus allowing a jury rather than arbitrators to decide liability and damages.  ,

2016

$3,500,000 verdict in Rulon v. Hoffman, Hart & Wagner, Jackson County Case No. 10-3209-L2.  6/25/13 In this legal malpractice case, Dr. Michael Rulon sued the Oregon's largest medical malpractice defense firm because of the bad conduct of its first-named partner, Michael D. Hoffman. In an underlying medical malpractice case, Hoffman had withheld vital evidence from opposing counsel, and then blamed his own client, Dr. Rulon, for its late production. In a trial lasting over two weeks involving a medical malpractice case inside a legal malpractice case, and using one of the most difficult of all torts to prove – intentional infliction of emotional distress – jurors awarded Dr. Rulon his full prayer of $3,000,000 in non-economic damages and $500,000 in lost income. With the consent of Dr. Rulon, I had rejected all pretrial settlement overtures because I felt that Hoffman's conduct was so unscrupulous that the case had to be tried for the public good. Through the process of preparing for trial, I also more fully realized that attorneys can conduct their own focus groups, without the expense of hiring outside vendors. In Rulon two different focus groups gave me the words and phrases that later would resonate with jurors, and also gave me confidence that we would achieve a verdict for the full prayer. The initial pre-trial offer was $20,000 and the last offer, just before trial, was $100,000.,

2013
Bar/Professional Activity:
Continue to serve (for fourth year) on Oregon's Council of Court Procedures

,

2021

Continue to serve (for more than 17 years) on the Board of Directors of Oregon Trial Lawyers Association.

,

2021

Member of the Oregon Trial Lawyers Association

,

2021

Member of the American Association for Justice

,

2021

Served as President of William V. Deatherage American Inns of Court

,

2018

Senior Counsel, American College of Barristers, 2001

Member, Product Liability Section, Oregon State Bar Association
Pro bono/Community Service:
Volunteer pro-tempore judge in Jackson County Circuit Courts (since 2009)

,

2021

Served on the "Steering Committee" that constructed "Hope Village," a tiny home village of 30 units to help the area's homeless population. 

,

2016

Serve on the Board of Directors of Rogue Retreat, a non-profit that helps homeless persons transition from the streets into tiny homes and then into jobs and into traditional housing. 

,

2021
Representative Clients:
Confidential settlements of $6,369,200 in medical malpractice cases in 2022.  

,

2022
Industry Groups:
American Association For Justice
Jackson County Bar Association
Oregon Trial Lawyers Association
Southern Oregon Federal Bar Association
Selections
Super Lawyers: 2007, 2009 - 2023
Attorney resources for Kelly L. Andersen