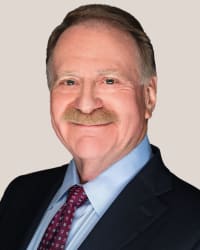 Gawthrop Greenwood, PC
Practice Areas: Real Estate, Business Litigation, Construction Litigation; view more
Licensed in Pennsylvania since: 1980
Education: Temple University Beasley School of Law

Selected to Super Lawyers: 2007 - 2023
Gawthrop Greenwood, PC
1273 Lancaster Avenue
Berwyn, PA 19312
Visit website
Details
With a national reputation only exceeded by his regional stature, Steven L. Sugarman is widely considered the premier practitioner of community association law in Pennsylvania.
Steve was the founding principal of the esteemed community association law firm, Steven L. Sugarman & Associates, and its merger with Gawthrop Greenwood in August 2023 created one of the largest law firms supporting homeowners associations (HOAs), planned communities, condominium associations and cooperatives in Pennsylvania. The merger ensures that Steve's clients benefit from an expanded array of services and legal disciplines that are of limited availability elsewhere.
A community association law attorney for more than 40 years, Steve has played a critical role in establishing statutory and decisional law governing Pennsylvania's common interest communities (CICs). As the chair and active member of the Community Association Institute's (CAI) Legislative Action Committee for many years, Steve drafted and advocated for key amendments to Pennsylvania's statutes as community associations have evolved into the fastest-growing form of housing. He also serves as an expert witness on community association matters brought before Pennsylvania's courts and General Assembly.
A member of the prestigious College of Community Association Lawyers since 2000 and a past president of CAI's regional chapter, Steve is an adjunct professor at the Villanova University Charles Widger School of Law, where he developed and teaches one of the few law school courses nationwide on Condominium and Homeowner Association Law. He has been awarded Martindale Hubbell's highest AV Preeminent peer review rating and has been featured as a Pennsylvania "Super Lawyer" every year since 2007.
Steve's writings include, "Setting the Standard of Care in Premises Liability Cases," published in CAI's Journal of Community Association Law. A frequent lecturer at the local and national levels on real estate and community association matters, Steve has presented numerous programs for the Pennsylvania Bar Institute, CAI, National Business Institute, National Constitution Center and other educational organizations. Programs include:
Assessing the Law of Assessments in Condominium and Homeowner Associations
From the Developer to the Association: Tackling the Transition in the Community Association
How the Uniform Planned Community Act Really Works
Dealing with Developers' Liabilities in Condominium and Homeowner Associations
New Issues in Condominium and Homeowner Associations: Conflicts and the Courts
Condos & HOAs from A to Z: Understanding the Basics
Condominium and Homeowner Associations: Lessons on Liabilities, Liens and Litigation
Steve has been involved in a number of landmark legal decisions, including:
Eagleview Corporate Center Association v. Citadel Federal Credit Union, 243 A.3d 764 (Pa. Cmwlth. 2020) (a declaration's restrictive covenant relating to rooftop mechanicals must be clear and free from doubt to support a mandatory injunction).
M4 Holdings v. Lake Harmony Estates Property Owners Association, 277 A.3d 1208 (Pa. Cmwlth. 2020) (holding that a series of e-mail communications among board members did not constitute a valid board meeting).
Tivoli Condominium Association v. Rodin Parking Partners, LP, 109 A.3d 344 (Pa. Cmwlth. 2015) (declarant's creation of a garage unit to be established with unassigned parking spaces following the sales of units did not violate the provisions of the UCA).
MetroClub Condominium Association v. 201-59 North Eighth Street Associates, L.P., 47 A.3d 137 (Pa. Super. 2012) (challenging the right of a declarant to control parking spaces following the termination of the period of Declarant control of the association).
Andrea Kantor v. Wrenfield Homeowners Association, Inc., 2008 WL 9398989 (Pa. Cmwlth. 2008) (association was vested with the authority to convey a portion of its common areas upon the requisite approval of the homeowners under the governing declaration).
Wrenfield Homeowners Association, Inc. v. DeYoung, 600 A.2d 960 (Pa. Super. 1991) (attorneys' fees are fully recoverable as "costs of collection" against a delinquent owner).
Mayflower Square Condominium Association v. KMALM, Inc., 724 A.2d 389 (Pa. Cmwlth. 1999) (requiring unit owner to pay assessments under governing documents and general principles of property law).
Klein Real Estate v. Ridings at Brookside Condominium, 67 Pa. D.&C. 4th 384 (Lehigh Co. 2004) (a condominium association's publication to its members is not defamatory since the association has a "conditional privilege" to communicate with its members).
Practice areas
Real Estate: Business, Business Litigation, Construction Litigation: Business, Land Use/Zoning
Focus areas
Condominiums & Cooperatives, Construction Defects
First Admitted: 1980, Pennsylvania
Professional Webpage: https://gawthrop.com/lawyers/steven-sugarman/
Educational Background:
Cornell University, B.A., 1976
Verdicts/Settlements:
Klein Real Estate v. Ridings at Brookside Condominium, 67 Pa. D.&C. 4th 384, Lehigh Co. 2004 (a condominium association's publication to its members is not defamatory since the association has a "conditional privilege" to communicate with its members)

Mayflower Square Condominium Association v. KMALM, Inc., 724 A.2d 389, Pa. Cmwlth. 1999 (requiring unit owner to pay assessments under governing documents and general principles of property law)

Wrenfield Homeowners Association, Inc. v. DeYoung, 600 A.2d 960, Pa. Super. 1991 (attorneys' fees are fully recoverable as "costs of collection" against a delinquent owner)

Metroclub Condominium Association v. 201-59 North Eighth Street Associates, L.P., 47 A.3d 137, Pa. Super. 2012 (challenging the right of a declarant to control parking spaces following the termination of the period of Declarant control of the association)
Bar/Professional Activity:
U.S. Federal Court,1981

Inducted, College of Community Association Lawyers, October, 2000

Past President, Pennsylvania and Delaware Valley Chapter, Community Associations Institute

Member, Pennsylvania Bar Association

Member, Pennsylvania Association for Justice

U.S. Supreme Court,1988

Member, Amicus Curiae Committee, College of Community Association Lawyers, 2010 - Present

Member, American Bar Association

Adjunct Faculty Member, Villanova Law School, 2010 - Present

Pennsylvania, 1980

Member, Nominating Committee, College of Community Association Lawyers, 2007 - 2010

Past and Current Chairman, CAI's Pennsylvania Legislative Action Committee, Community Associations Institute

Member, American Association for Justice

Member, Chester County Bar Association
Honors/Awards:
Community Association Institute's Robert H. Wise President's Award, 2004

AV Preeminent Rating – Martindale-Hubbell

Influential Philadelphia Area Lawyers, Philadelphia Magazine, Nov. 2009
Scholarly Lectures/Writings:
Mr. Sugarman will co-present on the program entitled "Annual Condo/HOA Case Law and Legislative Update." This presentation will be held virtually through the Pennsylvania Bar Association's Real Estate Institute. The program will cover the most recent cases handed down by our Appellate Courts and legislation pending or adopted by our Legislature in 2020 which directly impact all condominiums and planned communities throughout Pennsylvania.

,

Co-Presenter

,

Virtual Real Estate Institute

,

Pennsylvania Bar Institute

,

2020

Mr. Sugarman will present on the program entitled "Collapse of the Condo: Understanding the Rights, Responsibilities and Remedies of the Condominium and Homeowners Association." The tragic collapse of Champlain Tower South in Surfside, Florida last year has triggered a host of significant legal issues for lawyers, board members, managers and others involved in the community association arena. In this timely and interactive course, Mr. Sugarman and other presenters will address the various rights, responsibilities and remedies of the condominium and homeowner association with respect to conditions of the common facilities and building structures and offer important insight into the current "best practices" to avoid the occurrence of, or liabilities associated with, any collapse of the condo or HOA.

,

Presenter

,

CAI's High Rise Condominium

,

Community Association Institute

,

2023

Mr. Sugarman will be co-presenting at the upcoming Real Estate Institute the CLE course that has become an annual program entitled, "Condo/HOA Case Law and Legislative Update." In this interactive session, Mr. Sugarman will review the significant decisions recently handed down by our appellate courts and explore the myriad of new bills currently being considered by our Legislature that may impact the community association arena. A "must" program for attorneys representing developers, associations, title companies, municipalities and buyers and sellers of units within a common interest ownership regime.

,

Co-Presenter

,

Virtual Real Estate Institute 2022

,

Pennsylvania Bar Institute

,

2022

Mr. Sugarman is the course planner for and one of the faculty members presenting the program entitled, "Collapse of the Condo: Understanding the Rights, Responsibilities and Remedies of the Condominium and Homeowner Association," offered by the Pennsylvania Bar Institute ("PBI") in a live webcast format on October 18, 2022. PBI describes the program as follows: "The tragic collapse of Champlain Tower South in Surfside, Florida last year has triggered a host of significant legal issues for the practitioner in the field of community association law. In this timely and interactive course, our experienced faculty will address the various rights, responsibilities and remedies of the condominium and homeowner association with respect to conditions of the common facilities and building structures and offer important insight into the current "best practices" to avoid the occurrence of, or liabilities associated with, any collapse of the condo or HOA."

,

Co-Presenter

,

Collapse of the Condo: Understanding the Rights, Responsibilities and Remedies of the Condominium and Homeowner Association

,

Pennsylvania Bar Institute

,

2022

Mr. Sugarman will be a featured speaker at the ever-popular Case Law Update to be presented by the College of Community Association Lawyers (CCAL) at the Community Association Institute's Law Seminar to be held in-person and virtually in Palm Springs, California on February 9 through 12, 2022. Mr. Sugarman will be sharing his insights and perspectives on the important cases decided by our courts throughout the country in 2021 that have impacted the community association industry. Mr. Sugarman has been a member of the prestigious College of Community Association Lawyers since 2000 and serves as an adjunct faculty member at the Villanova University Charles Widger School of Law where he developed and teaches the course, "Condominium and Homeowner Association Law."

,

Featured Speaker

,

College of Community Association Lawyers - 2022 Law Seminar

,

Community Associations Institute

,

2022

Mr. Sugarman will, once again, co-present the annual program at this year's Real Estate Institute entitled "Annual Condo/HOA Case Law and Legislative Update."  In this interactive session, Mr. Sugarman will review the significant decisions recently handed down by our appellate courts and explore the myriad of new bills currently being considered by our Legislature that may impact the community association arena. A "must" program for attorneys representing developers, associations, title companies, municipalities and buyers and sellers of units within a common interest ownership regime.

,

Co-Presenter

,

Virtual Real Estate Institute

,

Pennsylvania Bar Institute

,

2021

Mr. Sugarman will be a featured speaker at CAI's Spring Managers Symposium and present the program entitled, "Managing the Spread of Sounds, Smoke and Smells in the Community Association." A description of the program follows: The transmission of noise, smoke (including marijuana smoke) and food and chemical odors between units and in common areas is becoming an increasingly big problem in our condominiums and planned communities today. In this timely and fast-paced interactive program, you will learn some of the evolving statutory and decisional laws on this subject, while at the same time, gain some practical and creative insight into effectively managing the spread of, and liabilities for, these serious and difficult issues in your communities.

,

Featured Speaker

,

Spring Managers Symposium

,

Community Associations Institute

,

2021

Mr. Sugarman will be a featured speaker at CAI's 42nd Annual Community Association Law Seminar to held virtually this year due to the pandemic. Mr. Sugarman will be co-presenting at the ever-popular Case Law Update on January 26th and will be sharing his insights and perspectives on the important cases decided by our courts throughout the country in 2020 that have impacted the community association industry. Mr. Sugarman has been a member of the prestigious College of Community Association Lawyers since 2000 and serves as an adjunct faculty member at the Villanova University Charles Widger School of Law where he developed and teaches the course, "Condominium and Homeowner Association Law."

,

Featured Speaker

,

College of Community Association Lawyers - 42nd Annual Community Association Law Seminar

,

Community Associations Insitute

,

2021

On April 8, 2019, Mr. Sugarman appeared before the House Urban Affairs Committee at the Capitol in Harrisburg, Pennsylvania for an informational meeting and presentation on community associations in the Commonwealth of Pennsylvania. The program was part of the on-going efforts of the Pennsylvania Legislative Action Committee of the Community Associations Institute (CAI) to educate and inform our lawmakers on the structure and role of community associations in today's real estate marketplace. Mr. Sugarman chairs the Legislative Action Committee of CAI and actively participates in the drafting and negotiating of amendments to the statutes governing condominiums, planned communities and cooperatives in Pennsylvania.

,

Speaker/Presenter

,

The General Assembly of Pennsylvania Informational Meeting

,

House Urban Affairs Committee

,

2019

Mr. Sugarman will present on the program entitled "Resales of Existing Homes and the Buyer's Rights of Rescission."

,

Presenter

,

Buying and Selling in Condomoiniums and Homeowners Associations

,

Pennsylvania Bar Institute

,

2020

Mr. Sugarman will co-presented during the Pennsylvania Bar Association's Midyear Meeting on the program entitled "Buying & Living in an Age-Restricted Community Association." This interactive program explored the unique legal issues involved in buying, living in and selling homes in an "over 55" common interest ownership regime.

,

Co-Presenter

,

2020 Midyear Meeting-Buying & Living in an Age-Restricted Community Association

,

Pennsylvania Bar Institute

,

2020

Mr. Sugarman presented on the program entitled "Case Law and Legislative Update." In-depth analysis of the latest court cases and statutory amendments impacting condominiums and homeowners associations.

,

Presenter

,

Condominium and Homeowners Association Law - Emerging Trends and Hot Topics - Case Law and Legislative Update

,

Pennsylvania Bar Institute

,

2019

Mr. Sugarman was a featured speaker at two programs during this 40th Annual Community Association Law Seminar. Mr. Sugarman's first program focused on the basics of community association law and was designed for young lawyers. In the second program, Mr. Sugarman shared his years of experience and insight in the field of community association law as a member of the esteemed "Panel of Pundits." Mr. Sugarman has been a member of the prestigious College of Community Association Lawyers since 2000.

,

Co-Presenter

,

College of Community Association Lawyers - 40th Annual Community Association Law Seminar

,

Community Associations Institute

,

2019

Managers Spring Symposium  

,

Co-Presenter

,

You Said What on the Web? Avoiding Liability in the Age of Social Media

,

Community Associations Institute

,

2019

Condominium and Homeowners Association Law - Emerging Trends and Hot Topics - "Case Law and Legislative Update"

College of Community Association Lawyers -40th Annual Community Association Law Seminar - Basics of Community Association Law and Panel of Pundits.

Managers Spring Symposium - Co-Presenter on "You Said What on the Web" Avoiding Liability in the Age of Social Media.

Annual Condo/HOA Case Law and Legislative Update.

Full explanation of the various provisions of the new law, known as Act 17 of 2018, and how it may affect your community association.

Social Media

"Sticks and Stones: Dealing with Defamation in the Community Association," Community Associations Institute's Annual Law Seminar

Transitioning from Developer to Homeowner Control of the Association.

How Community Associations Work from the Perspective of a Community Association Attorney and Staying on Top of the Issues in the Over-55 Community Associations.

"Handling Serious Delinquencies in the Community Association," Community Associations Institute 

"Collections and Foreclosures: Staying on Top in a Down Economy," Pennsylvania Bar Institute

"Legal Aspects of Condominium Development and Homeowners' Associations," National Business Institute

"Homeowner Associations and Condominium Law: The Essentials," National Constitution Center

"The Ins and Outs of 'Over 55' Housing in Community Association," Pennsylvania Bar Institute

"Havoc in the Homeowners Association: Dealing with Failed Developments in a Down Economy," Lancaster County Bar Association

"Condos and the Courts: The Latest Cases and Trends in Community Associations Today," Pennsylvania Bar Institute

"Getting Resales Right in the Condominium and Homeowner Association," Suburban West Realtors Association

"Buying and Selling Homes in Condominiums and Planned Communities," Pennsylvania Bar Institute

"Buying and SElling Homes in Condominiums and Planned Communities" Pennsylvania Bar Institute

"Yesterday's Failed Real Estate Development" Reborn - Advice for the Unwary" and "Condos and HOAs101: Conquering the Common Myths and Misconeptions", Pennsylvania Bar Institute

"Buying and Selling Within Condominiums and Planned Communities", Suburban West Realtors Association

"Hot Topices and Trends in Condominiums and Homeowner Association", Pennsylvania Bar Institute

"Hot Off the Presses: Update on HOA & Condo Law", Pennsylvania Bar Institute

"Hot off the Presses: Update on HOA & Condo Law", Pennsylvania Bar Institute

"Annual Community Association Law Update: Formation, Governance & Living", Pennsylvania Bar Institute

"How Community Associations Work from the Perspective of a Community Association Attorney.", Community Association Institute
"Staying on Top of the Issues In the Over-55 Community Associations", Community Association Institute

"Transitioning from Developer to Homeowner Control of the Association", Pennsylvania Bar Institute

"Recent Cases Dealing with Condominiums and Homeowners Associations", Delaware County Bar Association

"From the Developer to the Association: Tackling the Transition in the Community Association", Pennsylvania Bar Institute

"How the Uniform Planned Community Act Really Works", Pennsylvania Bar Institute

"New Issues in Condominium and Homeowner Associations: Conflicts and the Courts", Pennsylvania Bar Institute

"Assessing the Law of Assessments in Condominium and Homeowner Associations", Pennsylvania Bar Institute

Published Article: Setting the Standard of Care in Premises Liability Cases, published in CAI's Journal of Community Association Law

"Condos & HOAs from A to Z: Understanding the Basics", Pennsylvania Bar Institute

"Condominium and Homeowners Associations: Lessons on Liability, Liens & Litigation", Pennsylvania Bar Institute

"Dealing with Developer's Liabilities in Condominium and Homeowner Associations," Pennsylvania Bar Institute.

"Legally Green: Reconciling Restrictive Covenants with Eco-Friendly Practices in the Community Association."  Pennsylvania Bar Institute and Community Asociations Institute

"Active Adult Housing - the Good, the Bad and the Unbelieveable", Pennsylvania Bar Institute
Industry Groups:
Community Associations Institute
Office location for Steven L. Sugarman
1273 Lancaster Avenue
Berwyn, PA 19312
Phone: 610-889-0700
Selections
Super Lawyers: 2007 - 2023
Additional sources of information about Steven L. Sugarman
Attorney resources for Steven L. Sugarman