Daniel Patrick Lynch
Top rated Business Litigation attorney in Cranberry Township, Pennsylvania
The Lynch Law Group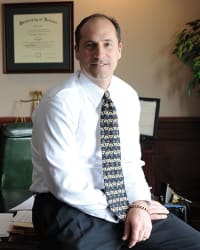 The Lynch Law Group
Practice Areas: Business Litigation, Business & Corporate, Mergers & Acquisitions; view more
Licensed in Pennsylvania since: 1993
Education: University of Detroit Mercy School of Law

Selected to Super Lawyers: 2020 - 2023
The Lynch Law Group
501 Smith Drive
Suite 3
Cranberry Township, PA 16066
Visit website
Details
The founder of The Lynch Law Group, LLC, Daniel Patrick Lynch focuses his practice on complex business litigation and transactions from the firm's offices in Cranberry Township, Pennsylvania. He majored in theoretical mathematics at Saint Vincent College in Latrobe, Pennsylvania, graduating in 1989 with a Bachelor of Arts cum laude. Mr. Lynch then enrolled at the University of Detroit Mercy School of Law, and he served on the University of Detroit Mercy Law Review, rising to the level of executive editor, before receiving his Juris Doctor cum laude in 1992.
After graduation, Mr. Lynch clerked for judges on the Michigan Supreme Court and the U.S. Court of Appeals for the 3rd Circuit before joining a Pittsburgh-based international law firm, where he worked on complex civil litigation. He then was in private industry before founding his firm in January 2002. Mr. Lynch is admitted to practice in Pennsylvania and Michigan as well as before the U.S. Court of Appeals for the 3rd Circuit.
In his courtroom appearances at both the trial and appellate levels, Mr. Lynch has handled a variety of matters for clients throughout the greater Pittsburgh metropolitan area. His work in this regard has encompassed securities litigation, labor and employment law, shareholder disputes, contract breaches, intellectual property, unfair trade practices, and trade secrets misappropriation, among other issues. Mr. Lynch also regularly provides advice and counsel to company clients on regulatory compliance, hiring and termination practices, and litigation risk avoidance.
Mr. Lynch has a transactional practice as well that includes business formation along with mergers and acquisitions. Highly regarded by his peers, he has been selected for inclusion in The Best Lawyers in America. Mr. Lynch is an active participant in several professional and civic organizations.
Practice areas
Business Litigation, Business/Corporate, Mergers & Acquisitions, Securities Litigation, Employment Litigation: Defense, Government Contracts
Focus areas
Business Formation and Planning, Business Organizations, Contracts, Employment Law - Employer, Limited Liability Companies, Non-Compete Agreements, Partnership, Sub-chapter S Corporations
20% Business Litigation

20% Business/Corporate

20% Mergers & Acquisitions

20% Securities Litigation

10% Employment Litigation: Defense

10% Government Contracts
First Admitted: 1992, Michigan
Professional Webpage: http://www.lynchlaw-group.com/attorney/daniel-p-lynch/
Pro bono/Community Service:
Fort McIntosh Club, 2013-2015

Saint Kilian Parish School, Education Improvement Tax Credit (EITC) Program, Director

Butler County Bar Association - Wills for Heroes - Donate time to prepare documents for the Wills for Heroes programs, which provides essential legal documents free of charge to our nation's first responders, including wills, living wills, and powers of attorney. By helping first responders plan now, they are ensured that their family's legal affairs are in order in the case that a tragedy occurs

,

2019

BCBA Foundation, President, 2020

Cardinal Wuerl North Catholic High School, Parent Communication Committee Chair

,

2015

Saint Kilian Parish School, Middle School Soccer Coach

,

2015

Riverside Area Soccer League, Youth Soccer Coach

,

2015

Saint Kilian Parish School, EITC Coordinator

,

2015

Cranberry Township Athletic Association, Youth Baseball Coach

,

2013

Legal Aid for Children, Director  - Non-profit corporation providing legal services to Allegheny County's poor and neglected children

,

1999
Bar/Professional Activity:
Pennsylvania Venture Capital Association, 2016 - 2018

Disciplinary Board of the Supreme Court of Pennsylvania as a member of the Hearing Committee (three-year term 2019-2022)

Allegheny County Bar Association

Pennsylvania Bar Association

Butler County Bar Association, President

,

2020

PA Supreme Court Disciplinary Board, Hearing Committee Member

,

2019

Butler County Bar Association, Vice President, 2018 - 2019

Butler County Bar Association, Member

,

2017

Butler County Bar Association, Chair of Electronic Filing Committee

,

2011

Allegheny County Bar Association, Appellate Practice Committee

,

2000

Allegheny County Bar Association, Vice Chair

,

2000

Federal Bar Association Western Pennsylvania Chapter, Member of Steering Committee

,

2000

Federal Bar Association Western Pennsylvania Chapter, Second Vice President

,

2000

Federal Bar Association Western Pennsylvania Chapter, Third Vice President

,

1999

Allegheny County Bar Association, Chair of Program Subcommittee

,

1997

Federal Bar Association Western Pennsylvania Chapter, Chair of Young Lawyers Division

,

1997

Federal Bar Association Western Pennsylvania Chapter, National Delegate

,

1997

Pennsylvania Bar Association, Intellectual Property Committee - Chair of By-Laws Subcommittee

,

1998

United States District Court for the Western District of Pennsylvania

,

1994

United States Court of Appeals for the Third Circuit

,

1994

Supreme Court of Pennsylvania

,

1993

Michigan

,

1992
Representative Clients:
International Consultants – Buy/Sell Agreement. This client operates a successful consulting practice with clients all over the world. As befits their profession, the client's principals are thoughtful, intelligent and extremely comfortable with deep analysis of numerous potential business and life scenarios. In connection with bringing a former founder of the client back as an equity owner, the partners entered into a complex and incredibly detailed buy/sell agreement.

Chiropractic Practice Expansion. This client, a professional corporation, operates a thriving chiropractic practice. In the course of our representation of this client, we have helped with the admission of a new partner and potential successor in interest to the majority owner; negotiated prepared and implemented revised bylaws, shareholders' agreement and employment agreements; and handled the creation of an affiliated entity under which the practice added a medical doctor, enabling it to provide a far greater and comprehensive range of services to its patients

Purified Drinking Water Bottling Company - Buy. We represented this client in its acquisition and subsequent operation of a purified drinking water bottling facility. The transaction involved the purchase by one of Buyer's entities of the assets of the bottling business and of the real estate on which the bottling facility was built by another Buyer entity. The acquisition was also financed by a bank creating a separate financing transaction to go along with the other two transactions.

Car-Wash Businesses – Buy and Sale. We represented a Pennsylvania-based business whose customers owned or leased a building out of which they desired to operate a car wash. This client designed and created the specifications for the complete wash line, acquired and installed the equipment, acquired and stocked supplies and otherwise did all that was necessary to offer its customers a turn-key car wash facility. Thereafter, this client provided service and supplies to its customers. During the course of our representation, this client acquired other, similar businesses in two other states. Subsequently, we represented this business in its sale to a private equity firm.

Engineering Company – Business Succession. This client's founding shareholders had reached retirement age and sought a plan of succession that would transfer ownership of the client to its next generation of managers. We devised a plan under which this next generation acquired a relatively small number of shares of stock from the founding shareholders. At the same time, the founding shareholders agreed to have their shares redeemed by the client periodically over the next several years. At the conclusion of this series of redemptions, the founding shareholders will no longer own any shares and the next generation's shareholdings will constitute ownership of all of the issued and outstanding shares of the client.

Hospital Supplies Distribution Business – Sale. We represented the sellers of a distribution business for medical supplies based in southwestern Pennsylvania with facilities in other states to a national, strategic buyer. We have been fortunate enough tore present the sellers in the acquisition of additional businesses and continue to provide general counsel services to these individuals.

Seller and Buyer Side Asset and Stock Sales. We have represented numerous companies in purchases and sales of businesses in both stock and asset forms and on both buyer and seller sides. Recently, we represented the sellers of a family-owned business in which the matriarch of the family oversaw the management and operation of the business by her son and daughter. When the son developed an innovative and powerful technology related to, but outside of the company's core competencies, it became an attractive target for a strategic purchaser. In addition to our usual and customary roles of the seller's counsel in this transaction, we took considerable additional time to manage the process to the seller's expectation, allaying their concerns and anxiety about managing the transaction and completing it successfully.

Third Generation, Family-Owned Wholesaler – Out of Business. This client purchased convenience store products in quantity from its suppliers and resold these products to individual convenience stores. The creation of larger and larger franchised convenience stores and larger suppliers crowded out independent wholesalers like this client. We counseled this client through a myriad of commercial legal problems arising from the slow, drawn out, but inevitable contraction and ultimate closure of its business.

Intra-Family Plan of Succession of Trade Company. We assisted a family-owned client operating a plumbing business with the adoption of a plan of succession that involved the transfer of ownership from the majority-owning father to his son. We participated and facilitated constructive negotiation and resolution of difficult and delicate issues relating to valuation of the business and terms of payment for the father's controlling shares. We prepared a declaration of revocable trusts for the father, into which he placed his shares of stock in the company. Under this instrument, upon his death, his son would have the option of acquiring the shares. Because the father also wished to give his son the opportunity to purchase his shares at a negotiated price upon is retirement, we prepared a conditional stock purchase agreement for this purpose. Under this agreement, if the father lives to his retirement, he must revoke his contribution of his shares to the trust and sell them to his son at the price and upon the terms in the agreement.

Biotech Company Recapitalization.  This development-stage client required a capital infusion in order to pursue its business plan for expansion.  However, its capital structure was overly complicated as the result of prior financings and grants of equity to managers and scientists, some of whom were no longer with the company.  In order to bring in new capital from private equity investors, the client underwent a recapitalization in connection with which several series of preferred stock and convertible debt were exchanged for newly created series of preferred stock, greatly simplifying the capital structure. Following this recapitalization, the client obtained new financing and has pursued its business plan successfully since that time, with its new, simplified capital structure.
Educational Background:
Richmond College, London, England, International Studies Program

,

1988

Saint Vincent College, Latrobe, PA, B.A. in Mathematics; Minor: Philosophy, Graduated with Honors

,

1989
Videos:
Dan Lynch, Managing Partner at The Lynch Law Group and author of Building A Million Dollar Book Of Business, Principles and Behaviors For A Successful Law Practice, speaks about business development in Pittsburgh on August 22, 2019

,

It's About the Climb

,

Professional Service Industry

,

2019

In his first book, Building a Million Dollar Book of Business, Principles and Behaviors for A Successful Law Practice, Dan Lynch details the focused and disciplined approach he has applied in growing his law practice over the last 24 years. In this presentation, for the Washington County Bar Association, Dan discusses ethical considerations for lawyers when building a book of business

,

Building a Million Dollar Book of Business - Ethical Rainmaking

,

Legal, Insurance, Financial, Accounting And Other Professional Services

,

2019

Daniel Lynch, Founder and Managing Partner of The Lynch Law Group, discusses his career as a lawyer and business owner

,

Daniel P. Lynch Video Bio

,

2019
Scholarly Lectures/Writings:
Building an above average book of business requires discipline and dedication to performing specific behaviors that are time-tested and proven to result in gaining and retaining clients, while maintaining the highest level of ethical standards. In this program, Dan Lynch discusses the strategies and principles that he has employed to build a successful law practice and how the PA Rules of Professional Conduct apply to specific business development situations and activities

,

Instructor

,

Building a Million Dollar Book of Business - Ethical Rainmaking (CLE)

,

Washington County Bar Association

,

Legal

,

2019

A common estate planning strategy for married couples involves the creation of a joint revocable trust. However, creating a separate revocable trust for each spouse can often bring substantial tax benefits. Perhaps the most significant is the availability of a complete step-up in tax basis for the assets allocated to the trust of the first spouse to pass away. This article explains the tax benefits of this estate planning strategy

,

Co-Author

,

Benefits of Seperate Revocable Trusts for Married Couples

,

The Lynch Law Group Legal News

,

2020

Recent Legal Trends Facing Long-Term Care and Nursing Home Facilities: Whistle Blower Law, Financial Exploitation of Seniors, Emerging Regulatory Issues Part 1: Recent Litigation Pertaining to Long-term Care and Nursing Homes. This section will use real and current cases to highlight and discuss recent trends in litigation specifically related to Employment issues relative to the Whistleblower Protection Act Mandatory arbitration clauses relative to admission contracts The Influenza Awareness Act At the completion of part 1 of the program, the attendees will Have a general understanding of the difference between "waste" vs. "wrongdoing" under the Whistleblower Protection Act, and which standard applies to certain types of nursing homes and long-term care facilities; Be aware of several types of allegations of wrongful termination by employees that will survive a motion to dismiss by a court; Have a general understanding of why courts are hesitant to uphold mandatory arbitration clauses in patient admission contracts when signed under a power of attorney; Understand required notices to be posted in public areas regarding influenza. Part 2: Financial Predators and the Elderly. This section will explore issues surrounding financial exploitation and fraud by lawyers and other predators. We will cover Understanding House Bill 1124 Common types of financial exploitation Understanding conflicts of interest, powers of attorney and rules of ethics for lawyers Legal and ethical obligations/considerations of administrators At the completion of part 2 of the program, the attendees will Understand the provisions of House Bill 1124 and its implications Understand the most common methods of financial exploitation and identify signs of occurrence Understand the nature of the attorney - client relationship and the rules of ethics that apply Understand what action could or should be taken if financial fraud of a resident is suspected Part 3: Current Issues in Long-term Care Facility Regulations and Compliance. This section will explore hot and emerging issues related to government regulations on LTC facilities and trends in enforcement, including Historical data on LTC facility citations QAPI program developments as part of the Affordable Care Act Case studies of recent False Claims Act prosecutions At the completion of part 3 of the program, the attendees will be able to Identify the operational issues that most frequently lead to citations by regulators Identify the 5 elements of a QAPI program under the ACA Identify at least one recent prosecution of a LTC facility for False Claims Act violations and state at least one basis for that prosecution

,

Instructor

,

Recent Legal Trends Facing Long-Term Care and Nursing Home Facilities

,

St. Barnabas Health System - Healthcare Executive Institute

,

Long-term Care Facilities, Healthcare, Nursing Homes

,

2018

In his first book, Building a Million Dollar Book of Business, Principles and Behaviors for a Successful Law Practice, Dan shares his philosophy and strategies for developing a thriving law practice. The book serves as a primer, for anyone in the service industries, on how to network successfully to develop business. What higher education does not teach to Doctors, Lawyers, Accountants, etc, Dan Lynch does in just 138 pages,

Author

,

Building a Million Dollar Book of Business - Principles and Behaviors for a Successful Law Practice

,

Publisher: inCredible Messages Press

,

Legal And Other Professional Services

,

2018

CMU Connects Workshop: Carnegie Mellon University Swartz Center for Entrepreneurship; Overview of the differences between agreements associated with corporations and LLCs

,

Presenter

,

Buy-Sell Agreements and Non Disclosure Agreements

,

2017

Article

,

Author

,

3 Essential Steps to Business Succession Planning

,

The Lynch Law Group Legal News

,

2017

Author

,

False Light Plaintiff Must Have Expert Evidence for Emotional Distress Claim But May Seek Nominal Damages

,

LDRC, Libelletter

,

1999

Lawyers Cooperative Publishing

,

Author

,

Federal Appellate Procedure: 3rd Circuit, Chapters 2 and 12

,

1996

Pittsburgh Legal Journal, Daily Edition

,

Author

,

Third Circuit Mediation Program Approaches One Year

,

1996

18 PLW 385

,

Author

,

Oral Argument in the Third Circuit

,

1995

69 U. Det. Mercy L. Rev 55

,

Author

,

The Michigan Environmental Protection Act (MEPA): Establishing a Common Law Threshold of Harm for the Prima Facie Case

,

1991
Honors/Awards:
The Vistage Lifetime Achievement Award honors the achievements and ongoing commitment to learning and development of longstanding Vistage members. Dan has been a member of Vistage for more than 15 years

,

Vistage Lifetime Achievement Award Finalist

,

2020

,

Pennsylvania Super Lawyers (2020 and 2021)

,

Best Lawyers in America (2021)
Office location for Daniel Patrick Lynch
501 Smith Drive
Suite 3
Cranberry Township, PA 16066
Phone: 724-386-0389
Selections
Super Lawyers: 2020 - 2023
Additional sources of information about Daniel Patrick Lynch
Attorney resources for Daniel Patrick Lynch