Adam S. Getson
Top rated personal injury attorney in Philadelphia, Pennsylvania
Wapner Newman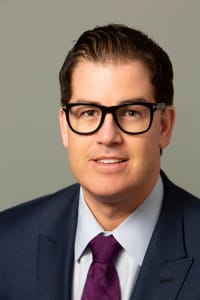 Wapner Newman
Practice Areas: Personal injury, Medical malpractice, Professional liability
Licensed in Pennsylvania since: 2003
Education: Widener University – Delaware Law School
Languages Spoken: English, Spanish

Selected to Super Lawyers: 2020 - 2023

Selected to Rising Stars: 2012 - 2018

Free Consultation
Wapner Newman
8 Penn Center
1628 JFK Blvd, Suite 800
Philadelphia, PA 19103
Phone: 215-569-0900
Email: Adam S. Getson Visit website
Details
Adam S. Getson, Esquire is a Partner at Wapner Newman.  Mr. Getson joined Wapner Newman as an Associate in April 2004 and has always focused his practice in plaintiffs' Civil Trial Litigation. Since 2003, Mr. Getson has successfully represented injured victims in a variety of accidents, including automobile crashes, transportation and trucking crashes, dog attacks, product malfunctions, slips/trips and falls, medical malpractice, professional malpractice, elevator accidents, negligent security and dram shop claims, construction site accidents, nursing home abuse and neglect, construction site accidents, and other personal injury matters.  He has successfully litigated hundreds of cases in counties throughout Pennsylvania, New Jersey, and Delaware. In addition to advocating for his clients at Wapner Newman, Mr. Getson and is a certified Arbitrator for the Philadelphia Court of Common Pleas and is an Arbitrator in private alternative dispute resolutions.   He can also be found lecturing on his areas of expertise at Continuing Legal Education Seminars.  The basis of Mr. Getson's success is a combination of the personal attention, dedication, and loyalty that he pays to his clients with his love of his job.
First Admitted: 2003, Pennsylvania
Professional Webpage: https://www.wapnernewman.com/our-team/adam-getson/
Verdicts/Settlements:
Mr. Getson successfully argued that the plaintiff was eligible for benefits from the Pennsylvania Financial Responsibility Assigned Claims Plan.  The jury awarded the plaintiff an excess verdict in damages.  
Educational Background:
Juris Doctor from Widener School of Law.    

,

2003

Bachelor of Arts from the University of Pittsburgh. 

,

2000

Study of International Law at Australia's University of Technology Sydney Law School.

,

2002

Certificate from Widener School of Law's Intensive Trial Advocacy Program.

,

2002
Pro bono/Community Service:
Lectured on behalf of the Bethlehem Baptist Church regarding Legal Ethics.

,

2009

Lectured at Kinsey Elementary School regarding the practice of law in Pennsylvania.

,

2009

Started the Sister Mary Food Pantry and Clothing Room Charity.  http://www.philly.com/philly/blogs/what_happened/The_Catholic_Nun_and_the_Jewish_Lawyer_Perfect_Together_.html

,

2009

Successful representation of a defendant that qualified for free legal assistance to lift a TRO in New Jersey.

,

2010

Volunteer Site Captain for Greater Philadelphia Cares.

,

2005
Scholarly Lectures/Writings:
Special Licenses/Certifications:
Admitted to serve as an Arbitrator for the Philadelphia Court of Common Pleas.

,

2019

Admitted to practice in the United States District Courts for the Eastern District of Pennsylvania.

,

2004

Admitted to practice in the United States District Courts for the District of New Jersey.

,

2004
Honors/Awards:
The National Lawyers: Top 100, The National Trial Lawyers - is an invitation-only organization composed of the premier trial lawyers from each state in the nation who meet stringent qualifications as civil plaintiff and/or criminal defense trial lawyers. Selection is based on a thorough multi-phase process which includes peer nominations combined with third-party research. Membership is extended solely to the select few of the most qualified attorneys from each state who demonstrate superior qualifications of leadership, reputation, influence, stature and public profile.

,

The National Lawyers: Top 100

,

The National Trial Lawyers

,

2020

,

Martindale-Hubbell rating "AV Preeminent"

,

Martindale-Hubbell

,

2021

,

The National Lawyers: Top 100

,

The National Trial Lawyers

,

2021

Honored by Martindale-Hubbell as being rated "AV Preeminent", Martindale-Hubbell's highest rating, for ethical standards and legal ability. The Martindale-Hubbell Peer Review analysis is based upon peer reviews from attorneys and the Judiciary. , Rated "AV Preeminent", Martindale-Hubbell

,

Martindale-Hubbell rating "AV Preeminent"

,

Martindale-Hubbell

,

2020

The National Lawyers: Top 100, The National Trial Lawyers - is an invitation-only organization composed of the premier trial lawyers from each state in the nation who meet stringent qualifications as civil plaintiff and/or criminal defense trial lawyers. Selection is based on a thorough multi-phase process which includes peer nominations combined with third-party research. Membership is extended solely to the select few of the most qualified attorneys from each state who demonstrate superior qualifications of leadership, reputation, influence, stature and public profile.

,

The National Lawyers: Top 100

,

The National Trial Lawyers

,

2019

Pennsylvania's Best Lawyers published in the Philadelphia Inquirer, Central Penn Business Journal, Pittsburgh Post-Gazette, and the Wall Street Journal.

,

27th Edition of The Best Lawyers in America

,

The Best Lawyers in America

,

2020

Pennsylvania's Best Lawyers published in the Philadelphia Inquirer, Central Penn Business Journal, Pittsburgh Post-Gazette, and the Wall Street Journal.

,

26th Edition of The Best Lawyers in America

,

The Best Lawyers in America

,

2019

Honored by Martindale-Hubbell as being rated "AV Preeminent", Martindale-Hubbell's highest rating, for ethical standards and legal ability. The Martindale-Hubbell Peer Review analysis is based upon peer reviews from attorneys and the Judiciary. , Rated "AV Preeminent", Martindale-Hubbell

,

Martindale-Hubbell rating "AV Preeminent"

,

Martindale-Hubbell

,

2021

Honored by Martindale-Hubbell as being rated "AV Preeminent", Martindale-Hubbell's highest rating, for ethical standards and legal ability. The Martindale-Hubbell Peer Review analysis is based upon peer reviews from attorneys and the Judiciary. , Rated "AV Preeminent", Martindale-Hubbell

,

Martindale-Hubbell rating "AV Preeminent"

,

Martindale-Hubbell

,

2018

Honored by Martindale-Hubbell as being rated "AV Preeminent", Martindale-Hubbell's highest rating, for ethical standards and legal ability. The Martindale-Hubbell Peer Review analysis is based upon peer reviews from attorneys and the Judiciary. , Rated "AV Preeminent", Martindale-Hubbell

,

Martindale-Hubbell rating "AV Preeminent"

,

Martindale-Hubbell

,

2019

Pennsylvania's Best Lawyers published in the Philadelphia Inquirer, Central Penn Business Journal, Pittsburgh Post-Gazette, and the Wall Street Journal.

,

25th Edition of The Best Lawyers in America

,

The Best Lawyers in America

,

2018

The National Lawyers: Top 100, The National Trial Lawyers - is an invitation-only organization composed of the premier trial lawyers from each state in the nation who meet stringent qualifications as civil plaintiff and/or criminal defense trial lawyers. Selection is based on a thorough multi-phase process which includes peer nominations combined with third-party research. Membership is extended solely to the select few of the most qualified attorneys from each state who demonstrate superior qualifications of leadership, reputation, influence, stature and public profile.

,

The National Trial Lawyers: Top 100

,

The National Trial Lawyers

,

2018

Rated 10 out of a possible 10.  The Avvo Rating was developed with input from hundreds of attorneys, thousands of consumers, and many other legal professionals who deeply understand the work attorneys do.  The Avvo Rating is intended to reflect the type of information people have identified as important when looking to hire an attorney.  The rating is calculated using a mathematical model, and all lawyers are evaluated on the same set of standards.  At Avvo, all lawyers are treated equally and attorneys can't pay Avvo to improve their ratings.  Ratings fall on a scale of 1 (Extreme Caution) to 10 (Superb), helping a consumer quickly assess a lawyer's background based on Avvo's rating., Superb 10 out of 10 ranking, AVVO

,

Avvo

,

awarding body/publisher

,

2018

Honored by Martindale-Hubbell as being rated "AV Preeminent", Martindale-Hubbell's highest rating, for ethical standards and legal ability. The Martindale-Hubbell Peer Review analysis is based upon peer reviews from attorneys and the Judiciary. 

,

Rated "AV Preeminent"

,

Martindale-Hubbell

,

2017

Recognized by the 24th Edition of The Best Lawyers in America.  The Best Lawyers in America was first published in 1983. The core mission of The Best Lawyers is to highlight the top legal talent in America.  The 24th Edition of The Best Lawyers in America highlights the top 5% of practicing attorneys in the US. The 24th Edition is based on more than 7.4 million evaluations and recognizes attorneys in 140 practice areas. ,

24th Edition of The Best Lawyers in America

,

The Best Lawyers in America

,

2017

The National Trial Lawyers: Top 100 is an invitation-only organization composed of the premier trial lawyers from each state in the nation who meet stringent qualifications as civil plaintiff and/or criminal defense trial lawyers. Selection is based on a thorough multi-phase process which includes peer nominations combined with third-party research. Membership is extended solely to the select few of the most qualified attorneys from each state who demonstrate superior qualifications of leadership, reputation, influence, stature and public profile.

,

The National Lawyers: Top 100

,

The National Trial Lawyers

,

2017

Rated 10 out of a possible 10.  The Avvo Rating was developed with input from hundreds of attorneys, thousands of consumers, and many other legal professionals who deeply understand the work attorneys do.  The Avvo Rating is intended to reflect the type of information people have identified as important when looking to hire an attorney.  The rating is calculated using a mathematical model, and all lawyers are evaluated on the same set of standards.  At Avvo, all lawyers are treated equally and attorneys can't pay Avvo to improve their ratings.  Ratings fall on a scale of 1 (Extreme Caution) to 10 (Superb), helping a consumer quickly assess a lawyer's background based on Avvo's rating.

,

Superb 10 out of 10 ranking

,

AVVO

,

2017

Honored by Martindale-Hubbell as being rated "AV Preeminent", Martindale-Hubbell's highest rating, for ethical standards and legal ability. The Martindale-Hubbell Peer Review analysis is based upon peer reviews from attorneys and the Judiciary. 

,

Rated "AV Preeminent"

,

Martindale-Hubbell

,

2016

The National Trial Lawyers: Top 100 is an invitation-only organization composed of the premier trial lawyers from each state in the nation who meet stringent qualifications as civil plaintiff and/or criminal defense trial lawyers. Selection is based on a thorough multi-phase process which includes peer nominations combined with third-party research. Membership is extended solely to the select few of the most qualified attorneys from each state who demonstrate superior qualifications of leadership, reputation, influence, stature and public profile.

,

The National Trial Lawyers: Top 100

,

The National Trial Lawyers

,

2016

Rated 10 out of a possible 10.  The Avvo Rating was developed with input from hundreds of attorneys, thousands of consumers, and many other legal professionals who deeply understand the work attorneys do.  The Avvo Rating is intended to reflect the type of information people have identified as important when looking to hire an attorney.  The rating is calculated using a mathematical model, and all lawyers are evaluated on the same set of standards.  At Avvo, all lawyers are treated equally and attorneys can't pay Avvo to improve their ratings.  Ratings fall on a scale of 1 (Extreme Caution) to 10 (Superb), helping a consumer quickly assess a lawyer's background based on Avvo's rating.

,

Rated superb with a 10 out of 10 ranking

,

AVVO

,

2016

The National Trial Lawyers: Top 100 is an invitation-only organization composed of the premier trial lawyers from each state in the nation who meet stringent qualifications as civil plaintiff and/or criminal defense trial lawyers. Selection is based on a thorough multi-phase process which includes peer nominations combined with third-party research. Membership is extended solely to the select few of the most qualified attorneys from each state who demonstrate superior qualifications of leadership, reputation, influence, stature and public profile.

,

The National Trial Lawyers: Top 100

,

The National Trial Lawyers

,

2015

Honored by Martindale-Hubbell as being rated "AV Preeminent", Martindale-Hubbell's highest rating, for ethical standards and legal ability. The Martindale-Hubbell Peer Review analysis is based upon peer reviews from attorneys and the Judiciary.

,

Rated "AV Preeminent"

,

Martindale-Hubbell

,

2015

As rated by Worldtoplist.com.

,

TOP 5 PERSONAL INJURY ATTORNEYS/LAWYER IN NEW JERSEY

,

Publisher

,

2015

The National Trial Lawyers: Top 100 is an invitation-only organization composed of the premier trial lawyers from each state in the nation who meet stringent qualifications as civil plaintiff and/or criminal defense trial lawyers. Selection is based on a thorough multi-phase process which includes peer nominations combined with third-party research. Membership is extended solely to the select few of the most qualified attorneys from each state who demonstrate superior qualifications of leadership, reputation, influence, stature and public profile.

,

The National Trial Lawyers Top 100

,

The National Trial Lawyers

,

2014

Honored by Martindale-Hubbell as being rated "AV Preeminent", Martindale-Hubbell's highest rating, for ethical standards and legal ability. The Martindale-Hubbell Peer Review analysis is based upon peer reviews from attorneys and the Judiciary. 

,

Rated "AV Preeminent"

,

Martindale-Hubbell

,

2014

Honored by Martindale-Hubbell as being rated "AV Preeminent", Martindale-Hubbell's highest rating, for ethical standards and legal ability. The Martindale-Hubbell Peer Review analysis is based upon peer reviews from attorneys and the Judiciary.

,

Rated "AV Preeminent"

,

Martindale-Hubbell

,

2013
Bar/Professional Activity:
National Bar Association

,

2020

Member of the Pennsylvania Bar Association.

,

2004

Member of Pennsylvania Association for Justice.

,

2004

Member of Philadelphia Trial Lawyers Association.

,

2004

Member of the Philadelphia Bar Association.

,

2019

Member of New Jersey Bar Association

,

2004

Member of the New Jersey Association for Justice.

,

2004

Member of the Burlington County (NJ) Bar Association.

,

2019

Member of American Association for Justice (formerly ATLA, the Association of Trial Lawyers of America).

,

2019

Admitted to practice law in Delaware Pro Hac Vice.

,

2009
Selections
Super Lawyers: 2020 - 2023
Rising Stars: 2012 - 2018
Additional sources of information about Adam S. Getson
Attorney resources for Adam S. Getson