Hope C. Lefeber
Top rated White Collar Crimes attorney in Philadelphia, Pennsylvania
Hope C. Lefeber, LLC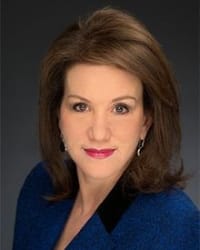 Hope C. Lefeber, LLC
Practice Areas: White Collar Crimes, Criminal Defense; view more
Licensed in Pennsylvania since: 1979
Education: Rutgers School of Law - Camden

Selected to Super Lawyers: 2014 - 2015, 2017 - 2018, 2021 - 2024
Hope C. Lefeber, LLC
Two Penn Center
1500 JFK Boulevard; Suite 1205
Philadelphia, PA 19102
Visit website
Details
Meet Hope Lefeber | Law Offices of Hope Lefeber
An aggressive federal white collar criminal defense attorney, Hope Lefeber represents clients in Philadelphia, Pennsylvania and New York City. She is admitted to practice in Pennsylvania and New York. For over thirty years, she has represented people charged with federal fraud, business, and corporate fraud, tax fraud, money laundering, mail and wire fraud, health care fraud, financial and securities fraud, internet crimes, drug crimes, conspiracy, and other white-collar crimes. She is well-known for her expertise in federal sentencing guidelines, issues involving the amount of loss, restitution and forfeiture, grand jury investigations and search and seizure.  She is a tireless advocate for her clients' rights.
Ms. Lefeber is admitted to practice before the Supreme Court of Pennsylvania, the Supreme Court of New York, the United States Court of Appeals for the Third Circuit, the United States District Court for the Eastern District of Pennsylvania, the United States Supreme Court, the United States Court of Appeals for the Seventh Circuit, the United States District Court for the Southern District of New York and Eastern District of New York and the United States District Court for the Middle District of Pennsylvania.
In 1976, Ms. Lefeber graduated magna cum laude from the University of Pennsylvania, with a Bachelor of Arts in Economics, then attended Rutgers Law School where she obtained her J.D. in 1979. She is currently a member of the Women's White Collar Defense Association, the Federal Bar Association Criminal Law Committee,  the National Association of Criminal Defense Lawyers and the , and she is listed in The National Trial Lawyers: Top 100.
During her career, Ms. Lefeber has been consulted as a legal resource for several TV news programs and legal articles. She has defended cases against the Internal Revenue Service, the Federal Bureau of Investigation, the Drug Enforcement Administration, the Environmental Protection Agency and the Office of the Inspector General of the Department of Health and Human Services and other federal agencies.
Practice areas
Criminal Defense: White Collar, Criminal Defense
Focus areas
Criminal Fraud, Criminal Law, Criminal Law - Federal, Tax Evasion, White Collar Crime
80% Criminal Defense: White Collar

20% Criminal Defense
First Admitted: 1979, Pennsylvania
Professional Webpage: https://www.hopelefeber.com/attorneys/hope-c-lefeber/
Bar/Professional Activity:
U.S. District Court Middle District of Pennsylvania

Supreme Court of New York - Admitted to the Bar of the State of New York  

Women's White Collar Defense Association - Member  

Co-Chair, United States District Court For the Eastern District of Pennsylvania, Historical Society, 2009

Pennsylvania Bar Association

Supreme Court of Pennsylvania

U.S. District Court Middle District of Pennsylvania, 2004

U.S. Supreme Court, 1985

National Association of Criminal Defense Lawyers ("NACDL")

Philadelphia Bar Association

U.S. District Court Southern District of New York, 2003

U.S. Court of Appeals 7th Circuit, 2003

Federal Bar Association, Criminal Law Committee

Supreme Court of Pennsylvania, 1979

U.S. Court of Appeals 3rd Circuit, 1979

U.S. District Court Eastern District of Pennsylvania
Honors/Awards:
Top 100 Trial Lawyers - National Trial Lawyers Top 10 Criminal Defense Attorneys in Pennsylvania; Ten Best Criminal Defense Lawyers for Client Satisfaction 2016 - American Institute of Criminal Law Attorneys; National Academy of Criminal Defense Attorneys; Global Who's Who of Women Professionals

,

National Academy of Criminal Defense Attorneys
Educational Background:
Rutgers, The State University of New Jersey School of Law, J.D. – Camden, New Jersey, 1979

University of Pennsylvania, B.A. Honors Economics, Magna Cum Laude – Philadelphia, Pennsylvania, 1976
Pro bono/Community Service:
Performing pro bono work for Philadelphia VIP, an organization servicing low income clients in need of legal representation.  

,

2020

Member of Federal Court Criminal Justice Act Panel
Scholarly Lectures/Writings:
Lecture addressing recent changes in the law regarding proof of actual loss and its practical implications in defending White Collar cases, following the Third Circuit's Banks decision. The Third Circuit's Banks decision jettisoning intended loss was a welcome application of earlier rulings giving Guidelines commentary a serious demotion.  Putting it to work for criminal defendants requires understanding where it came from, what else is in the crosshairs—and what may take it all away.  Practical examples of how to apply the principles enunciated by the Third Circuit in Banks in various areas of white collar law, such as securities fraud, identity theft, unlawful access of a computer, counterfeit and trademark infringement, mail and wire fraud, bank fraud and Medicare Anti-Kickback and Health Care fraud were discussed.,

Co-Lecturer

,

Farewell To Intended Loss: A Discussion of Recent Third Circuit Decisions and Practical Application at Sentencing

,

Federal Criminal Lawyers

,

2023

Forfeiture & Restitution In Federal Criminal Law, Lecturer at Federal Defender's Association Meeting, Philadelphia, PA. 2014 Federal Criminal Sentencing Guidelines, Lecturer, Law Review CLE, Philadelphia, PA, 2011

,

Lecturer

,

2014
Representative Clients:
A Director of Environmental Services at a U.S. Veteran's Hospital charged with bribery for accepting money in return for awarding contracts.

,

2023

An individual who ran an internet-based cable subscription business wherein copyrighted shows and movies were pirated from Comcast, Verizon and Direct TV, decoded, streamed and recorded for illegal distribution to subscribers of the business.

,

2023

An individual who was a co-conspirator in an international credit card fraud wherein hundreds of thousands of stolen credit card numbers were obtain on the dark web and were subsequently used fraudulently.

,

2023

An individual charged with unlawfully accessing computers to obtain personal information.

,

2023

An individual charged with filing false tax returns resulting from his failure to report cryptocurrency earnings and income.

,

2022

An individual charged with theft of government funds and wire fraud in connection with disability funds illegally received from the Veterans Administration (VA).

,

2022

Individuals who illegally received PPP and EIDL loans during the pandemic.

,

2022

An individual charged with money laundering and tax evasion in connection with a multimillion dollar international cryptocurrency wire fraud scheme

,

2021

A CEO of a durable medical equipment company charged with the payment of "kickbacks" in violation of the Medicare Anti-Kickback statute

,

2021

A taxpayer charged with multiple counts of filing false federal tax returns arising out of his multimillion dollar financial publishing business

,

2021

Executive in large corporation who was the Director of Information Technology, charged with complex wire fraud and federal income tax fraud.  

,

2020

Attorney in large Philadelphia law firm charged with $4,000,000 mail and wire fraud for submitting bogus subrogation claims.

,

2020

Businessman charged with Insider Trading and violation of federal securities laws in connection with alleged "pump and dump" scheme.

,

2018

Health Care Executive providing home health care services and non-medical transportation under investigation.

,

2019

Businessman charged with wire fraud and income tax evasion for false billing and invoicing scheme.

,

2019

Attorney charged with wire fraud and money laundering in connection with fraudulent scheme to submit false insurance claims to class action settlement funds.

,

2019

Durable Medical Equipment businessman charged with health care fraud and violation of Medicare Anti-Kickback Statutes.

,

2019
Verdicts/Settlements (Case Results):
U.S.A. v.  Spillane, Crim. No. 21-468 (U.S.D.C.).  The defendant pled guilty to unauthorized access to a computer system for unlawfully accessing the computer systems of Bryn Mawr College and Haverford College, targeting the password reset functionality of account profiles, gaining access to the personal accounts of students and using the fraudulently obtained means of identification to submit fraudulent tax returns to the Internal Revenue Service and various other entities.  Ms. Lefeber presented expert psychiatric reports and psychological testing results to demonstrate how multiple traumatic experiences and psychological issues impacted his judgment. As a result of Ms. Lefeber's presentation and argument, the Judge sentenced the defendant to probation.

,

2023

United States v. Tiangang Zhuang, Crim. No. 22-437.  The defendant pled guilty to filing false tax returns, in violation of 26 U.S.C. Section 7206.  Facing 12-18 months imprisonment, Ms. Lefeber obtained a sentence of probation by proving extensive mitigating factors.

,

2023

U.S.A. v. Johnson, Crim. No. 20-305.  The defendant, the Director of Environmental Services at a United States Veterans Administration Hospital, pled guilty to accepting bribes in return for awarding contracts for services to certain companies to perform work for the Hospital.  As a result of these bribes, the companies received over $440,000 in payments for services that were not fully performed or were not performed at all.  Although the defendant was facing guidelines of 46-57 months' imprisonment, Ms. Lefeber highlighted his extraordinary generosity of spirit in fostering children, his honorable service in our nation's armed forces and his serious and debilitating medical conditions.  As a result, the client received a sentence of 6 months' imprisonment.

,

2023

U.S.A. v. Gonzales, Crim. No. 21-367 (U.S.D.C.).  The defendant pled guilty to a conspiracy to distribute copyright protected video content (movies, television shows, sporting events, etc.) via subscription-based internet sites that the defendants controlled and operated. The conspirators positioned themselves as direct competitors to cable companies (Verizon, Comcast, Direct TV), using the cable company equipment to facilitate the competition, but avoided paying the required license fees, in violation of the copyright infringement laws.  In order to facilitate the crime, the conspirators stripped the signal from the cable companies' set top boxes of the protections and pirated the intellectual property.  Through mass marketing campaigns for their service, the conspirators obtained hundreds of thousands of their own subscribers to whom this pirated content was streamed.  The government claimed that the amount of loss was $168,000,000.00, with a guideline range of imprisonment of 18-22 years.  Ms. Lefeber successfully reduced the amount of loss to $4,000,000.00 and the defendant was sentenced to 28 months' imprisonment.  

,

2023

U.S.A. v. Diarra, Crim. No. 19-392 (U.S.D.C.).  The defendant pled guilty to conspiracy to commit wire fraud, counterfeit access device fraud, aggravated identity theft and conspiracy to commit money laundering for participating in a conspiracy that was alleged to have purchased large blocks of thousands of stolen credit card and bank card numbers from websites overseas, using Bitcoin, Western Union, Moneygram and other methods to pay for the cards, then re-encoding the cards for subsequent fraudulent use. The government and the probation department claimed losses in the amount of $107,550,361.  Ms. Lefeber successfully argued very recent Third Circuit and U.S. Supreme Court decisions  that persuaded the Judge that the amount of loss was only $60,000.  That winning argument reduced the defendant's sentencing guidelines from 24-37 years' imprisonment (286-447 months) to 61 months.

,

2023

U.S.A. v. Brady (D.C. Del.) the defendant was charged in federal court with conspiracy to distribute methamphetamine and fentanyl.  The defendant was facing a 10-12 year sentence following his guilty plea.  Ms. Lefeber was able to explain how his addictions fueled his need to purchase and distribute drugs and how he had taken significant strides towards rehabilitation.  He received a sentence of 58 months imprisonment.

,

2022

U.S.A. v. Walters, (E.D.Pa) the defendant was charged in federal court with multiple counts of filing false income tax returns as a result of his failure to report his cryptocurrency earnings and interest income on his federal tax returns.  He faced a guideline sentence of 18-24 months imprisonment based upon the tax loss to the government.  Ms. Lefeber was able to demonstrate his extraordinary acceptance of responsibility as well has his strong leadership and commitment to his coworkers, family and community.  Ms. Lefeber also brought the nuances and complexities of the federal income tax reporting requirements for cryptocurrency to the Court's attention to demonstrate that the defendant was an otherwise very law abiding, responsible citizen.  As a result, the defendant received a sentence of probation.

,

2022

U.S.A. v. Rezabek, No. 19-590 (E.D. Pa.) the defendant was charged in federal court with money laundering and tax evasion in connection with a multimillion dollar international wire fraud scheme. The defendant was facing an 8-9 year sentence of imprisonment, following his guilty plea. Ms. Lefeber successfully filed numerous objections to the Presentence Investigation Report and also proved that the defendant had demonstrated extraordinary acceptance of responsibility and suffered from conditions that enhanced his vulnerability to other individuals engaged in crime who took advantage of his naiveté. Lastly, Ms. Lefeber presented evidence from a psychological expert who underscored the emotional and psychological conditions that influenced her client's judgment. Persuaded by Ms. Lefeber's sentencing presentation and legal arguments, the Judge sentenced the defendant to a sentence of 8 months' imprisonment, rather than 8-9 years.

,

2021

U.S.A .v. Krawczyk, No. 19-519 (U.S.D.C.) the defendant was charged with payment of "kickbacks" in violation of the Medicare Anti-Kickback statute. The defendant was facing a 6-8 years sentence of imprisonment, following his guilty plea. Ms. Lefeber successfully proved at sentencing that the statute, a strict liability statute, which had not been amended since 1977, was antiquated and had not kept pace with the internet age. She argued that her client fell in between the crosshairs of technology and the law. She also proved that his case was extraordinary in many ways and that he exercised good faith in his reliance upon others. Finally, Ms. Lefeber presented a forensic psychiatric expert who testified to the multiple stressors in his life and underlying medical/psychiatric conditions that influenced his judgment. Convinced by Ms. Lefeber's presentation, the Judge sentenced the defendant to a sentence of 1 day imprisonment. The defendant was released at 4:00 pm, following the sentencing.

,

2021

U.S.A. v. Jordan Richter, No. 20-184 (U.S.D.C.) the defendant was charged with multiple counts of filing false tax returns, in violation of 26 U.S.C. §7206(1). Initially, the defendant was facing 2-3 years imprisonment based upon the government's assertion of tax losses in the hundreds of thousands of dollars. Following an extensive forensic analysis of the tax losses, Ms. Lefeber was able to reduce the tax loss below $250,000 and the penalty was reduced to 18-24 months imprisonment. At sentencing, Ms. Lefeber argued passionately about all the good in the defendant's life and was able to win a downward variance to PROBATION.

,

2021

U.S.A. v. Russo, Crim. No. 20-00047 (E.D.Pa.) - This case involved a complex wire fraud and tax fraud, wherein the defendant, the Director of Information Technology of a large corporation, defrauded his employer out of approximately $2,900,000 through the creation of fraudulent invoices, billing for work done by fictitious corporations.  In addition he made false statements on his federal income tax returns resulting in a tax loss of over $950,000.  The defendant was facing a guideline sentence of 5-6 years imprisonment.  As a result of Ms. Lefeber's compelling arguments for downward variances based upon the extraordinary family circumstances in this case, Mr. Russo received a sentence of 3 years imprisonment.  In addition, Ms. Lefeber was able to rebut the government's attempts to use relevant conduct to enhance Mr. Russo's amount of loss and sentence.    

,

2020

U.S.A. v. Craig Cohen, Crim. No. 19-599.  In this high profile federal criminal case, an attorney, who had been employed in the subrogation department of the law firm of White & Williams, in Philadelphia, was charged with mail and wire fraud for masterminding a fraudulent scheme to create bogus subrogation claims in the amount of approximately $4,000.000.  The defendant was facing 10 years imprisonment as a result of numerous applicable sentencing enhancements and the high loss amount.  As a result of extensive legal research and successful argument, Ms. Lefeber was able to convince the government that certain enhancements should not be applied.  In addition, psychiatric and addiction experts testified on the defendant's behalf and Ms. Lefeber was able to win a downward variance.  The Court imposed a sentence of 60 months - a significant victory for the defense.  

,

2020

U.S.A. v. Barnes, Crim. No. 15-235.  Case DISMISSED.  Defendant charged with two counts of federal False Claims Act violations in connection with Renewable Fuel Program (energy tax credits) of U.S. Environmental Protection Agency.

,

2019

U.S.A. v. Wilbur Ross, Crim. No. 12-285 - Verdict:  NOT GUILTY on all counts of tax structuring and money laundering.

,

2013

U.S.A. v. Ding, Crim. No 15-0035 - Verdict: NOT GUILTY on four counts of wire fraud in connection with federal grants from NASA.

,

2016

U.S.A. v. Beauford, Crim. No. 14-520.  Client received a sentence of PROBATION upon a guilty plea where she was facing a sentencing guideline range of 4-5 years in a drug conspiracy.  Ms. Lefeber successfully proved that her client was an extrmely honest member of the community who had simply made a bad choice

,

2019

U.S.A. v. Hamed Ettu, Crim. No. 18-490, in an insider trading case involving violations of federal securities laws, client pled guilty and received probation, though sentencing guidelines called for imprisonment.

,

2019

U.S.A. v. Taylor, Crim No 18-328 - Client facing 7-8 years imprisonment on a guilty plea to an internet crime, client received sentence of 1 DAY IMPRISONMENT.

,

2019

U.S.A. v. Dunoff, Crim. No. 14-103, Client receives sentence of a YEAR and a Day, following a guilty plea to federal money laundering and federal wire fraud involving an international ponzi scheme.  Ms. Lefeber successfully demonstrated the remarkable changes in the defendant's life since the time of the offense and successfully saved her Client years in prison.

,

2018

U.S.A. v. Jacqueline McCusker. Crim. No 09-771.  In a $14.4 million dollar mortgage fraud and money laundering conspiracy, Client received a probationary sentence, though facing 10 years imprisonment.  Ms. Lefeber's cross-examination at trial resulted in a finding by the Judge that the government failed to prove its case as to loss and the loss amount was reduced to below $400,000.   Ms. Lefeber challenged each and every sentencing enhancement, raised some issues of first impression.  The client received a sentence of probation.

,

2014

United States v. Harold Ford, 618 F. Supp 368, E.D. Pa., 2009.  New trial granted on grounds of prosecutorial misconduct.  Ultimately, this caused the government to enter into an agreement for five years imprisonment where client was previously facing a 23 year sentence.

,

2009

United States v. William Beith, 407 F. 3d 881, 7th Cir. 2005.  Successful appeal and resentencing resulting in significant reduction in sentence of imprisonment.

,

2007

United States v. Donald Fetzner, 126 Fed. Appz 580, 3rd Cir. 2005. 

,

2005

United States v. Joseph Pungitore, 910 F. 1084, 3rd Cir. 2005

,

2005

United States v. Thomas Chau, 293 F. 3d 96, 3rd Cir. 2002

,

2002

United States v. Manny Baker, 221 F. 2d 438, 3rd Cir. 2000

McCabe v. McCabe, 575 A. 2d 87, Supreme Ct. 1990
Industry Groups:
Banking
Business
Finance
Healthcare
Insurance
Legal
Securities
Office location for Hope C. Lefeber
Two Penn Center
1500 JFK Boulevard; Suite 1205
Philadelphia, PA 19102
Phone: 610-936-6616
Selections
Super Lawyers: 2014 - 2015, 2017 - 2018, 2021 - 2024
Additional sources of information about Hope C. Lefeber
Attorney resources for Hope C. Lefeber