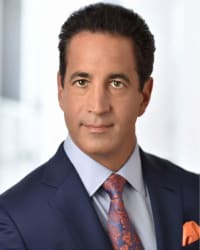 Marrone Law Firm, LLC
Practice Areas: Personal injury, Civil litigation, Criminal defense; view more
Licensed in Pennsylvania since: 1992
Education: Michigan State University College of Law

Selected to Super Lawyers: 2021 - 2023

Free Consultation
Marrone Law Firm, LLC
200 S. Broad Street
Suite 610
Philadelphia, PA 19102
Visit website
Details
Founder of the Marrone Law Firm LLC, Joseph M. Marrone is a catastrophic injury, car accident, civil and criminal attorney who represents clients in Philadelphia, Pennsylvania and the southeast part of the state. Serving as the managing partner of the firm, he has a reputation for being willing to fight for the rights of his clients and is dedicated to them. His experience extends to cases of wrongful death, product liability, medical malpractice, premises liability, white collar federal criminal defense, government investigations, civil rights matters, police brutality and excessive force cases, and entertainment law.
In 2014, he was named by Philadelphia Life/Suburban Life Magazine as a Top Attorney, and by South Jersey Magazine as an Awesome Attorney. Mr. Marrone is a member of the Best Lawyers in America, and the Million Dollar Advocates Forum. The American Institute of Personal Injury Attorneys named him one of the 10 Best Personal Injury Law Attorneys for Client Satisfaction in the state in 2016 and 2017.
Mr. Marrone is admitted to practice in New York, Pennsylvania and New Jersey, and before the Supreme Court of the United States. At Saint Joseph's University, he graduated with his Bachelor of Science in finance before attending law school at the Western Michigan University Thomas M. Cooley Law School, where he earned his Juris Doctor in 1991.
In 2021 and 2022, the Philadelphia Business Journal named him as a recipient of the "Best of the Bar". Mr. Marrone is actively involved with the New Jersey State Bar Association, the Pennsylvania Bar Association, the New York State Bar Association, the American Association for Justice, the American Bar Association, the New Jersey Association for Justice and the Philadelphia Trial Lawyers Association. He gives back to his community through his service on the local Big Brothers Big Sisters of Philadelphia's Governing Board of Directors.
Practice areas
Personal injury - general: plaintiff, Civil litigation: plaintiff, Criminal defense
Focus areas
Motor vehicle accidents, Personal injury - plaintiff, Slip and fall, Wrongful death, Dram shop laws, Construction accident, Brain injury, Trucking accidents, Criminal law
50% Personal injury - general: plaintiff

30% Civil litigation: plaintiff

20% Criminal defense
First Admitted: 1991, New Jersey
Professional Webpage: https://marronelawfirm.com/attorneys/joseph-m-marrone/
Bar/Professional Activity:
New York Bar State Bar Association

Million Dollar Advocates Forum

New Jersey Association for Justice

Philadelphia Trial Lawyers Association

American Justice Association

American Bar Association

New Jersey Bar Association

Pennsylvania Bar Association

Supreme Court of the United States of America

,

1996

Pennsylvania

,

1992

New York

,

2002

New Jersey

,

1991
Educational Background:
Bachelor of Science in Finance from Saint Joseph's University in Philadelphia, Pennsylvania
Videos:
Joseph Marrone answers questions from the press at a press conference held at Marrone Law Firm to announce the suit filed against the City of Philadelphia and all relevant parties in the wrongful conviction of client, Walter Ogrod.

,

CBS 3 Philadelphia Joseph Marrone Speaks at Walter Ogrod's Press Conference

,

2021

Attorney and Legal Analyst, Joe Marrone speaks with FOX29 about what he believes will be next for Bill Cosby in his legal battle.

,

WTXF FOX29 Philly with Attorney Joe Marrone "What's Next for Cosby"

,

2021

Joseph Marrone speaks out on Walter Ogrod's wrongful conviction at press conference announcing the suit filed on Mr. Ogrod's behalf against the City of Philadelphia and all relevant parties.

,

NBC 10 Philadelphia Attorney Joseph Marrone Speaks Out On Walter Ogrod's Wrongful Conviction

,

2021

,

WTXF FOX29 Cosby Retrial Attorney & Legal Analyst, Joseph M. Marrone

,

Law; Entertainment

,

2018

,

WTXFCosbyRetrial WeekTwo - Attorney & Legal Analyst, Joseph M. Marrone

,

Law; Entertainment

,

2018

,

WTXFCosbyRetrial Week1 1 - Attorney & Legal Analyst, Joseph M. Marrone

,

Law; Entertainment

,

2018

Former Philadelphia Eagle, Jason Avant joins Joseph Marrone, and Marcus Allen to talk all things "Fashion Touchdown". The spectacular event which raises money for Big Brothers Big Sisters Independence marries football, fashion and philanthropy

,

WCAU Philadelphia Fashion Touchdown 2019

,

Law; Entertainment; Non-profit; NFL

,

2019

Host Andrew Nichols talks with Philadelphia criminal attorney and legal analyst, Joseph Marrone. In this video he provides in depth analysis of the Weinstein verdict and what can be expected with regard to sentencing

,

CBC Toronto "Weinstein Verdict" with Attorney & Legal Analyst Joseph Marrone

,

Law; Entertainment

,

2020

Joseph Marrone joined FOX News to talk about business liability as more and more states start to reopen

,

Joseph Marrone Joins FOX News to Discuss Business Liability Concerns as States Begin to Reopen

,

Law; Entertainment; Business

,

2020

Attorney and Legal Analyst, Joseph Marrone discusses the prosecutors probing Enquirer over Bezos blackmail; more victims come forward

,

WXTF FOX 29 Joe Marrone Weighs In on Prosecutors Probe Enquirer Regarding Jeff Bezos Blackmail

,

Law; Entertainment

,

2019

Attorney and Legal Analyst Joe Marrone analyzes hot legal topics with host Vinnie Politan to include: Secoria Turner Murder; Vaness Guillen Murder at Ft. Hood and Baby Noah Murder

,

Court TV - Joe Marrone Weighs In on Multiple Criminal Cases 7/8/20

,

Law; Entertainment

,

2020

Attorney and Media Legal Analyst, Joe Marrone weighs in on the ongoing saga of the Jussie Smollett "hoax" investigation

,

WTXF FOX29 "Jussie Smollett Investigation" - Media Legal Analyst Joseph M.Marrone

,

Law; Entertainment

,

2019

Joe Marrone as a regular legal contributor on FOX 29 talks with Alex Holley and Mike Jerrick about the assault allegations against Philadelphia Flyers Mascot, "Gritty"

,

WTXF FOX 29 Joe Marrone on Alleged Assault by Gritty of the Flyers

,

Law; Entertainment; Sports

,

2020

Joseph Marrone speaks with FOX 29 on breaking development in Cosby case.  PA Supreme Court rules to review 2 key issues in the case during appeal

,

WXTF FOX 29 Joseph Marrone Analyzes PA Supreme Court Ruling to Hear Cosby Appeal

,

Law; Entertainment

,

2020

Joseph Marrone sits down with Alex Holley and Mike Jerrick to discuss details of the Amtrak policy change which removes the right for passengers to sue; also discussed is the breaking development in the DiNardo/Katz Murder Trials

,

WXTF FOX 29 Joseph Marrone Breaks Down Details of Amtrak Policy Change and Breaking News in the DiNardo/Katz Murder Trial

,

Law; Entertainment

,

2019

Attorney and Legal Analyst. Joseph Marrone weighs in on the facts of a local school terror plot and potential criminal charges

,

WXTF FOX 29 Joseph Marrone Breaks Down Details and Potential Charges in Local School Terror Plot

,

Law; Entertainment

,

2018

Joe Marrone on Law & Crime as a regular contributor with host Jesse Weber breaking down the facts of the Ramon Bueno trial in Arizona.  Bueno murdered police officer during a routine traffic stop for tinted windows

,

Joe Marrone on "Morning Docket" with Jesse Weber "Law & Crime"

,

Law; Entertainment

,

2019

Philadelphia Attorney and regular  FOX 29 legal contributor, Joseph Marrone discusses the judge's order preventing Meek Mill from attending a 76ers game in Toronto to cheer on the team

,

WXTF FOX29 Joseph Marrone Discusses Judge's Order Preventing Meek Mill to Travel to Toronto to Attend 76ers Game

,

Law; Entertainment

,

2019

Attorneys Joseph Marrone and Guy Lewis break down the charges in the George Floyd cas on America's News HQ

,

FOX News: Joseph Marrone Analyzes George Floyd Case

,

Law; Entertainment

,

2020

Legal Analyst Joseph Marrone analyzes the details of the second mistrial in the Ray Tensing Case due to a hung jury.

,

WXTF FOX 29 Joe Marrone Weighs In on Second Mistrial in Ray Tensing Case

,

Law; Entertainment

,

2017

Joe Marrone weighs in on recent development in PSU Frat Case

,

WTXF FOX 29 with Joseph Marrone Breaking Down The Dropping of Most Serious Charges in PSU Frat Case

,

Law; Entertainment

,

2017

Joesph Marrone deciphers several cases with FOX 29 anchor, Lauren Dawn Johnson.  Topics include:  Judge Sets Hearing for Former PSU Frat Adviser; Judge Throws Out DJ's Case Against Taylor Swift; Former QVC Exec Sues Dating Service for Bad Matches

,

Joseph Marrone Breaks Down Various Hot Cases in the News with WTXF FOX29

,

Law; Entertainment

,

2017

Attorney and Legal Analyst Joseph Marrone speaks with international Israeli news outlet, I24 on the Weinstein Verdict

,

Israeli News "I24" Talks with Joseph Marrone on Weinstein Verdict

,

Law; Entertainment

,

2020

Joe Marrone weighs in as a regular contributor on COURT TV on Weinstein

,

Court TV with Joe Marrone on Weinstein

,

Law; Entertainment

,

2020

Joe Marrone discusses the bizarre nuances of "Witchcraft Trial" as a regular contributor on Court TV

,

Court TV with Joe Marrone on Bizarre Witchcraft Trial

,

Law; Entertainment

,

2020

Joe Marrone weighs in on Weinstein verdict as a regular contributor to Court TV

,

Court TV with Joe Marrone on Weinstein

,

Law; Entertainment

,

2020

Joe Marrone weighs in on Weinstein trial and verdict as a regular contributor on Court TV

,

Court TV with Joe Marrone on Weinstein Trial

,

Law; Entertainment

,

2020

Joe Marrone speaks with international media outlet, CBC Toronto on the Weinstein Verdict shortly after it was handed down.

,

Legal Analyst, Joe Marrone on CBC Toronto "Harvey Weinstein Verdict"

,

Law; Entertainment

,

2020

Joe Marrone, attorney and legal analyst weighs in on business liability concerns in the Coronavirus climate as states re-open

,

FOX NEWS: Coronavirus Business Liability Concerns Mount as States Reopen for Work

,

2020

Internationally recognized Attorney & TV Legal Analyst, Joseph M. Marrone speaks with Toronto news giant CBC to provide insight into the final Cosby verdict

,

CBC Toronto Interview w/ Joseph Marrone on Cosby Verdict

,

2018

Attorney and Legal Analyst, Joe Marrone breaks down the ins and outs of the Penn State Frat Case Result

,

Joe Marrone WTXF Penn State Verdict

,

2017

Attorney and Legal Analyst, Joe Marrone recaps the Cosby Trial - 2017

,

Attorney and Legal Analyst, Joe Marrone Recaps the Cosby trial...

,

2017

Attorney and Legal Analyst, Joseph Marrone speaks to FOX 29 Philly about the upcoming highly anticipated Cosby Trial and Jury Selection. What should we expect?

,

WTXFCosby's2ndTrial

,

2018

Attorney and TV Legal Analyst Joseph Marrone breaks down the bizarre tale of the Cosmo DiNardo murders on FOX29 Philadelphia

,

Joe Marrone analyzing the bizarre DiNardo murder case on WTXF - FOX29

,

2017

Legal Analyst, Joe Marrone breaks down details of the following cases: Hearing for Former PSU Frat Advisor; DJ vs.Taylor Swift Case Thrown Out by Judge; Former QVC Exec Sues Dating Service

,

Joe Marrone FOX 29 WTXF 08/17

,

2017

Attorney and Legal Analyst Joseph Marrone, weighs in on the concept of "double jeopardy " as it relates to "The Lost Confession" of OJ Simpson. He also analyzes the upcoming Cosby trial

,

WTXF - FOX29 OJ Simpson & Bill Cosby

,

2018

Attorney and tv legal analyst, Joe Marrone weighs in with FOX29 Good Day Weekend host Lauren Johnson on recent officer acquittals and hung juries

,

Joseph M. Marrone weighs in on officer acquittals and hung juries

,

2017
Honors/Awards:
,

Super Lawyers

,

Designated as a Super Lawyer – 2021

,

2021

,

Best Lawyers

,

"Best Lawyers" 2016 – 2021 – U.S. News & World Report – Best Lawyers® Joseph M. Marrone – Medical Malpractice – Plaintiff; Personal Injury-Plaintiff

For achieving excellence in the practice of law and making significant community impact both personally and professionally

,

Best of The Bar

,

Philadelphia Business Journal

,

2018

For achieving excellence in the practice of law and making significant community impact both personally and professionally

,

Best of The Bar

,

Philadelphia Business Journal

,

2020

Best Law Firms in Pennsylvania - Tier One

,

Best Law Firms in Pennsylvania - Tier One

,

U.S.News; World Report

,

2019

In recognition of his significant time and financial commitment to Big Brothers Big Sisters - Independence Region as a Governing Board member and Presenting Sponsor of Fashion Touchdown

,

Faces of Philanthropy

,

Philadelphia Business Journal

,

2019

For his significant financial and time commitment to Big Brothers Big Sisters - Independence region as a Governing Board Member and Presenting Sponsor of Fashion Touchdown for three consecutive years, raising over $1.2 million

,

Faces of Philanthropy

,

Philadelphia Business Journal

,

2020

For work with Big Brothers Big Sisters - Independence Region as a Governing Board Member and Presenting Sponsor of "Fashion Touchdown".  Raising over 1.2 million dollars in three years of sponsoring this event

,

Corporate Philanthropy Award

,

Philadelphia Inquirer & Lenfest Institute

,

2019

,

Best Law Firms in Pennsylvania - Tier One

,

U.S.News & World Report

,

2020

In the areas of Medical Malpractice- Plaintiff; Personal Injury - Plaintiff

,

Best Lawyers

,

U.S.News & World Report

,

2020

,

Best Law Firms in Pennsylvania - Tier One

,

U.S.News & World Report

,

2018

Joseph Marrone was invited for membership to the prestigious "Million Dollar Advocates Forum" in recognition of achieving multiple settlements in excess of a million dollars or more for his clients,

Million Dollar Advocates - Member

,

Million Dollar Advocates Forum

,

2017

In the areas of Medical Malpractice - Plaintiff; Personal Injury - Plaintiff

,

Best Lawyers

,

U.S.News & World Report

,

2019

In the areas of Medical Malpractice- Plaintiff; Personal Injury - Plaintiff

,

Best Lawyers

,

U.S.News & World Report

,

2018

Personal Injury - Plaintiff,

"Awesome Attorney'" in South Jersey Magazine by reader's choice

,

South Jersey Magazine

,

2016

 Areas of Plaintiff Personal Injury Litigation and Plaintiff Medical Malpractice Law,

Best Law Firms

,

U.S. News & World Report

,

2016

"10 Best" Personal Injury Attorneys for Client Satisfaction in Pennsylvania,

The American Institute of Personal Injury Attorneys

,

2016

Personal Injury - Plaintiff,

"Awesome Attorney'" in South Jersey Magazine by reader's choice

,

South Jersey Magazine

,

2017

  Areas of Plaintiff Personal Injury Litigation and Plaintiff Medical Malpractice Law,

Best Law Firms

,

U.S. News & World Report

,

2017

"10 Best" Personal Injury Attorneys for Client Satisfaction in Pennsylvania,

The American Institute of Personal Injury Attorneys

,

2017

Personal Injury - Plaintiff,

"Awesome Attorney'" in South Jersey Magazine by reader's choice

,

South Jersey Magazine

,

2014

Top Attorney by reader's choice - Personal Injury,

"Top Attorney" in Philadelphia Life/Suburban Life Magazine

,

Philadelphia Suburban Life Magazine

,

2014
Pro bono/Community Service:
In recognition of Joseph Marrone's efforts in the area of community outreach, he was selected to become a member of the Governing Board of Directors for Big Brothers Big Sisters of Philadelphia – Independence Region. This organization is a one–to-one, non-profit, mentoring organization which is making significant impact on youth in need, nationally,

2017
Office location for Joseph M. Marrone
200 S. Broad Street
Suite 610
Philadelphia, PA 19102
Phone: 215-732-6700
Selections
Super Lawyers: 2021 - 2023
Additional sources of information about Joseph M. Marrone
Attorney resources for Joseph M. Marrone