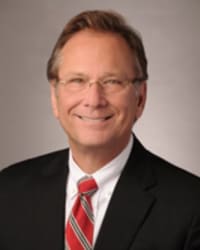 Wright Abshire, Attorneys P.C.
Practice Areas: Elder law, Estate planning & probate; view more
Licensed in Texas since: 1982
Education: South Texas College of Law Houston

Selected to Super Lawyers: 2006 - 2023
Wright Abshire, Attorneys P.C.
4949 Bissonnet Street
Bellaire, TX 77401
Visit website
Details
Wesley E. Wright is a native Houstonian and graduated from the University of Houston and South Texas College of Law. Mr. Wright is Board Certified by the Texas Board of Legal Specialization in Estate Planning and Probate Law and is a Certified Elder Law Attorney (CELA) by the National Elder Law Foundation. Mr. Wright has been practicing law in Houston since 1982.  His practice focuses exclusively in the areas of Medicaid planning, estate planning (with an emphasis on people who are disabled) and the use of special needs trusts and probate. He was one of the original founders of the Disability and Elder Law Attorneys Association (DELAA) in Houston and served as President for the first two years. He has served as Chair for the Probate, Trusts, and Estates Section of the Houston Bar Association.  He was previously the President of the Texas Chapter of the National Academy of Elder Law Attorneys (NAELA) and served on the national board of NAELA for two years.  He has been named a Texas Super Lawyer for Elder Law every year since 2006. Mr. Wright was listed as Lawyer of the Year in Elder Law for the Houston area by Texas' Best Lawyers, in 2014, 2017 and 2022. He co-authors a monthly column in the Houston Chronicle called Elder Law and is a regular speaker on Elder Law topics.  He co-authored Save My Home! Saving Your Home, Farm or Ranch from Medicaid Estate Recovery in Texas, a book on Medicaid Estate Recovery and Thomson West's Texas Elder Law, Texas Practice Series, Volume 51.
Practice areas
Elder law, Estate planning & probate
Focus areas
Estate planning, Living wills, Power of attorney, Probate & estate administration, Wills
50% Elder law

50% Estate planning & probate
First Admitted: 1982, Texas
Professional Webpage: https://www.wrightabshire.com/attorney/wesley-e-wright/
Educational Background:
University of Houston, Houston, Texas, B.S.- Business, 1977
Bar/Professional Activity:
Member, National Academy of Elder Law Attorneys, Bylaws Committee, 2001-2002

Texas Chapter of the National Academy of Elder Law Attorneys, President 2004-2005, 2014-2015

Member, National Academy of Elder Law Attorneys, NAELA Board Member, 2004-2006

U.S. Supreme Court

Member, The ARC of Greater Houston

Member, State Bar of Texas, Real Estate, Probate & Trust Section

Member, National Academy of Elder Law Attorneys, Membership Committee 2002-2003

Member, Disability and Elder Law Attorneys Association (DELAA), President 1991-1993; An original founder

U.S. District Court Southern District of Texas

Member, National Academy of Elder Law Attorneys, Council of Advanced Practitioners (CAP)

Member, Special Needs Alliance (SNA)

Member, Houston Bar Association, Probate, Trusts & Estates Section, Chair, 2000-2001

Member, National Academy of Elder Law Attorneys, Program and Education Committee, 2001-2004

Member, Texas Chapter of the National Academy of Elder Law Attorneys

Texas, 1981

Member, National Academy of Elder Law Attorneys, Editorial Board Member for NAELA Journal 2004-2005

Member, Texas Chapter of the National Academy of Elder Law Attorneys, President 2014-2015

Member, National Alliance on Mental Illness (NAMI)
Scholarly Lectures/Writings:
HBA, Wills & Probate Institute, "Drafting for Medicaid," Speaker, 1999

State Bar of Texas, State Bar College Summer School, "Medicaid Estate Recovery: When the Government Wants Your Homestead," Speaker,2004

University of Texas, Estate Planning, Guardianship & Elder Law Conference, "Public Benefit Planning for the Blended Family," Speaker, Galveston 2011

State Bar of Texas, Advanced Estate Planning & Probate Seminar, "Medicaid Estate Recovery," Speaker, 2004

State Bar of Texas, Advanced Elder Law, "Sole Benefit Trusts," Speaker, Houston 2011

University of Houston, Wills & Probate Institute, "Medicaid, Medicare and Estate Recovery: Can You Get the Benefits Without Losing Everything" Speaker, 2004

University of Texas, "Special Needs Trusts Changes & Trends Affecting Special Needs Trusts," Panel Moderator, 2011

PBS Channel 8, Richard Alderman's, "Know Your Rights," 2004

University of Texas Estate Planning, Guardianship & Elder Law Conference, "Tricare for Life & Extended Care Benefits," Panel Moderator, 2010

University of Texas, Special Needs Trusts Changes & Trends Affecting Special Needs Trusts, "Life Care Plans & Approaches to Life Care Planning," Speaker, 2010

CBS Radio B Interview Regarding Estate Recovery in Texas, 2004

HBA, Guardianship Institute, "Introduction to VA Benefits," Speaker, 2010

HBA, Elder Law Institute, "Estate Recovery: Planning Considerations," Speaker, 2004

University of Texas, Estate Planning, Elder Law & Guardianship Conference, "Elder Law Overview," and "Agency Perspective on Public Benefits," Speaker, 2009

State Bar of Texas, Elder Law Institute, "Estate Recovery: Foundation & Strategy," Speaker, 2003

University of Texas, Special Needs Trusts Conference, "Changes & Trends Affecting Special Needs Trusts," Speaker, 2009

NAELA, Institute, "Delivering Ritz-Carlton Legendary Service Practices in an Elder Law Firm," Speaker, 2003

University of Texas Estate Planning, Guardianship & Elder Law Conference, "Agency Perspective on Public Benefits," Panel Moderator, 2008

American Case Management Association, 12th Annual Case Management Conference, "Elder Law Overview," Speaker, Houston, October 2015

Texas Wesleyan Law School & Stetson Law School, Special Needs Trusts Seminar, "Top Ten Tips for SNTs," Speaker, 2003

Victoria Regional Area Estate Planning Council, "Guardianships & Planning for Disability," Speaker, 2008

University of Texas, 17th Annual Estate Planning, Guardianship and Elder Law Conference, "Elder Law Overview," Speaker, Galveston, August 2015

Texas Society of Certified Public Accountants, Annual CPE Expo, "Medicaid & Disability Issues," Speaker, 2002

University of Texas, Special Needs Trusts Conference, "Amending the Special Needs Trust," Speaker, 2007

University of Texas, 11th Annual Changes and Trends Affecting Special Needs Trusts, "Special Needs Trusts Overview," Austin, February 2015

Texas Society of Certified Public Accountants, Advanced Estate Planning Conference, "To Spend Down or Not to Spend Down on the Nursing Home," Speaker, 2002

Texas Society of Certified Public Accountants, Advanced Estate Planning Conference, "To Spend Down or Not to Spend Down on the Nursing Home," Speaker, 2002

Texas Chapter of NAELA, Fall Conference, Panel Moderator, 2007

University of Texas, 10th Annual Changes and Trends Affecting Special Needs Trusts, "POMS Update," Speaker, Round Rock, February 2014

South Texas College of Law, Representing the Elderly Client: Estate Planning, Special Needs Trusts & Guardianships, "Fifteen Misrepresentations Made by Nursing Homes," Speaker, 2002

North American Brain Injury Society Conference on Brain Injury, "Application of Special Needs Trusts & Long Term Planning," Speaker, 2007

University of Texas, 15th Annual Estate Planning, Guardianship and Elder Law Conference, "The Unexpected Complexities of Tragedy (Fundraising, Special Needs Trusts, Medicaid and Tax Deductions)," Speaker, Galveston, August 2013

Children's Case Management Coalition Conference, "Planning Special Needs Trusts for the Disabled," Speaker, 2002; Description: State Bar of Texas, Elder Law Course, "Basic Medicaid & Long-Term Care Planning," Speaker, 2001

State Bar of Texas, Advanced Family Law Course, "Looking Ahead: Long-Term Financial Planning in Connection with Divorce," Speaker, 2007

"Dramatic Changes to Medicaid Funding of Long-Term Care," The Houston Lawyer, Co-Author, Houston Bar Association, Vol. 43, No. 6, May/June, 2006

State Bar of Texas, Elder Law Course, "Basic Medicaid & Long-Term Care Planning," Speaker, 2001

University of Texas, Estate Planning, Elder Law & Guardianship Conference, "Agency Perspective on Public Benefits," Panel Moderator, 2007

"Special Trust Protects From Medicaid Rules," Co-Author, Houston Chronicle, 50+ Section, February 2000

HBA, Wills & Probate Institute, "Practical Considerations in Medicaid Planning: Twelve Things to Avoid," Speaker, 2001

State Bar of Texas, Advanced Estate Planning Conference, "Medicaid Changes & Strategies," Speaker, 2007

Houston Chronicle Columnist, "Elder Law Notes," Monthly, Senior Living Section

Planning Effectively to Cope with Medicaid Estate Recovery, Estate Planning Magazine, Co-Author, Vol. 32, No.8, August 2005

Richard Alderman, The People's Law School, University of Houston, "Wills, Living Wills & Powers of Attorney," Speaker, 2001

State Bar of Texas, Advanced Elder Law & Advanced Guardianship Courses, "A Survey of Non-Institutionalized Medicaid Programs for Persons Who are Elderly/Disabled," Speaker, 2007

"Miller Trust May Help You, Loved One, Qualify for Medicaid Benefits," Co-Author, Houston Chronicle, 50+ Section, March 2001

Texas NAELA Conference, "UPL & Effect on Elder Law Attorneys and Clients, and What is Being Done" Speaker, 2001

University of Texas, Special Needs Trusts Conference, "Sole-Benefit Trusts," Speaker, 2007

West's Texas Elder Law, Vol. 51, Texas Practice Series, Co-Author

South Texas College of Law, Wills & Probate Institute with Guardianship Certification Course, "Medicaid Rules & Planning," Speaker ,2001

Texas Chapter of NAELA, Annual Conference, "Q&A with Three Recent Past Presidents," Speaker, 2006

"Save My Home! Saving Your Home, Farm or Ranch from Medicaid Estate Recovery in Texas," Co-Author, Elder Law Trio Press, 2005

Case Management Society of America Conference, "Medicaid Planning: What Is It " Who Needs It" and the Most Frequently Asked Questions About It," Speaker, 2001

South Texas College of Law, Wills & Probate Institute, "Significant Changes to Medicaid," Speaker, 2006

State Bar of Texas, Advanced Estate Planning and Probate CLE Course, "The Unexpected Complexities of Tragedy (Fundraising, Special Needs Trusts, Medicaid, and Tax Deductions)," Speaker, Houston, June 2013

HBA, Health Law Section, "Medicaid Qualification for Nursing Home Care," Speaker, 2001

University of Texas Elder Law Conference, "Save My Home! Saving the Home, Farm or Ranch from Medicaid Estate Recovery in Texas," Speaker, 2006

State Bar of Texas, Advanced Elder Law CLE Course, "Elder Law Overview," and "The Unexpected Complexities of Tragedy, Fundraising, Special Needs Trusts, Medicaid, and Tax Deductions," Speaker, Houston, April 2013

State Bar of Texas, Advanced Estate Planning & Probate Institute, "Report on Medicare After the HMO Retreat, What's New in Advanced Medicaid Planning Techniques & Prospective Dilemmas in Medicaid Planning," Speaker, 2001

State Bar College, Summer School, "Medicaid Update: Estate Recovery, Gifting & The Deficit Reduction Act," Speaker, 2006

Austin County Bar Association, "Elder Law Overview, Medicaid and MERP," Speaker, Bellville, March 2013

Attorneys in Tax & Probate, "Current Developments in Medicaid," Speaker, 2001

University of Houston, Wills & Probate Institute, "The Government Wants It Paid Back! Estate Recovery, Monthly Gifting & The Deficit Reduction Act," Speaker, 2006

State Bar of Texas Advanced Estate Planning Conference, "Medicaid Changes & Strategies," Speaker, 2006

University of Texas, Changes and Trends Affecting Special Needs Trusts, "The 'Dirty Dozen,' Part II Blatant Drafting Mistakes, Nos. 13-24," Speaker, Austin, February 2013

Houston Chronicle, Managing Your Money Seminar, "Planning for Elder Care," Speaker, 2001

State Bar of Texas, Summer School, "Saving the Family Homestead: The Final Rules for the Texas Medicaid Recovery Act," Speaker, 2005

Houston Bar Association, "The 'Dirty Dozen' Blatant Mistakes in SNTs," Speaker, Houston, October 2012

State Bar of Texas, Elder Law Course, "Abuse, Neglect & Financial Exploitation of the Elderly," Speaker, 2000- 2001

University of Houston, Wills & Probate Institute, "Medicaid, Medicare & Estate Recovery," Speaker, 2005

Texas Society of Certified Public Accountants, Estate Planning Conference, "Elder Law Overview," Speaker, San Antonio, August 2012

NASA/Johnson Space Center, Total Health & Safety Day, "Elder Law Issues," Speaker, 2000

State Bar of Texas, Representing Older Adults Living with Disabilities: The Nuts & Bolts of Aging Issues, "Medicaid Estate Recovery," Speaker, 2005

University of Texas, Estate Planning, Guardianship and Elder Law Conference, "The Bear-Traps of Medicaid Planning-10 Ways to Win (or Lose) Your Case," Presiding Officer, Galveston, August 2012

University of Texas, Intermediate Estate Planning, Guardianship & Elder Law Conference, "Recognizing & Responding to Inappropriate or Illegal Estate Planning," Speaker, 2000

State Bar of Texas, Annual Meeting, "Medicaid Estate Recovery," Speaker, 2005

Elder Law Lecture Serier, "Life Care Planning and Costs of Long-Term Care," Houston, June 2012

University of Texas, Intermediate Estate Planning, Guardianship & Elder Law Conference, "Recognizing & Responding to Inappropriate or Illegal Estate Planning," Speaker, 2000

State Bar of Texas, Advanced Estate Planning & Probate Seminar, "Medicaid Estate Recovery Update," Speaker, 2005

Advanced Elder Law Conference, "The Bear-Traps of Planning- Ten Ways to Win (or Lose) Your Case," Speaker, Dallas, April 2012

State Bar of Texas, Advanced Tax Law Course, "Protecting Family Assets With Medicaid Planning," Speaker, 1999

State Bar of Texas, Advanced Elder Law & Advanced Guardianship Courses, "Medicaid Estate Recovery Program (MERP) Final Rules, Including the Expanded Estate, Gifting, and Unmarried Adult Children," Speaker, 2005

University of Texas, Changes & Trends Affecting Special Needs Trusts, "'The Dirty Dozen' Blatant Mistakes in Special Needs Trusts," Speaker, 2012

Attorneys in Tax & Probate, "Testamentary Supplemental Needs Trusts," Speaker, 1999

NAELA, Institute, "Putting on the Ritz: Does it Really Work" Speaker, 2004

Midland Odessa Business and Estate Council Meeting, "Elder Law Overview, Public Benefits Planning, Medicaid and VA," Speaker, Midland 2012

HBA, Guardianships & Ad Litem Certification & Elder Law Institute, "Drafting Special Needs Trusts," Speaker, 1999

Texas NAELA Conference, "New & Cutting Edge Medicaid Strategies," Speaker, 1999

South Texas College of Law, Wills & Probate Institute, "Medicaid Estate Recovery," Speaker, 2004

San Antonio Estate Planners Council, "Elder Law Overview & Medicaid Administration," Speaker, 2011
Honors/Awards:
Outstanding Member Award, Texas Chapter of NAELA, 2002

Listed in Texas Super Lawyers - Elder Law, Texas Monthly, 2006-2018

Quoted in USA Today, "Sorry, Savers: Interest Rates Set New Lows," by John Wagner, July 2012

Martindale Hubble AV® Peer Review Rated*

Listed in The Best Lawyers in America and Texas, Best Lawyers, 2008-2018

Listed as a Top Rated Lawyer in Trust & Estate Law, The American Lawyer Magazine, 2013

Listed as Lawyer of the Year, Elder Law – Houston Area, Texas' Best Lawyers, 2014 & 2017

Houston's Top Lawyers for the People, H Texas Magazine, 2008, 2009, 2012-2015
Special Licenses/Certifications:
Estate Planning and Probate Law, Texas Board of Legal Specialization

Certified Elder Law Attorney (CELA), National Elder Law Foundation
Videos:
Probate is a process whereby matters pertaining to a decedent's estate are "proven" in court and title to assets in the estate passes to the rightful beneficiaries under a decedent's Will or by the laws of intestacy when a person dies without a Will.,

Probate Law

The issues that the practice of elder law addresses affect virtually every family at some time in their lives. Elder law consists of a variety of laws from many legal areas that concern seniors, ranging from estate planning and nursing home litigation, to health and personal care advice, to Medicare and Medicaid planning in Texas, and probate.

,

Medicaid Planning

We offer a complete range of services to individuals and couples who have trusts, whether they are inter vivos or testamentary trusts, as well as to trust beneficiaries.  Call us for advice on how to properly administer a trust and protect a disabled beneficiary's government benefits.

,

Trust Administration
Industry Groups:
General Public
parents of children who are disabled
persons planning their estates with Wills
persons who are entering a nursing home and wish to preserve assets with Medicaid planning
persons who are in need of trust creation or trust administration
persons who are probating decedents estates
Powers of Attorney for Finances and Health Care
Trusts
Office location for Wesley E. Wright
4949 Bissonnet Street
Bellaire, TX 77401
Phone: 713-234-1940
Selections
Super Lawyers: 2006 - 2023
Articles about Wesley E. Wright by Super Lawyers
The Patriot
Additional sources of information about Wesley E. Wright
Attorney resources for Wesley E. Wright