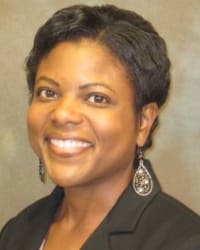 Simmons Legal PLLC
Practice Areas: Bankruptcy, Business litigation, Business & corporate view more
Licensed in Texas since: 2006
Education: Texas Tech University School of Law

Selected to Super Lawyers: 2021 - 2022

Selected to Rising Stars: 2014 - 2016

Free Consultation
Simmons Legal PLLC
6060 N Central Expressway
Suite 500
Dallas, TX 75206
Phone: 214-643-6192
Email: Camisha L. Simmons Visit website
Details
Camisha L. Simmons primarily focuses her practice on the representation of parties in real estate, corporate, litigation and restructuring and bankruptcy matters. 
She has served as an Adjunct Professor of Law at the University of North Texas College of Law and has served as a faculty member for the National Institute of Trial Advocacy (NITA) Building Trial Skills course.   ​​
Camisha L. Simmons is the Founder and Managing Member of Simmons Legal.  She assists clients with their litigation, bankruptcy, restructuring and business transactions needs.  
In 2022, 2021, 2020 and 2019, she was selected by The National Black Lawyers, a professional and educational organization comprised of an elite group of highly successful and influential African American lawyers in the U.S., for inclusion in its list of the top 100 African American attorneys in Texas, The National Black Lawyers Top 100.  In 2018, she was recognized as one of the Top 50 Women Lawyers in Dallas by the Texas Diversity Council.  In 2013, Texas Lawyer named Camisha to its inaugural list of Legal Leaders on the Rise.  The recognition honors Texas' 25 most promising lawyers under the age of 40 whose accomplishments distinguish them from their peers.  She has also been named a Texas Rising Star and New York Metro Rising Star by Super Lawyers®, a Thomson Reuters rating service, and a Top 40 Under 40 attorney by the National Black Lawyers.
After graduating from law school, Camisha was a judicial law clerk to the Honorable Mary F. Walrath, then Chief Judge of the United States Bankruptcy Court, District of Delaware. 
She is admitted to practice before the bars of the states of Texas and New York and the following federal courts: United States District Court for the Southern District of New York; United States District Court for the Eastern District of New York; the United States District Court for the Northern District of Texas; the United States District Court for the Eastern District of Texas; United States District Court for the Southern District of Texas; and the United States District Court for the Western District of Texas. 
She served on active duty in the United States Army as a personnel services soldier from 1999 to 2003.   
Practice areas
Bankruptcy: business, Business litigation, Business/corporate, Real estate: business, Creditor debtor rights: business

First Admitted: 2006, Texas

Professional Webpage: http://www.simmonslegal.solutions/page7.html

Pro bono/Community Service:
Member of the Board of Directors of the Visiting Nurse Association (VNA) of Texas.  Chair of Audit and Compliance Committee and Member of Executive Committee.  VNA is a healthcare company that primarily provides hospice care, meals on wheels, palliative careand private care to senior members of the local community.
Bar/Professional Activity:
American Bar Association, Bankruptcy & Insolvency Litigation Committee, ABA Committees Liaison Subcommittee, Former Chair

International Women's Insolvency & Restructuring Confederation

American Bankruptcy Institute - Special Projects Task Force, Legislation Committee (2014-2016); American Bankruptcy Institute - Newsletter Editor (former), Legislation Committee (former)

American Bankruptcy Institute, Coordinating Editor of American Bankruptcy Institute Journal

Association of Insolvency & Restructuring Advisors (2014-2016)

Global Network of Women Committee, Turnaround Management Association

,

2017

National Bar Association

Dallas Bar Association

Chair, Network of Women Committee, Turnaround Management Association, Dallas Chapter (2014-2016)
Educational Background:
2006 - J.D., magna cum laude, Texas Tech University 2006 - M.B.A., Texas Tech University 2003 - M.Ed., Counseling, University of Maryland, College Park 2000 - B.B.A., Business/Management, Campbell University 
White Papers:
In recent bankruptcy cases in the U.S. and Canada, debtors have sought to abandon oil and gas assets and attached plugging, abandonment and decommissioning (collectively, "decommissioning") obligations. In those cases where abandonment is granted, state and local governments, co-lessees and predecessors-in-interest, among other parties, are often left holding the bag with respect to the substantial cost of decommissioning.This article discusses the seminal case setting forth the rule governing abandonment when there is environmental liability attached to an asset, recent bankruptcy litigation involving abandonment of oil and gas assets with outstanding decommissioning obligations, the potentiality of entitlement to an administrative expense claim for decommissioning costs paid, and, lastly, proposed best practices for state and local governments and regulators, co-lessees and predecessors-in-interest to proactively protect themselves in the event of a future bankruptcy filing of an oil and gas company.

,

"Oil and Gas Decommissioning: At Whose Expense?," American Bankruptcy Institute Journal, Vol. XXXVII, No. 4, 38-39, 99, 100, April 2018

,

Oil & Gas, Energy

,

2018

Despite some recent government action, the oil-and-gas market has yet to rebound to where it was three years ago. It is not certain when the next wave of oil-and-gas bankruptcies will hit, but when it does, we might see more companies engaging in offshore exploration and production seeking bankruptcy protection. Exploration and production (E&P) companies and other parties involved in offshore drilling face uncertainty in bankruptcy. Courts have yet to determine whether an offshore oil-and-gas lease may be assumed or rejected in bankruptcy. This article discusses assumption and rejection under § 365 of the Bankruptcy Code, the law that is generally applicable to offshore oil-and-gas leases, and bankruptcy litigation in which parties debated the proper characterization of an offshore lease, yet the issue was never resolved in that matter. The article concludes with an analysis of how Congress may resolve the issue.

,

​"Offshore Oil and Gas Leases: The Unanswered Question," American Bankruptcy Institute Journal, Vol. XXXVI, No. 9, 18-19, 77, September 2017

,

2017

Notwithstanding the technological advances in recent years that have significantly increased oil and gas production in the U.S., there is a growing global focus on use of cleaner renewable energy sources, such as geothermal energy. In bankruptcy cases, legal issues often arise with respect to exploration and production projects, including the question of whether an oil and gas or geothermal lease can be assumed or rejected by the debtor.This article discusses the relevance of characterization of an exploration and production lease for purposes of assumption and rejection under § 365 of the Bankruptcy Code. It also explores and examines, more generally, the treatment of oil and gas and geothermal leases in and outside bankruptcy.

,

"Is That Exploration and Production Lease Really a Lease?," American Bankruptcy Institute Journal, Vol. XXXVII, No. 12, 50-51, 82, December 2018

,

Oil & Gas, Energy

,

2018

Liquidated damages provisions of agreements set forth in advance the amount of damages the breaching party must pay in the event of breach. These provisions are intended to avoid often costly and lengthy litigation precipitated by a contractual breach. The enforceability of these provisions, which is a question of state law, however, is frequently challenged in bankruptcy cases and other forums.This article discusses bankruptcy cases in which the liquidated damages provision was deemed enforceable, cases where the court found the provision unenforceable and highlights key takeaways and best practices for protecting liquidated damages clauses from invalidation.

,

"Ensuring Enforceability of Liquidated-Damages Provisions," American Bankruptcy Institute Journal, Vol. XXXVIII, No. 7, 28-29, 63, July 2019

,

2019

There is a global race to get first dibs on valuable metallic and nonmetallic minerals and other natural resources in outer space for consumption on Earth as well as use as materials and fuel to aid completion of exploration and colonization missions in outer space.Chances are that companies and investors racing to space to establish commercial operations, including tourism, human migration, colonization of space, and exploration and production ("E&P") of space resources, may succeed in their endeavors. If the space resources E&P industry is anything like the oil and gas industry, there will be boom times, but many down times where things in the industry go bust. Thus, just like we are seeing intermittent reoccurring waves of oil and gas company restructurings, we should also expect that companies participating in capital intensive E&P activities in space will eventually land in bankruptcy court.This article presents a general overview of the unsteady, underdeveloped and untested legal framework for E&P and private ownership of space resources and discussion of how existing law applicable to E&P projects on Earth may be useful in restructuring outer space mining projects and space resources in bankruptcy.

,

"Space Exploration and Production: Bankruptcy Perspectives," American Bankruptcy Institute Journal, Vol. XXXXI, No. 10, October 2020

,

Space, Energy

,

2020

The Bankruptcy & Restructuring Roundtable features eight turnaround, bankruptcy and restructuring professionals from around the world, including Camisha L. Simmons, Esq.  Highlighted topics include a focus on key industries facing bankruptcy & restructuring challenges such as oil and gas, the impact of ecommerce on the  retail sector, and a discussion on recent case studies such as Toys R Us and Monarch Airlines. Featured countries are: Australia, Brazil, India, South Africa and the United States

,

Bankruptcy and Restructuring Virtual Roundtable

,

2017

Subtle bankruptcy nuances left unaddressed in a loan agreement may result in a forfeit of the make-whole charge which the lender bargained for when negotiating and documenting the loan. This white paper provides lenders useful guidance to help preserve entitlement to bargained-for make-whole payments in the event of a borrower's bankruptcy.

,

Safeguarding Lenders' Entitlement to Make-Whole Payments in Bankruptcy

,

Financial

,

2014
Scholarly Lectures/Writings:
"Chapter 14 Bankruptcy Gaining Momentum," American Bankruptcy Institute, Legislation Committee Newsletter, June

,

2018

The Midstream Contract World Defined in Four Parts: Federal regulatory landscape Differences between pipelines and gathering systems State oil and gas and real property law (covenant running with the land, pipeline common carrier issues) Economics of different basins (constrained takeaway capacity or taking sand to the beach).

,

Panelist

,

"The Midstream Contract World Defined in Four Parts"

,

39th Annual Jay L. Westbrook Bankruptcy Conference, University of Texas School of Law CLE Program, November 5, 2020

,

Oil & Gas, Energy

,

2020

"Affordable Care Act May Stunt Economic Growth," Law.com, June 13, 2014

Privacy Law Compliance in Bankruptcy: The EU's New GDPR," American Bankruptcy Institute Journal, Vol. XXXVII, No. 10, 18-19, 69-70, October,

2018

"Rule 37(e) and the Failure to Preserve Sanctions in E-Discovery," American Bar Association, Bankruptcy & Insolvency Litigation Committee Digital Publication, July 2, 2014

"Tax Lien Foreclosures Could Be Unraveled in Bankruptcy," American Bankruptcy Institute Journal, Vol. XXXIII, No. 8, at 44-45, 84, August 2014,

www.simmonslegal.solutions/tax-lien-foreclosures-could-be-unraveled-in-bankruptcy.html

Co-author, "Lenders take note of recent Fifth Circuit bankruptcy decision," Norton Rose Fulbright Legal Update, October 30, 2014

Co-author with Mark A. Platt, "Delaware Court Cracks Down on Insufficiently Plead Preference-Action Complaints," American Bankruptcy Institute Journal, Vol. XXX No. 7, at 30, 62-63, September 2011 ,

www.simmonslegal.solutions/delaware-court-cracks-down-on-insufficiently-plead-preference-action-complaints.html

"Lender Fumble Results in Borrower Walking Away from Bankruptcy With 'Free' Home," Law.com, November 11, 2014

Co-author, "Supreme Court, Appellate Justices Weigh in on Trio of Notable Cases," Journal of Corporate Renewal, Vol. 24, No. 8, at 24, October 2011 

Co-author, "Executory Contract Counterparty Trumps Critical-Vendor Status," American Bankruptcy Institute Journal, Vol. XXXIII, No. 12, at 20-21, 98, December 2014

Co-author with Mark A. Platt, "Stay Relief in Single-Asset Real Estate Cases Involving 'Underwater' Loans," American Bankruptcy Institute Journal, Vol. XXX, No. 4, at 40-41, May 2011
"No Stay of Termination Without Legislation: Investors Oppose Proposed ISDA Stay Protocol Regarding Derivatives Contracts," American Bankruptcy Institute, Legislation Committee Newsletter, November,

www.abi.org/committee-post/no-stay-of-termination-without-legislation-investors-oppose-proposed-isda-stay

,

2015

Co-author, "In re Delta Air Lines Inc.: Leveraged-Lease Transactions in Airline Bankruptcies," American Bankruptcy Institute Journal, Vol. XXIX, No. 7, at 28, 72-73, September 2010

"Falling Oil Prices May Cause Termination of Producing Oil and Gas Leases," Law.com, February 9

,

2015

"The Public's Right to Access Judicial Records and Proceedings in Bankruptcy Court," American Bankruptcy Institute Journal, Vol. XXIX, No. 4, at 42-43, 55, May 2010

"How 'Obama-Care' is Impacting Small Businesses," panelist, Association of Insolvency & Restructuring Advisors 30th Annual Bankruptcy & Restructuring Conference, Denver, Colorado, June 6, 2014

"Defrauded Parties' Recovery of Funds from Innocent Third Parties: The Relief Defendant," American Bankruptcy Institute, Bankruptcy Litigation Committee Newsletter, Vol. 6, No. 5, August 2009

"Assuring e-Discovery Does Not Become an e-Disaster," panelist, National Conference of Bankruptcy Judges 88th Annual Meeting, Chicago, Illinois, October 9, 2014

"Lender Drafting Mishaps' Effect on Prepayment Premiums and Other Damages," American Bankruptcy Institute Journal, Vol. XXVII, No. 6, at 26-27, 67, July/August 2008

"Current Healthcare Trends- When Will the Bleeding Stop?,"  panelist, Association of Insolvency & Restructuring Advisors 13th Annual Advanced Restructuring & Plan of Reorganization Conference, New York, New York,  November 17, 2014

"Bank Loses Mortgage in Bankruptcy Due to Mere 'Technicality,'" Law.com, April 5, 2015

"Unique Issues Involved in Oil & Gas Bankruptcies & Restructurings," presenter, Women's Energy Network, North Texas, Dallas, Texas, April 19,

2016

"Bankruptcy Court Orders Bank to Disgorge Over $1.5 Million for Allowing Account Overdrafts," Law.com, May 10, 2015

"In Trump Entertainment Resorts Bankruptcy, Court Rules Federal Labor Law 'Trumps' Bankruptcy Stay," Law.com, July 30, 2015

"Rejection of Oil and Gas Leases May Prove Futile," Law360, May 14

,

2015

"546(e) and 547(c)(6) Safe Harbors:  Expand or Limit?", panelist, American Bankruptcy Institute, Live Webinar, September 12

,

2016

"Termination of Oil and Gas Leases for Failure to 'Produce'," American Bankruptcy Institute Journal, Vol. XXXIV, No. 7, at 34-35, 85, July  ,

www.simmonslegal.solutions/termination-of-oil-and-gas-leases-for-failure-to--produce-.html

,

2015

"Codification of Oil and Gas Lien Claimants' Preference Defense," American Bankruptcy Institute Journal, Vol. XXXV, No. 9, 16, 61-62, September,

www.simmonslegal.solutions/codification-of-oil-and-gas-lien-claimants--preference-defense-.html

,

2016

​"Lenders and Directors Beware of the Dead-Hand Proxy Put," American Bankruptcy Institute Journal, Vol. XXXIV, No. 9, at 20-21, 73-74, September 2015
Co-author with David L. Barrack, David B. Schwartz and David Charme, "Mandatory Prerequisites to Chapter 11 Relief under §365(o) for Bank Holding Companies," American Bankruptcy Institute Journal, Vol. XXXI, No. 2, at 34-35, 43, March 2012
Co-author, "New Trust Protects Fiduciaries of Distressed Companies," American Bankruptcy Institute Journal, Vol. XXXIV, No. 11, 24-25, 61-62, November 2015,

www.simmonslegal.solutions/new-trust-protects-fiduciaries-of-distressed-companies.html

Co-author, "Timing the Bankruptcy Filing of Commercial Real Estate," Law360, March 16, 2012
"Oil and Gas Royalty Disputes," American Bankruptcy Institute Journal, Vol. XXXIV, No. 12, 40-41, 63, December,

2015

"Continuing Real Estate Receiverships Post-Petition," American Bankruptcy Institute Journal, Vol. XXXI, No. 5, at 52-53, 104, June 2012

Contributor, The Attorney-Client Privilege in Civil Litigation, 6th Ed., American Bar Association (2015)

Co-author, "Government Addresses Privacy Concerns in Bankruptcy Sales," American Bankruptcy Institute Journal, Vol. XXXI, No. 10, at 28, 70-71, November 2012

"Bankruptcy & Restructuring in the Oil & Gas Sector," panelist, Knowledge Congress Webcast, February 19

,

2016

"Code Doesn't Address Health Care Privacy Concerns," Dow Jones Daily Bankruptcy Review, February 6, 2013

"Electronic Discovery (ESI) Issues for Business Lawyers - ESI Basics, Ethical Issues, Litigation Holds, New Federal Rules and Much More - Confronting the Brave New World (the Electronic Age)",panelist, American Bar Association Business Law Section Spring Meeting, Montreal, Canada , April 8

,

2016

Co-author, "Safeguarding Enforcement of Lien Subordination Agreements," American Bankruptcy Institute Journal, Vol. XXXII, No. 5, at 52-53, 88, June 2013
"Oil and Gas Decommissioning:  At Whose Expense?," American Bankruptcy Institute Journal, Vol. XXXVII, No. 4, 38-39, 99, 100, April,

2018

"Emerging Healthcare Privacy Concerns in Bankruptcy," speaker, Association of Insolvency & Restructuring Advisors 29th Annual Bankruptcy & Restructuring Conference, Chicago, Illinois, June 5, 2013

"Unique Issues Involved in Oil & Gas Bankruptcies & Restructurings," presenter, Women's Energy Network, North Texas, Fort Worth, Texas, April 12

,

2017

"Continuing Real Estate Receiverships Post-Petition," speaker, Houston Association of Bankruptcy Paralegals Annual Seminar, Houston, Texas, November 9, 2012

"Privacy and Data Protection in Bankruptcy," speaker, Dallas Bar Association, Bankruptcy & Commercial Law Section, Dallas, Texas, November 7, 2012

"Learning to Play Small Ball: from Big Law to Solo," panelist, State Bar of Texas Annual Meeting, Dallas, Texas, June 22 

,

2017

"Is Easier Dismissal the Better Part of Jurisprudence?: Iqbal, Twombly and the Tougher 12(b)(6) Standard," panelist, National Bar Association Mid-Winter Meeting, St. Maarten, Netherlands Antilles, January 21, 2012

"Ensuring Enforcement of the Eleventh-Hour Mediation Deal," American Bankruptcy Institute Journal, Vol. XXXVI, No. 2, 24-25, 67, February,

www.simmonslegal.solutions/-ensuring-enforcement-of-the-eleventh-hour-mediation-deal---american-bankruptcy-institute-journal--vol.-xxxvi--no.-2--24-25--67--february-2017.html

,

2017

Co-author, "Detroit's Art:  Priceless Public Treasure or City's Disposable  Assets?," American Bankruptcy Institute Journal, Vol. XXXII, No. 10, at 18, 92-93, November 2013,

www.simmonslegal.solutions/detroit-s-art---priceless-public-treasure-or-city-s-disposable--assets-.html

"Bankruptcy and Restructuring 2017," participant, Corporate LiveWire Global Virtual Roundtable, November,

www.simmonslegal.solutions/camisha-l.-simmons-participates-in-corporate-livewire-the-bankruptcy---restructuring-virtual-round-table-2017.html

,

2017

"Unique Aspects of Asset Sales Involving Nonprofit Health Care Businesses," panelist, Association of Insolvency & Restructuring Advisors Live Webinar, New York, New York, November 6, 2013

"Marketing and Branding:  How to Build a Plan and Generate Leads," panelist, University of Texas School of Law CLE Program "Managing Your Success:  Practice Management at the Next Level," Dallas, Texas, February 9

,

2018

"Special Considerations for Companies Operating in a Distressed Oil and Gas Market," presenter, EUCI Webinar, April 8

,

2015

"Offshore Oil and Gas Leases:  The Unanswered Question," American Bankruptcy Institute Journal, Vol. XXXVI, No. 9, 18-19, 77, September,

Oil And Gas

,

2017

"Bankruptcy Not an Escape From Federal Healthcare Privacy Watchdogs," Law.com, March 31, 2014

"Purchasing Oil and Gas Assets in Bankruptcy," presenter, Southern Methodist University Geothermal Laboratory's 9th  International Energy Conference:  "Power Plays: Drilling into Geothermal Energy Applications," Dallas, Texas, January 11

,

2018

Co-author, "Safeguarding Lenders' Entitlement to Make-Whole Payments in Bankruptcy," Norton Rose Fulbright Legal Update, February 21, 2014 (published in Pratt's Journal of Bankruptcy Law (April/May 2014)),

www.simmonslegal.solutions/safeguarding-lenders--entitlement-to-make-whole-payments-in-bankruptcy.html

"Professional Development for Attorneys" Panel Presentation, 2nd Annual SWBLSA Convention, Dallas, Texas, January 11

,

2018

"Hacked?: Federal Trade Commission Gets the Nod to Police Cybersecurity," Law.com, May 8, 2014

"Building Trial Skills" Training, faculty member, National Institute for Trial Advocacy (NITA), Dallas, Texas, June 2, 2018 thru June 7

,

2018

Mock Valuation Trial:  "Remember the Alamo: Shareholders vs. Hedge Funds,"  participant, National Conference of Bankruptcy Judges, San Antonio, Texas, October 29,

2018

"'Bullet-Proofing' Make-Whole Payment Claims in Bankruptcy," Journal of Corporate Renewal, Vol. 27, No. 4, at 30-33, May 2014
Honors/Awards:
In 2020 and 2019, she was selected by The National Black Lawyers, a professional and educational organization comprised of an elite group of highly successful and influential African American lawyers in the U.S., for inclusion in its list of the top 100 African American attorneys in Texas, The National Black Lawyers Top 100.,

Top 100

,

The National Black Lawyers

,

2020

In 2020 and 2019, she was selected by The National Black Lawyers, a professional and educational organization comprised of an elite group of highly successful and influential African American lawyers in the U.S., for inclusion in its list of the top 100 African American attorneys in Texas, The National Black Lawyers Top 100.,

Top 100

,

The National Black Lawyers

,

2019

"Legal Leader on the Rise" -- The recognition honors Texas' 25 most promising lawyers under the age of 40.  The distinction is bestowed upon those Texas lawyers under the age of 40 whose accomplishments distinguish them among their peers.  The editorial department of the Texas Lawyer selected the 25 Legal Leaders on the Rise on the basis, among others, that the innovative leaders have wielded influence and are excelling in their practice areas in the Lone Star State.,

Legal Leader on the Rise

,

Texas Lawyer

,

2013

The National Black Lawyers - "Top 40 under 40" -the award recognizes outstanding Black attorneys under the age of 40 who demonstrate superior leadership, reputation, influence, stature and profile as a Black lawyer. Only 40 Black lawyers from each state or region are selected for membership each year.,

Top 40 under 40

,

The National Black Lawyers

,

2015
Industry Groups:
Energy
Finance
Life Sciences And Healthcare
Oil And Gas
Real Estate
Selections
Super Lawyers: 2021 - 2022
Rising Stars: 2014 - 2016
Additional sources of information about Camisha L. Simmons
Attorney resources for Camisha L. Simmons