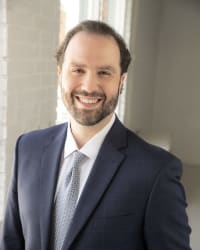 Steckler Wayne Cherry & Love, PLLC
Practice Areas: Business Litigation, Class Action & Mass Torts, Consumer Law view more
Licensed in Texas since: 2005
Education: Southern Methodist University Dedman School of Law

Selected to Super Lawyers: 2023

Selected to Rising Stars: 2010, 2012 - 2019

Free Consultation
Steckler Wayne Cherry & Love, PLLC
12720 Hillcrest Rd
Suite 1045
Dallas, TX 75230
Phone: 214-500-1750
Email: Michael R. Steinmark Visit website
Details
Mr. Steinmark is a seasoned trial lawyer with experience in a broad range of litigation, including employment, commercial, catastrophic injury and death, class action, intellectual property, residential mortgage servicing, and other real estate related cases in state and federal trial and appellate courts in Texas and across the United States. Regularly representing plaintiffs and defendants, Mr. Steinmark has litigated: (among other things):
commercial disputes (including complex commercial contract actions, lease disputes, real estate purchase/sale agreement disputes, partner disputes, investment disputes);
insurance cases (including catastrophic injury and wrongful death claims, property damage claims, aviation claims, etc.);
employment cases (including Title VII, STAA, state law discrimination and retaliation, and covenants not to compete/non-competition/non-solicitation claims);
bank, lender, and mortgage servicer liability cases (including UCC, Texas Debt Collection Act, Texas Deceptive Trade Practices Act, Federal Fair Debt Collection Practices Act, and "where's the note" standing/authority claims);
regulatory/administrative law cases (including state and local outdoor advertising regulation permitting and compliance cases); and
eminent domain cases (including whole and partial takings).
A dispute resolver keen on cutting to the heart of the matter, Mr. Steinmark brings a fresh perspective to litigation based on his considerable business and real estate transactional experience, including business entity planning, mergers and acquisitions, corporate governance, contract negotiation and drafting (including non-compete and other employment agreements), technology licensing, trademark prosecution and policing, homeowners' association document drafting, commercial leasing, and real property acquisitions and divestitures. Having been involved on the planning and drafting side of many of the types of business relationships and transactions over which he now litigates, Mr. Steinmark is particularly well-equipped to identify the critical issues, strengths, and weaknesses of disputes and to successfully craft complex solutions for his clients, including both efficient trial strategies and creative settlement approaches.
Practice areas
Business Litigation, Class Action/Mass Torts: Plaintiff, Consumer Law, Employment Litigation: Plaintiff, Employment Litigation: Defense, Personal Injury - General: Plaintiff

First Admitted: 2005, Texas

Professional Webpage: https://www.swclaw.com/people/michael-r-steinmark/

Bar/Professional Activity:
Dallas Association of Young Lawyers

Texas Bar College, Member

,

2020

Dallas Bar Association

American Bar Association
Scholarly Lectures/Writings:
Selected as the 2004 Best Case Note by the SMU International Law Review Association, this article examines a suit filed in 2003 by Mexico against the United States in the International Court of Justice regarding denial of consular rights under article 36 of the 1963 Vienna Convention on Consular Relations.  The article examines the case from the Mexican point of view, focusing on the law and policy underlying Mexico's position in the case and the significance of the case within the context of Mexican-American extradition relations

,

Author

,

The Case Concerning Avena and Other Mexican Nationals (Mexico v. United States): A Mexican Perspective on the Fight for Consular Rights

,

10 Law & Business Review of the Americas 417

,

2004

Presentation regarding new Texas procedural rules adopted in Texas House Bill No. 274 related to motion to dismiss, interlocutory appeals, expedited resolution of cases under $100,000, and responsible third party practice.  Also addressed Rule 167 of the Texas Rules of Civil Procedure (offer of settlement; award of litigation costs), including overview, practice tips, and changes under HB 274.  Further, provided overview and practice tips regarding Rule 263 of the Texas Rules of Civil Procedure (agreed case), allowing for submission of case for trial on agreed statement of facts.  Finally, provided updates on recent changes to condemnation procedures under Texas Senate Bill No. 18

,

Speaker

,

New and Less Commonly Used Rules of Civil Procedure

,

Dallas Area Paralegal Association, Litigation Section

,

2011

Guest appearance on nationally syndicated radio show Real Estate Talk with Willie Lambright discussing troubled residential mortgage loans, including tips for borrowers from the perspective of a lender-side attorney

,

Real Estate Talk with Willie Lambright

,

2012

This is a case law update on the Texas Supreme Court's decision in Wood v. HSBC Bank USA, N.A., 505 S.W.3d 542 (Tex. 2016), which held that there is no statute of limitations for alleged violations of the home equity lien validity requirements set forth in Texas Constitution Article 16, Section 50(a)(6).,

Co-Author

,

Fifth Circuit Holds No Limitations on Texas Home Equity Constitutional Claims

,

2017
Educational Background:
SMU Dedeman School of Law Honors and Awards: Earned J.D., cum laude, 2005; Dean's List, 2002-2003; SMU International Law Review Association, Associate Managing Editor, 2004-2005, Staff Editor 2003-2004, Best Case Note Award, 2004; Phi Delta Phi; National Entertainment Law Moot Court, 2nd Place Best Brief, 2003; Research Assistant to Professors Gregory S. Crespi and John S. Lowe, 2004-2005,

2005

Vanderbilt University, B.A. (English, Creative Writing concentration), cum laude, minor in Communication Studies, National Merit Scholar,

2000
Honors/Awards:
Avvo (www.avvo.com) is an attorney review website which rates attorneys throughout the United States based upon experience, industry recognition, and professional conduct,

Rated 9.8/10

,

Avvo

,

2021

https://bestlawfirms.usnews.com/profile/steckler-wayne-cochran-cherry-pllc/rankings/81432

,

Tier 1 Personal Injury Plaintiffs Firm

,

U.S. News

,

2021

Avvo (www.avvo.com) is an attorney review website which rates attorneys throughout the United States based upon experience, industry recognition, and professional conduct,

Rated 9.9/10

,

Avvo

,

2017

Avvo (www.avvo.com) is an attorney review website which rates attorneys throughout the United States based upon experience, industry recognition, and professional conduct,

Rated 10/10

,

Avvo

,

2018

Intern for the Honorable Barbara M.G. Lynn, Northern District of Texas, 2004
Pro bono/Community Service:
Successfully obtained judgment for pro bono client in SAPCR (suit affecting parent child relationship) matter, including court award to client of full custody of children with no visitation by abusive other parent, child support, and other relief.,

2022

Successfully negotiated resolution for pro bono client in lease dispute.,

2022

Successfully obtained payment upon demand for pro bono client in contract dispute involving nonpayment for goods sold by client. ,

2022

Advisory Board Member - Boys and Girls Club of Greater Dallas (Turner Courts and Frazier Courts Clubs)

Volunteer - Dallas Bar Association Home Project (Habitat for Humanity)

Volunteer Teacher - Dallas Bar Association Law in the Schools Program

Regularly volunteer as judge for moot court, mock trial, closing argument, negotiation, and other law student competitions (including local and regional competitions)

South Dallas Legal Clinic Volunteer - Dallas Volunteer Attorney Program

Volunteer - Genesis Women's Shelter, HeROs Member
Transactions:
Provided real estate transactional advice and counsel to client in land purchase for development of a car wash.

,

2022

Provide employment transactional advice to various individual clients with respect to non-compete agreements, benefits vesting, and related issues

,

2022

Provided real estate transactional advice and counsel to client (seller) in sale of business that also involved sale of real estate.

,

2022

Established homeowners' association for planned unit development with multiple common area features, including preparing covenants, conditions, and restrictions, articles of incorporation, and bylaws

,

2006

Represented foreign investor group in successfully closing CMBS financing with Morgan Stanley for acquisition of a medical office property

,

2018

Assisted national homebuilder with annexing additional phases into multi-phase planned unit developments

,

2007

File and prosecute applications for federal trademark registration, including successfully obtaining registration

Established condominum regimes for local developer's new and condominium conversion properties, including condominium declaration, articles of incorporation, bylaws, condominium information statement, and related documents

,

2006

Drafted and successfully negotiated documentation for the acquisition of a residential real estate brokerage business, and drafted and successfully negotiated a software licensing agreement related to the acquisition of the brokerage

,

2012
Verdicts/Settlements:
Successfully negotiated settlement in a six-figure unpaid attorney's fees collection case on behalf of another highly-respected Dallas-based law firm.

,

2022

Successfully negotiated settlement in multiple first-party business interruption insurance cases related to the Covid-19 pandemic.

,

2022

Successfully negotiated settlement for landowner client in billboard lease dispute.

,

2022

Successfully negotiated settlement in partner dispute involving a failed franchise business.

,

2022

Successfully negotiated discounted payoff settlement for client in loan dispute. 

,

2022

Successfully negotiated settlement in real estate contract dispute regarding performance of various post-closing obligations. 

,

2022

Successfully obtained judgment for pro bono client in SAPCR (suit affecting parent child relationship) matter, including court award to client of full custody of children with no visitation by abusive other parent, child support, and other relief.,

2022

Successfully negotiated pre-litigation settlement of homebuyer's claims against my home remodeler client regarding alleged construction defects and failures to disclose the same.

,

2022

Successfully negotiated pre-litigation settlement on behalf of client asserting wrongful termination and other employment claims based upon alleged race or national origin discrimination, harassment, and retaliation, including resolving employer's claims for alleged breach of a noncompete agreement by my client. 

,

2022

Successfully negotiated pre-litigation settlement on behalf of client asserting wrongful termination and other employment claims based upon alleged disability discrimination, harassment, and retaliation. 

,

2022

Successfully negotiated mediated settlement in six-figure dispute involving claims and counterclaims between client, company from which client was ejected as an owner, and other owners.

,

2022

Successfully negotiated pre-litigation settlement of partner dispute on behalf of client ejected from company.

,

2022

Successfully negotiated resolution in a data breach action, including recovering client's stolen property, in pre-litigation matter on behalf of another highly-respected Dallas-based law firm.

,

2022

Successfully negotiated settlement in first party business interruption insurance case

,

2021

Successfully negotiated settlement in seven-figure probate case resulting in substantial recovery to clients

,

2021

Successfully negotiated settlement of commission dispute involving sale of dental practice

,

2021

Successfully negotiated settlement on behalf of employer in alleged whistleblower retaliation case

,

2020

Successfully negotiated settlement of arbitration brought by lender for default under commercial loan

,

2020

Successfully negotiated settlement involving substantial reduction of homeowners' association dues claim against lender who took title to property upon foreclosure in lien priority dispute

,

2020

Successfully negotiated settlement in copyright case involving alleged licensing of public domain images

,

2020

Successfully negotiated settlement for software systems integration service provider in commercial contract dispute

,

2020

Successfully negotiated settlement for employer in alleged race discrimination employment case

,

2020

Successfully negotiated pre-suit settlement for employment plaintiff in pregnancy and gender discrimination case.

,

2020

Obtained six-figure policy-limits settlement before discovery commenced in suit for restaurant owner against accountant for professional malpractice involving allegations of numerous professional errors resulting in significant six-figure losses to the plaintiff

,

2019

Successfully obtained ruling from the U.S. Court of Appeals for the Fifth Circuit affirming a summary judgment i had obtained in the trial court in a residential mortgage servicing litigation turning on res judicata and collateral estoppel.

,

2020

Obtained dispositive relief in multiple cases and negotiated numerous settlements for clients purchasing properties at foreclosure sales

,

2019

Obtained summary judgment for a national residential mortgage loan servicer in a case challenging the authority of the servicer to foreclose a residential mortgage loan

,

2011

Negotiated numerous settlements for mortgage servicing clients in loan-level litigation

,

2019

Obtained summary judgment for national residential mortgage servicer on all claims in a suit alleging the statute of limitations had run on the lender's right to foreclose and asserting various claims for affirmative relief

,

2010

Obtained summary judgment for a national bank serving as the trustee of a residential mortgage-backed security in a case where the plaintiffs (borrowers) challenged the authority of the trustee to foreclose a residential mortgage loan and also asserted claims for affirmative relief, including breach of contract, fraud, violation of the Texas Deceptive Trade Practices Act, and violation of the federal Fair Debt Collection Practices Act

,

2012

Obtained defense verdict of no negligence and no proximate causation on behalf of heavy equipment company after three-week jury trial in a wrongful death case in which the plaintiffs asked the jury to award in excess of $15,000,000 (motion for new trial subsequently granted; defense verdict returned upon re-trial as well)

,

2013

Obtained summary judgment in a breach of warranty and misrepresentation case involving allegations of damages in excess of $1,000,000 for catastrphic injuries in a trucking accident case

,

2014

Assisted a national outdoor advertising company in reaching settlements in administrative appeals of regulatory enforcement actions involving multiple billboard permits

,

2009

Negotiated favorable settlement for real estate investor client in multiple lawsuits arising from "business divorce" scenario, including as part of such settlement the negotiation and documenting of a six-figure real estate loan sale agreement

,

2015

Schriver v. Texas Department of Transportation, 293 S.W.3d 846 (Tex. App.—Fort Worth 2009, no pet.),

2009

Secured a take-nothing judgment for a residential mortgage servicing client following a bench trial in an adversary proceeding challenging a foreclosure as a preference payment in Judith Nations Aaron v. Embrace Home Loans, Case No. 4:16-ap-07082 (Bankr. W.D. Ark. Sept. 28, 2017),

2017

Assisted former employees in reaching a mediated settlement agreement with their prior employer in a convenant not to compete lawsuit, with an agreement secured less than a week after the suit was filed

,

2011

Obtained full compliance with cease and desist demand related to trademarks owned by rodeo performance team upon filing trademark infringement lawsuit against competitor, with suit voluntarily dismissed without prejudice in light of defendants' full compliance with our demands

,

2011

Santibanez v. Saxon Mortgage Inc., No. 11-10-00227-CV, 2012 Tex. App. LEXIS 7167 (Tex. App.--Eastland Aug. 23, 2012), available at http://www.11thcoa.courts.state.tx.us/opinions/pdfOpinion.asp?OpinionID=10605,

2012

Assisted a national outdoor advertising company in reaching a settlement in an administrative appeal of a regulatory enforcement action involving multiple billboard permits

,

2007

Obtained defense verdict of no negligence, no proximate causation, and no gross negligence in favor of heavy equipment company after two-and-a-half-week re-trial to a jury in a wrongful death industrial accident case in which the plaintiffs asked the jury to award roughly $21.5 million to $32.5 million in compensatory damaes

,

2015

Assisted multiple national mortgage servicers in reaching settlements through both mediation and direct negotiation, and obtained numerous summary judgments in state court and Rule 12 dismissals in federal court, in foreclosure-related litigation, including numerous settlements involving loan modification agreements, "cash for keys" agreements, loan reinstatement, and various other types of settlements (2005 to present)

Obtained summary judgment for residential mortgage servicing client in federal court in foreclosure limitations case; for more information, see here,

2018

Assisted a national transportation company in reaching a mediated settlement of an employment discrimination and retaliation lawsuit

,

2011

Negotiated settlements on behalf of defendants in numerous personal injury cases, including wrongful death, catastrophic injury, and multiple injury actions (2010 to present)

Obtained summary judgment for a national transportation services company in a racial discrimination employment suit under the Texas Labor Code

,

2012

Assisted a national financial institution in reaching a mediated settlement of a multi-party suit involving a Ponzi scheme with more than $2.9 million in alleged damages

,

2009

Obtained favorable mediated settlement for national school bus services company in breach of contract suit in which the company sought more than $1,300,000 in total recovery

,

2014

Assisted three regional staffing firms in reaching a mediated settlement of claims including breach of contract, fraud, and violation of the Texas Deceptive Trade Practices Act against a professional employer organization, recovering all of the clients' actual damages and approximately two-thirds of their attorneys' fees

,

2007

Represented the Plaintiffs in the highly-publicized case Highsmith et al. v. Getty Images (US), Inc. et al., Case No. 16-cv-5924 (S.D.N.Y. 2016), in which all parties achieved a mutually acceptable resolution obviating the need for further litigation,

2016
Special Licenses/Certifications:
Admitted to Practice in the Supreme Court of the United States

Admitted to Practice in the United States Court of Appeals, Fifth Circuit

Admitted to practice in the U.S. District Courts for the District of Colorado

,

2018

Admitted to Practice in the United States District Courts, Northern, Eastern, Southern, and Western Districts of Texas

Admitted to Practice in Missouri (state courts)

,

2016
Representative Clients:
Shoebacca,com (online retailer)

,

2020

Businesses suing their insurance carriers for business interruption coverage during the COVID-19 pandemic and related government shutdown orders

,

2020

Homeowners suing their insurance providers on storm damage claims

,

2020

Nafta Traders

,

2020

Headlands Asset Management

,

2019

Display Source Alliance

,

2020

Halo Group Realty, LLC

,

2020

Wedgewood, Inc., and associated entities

,

2019

Ocwen Loan Servicing, LLC

,

2019

Lamar Outdoor Advertising

,

2005
Industry Groups:
Banking
Cannabis
Financial Services
Lending
Mortgage Servicing
Private Business
Real Estate
Selections
Super Lawyers: 2023
Rising Stars: 2010, 2012 - 2019
Additional sources of information about Michael R. Steinmark
Attorney resources for Michael R. Steinmark