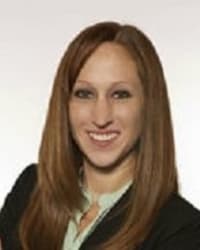 Brusniak Turner Fine LLP
Practice Areas: Tax; view more
Licensed in Texas since: 2011
Education: South Texas College of Law Houston

Selected to Rising Stars: 2021
Brusniak Turner Fine LLP
17480 Dallas Pkwy
Suite 210
Dallas, TX 75287
Visit website
Details
An attorney and managing partner with Brusniak Turner Fine, LLP, Tracy Turner represents clients in Dallas, Texas. Her practice covers a long list of legal matters, including the following: energy, commercial and agricultural law, nonprofit property taxes, business and personal property taxes, and commercial property taxes. With more than a decade of experience, she has earned a reputation as a devoted attorney focused on property tax litigation.
Admitted to practice in the state of Texas, Ms. Turner attended the University of Colorado Boulder, where she earned a Bachelor of Arts in communications and graduated with honors. She then attended law school at South Texas College of Law Houston, and in 2010, graduated with her Juris Doctor. While completing her studies, she was an active athlete and participant in student committees and participated in clinical trials with the Methodist Hospital's research team.
A member of the State Bar of Texas, Ms. Turner is co-chair of the Property Tax Section. She is also a member of the State Bar of Texas Leadership Academy, the Institute for Professionals in Taxation and the Dallas Bar Association. Serving as a Board Member for the National Association of Property Tax Attorneys, she is committed to improving both her personal legal services and the entire legal profession.
Ms. Turner is a co-author of the American Bar Association Desk Book's Texas Chapter. A regular speaker and presenter at seminars throughout the state, she is also a member of the Texas Ad Valorem Legal Seminar's planning committee. Ms. Turner is also licensed to practice law in Oklahoma.  
Practice areas
Tax: business
Focus areas
Tax law
First Admitted: 2011, Texas
Professional Webpage: https://www.texaspropertytaxattorneys.com/tracy-turner
Pro bono/Community Service:
Represented a 100% disabled veteran in San Antonio who was being denied her disabled veteran's homestead exemption.  Won at the Fourth Court of Appeals. 
Educational Background:
South Texas College of Law, Houston, TexasJuris Doctorate, December 2010Honors:          Phi Delta Phi Honors Fraternity,

2010

University of Colorado, Boulder, Colorado Bachelor of Arts, Communication, 2002 Honors: Athletic Scholarship, 1998 – 2002, Big 12 Conference Commissioners Honor Roll, 1998 – 2002 Activities: Member of Division 1 Tennis Team, 1998 – 2002, Member of Student Athlete Advisory Committee, 2000 – 2002, Student member of NCAA Athletics Certification Committee, 2001, Delta Delta Delta Sorority,

2002
Representative Clients:
Airport FastPark

,

2020

Pardue Asset Management

,

2022

Kenneth Copeland Ministries

,

2022

Kalahari Resorts

,

2022

Rough Creek 

,

2022

Eddins Enterprises, Inc. 

,

2022

Dillard's

,

2022

Burk Royalty

,

2022

Brookston Energy

,

2022

Benderson Development

,

2022

Ashley Furniture

,

2022

Exxon Mobil Corporation

,

2022

Kinder Morgan

,

2022

Magellan Terminals

,

2022

Delek Refining

,

2022

Hunt Consolidated

,

2022

Methodist Hospital

,

2022

RagingWire Data Centers

,

2022

Airport Fast Park - Chavez Properties

,

2022

Solaris Oilfield Services

,

2022

Kimco Realty

,

2022

Kenneth Copeland Ministries

,

2020

Solaris Oilfield

,

2020

Rough Creek

,

2020

RagingWire

,

2020

Monarch Air

,

2020

Methodist Hospital

,

2020

Legacy Midtown Park

,

2020

Hunt Consolidated

,

2020

Delek Refining

,

2020

Graham Packaging

,

2020

EquipmentShare

,

2020

Magellan

,

2020

US Silica

,

2020

Dillards

,

2020

Bozovich Timber Products

,

2020

AG Hill Partners

,

2020

Nordstrom's

,

2020

Kalahari Resorts

,

2020

Brookshire Brothers

,

2020

Kimco Realty

,

2020

PPF Gin & Warehouse

,

2020

Kinder Morgan

,

2020

U.S. Xpress, Inc. 

,

2019

Transcanada

,

2016

U.S. Xpress, Inc. 

,

2018

U.S. Xpress, Inc. 

,

2017

U.S. Xpress, Inc. 

,

2016

U.S. Xpress, Inc. 

,

2015

Southwestern Baptist Theological Seminary

,

2019

Southwestern Baptist Theological Seminary

,

2018

Southwestern Baptist Theological Seminary

,

2017

Southwestern Baptist Theological Seminary

,

2016

Signet Maritime

,

2017

Signet Maritime

,

2018

Signet Maritime

,

2016

Rough Creek Operating

,

2019

Rough Creek Operating

,

2018

Rough Creek Operating

,

2017

Rough Creek Operating

,

2016

Knight Transportation, Inc. 

,

2016

Raging Wire

,

2019

Methodist Hospital

,

2018

Knight Transportation, Inc. 

,

2017

Knight Transportation, Inc. 

,

2015

Kinder Morgan

,

2019

Chespeake

,

2017

Chespeake

,

2016

Chesapeake

,

2015

Kenneth Copeland Ministries

,

2016

Kenneth Copeland Ministries

,

2019

Kenneth Copeland Ministries

,

2015

Airport Fast Park 

,

2018

Eddins Enterprises

,

2017

Eddins Enterprises

,

2018

Eddins Enterprises

,

2016

Covenant Transport

,

2018

Covenant Transport

,

2016

Covenant Transport

,

2017

Hageman Reserve

,

2018

Hageman Reserve

,

2017

Heartland Express, Inc. 

,

2018

Heartland Express, Inc. 

,

2017

Heartland Express, Inc. 

,

2016

Kalahari Resorts

,

2016

Hunt Consolidated, Inc. 

,

2018

Hunt Consolidated, Inc. 

,

2017

Hunt Consolidated, Inc. 

,

2016

Dillard's

,

2018

Dillard's

,

2017

Dillard's

,

2016

Dillard's

,

2015

AETC II Privatized Housing 

,

2018

AETC II Privatized Housing 

,

2017

AETC II Privatized Housing 

,

2015

AETC II Privatized Housing 

,

2016

Kimco Realty

,

2019

Exxon Mobil Corporation

,

2018

Exxon Mobil Corporation

,

2017

Exxon Mobil Corporation

,

2016

Exxon Mobil Corporation

,

2015

Kimco Realty

,

2018

JB Hunt Transport, Inc. 

,

2015

Hunt Consolidated, Inc. 

,

2019

Kalahari Resorts

,

2019

Heartland Express, Inc. 

,

2019

Hageman Reserve

,

2019

Covenant Transport

,

2019

First American Title

,

2019

Eddins Enterprises

,

2019

Delek Refining Ltd. 

,

2019

Center for American and International Law

,

2019

Airport Fast Park 

,

2019

Health Texas Provider Network, a subsidiary of Baylor Scott & White

,

2016

Dillard's 

,

2019

AETC II Privatized Housing 

,

2019

Exxon Mobil Corporation

,

2019

Kimco Realty

,

2015

Kimco Realty

,

2016

Kimco Realty 

,

2017
Verdicts/Settlements:
Won a case at the Fourth Court of Appeals involving a 100% disable veteran who was being denied her totally disabled veteran's homestead exemption.  

,

2022

Resolved the valuation of a portfolio of check cashing stores in Dallas County.  

,

2022

Resolved the valuation of a portfolio of apartment complexes in Dallas County and Hunt County. 

,

2022

After a trial, Judge ruled in my client's favor that it did not owe the delinquent taxes being sought by Dallas County.  

,

2022

Resolved a large valuation dispute over mineral in the ground in Pecos County.  

,

2022

Settled numerous property tax valuation disputes for Kimco Realty accross the state of Texas, resulting in tax savings in excess of $1,000,000.  

,

2022

Settled the valuation for tax years 2019, 2020, and 2021 of an inland refinery in Smith County.  

,

2022

Settled the valuation of a large data center in Dallas, Texas.  

,

2022

Petition before the Texas Supreme Court was denied regarding the case I won in 2021 at the 6th Court of Appeals regarding implements of husbandry.  

,

2022

Won a case at the Sixth Court of Appeals regarding implements of husbandry.  

,

2021

Resolved a property tax dispute for Nordstrom in Travis County.  

,

2021

Resolved three property tax lawsuits involving chicken farms in Limestone County.  

,

2021

Won a case on summary judgment regarding an ownership issue with a rental car company located at Dallas Love Field Airport.  

,

2021

Resolved a property tax dispute involve a large downtown hotel in Dallas County.  

,

2021

Resolved three property tax disputes for a large grocery store chain in Liberty County.  

,

2021

Settled numerous property tax valuation disputes for Kimco Realty accross the state of Texas, resulting in tax savings in excess of $1,000,000.  

,

2021

Settled a case in Bexar County dealing with heavy equipment inventory.  

,

2020

Resolved a property tax valuation dispute for a car dealership in Dallas County.  

,

2020

Settled a case in Dallas County regarding the value of personal property and what is considered to be intangibles.  

,

2020

Won a case on summary judgment in Delta County regarding implements of husbandry.  The appraisal district has appealed the decision.  

,

2020

Settled numerous property tax valuation disputes for Kimco Realty accross the state of Texas, resulting in tax savings in excess of $1,000,000.  

,

2019

Resolved an agricultural valuation case in Ellis County based on an incorrect mailing address.  

,

2020

Went to trial during pandemic that was the first hybrid trial in Texas - in person attorneys and lead counsel appearing virtually. 

,

2020

Settled numerous property tax valuation disputes for Kimco Realty accross the state of Texas, resulting in tax savings in excess of $1,000,000.  

,

2020

Settled an exemption lawsuit with the Dallas Central Appraisal District for a company providing housing to homeless veterans. 

,

2020

Settled lawsuit on behalf of Transcanada Keystone Pipeline against the Harris County Appraisal District resulting in a reduction of appraised value of over $24,000,000 and over $600,000 in tax savings.  

,

2017

Settled a property tax valuation dispute involving interstate commerce for Covenant Transport against the Dallas Central Appraisal District resulting in tax savings in excess of $1,000,000.  

,

2019

Resolved property tax valuation dispute for JB Hunt Transport against the Dallas Central Appraisal District saving the property owner millions in taxes because the property was removed from the appraisal roll in Dallas.  

,

2015

Won at the Texas Supreme Court in a case that resulted in over $35,000,000 in tax savings for companies who rented compressors used in the oil & gas industry.  

,

2018

Settled a property tax valuation dispute involving interstate commerce for Heartland Express, Inc., against the Dallas Central Appraisal District resulting in tax savings in excess of $1,000,000.  

,

2019

Settled a property tax valuation dispute involving interstate commerce for Knight Transportation against the Dallas Central Appraisal District resulting in tax savings in excess of $1,000,000.  

,

2018

Settled numerous property tax valuation disputes for Kimco Realty accross the state of Texas, resulting in tax savings in excess of $1,000,000.  

,

2018

Settled an exemption lawsuit for the Southwestern Baptist Theological Seminary against the Tarrant Appraisal District resulting in tax savings due to the exemption being granted for the all the student housing.  

,

2017

Settled a property tax valuation dispute involved interstate commerce for a national trucking company, U.S. Xpress, Inc. agaisnt the Dallas Central Appraisal District resulting in tax savings in excess of $2,500,000. 

,

2019

Settled numerous property tax valuation disputes for Kimco Realty accross the state of Texas, resulting in tax savings in excess of $1,000,000. 

,

2017

Settled a personal property valuation dispute for Dillard Texas South against the Hidalgo County Appraisal District, saving the property owner in excess of $400,000 in taxes.  

,

2018

Settled a propery tax valuation dispute for Reunion Hotel against the Dallas Central Appraisal District that resulted in tax savings in excess of $300,000.  

,

2016

Settled a property tax valuation dispute for Reunion Hotel against the Dallas Central Appraisal District resulting in tax savings in excess of $1,000,000.  

,

2019

Settled a valuation dispute for ExxonMobil against the Harris County Appraisal District resulting in tax savings in excess of $1,000,000.  

,

2019

Settled a property tax dispute for Eddins Enterprises (Eddins Chevrolet) against the Dallas Central Appraisal District, saving the property owner in excess of $500,000 in taxes.  

,

2016

Settled a property tax valuation dispute for Dillard's Properties Inc. against the Montgomery Central Appraisal District, saving the property owner in excess of $1,000,000 in taxes.  

,

2018

Settled an exemption lawsuit for Health Texas Provider Network,a subsidiary of Baylor Scott & White, against the Tarrant Appraisal District saving the hospital system in excess of $1,000,000 per year in taxes.   

,

2015
Bar/Professional Activity:
Member - Institute for Professionals in Taxation

,

2022

Secretary - Tax Section of the Oklahoma Bar Association. 

,

2022

Treasurer - Real Estate Section of the Dallas Bar

,

2022

Board Member of the National Association of Property Tax Attorneys

,

2022

Co-chair of the Property Tax section of the State Bar of Texas. 

,

2022

Member - Dallas Bar Association

,

2022

Co-Chair Solo & Small Firm Section of the Dallas Bar

,

2021

Board Member of the National Association of Property Tax Attorneys

,

2021

Co-chair of the Property Tax section of the State Bar of Texas. 

,

2021

Member - Dallas Bar Association

,

2021

Member - Institute for Professionals in Taxation

,

2021

Member - Institute for Professionals in Taxation

,

2020

Member - Dallas Bar Association

,

2018

Co-chair of the Property Tax section of the State Bar of Texas. 

,

2020

Board Member of the National Association of Property Tax Attorneys

,

2020

Co-chair of the Property Tax section of the State Bar of Texas. 

,

2019

Member - Institute for Profrssionals in Taxation

,

2019

Board Member - National Association of Property Tax Attorneys

,

2019

State Bar of Texas Leadership Academy

,

2016

State Bar of Texas

,

2011
Office location for Tracy Turner
17480 Dallas Pkwy
Suite 210
Dallas, TX 75287
Phone: 214-295-6095
Additional sources of information about Tracy Turner
Attorney resources for Tracy Turner