Chris Denuna
Top rated Criminal Defense attorney in Houston, Texas
Denuna Law Firm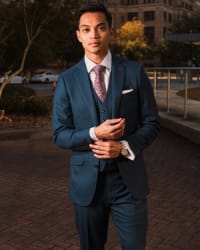 Denuna Law Firm
Practice Areas: Criminal Defense, DUI-DWI
Licensed in Texas since: 2014
Education: Charlotte School of Law
Languages Spoken: English, Spanish

Selected to Rising Stars: 2020 - 2024

Free Consultation
Denuna Law Firm
1225 N Loop W
Suite 324
Houston, TX 77008
Visit website
Details
At the Denuna Law Firm, PLLC, Chris Denuna is passionate about protecting the rights and best interests of those who have been accused of breaking the law. From misdemeanors to felonies, he is determined to find the best possible outcome for anyone facing arrest and a possible conviction. Most of his cases involve DUI/DWI, and he has extensive experience in finding a favorable outcome for the accused.
After completing his undergraduate studies, Mr. Denuna decided to fulfill his dream of becoming an attorney when he attended Charlotte School of Law. He graduated in 2014 and has since been admitted to practice in the state of Texas. Fluent in both Spanish and English, he can help those from all walks of life as they face an uncertain future and a complex legal system.
Mr. Denuna has a stellar reputation with his peers and his former clients and used that as a foundation to start his own firm. He understands exactly what can happen to people if they do not have a good attorney representing them as they face criminal charges. With this heightened awareness of the reality of criminal convictions, he protects his clients' futures in terms of employment, freedom and financial stability.
Included in the list of the top-rated attorneys in the nation, Mr. Denuna has been recognized for his professional achievement during his time as an attorney. With almost a decade of experience behind him, he is fully-prepared to handle everything from a simple DUI to more complex criminal cases.
Practice areas
Criminal Defense, Criminal Defense: DUI/DWI
20% Criminal Defense

80% Criminal Defense: DUI/DWI
First Admitted: 2014, Texas
Professional Webpage: http://www.denunalawfirm.com
Bar/Professional Activity:
Texas Youth Lawyers Association (TYLA)

,

2014

American Chemical Society

,

2018

National College for DUI Defense

,

2015

Houston Young Lawyers Association

,

2014

Montgomery County Criminal Lawyers Association (MCCLA)

,

2018

DUI Defense Lawyers Association (DUIDLA)

,

2019

Houston Bar Association

,

2014

Harris County Criminal Lawyers Association (HCCLA)

,

2014

Texas Criminal Defense Lawyers Association (TCDLA)

,

2014

State Bar of Texas

,

2014
Educational Background:
Charlotte School of Law, J.D. 

,

2014

University of North Carolina at Greensboro, B.A.

,

2010

St. Martin's Episcopal School in Metairie, Louisiana

,

2006
Verdicts/Settlements (Case Results):
State v. T.K. - DWI - DISMISSED - 0.10 Blood Draw!!! Client (Small business owner of power washing service) was found asleep in his work vehicle on the shoulder of Interstate 45 in Montgomery County. When the arresting officer made contact with my client, the officer noticed my client urinated and defecated on himself in his vehicle. Also, the officer found marijuana in the vehicle during the inventory search. Client was a total refusal and a search warrant was drafted to draw my client's blood. I was able to point out to the prosecutor that the blood vials were affected during an improper blood draw. The phlebotomist caused hemolysis by shaking the vials, which can affect the validity and credibility of the blood test result. Also, the amount of marijuana in my client's system would not have a psycho-active effect on my client at the time of driving. The assistant district attorney knew how crucial it is to have a quality blood score in Montgomery County, and realized he didn't have that so he dismissed both cases.

,

2018

State. G. B. - DWI - NOT GUILTY - 0.97 Breath Test!!! Client (College Student) was pulled over for speeding on Interstate 10 at 3am in the morning. According to the officer's report, the client admitted to consuming 5-6 beers, had a strong odor of alcoholic beverage, red blood-shot eyes, and slurred speech. Officer also reported that client failed all three standardized field sobriety tests. The State did not want to dismiss and, of course, we did not want to plead guilty so we took it to an jury trial. I was able to educate the jury about the scientific insufficiencies and flaws of the Intoxilyzer 9000 (breathalyzer) during cross-examination of the Technical Supervisor (State's breath expert witness). After pointing out the margins of error these breath machines and the lack of calibration DPS administers to these machines, the jury came back with a NOT GUILTY verdict in just 26mins of deliberation!!

,

2019

State v. C.W. - DWI - DISMISSED - 0.11 Breath Test!!! Client (Youth baseball coach) was stopped for speeding after seen leaving a restaurant at closing time. The arresting officer notated my client had a strong odor of alcohol coming from his breath, red blood-shot eyes, and slurred speech. The dash video showed otherwise. Not only did the officer improperly give the instructions of the field sobriety tests but he also had my client perform them on a slanted concrete that severely compromised his performance. Furthermore, I explained to the prosecutor that the technical supervisor (State's breath test forensic expert) would not be able to retrograde extrapolate to prove that my client's BrAC was 0.08 or higher AT THE TIME OF DRIVING. No matter what tthe breath score was, the State did not have the evidence to prove my client was per se intoxicated.

,

2018

State v. Z.J. - DWI - DISMISSED - 0.09 Breath Test!!! Client (Surgical Technician) was on her way home from the bar and was pulled over for making a wide right turn, failing to use blinker when turning, and failing to maintain a single lane (swerving). I was able to point out to the assistant district attorney that the arresting officer did not properly administer the standardized field sobriety tests as required by their agency's training manual, which made the officer's grading of the tests unreliable. Furthermore, I explained the scientific flaws of the breathalyzer (Intoxilyzer 5000). Therefore, the State was unable prove that my client was above the legal limit AT THE TIME OF DRIVING and could have reasonably been below the legal limit at the time of driving.

,

2018

State v. A.R. - DWI - DISMISSED - 0.17 Blood Draw!!! Client (Personal Trainer) was stopped speeding over 100mph on the Katy freeway after leaving his girlfriend's apartment. The arresting officer made my client perform the field sobriety tests on the shoulder of the Katy freeway. The officer notated that my client failed all three tests (HGN, WAT, and OLS). I was able to point out to the prosecutor that, on top of 60-80mph cars whizzing by my client as he performs these tests affected his performance, he is also an army veteran that was medically discharged for back and leg issues. After providing a copy of the VA medical records to the prosecutor and pointing out how these medical conditions affected his performance, prosecutor considered dismissal. Lastly, I pointed out that there was a break in the chain of custody in how the arresting police agency and forensic crime lab did not notate or know what happened to the blood vial for 5 days from the day of blood draw to the day it was actually submitted to the lab. After pointing out all those factors, the prosecutor had no choice but to dismiss.

,

2018

State v. C.D. - DWI - DISMISSED - Prescription Drugs Blood Draw!!! Client (Registered Nurse) was in an accident rear-ending someone on Christmas Eve on her way to a friend's house. Client did not smell of alcohol but definitely had a noticeable slur to her speech. For years she had been taking prescription medications for a plethora of medical conditions. The officer saw a bunch of prescription bottles in my client's purse and in the vehicle. She did not consent to any field sobriety tests or a blood test. After the officer obtained a search warrant and executed the blood draw, I pointed out to the prosecutor that the way my client walks and talks normally is the exact same way how she looks on video. I even offered the prosecutor to speak with my client in court to confirm that to prove she was not intoxicated at the time of the accident. My client and I had nothing to hide. Lastly, the blood results came back with a plethora of prescription medications in her system, but the State could not prove that she lost the normal use of her mental or physical faculties due to drug intoxication. I educated the prosecutor that she was rather in at a therapeutic stage at the time of the accident and not a stage of intoxication. The State understood my scientific arguments, did the right thing, and dismissed the case after setting it for trial.

,

2019

State v. D.V. - DWI - NOT GUILTY - 0.16 Breath Test!!! Client (Plumber) is from Brenham, TX and was not familiar with the Houston area. Client was on his phone looking at his gps after leaving Whataburger. While looking downa t his phone, he almost ran into a construction zone. He swerved to avoid hitting an orange construction drums. An infamous officer on the DWI Task Force pulled my client over for failing to signal lane change. The State refused to dismiss the case and we refused to plead guilty so we tee'd the case up for a jury trial. After jury selection, I made a motion to suppress based on a bad stop. I was able to convince the judge that the traffic stop was unlawful because my client was not required to signal a lane change. Judge followed the case law and agreed with me that the traffic stop was unlawful and the State was forced to dismiss the case mid-trial after the jury was already sworn in.

,

2019

State v. J.D. - DWI 2nd - NOT GUILTY - 0.195 Blood Draw!!! Client (Construction Worker). was pulled over for speeding and running stop signs in a residential neighborhood (client really had to pee) on his way to his uncle's house. When officer pulled my client over and had him exit the vehicle, my client clearly urinated on himself. Client refused all field sobriety tests and submitted to a blood draw at the police station. Because this was my client's 2nd DWI and the high blood score, the State would accept nothing less than for my client to plead guilty. Therefore, we tee'd it up and went forward with a jury trial. During trial, I was able to show the jury during cross-examination that the forensic analyst that tested the blood (State's Expert Witness) of the Houston Forensic Science Center did not follow the standard operating guidelines and procedures required when testing DWI blood samples with a Gas Chromatograph (GC) instrument. The jury understood how crucial following protocol was and how this could falsely elevate someone's blood sample. Ultimately, the jury did not find the blood score credible and returned a verdict of NOT GUILTY!!

,

2019

State v. C.D.B. - DWI - DISMISSED - 0.195 BREATH - My client was allegedly seen by a civilian 911 caller driving the wrong way on a one way street . Furthermore, once the officers located my client's vehicle, they alleged that he was passed out in a moving lane of traffic for at least 5 minutes. After 7 months of accumulating the discovery and evidence, digging deep into the officer's background, their body worn cameras, dash cameras, and speaking with witnessers, I was able to convince the prosecutors that these officers were dirty and either exaggerating facts to make a legal traffic stop on my client, or they destroyed (spoliation) the dash video and parts of the body camera video because no evidence showed that my client was driving the wrong way nor was he asleep at the wheel. By convincing the prosecutor how bad this would go in trial with me cross-examining the officer's credibility and lack of evidence coupled with the prosecutor's knowing my trail skill and experience from past trials in Harris County, I was able to convince them to DISMISS the DWI as well as the Unlawful Carrying of a Weapon (UCW). My client had a firearm in his vehicle but it's not illegal to possess one in Texas if you're NOT intoxicated. Therefore, the DA had to dismiss this case as well and return the firearm back to the rightful owner - my client. Client was very happy to get his gun back and more importantly his life as these two charges will no longer hang over his head and affect his ability for future employment. We are currently now working on getting the records EXPUNGED!

,

2019
Special Licenses/Certifications:
ACS-CHAL Lawyer-Scientist designation as recognized by the Chemistry and Law Division of the American Chemical Society (ACS), which is the world's largest scientific society and one of the world's leading sources of authoritative scientific information.

,

2019
Pro bono/Community Service:
Houston Livestock Show and Rodeo Cook-Off, Holy Cow Cookers

,

2020
Honors/Awards:
The selection process for the Rising Stars list is the same as the Super Lawyers selection process, with one exception: to be eligible for inclusion in Rising Stars, a candidate must be either 40 years old or younger or in practice for 10 years or less. All attorneys first go through the Super Lawyers selection process. Those who are not selected to the Super Lawyers list, but who meet either one of the Rising Stars eligibility requirements, go through the Rising Stars selection process. While up to five percent of the lawyers in the state are named to Super Lawyers, no more than 2.5 percent are named to the Rising Stars list.

,

Texas Super Lawyers Rising Star

,

Thomson Reuters

,

2020

The National Trial Lawyers: Top 40 under 40 is a professional organization comprised of America's top young trial attorneys.  Membership into The National Trial Lawyers: Top 40 under 40 is by invitation only, and is extended exclusively to those individuals who meet stringent qualifications and specialize in the legal practice of criminal defense or civil plaintiff.,

Top 40 Under 40 Criminal Defense Lawyers

,

The National Trial Lawyers Association

,

2020

Client's Choice Award 2020

,

Client's Choice Award

,

AVVO

,

2020

Lawyers of Distinction Members have been selected based upon a review and vetting process by our Selection Committee utilizing U.S. Provisional Patent # 62/743,254. The platform generates a numerical score of 1 to 5 for each of the 12 enumerated factors which are meant to recognize the applicant's achievements and peer recognition. All applicants must be licensed to practice law. Members are then subject to a final review for ethical violations within the past ten years before confirmation of Membership. A Lawyers of Distinction Nomination does not guarantee membership and attorneys may not pay a fee to be nominated. Attorneys may nominate to Lawyers of Distinction their peers whom they feel warrant consideration. The determination of whether an attorney qualifies for Membership is based upon the aforementioned proprietary analysis discussed above.

,

Recognition of Excellence

,

Lawyers of Distinction

,

2020

A quarterly publication and monthly blog addressing law firm management, attorney well-being, and getting the most out of your firm.

,

Top 10 DUI Defense

,

Attorney and Practice Magazine

,

2020

The "10 Best" is a prestigious honor for the Attorney as each Attorney must: Be formally nominated by the Institute, client, and/or fellow Attorney; Have attained the highest degree of professional achievement in his or her field of law; and Having done so with an impeccable Client Satisfaction rating.

,

10 Best Attorneys Criminal Law Attorneys in Texas

,

American Institute of Criminal Law

,

2019

The "10 Best" is a prestigious honor for the Attorney as each Attorney must: Be formally nominated by the Institute, client, and/or fellow Attorney; Have attained the highest degree of professional achievement in his or her field of law; and Having done so with an impeccable Client Satisfaction rating.

,

10 Best Attorneys DUI/DWI in Texas

,

American Institute of DUI/DWI Attorneys

,

2020

Client's Choice Award 2019

,

Client's Choice Award

,

AVVO

,

2019

The "10 Best" is a prestigious honor for the Attorney as each Attorney must: Be formally nominated by the Institute, client, and/or fellow Attorney; Have attained the highest degree of professional achievement in his or her field of law; and Having done so with an impeccable Client Satisfaction rating.

,

10 Best Attorneys DUI/DWI in Texas

,

American Institute of DUI/DWI Attorneys

,

2019

The American Institute Of Legal Advocates was created as an invitation only collective, where the nations leading lawyers as well as up and coming legal talent could showcase their careers. 

,

Rising Star

,

American Institute of Legal Advocates

,

2018

Assigned to those attorneys who are newer to practice yet are at the top of their field. The attorneys are the rising stars and have top-tier skills and ethics. Only 40 attorneys from each state and in each category will be able to bear this designation.

,

Top 40 Under 40

,

American Academy of Attorneys

,

2018
Office location for Chris Denuna
1225 N Loop W
Suite 324
Houston, TX 77008
Phone: 713-936-4877
Selections
Rising Stars: 2020 - 2024
Additional sources of information about Chris Denuna
Attorney resources for Chris Denuna