« Back to Results
Jason A. Itkin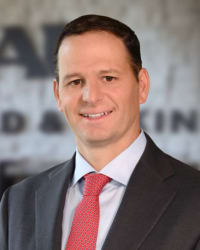 Attorney Profile
Top Rated Personal Injury Attorney in Houston, TX
Phone: 713-222-3800
Fax: 713-222-3850
Selected To Super Lawyers:
2013 - 2021
Selected To Rising Stars:
2005, 2007 - 2013
Practice Areas:
Personal Injury - General: Plaintiff (30%),
Transportation/Maritime (50%),
Personal Injury - Products: Plaintiff (10%),
Business Litigation (10%)
Attorney Profile
Jason Itkin is a highly successful trial lawyer and partner at the Houston, Texas, law firm of Arnold & Itkin LLP. He has dedicated his career to representing plaintiffs who have suffered serious injuries. His practice areas include maritime accidents, defective medicines, land contamination and industrial accidents as well as trucking, railroad and aviation accidents. Mr. Itkin also handles complex business disputes involving breach of contract, fraud and breach of fiduciary duty.
Jason Itkin is a graduate of the University of Texas and the University of Texas School of Law where he received his Juris Doctor with honors and won the Dean's Achievement Award in Professional Responsibility. He is licensed to practice in Texas and Pennsylvania state courts and before the 2nd and 5th Circuit Courts of Appeal. In 2012, he was admitted to practice before the U.S. Supreme Court.
Mr. Itkin has won numerous multimillion-dollar verdicts on behalf of his clients, including record-setting verdicts of $117 million in Louisiana and $41 million in Hawaii. He has won several verdicts over $10 million and many more over $1 million. He has also been a part of over 100 cases that all settled for over $1 million. In addition, he has been hired as co-counsel by over 100 attorneys to assist in increasing the size of a verdict or settlement.
Mr. Itkin's skill, dedication and results have garnered him numerous awards and honors. Notably, he was invited to become the youngest member of the Inner Circle of Advocates, a group that is limited to the 100 best plaintiffs' trial attorneys in the United States. He also received the Houston Business Journal's prestigious "40 under 40" award in recognition of his leadership in his business, industry and community.
Practice Areas
30%

Personal Injury - General: Plaintiff

50%

Transportation/Maritime

10%

Personal Injury - Products: Plaintiff

10%

Business Litigation
Selections



Super Lawyers: 2013 - 2021 Rising Stars: 2005, 2007 - 2013
Email Me
To: Jason A. Itkin
Super Lawyers: Potential Client Inquiry
Articles about Jason A. Itkin appearing in Super Lawyers
Additional Sources of Information About Jason A. Itkin
About Jason Itkin
Admitted: 2001, Texas
Professional Webpage: https://www.arnolditkin.com/meet-our-attorneys/jason-itkin/
Honors/Awards:
The National Law Journal's Elite Trial Lawyer Top 50 List

Best Lawyers® for Admiralty and Maritime Law

Nation's Top One Percent by the National Association of Distinguished Counsel

40 Under 40 by the Houston Business Journal

Best Lawyers® for Personal Injury Litigation - Plaintiffs

Top Lawyers for the People from H Texas Magazines

Top 100 Trial Lawyer by the National Trial Lawyers

Member of the Inner Circle of Advocates

Lawdragon 500 Leading Lawyers in America

Member of Million Dollar & Multi-Million Dollar Advocates Forum®
Bar/Professional Activity:
Texas

American Association for Justice, Member

Houston Trial Lawyers Association, Member

National Association of Trial Attorneys, Member

Pennsylvania

Texas Trial Lawyers Association, Member
Pro bono/Community Service:
Verdicts/Settlements:
Kurt Arnold, Jason Itkin, and Mike Pierce resolved a Jones Act seaman case for $14 million two days before trial. Arnold & Itkin LLP represented the seaman after he suffered a head injury on the Hercules 15 inland barge. The Hercules 15 was located in Lake Washington, Louisiana at the time of the incident. Hercules employees tack welded a three foot pipe to the derrick and then forgot to remove it before starting drilling operations. The pipe was jarred loose and hit Plaintiff in the head. The case was filed in Galveston County Court in March 2008. The case was set for trial February 2, 2009. Hercules settled the entire case for $14 million on the eve of trial, 2009

Arnold & Itkin, LLP won a $4.5 million jury verdict on behalf of an offshore contractor who was injured during a basket transfer that went wrong. The injured worker was from Jeanerette, Louisiana and was hurt while attempting to transfer from a crew boat to a jack up rig in rough seas. Arnold & Itkin's client eventually needed surgery on his back and neck to treat his injuries. The crew boat company argued that the accident never even occurred and that the man's surgeries were unnecessary. Arnold & Itkin proved these allegations were wrong. Before trial, the defendant only offered $200,000 to settle the case, but settled after the trial for $3 million to help the client and his family move on with their lives. The case was tried in St. Mary's Parish, Louisiana with the Honorable John E. Conery presiding

Arnold & Itkin LLP is proud to report that the firm won a $2.9 million verdict in a workplace injury case involving the wrongful death of a 58-year-old man. Jason Itkin tried the case for 6 days in Houston, TX. The Defendants final pre-trial offer was only $200,000. The case involved a long term employee who fell 12 feet in a parking lot to his death. The parking lot violated the applicable OSHA and ANSI regulations because it did not have a guardrail to protect people from falling. Arnold & Itkin LLP's hard work and dedication helped hold another irresponsible company accountable for workplace safety

Arnold & Itkin LLP secured a $2 million settlement for an offshore worker who broke several facial bones after the lid of a metal canister exploded into his face. The net recovery after fees and expenses was $1,073,840

A mother who was injured by a dangerous drug sought the legal help of attorneys at Arnold & Itkin LLP. She was awarded a settlement of $1.6 million thanks to the tenacious advocacy and compelling arguments of medical injury attorneys at Arnold & Itkin

Attorneys Kurt Arnold and Jason Itkin took on the case of a child injured by exposure to a dangerous product. They secured a $1.2 million settlement for the family with their compelling arguments

Attorneys Kurt Arnold, Jason Itkin, and Michael Pierce won a $9.6 million jury verdict in a Houston, Texas case involving a worker who suffered a catastrophic injury that resulted in the loss of most of the sight in one of his eyes. The jury deliberated for only a day and a half before finding the defendant liable for designing a faulty piece of equipment that led to the injuries. The pretrial settlement offer was less than $300,000.00

Attorneys Kurt Arnold, Jason Itkin and Cory Itkin were able to secure a $3.8 million settlement for a client traumatized by an offshore accident. The client suffered from post traumatic stress disorder as well as a concussion, and was unable to return to his only known field of work. Arnold & Itkin was pleased to help secure his future with this award

A mother was exposed to a dangerous drug and sustained serious medical side effects. She sought legal help from Arnold & Itkin attorneys for compensation and justice. Due to the high-quality legal representation and tenacity of their legal team, she was given a $2.7 million settlement after attorneys Kurt Arnold & Jason Itkin advocated on her behalf

Arnold & Itkin attorneys Kurt Arnold and Jason Itkin took on the case of a mother who was injured as a result of her exposure to a dangerous drug. They retrieved a $1.9 million settlement for her by going up successfully against the drug manufacturer. They were proud to advocate on her behalf and see that a successful outcome was obtained.

A mother who was injured by a dangerous drug sought the help of attorneys at Arnold & Itkin. Due to their compelling arguments and high quality of legal representation, she was able to receive a $1.6 million settlement thanks to attorneys Kurt Arnold and Jason Itkin

Attorneys Kurt Arnold and Jason Itkin took on the case of an injured child. They secured a $1.2 million settlement for a child injured by presenting evidence that the injuries were caused by exposure to a dangerous drug

A client of Arnold & Itkin sustained traumatic injuries after an accident offshore, including bulging and herniated discs as well as complications associated with a concussion. By showing the severe impact his injuries had on his ability to live his life and do his job, attorneys Kurt Arnold, Jason Itkin and Cory Itkin were able to secure a settlement of over $7.1 million dollars

The plaintiff was a young child who suffered injury as a result of exposure to a dangerous product. Attorneys Kurt Arnold and Jason Itkin recovered $3.8 million on her behalf to ensure her medical treatment would be possible for the rest of her life

Kurt Arnold and Jason Itkin were able to secure a $2.3 million settlement on behalf of one of their clients. The client was a child born with a birth defect because of exposure to a dangerous drug. Arnold & Itkin attorneys have ample experience dealing with cases where a mother with an unborn baby is unknowingly taking prescription drugs that could harm her child. Due to the high-quality of legal representation by the firm, there was a successful outcome

Attorneys Kurt Arnold & Jason Itkin were able to secure a $1.9 settlement for their client. The client, a child injured by a dangerous product, was well advocated for. Due to their aggressive approach against the manufacturer, they were able to see a successful outcome to the case

Arnold & Itkin LLP personal injury attorneys Jason Itkin and Cory Itkin won a $1.55 million jury verdict on behalf of Gilberto Villegas. APM Terminals' highest settlement offer before trial was only $35,000. On May 29, 2008, Mr. Villegas was seriously injured while he was working as a ship repairman at APM Terminals' marine terminal at the Port of Houston. He was standing in the bed of a pickup truck when a yard mule driver working for APM Terminals collided with the pickup truck. APM Terminals argued that its driver was not at fault because the pickup truck was parked in the middle of an intersection. They also argued that there was only a minor impact because the yard mule driver was only driving one or two miles per hour at the time of the accident. Mr. Villegas' doctor eventually needed to perform neck surgery as a result of the collision. However, APM Terminals argued that the surgery was unnecessary and pointed out that Mr. Villegas had neck complaints which pre-existed the accident. Arnold & Itkin LLP is proud to have stood by its client and proud to have gotten him the compensation he deserved. The case was pending in Harris County, Texas with the Honorable Jaclanal McFarland presiding

Arnold & Itkin LLP attorneys helped a dredge worker recover $1.2 million for a serious neck injury he suffered while working in Nigeria. Our client lives in Arnaudville, Louisiana and was unspooling heavy cable from a winch when he herniated a disk in his neck. He eventually needed surgery to correct the injury. The case was made more complicated because the dredge worker had previously injured his neck while working for a different company. Moreover, most of the witnesses lived in Nigeria. The case was pending in the U.S. District Court for the Southern District of Texas, Houston Division, with the Honorable Lynn Hughes presiding

After a terrible offshore accident, Arnold & Itkin's client suffered head and back injuries leading to chronic and continued pain. Kurt Arnold, Jason Itkin and Cory Itkin secured a $5.5 million settlement to cover the cost of continued care

A senior official on the Thunderhorse offshore rig was severely injured, eventually losing the ability to walk, during the course of pumping quick seal negligently left in the rig's tank by a previous supervisor. Attorneys Kurt Arnold, Jason Itkin, and Paul Skrabanek settled the case for $3.3 million

Arnold & Itkin attorneys Kurt Arnold and Jason Itkin were able to secure a $2.2 million settlement for a mother who was injured by exposure to a dangerous drug. They were able to ensure that the drug company was held accountable for their actions. Thanks to their firm, the mother got the justice that she deserved

Arnold & Itkin LLP obtains a $1.85 million settlement on behalf of a client who suffered severe ankle and foot injuries when forced to jump overboard to avoid other injuries

Dangerous drug attorneys Kurt Arnold & Jason Itkin were proud to take on a case involving a child born with a birth defect due to exposure to a dangerous drug. They negotiated a $1.4 million settlement on behalf the family of the child

A child who was injured by being exposed to a dangerous product was awarded a $1.1 million settlement with the representation of Arnold & Itkin's defective product attorneys. Their strong stance against a company whose negligence resulted in the harm of an innocent child was met with favorable results and substantial compensation for both the victim and their family

Arnold & Itkin is proud to say that they have secured over $250 million in verdicts and settlements in 2011. They have continually fought to defend the legal rights of their clients and continue to apply a creative approach with a hard work ethic to help their clients with whatever obstacles that they find themselves facing. With an unwavering dedication, Attorneys Kurt Arnold and Jason Itkin continue to raise the bar and fight to defend the best interests of their clients – both inside and outside of the courtroom, 2011

Kurt Arnold, Jason Itkin and Paul Skrabanek obtained a unanimous $4,900,000.00 dollar jury verdict after a trial that lasted a week and a half in front of Judge Wilson in the 157th District Court for Harris County, Texas. The client was a driller working for Diamond Offshore off the coast of Brazil who was 30 years old at the time of his accident which occurred aboard the Ocean Yorktown. Plaintiff sustained serious injuries to his left arm and back when he was unexpectedly hoisted over 20 feet in the air at which time his fall protection failed. Arnold & Itkin was proud to assist this young man to ensure he received the medical treatment he required along with the compensation and justice he deserved

Arnold & Itkin LLP accepted the offer of $3.1 million on behalf of an offshore worker severely injured in an accident. The client suffered from a herniated disc as well as post-traumatic stress disorder as a result of the accident. Due to their expertise in maritime law and tenacious legal representation, their attorneys were able to obtain a successful outcome

Arnold & Itkin LLP obtains a $2.25 million settlement on behalf of a seaman who suffered a debilitating back injury after falling from a machine to the deck below while trying to avoid a more serious injury when the crane operator caused the medicine ball to swing toward the plaintiff

Houston maritime lawyers Jason Itkin and Kurt Arnold won a $1.75 million settlement for an employee of Wood Group who was injured in an offshore crane accident. The incident occurred aboard an offshore platform when a crane operator caused the boom crane he was operating to jerk. Without warning, the crane struck the firm's client in the face, knocking him off the railing he was standing on. In the fall, the plaintiff herniated a disc in his back, which ultimately required lumbar fusion surgery. The worker also had post concussion symptoms related to being struck in the head. The case was litigated in the federal court for the Southern District of Texas. It settled two weeks before trial

The attorneys at Arnold & Itkin took on the case of a child who was injured after exposure to a dangerous product. After fighting on the child's behalf, they were able to secure a $1.4 million settlement

A mother who was injured by taking a dangerous drug was grateful to accept a $1 million settlement negotiated by attorneys Kurt Arnold and Jason Itkin. Thanks to their hard work in the case, investigating the evidence and working with knowledgeable professionals, they were able to build a persuasive case for the client, arguing how the negligence of the drug company compromised the health of the plaintiff

Arnold & Itkin LLP attorneys Kurt Arnold and Jason Itkin won a $38.2 million jury verdict on behalf of their client, Richard Foreman, a Houston investor who was secretly cut out of a deal to acquire Honsador Lumber Corporation, one of Hawaii's largest lumber suppliers. The jury found Key Principal Partners LLC and its parent Key Corporation guilty of breaching their fiduciary duties, intentionally interfering with Foreman's efforts to acquire the Honsador Lumber Corporation, and violating Hawaii's unfair competition statute. Read more about the trial and verdict as covered in the press by the Houston Business Journal

Attorneys Kurt Arnold, Jason Itkin and Cory Itkin received a $4.5 million settlement on behalf of their client who sustained a herniated disc as well as ankle injuries after an offshore accident in his place of employment. Arnold & Itkin is proud that his family's needs will be met for many years

Arnold & Itkin LLP attorneys Kurt Arnold, Jason Itkin and Cory Itkin were able to secure a $2.9 million settlement for a worker who was injured offshore. Upon receiving his injuries, the maritime worker sought the help of Arnold & Itkin for the legal expertise he needed. They were able to prove that the worker was deserving of compensation and secured him a large settlement

Arnold & Itkin LLP secured more than $2 million dollars on behalf of two riggers working off the coast of Louisiana. The two men were replacing a back pressure valve when the valve skyrocketed off the pipeline and hit one worker in the head and knocked the other worker to the ground. The companies initially tried to put all the blame on the injured workers. However, Arnold & Itkin LLP was able to prove that a production operator that worked for one of the defendants failed to completely "bleed off" pressure that had accumulated inside the pipeline. The trapped pressure caused the explosion which injured the workers. Arnold & Itkin LLP was also able to show that the safety consultant hired to supervise the workers failed to properly do his job. One worker severely injured his lower back and the other work severely injured his neck and was diagnosed with Post-Concussion Syndrome. The case did not completely settle until after trial had already begun. The case was pending in the U.S. District Court for the Southern District of Texas, Galveston Division, with the Honorable Judge Vanessa Gilmore presiding

Arnold & Itkin LLP successfully recovered $1.72 million for individual contractors injured on the job in the Gulf of Mexico in 2004 when they were exposed to hydrogen sulfide. The case was confidentially resolved in June 2005. A net recovery of $1,011,119.44 was shared among the claimants, June 2005

Arnold & Itkin attorneys were able to gain a settlement of $1.2 million in a drug injuries case. Kurt Arnold and Jason Itkin represented for a client who was born with multiple birth defects after exposure to a dangerous drug

Attorneys Kurt Arnold and Jason Itkin brought claims on behalf of a Texas family who was injured while in California. The rollover was a result of faulty car repairs and failure to inspect for certain defects. The Arnold & Itkin attorneys were able to prove the injured family's account through depositions of eye witnesses, expert testimony, and inspections of the faulty parts. The case settled two weeks before trial

After a three week trial, Arnold & Itkin LLP attorneys Kurt Arnold and Jason Itkin won a $10.9 million jury verdict on behalf of a Louisiana family. The family filed suit in Beaumont, Texas following a tragic grade crossing accident that killed a mother of four and left her five year old daughter paralyzed. After the Court (Judge Sanderson, presiding) denied pretrial motions, plaintiffs set out to prove that the crossing was a unique and local safety hazard and that Union Pacific should have installed active warning devices at the crossing, which was only protected by street signs at the time of the accident. After presenting the jury with evidence that sight lines were deficient, the crossing's orientation made it challenging to look to the left because the road approached the crossing at a thirty degree angle, and that there were four prior accidents, including two deaths, over the seven years prior to the accident, the jury found that the crossing was hazardous and that Union Pacific should have protected the crossing with active warning devices

A client who suffered from a concussion and a herniated disc as well as neck, knee and ankle injuries after an offshore accident was awarded a $4 million settlement thanks to the tenacious advocacy of attorneys Kurt Arnold, Jason Itkin and Cory Itkin

The injured worker was crossing the ladder to get these supplies when he fell and suffered from substantial back injuries. These injuries were so extreme that he eventually underwent a one level back surgery. It was the argument of the drilling company that they had no fault in the injury – they claimed that all of the blame rested with the plaintiff and that the claims of injury were illegitimate. Despite the fact that there was no offer to settle the case before trial, the firm obtained a $2,795,620 verdict. The case was filed in Galveston County, TX. The Honorable Barbara Roberts was the presiding judge

Attorneys Kurt Arnold, Jason Itkin, and Cory Itkin recently recovered $1.95 million on behalf of a Louisiana man who was involved in a serious accident while working offshore. The worker did not sustain any physical injuries, but suffered from severe Post Traumatic Stress Disorder ("PTSD"). He attempted to go back to work after the incident, but could not continue working offshore as a result of his condition. Arnold & Itkin, LLP's maritime lawyers helped get him the medical treatment he needed and helped him recover enough money to ease his transition into a new career. The case was pending in Harris County, Texas

The plaintiff in a back injury case, a man who sustained his injuries in an accident while attempting to rescue a co-worker, obtained the legal services of the team at Arnold & Itkin, LLP where his trust in the company paid off. The firm worked aggressively to protect his rights, negotiating a $1.67 million settlement on his behalf

Attorneys Kurt Arnold and Jason Itkin were able to bring a $1.2 million offer to their client, a mother injured after taking a defective drug. Due to their successful representation and settlement negotiation, the woman was able to see a positive resolution to her case

Arnold & Itkin LLP represented a Louisiana oilfield worker who suffered brain damage and memory loss after he fell through the grating on an offshore platform. The case involved several complex legal issues due to the nature of the injuries, number of defendants, and volume of medical records. The case proceeded to trial in October 2006. After jury selection began, the case was settled for $7.2 million. More than $4 million was received by the client, with $2.5 million of the net recovery invested in a structured fund to ensure the client's future needs would be met, October 2006

The persistent legal representation of Arnold & Itkin attorneys Kurt Arnold and Jason Itkin was able to secure a $3.8 million settlement for a woman injured by a dangerous drug. The injuries she sustained were long-term, so the settlement will cover her ongoing health care costs

A worker who was injured offshore while performing his job duties was represented by Arnold & Itkin LLP. They were able to retrieve a $2.3 million settlement on his behalf. The settlement serves as compensation for his injuries, which included a concussion and a bulging and herniated disc

A child who was born with a severe birth defect was represented by Arnold & Itkin attorneys. This birth defect was due to dangerous drug exposure. Due to aggressive representation, the child was awarded $1.9 million on behalf of Kurt Arnold & Jason Itkin

Arnold & Itkin LLP obtained a $1.6 million settlement for a captain who injured his back when he fell through a hatch that had been left open by another captain. The defense argued that the open hatch was an "open and obvious danger". Arnold & Itkin LLP showed the weakness of the defense's argument by hiring one of the industry's top experts to evaluate the case and prepare an animation that demonstrated how the hatch would have looked from Arnold & Itkin LLP's client's viewpoint. The animation also showed how the defendant could have prevented the injuries by simply barricading the hatch. The case, which was pending in the U.S. District Court for the Southern District of Texas, Houston Division, with the Honorable Judge John D. Rainey presiding, settled within ten days of trial

After a weeklong trial, Kurt Arnold & Jason Itkin of Arnold & Itkin LLP won a jury verdict in excess of $1.2 million on March 1, 2007. Arnold & Itkin LLP's client, a seaman, was injured while working alone on a ladder. He fell off the ladder and injured his neck and back. As a result of the fall, the Plaintiff underwent a one level fusion of his cervical spine. The Defendant made no offer to settle the case before or during trial. The jury found some contributory negligence on the part of the Plaintiff

A young client working offshore was injured in an accident and suffered depression and post-traumatic stress disorder. Arnold & Itkin fought to successfully represent her and was able to obtain a $5.5 million settlement for on her behalf

Arnold & Itkin secured a $3.7 million verdict for the family of Abelino Ponce, a longshoreman who was killed in a tragic accident at the Port of Houston. Mr. Ponce was helping to transport steel pipe from a ship to the dock when a wire struck him in the side and threw him to his death. On the eve of the October 2006 trial, the defendants offered to settle the case for $250,000. The plaintiffs, at Arnold & Itkin LLP's urging, rejected the settlement offer. After a three day trial, the jury awarded Mr. Ponce's family $3.7 million, October 2006

A child was born with a birth defect due to exposure to a dangerous drug while she was still in the womb. Often women take drugs during their pregnancy that they do not know will harm their unborn child. With the tenacious advocacy and aggressive legal representation of attorneys at Arnold & Itkin LLP, the child was awarded a $2.3 million settlement to take care of future needs

Arnold & Itkin attorneys Kurt Arnold and Jason Itkin secured a $1.9 million settlement for a child injured from exposure to a dangerous product because of their high quality of legal representation

Arnold & Itkin LLP attorneys Jason Itkin, Kurt Arnold, and Cory Itkin recovered $1.45 million on behalf on an injured Jones Act seaman. The case settled just days before going to trial. Our client was severely injured when he fell out of the ship's trash dumpster which had been suspended in the air. He broke his hip and wrist in the fall and developed Complex Regional Pain Syndrome. He has not been able to return to work. The shipping company argued that the injured worker had already recovered from his injuries, but had not returned to work because he had been battling alcoholism for several years. Arnold & Itkin LLP showed they were wrong. We also helped our client get the medical treatment he needed and the compensation he deserved. The case was pending in federal court in Baltimore, Maryland

The plaintiff was a business client who needed to retrieve commercial real estate assets. Attorneys Kurt Arnold, Jason Itkin and Paul Skrabanek were able to retrieve a $1.2 million settlement on his behalf

Through hard work, innovation and commitment to the success of their clients, the legal team at Arnold & Itkin, LLP has successfully been able to recover more than $500 million in verdicts and settlements over the past three years. They are proud of what they have been able to accomplish on behalf of their clients and honored that clients have chosen to come to them in their time of need. The firm hopes to continue raising the bar to all new highs and will continually apply themselves with vigor and understanding to the needs of their clients. Attorneys Kurt Arnold and Jason Itkin look forward to what the firm can accomplish in coming years

After an offshore accident, the plaintiff suffered from a herniated disc and a concussion, as well as post-traumatic stress. Attorneys at Arnold & Itkin fought to receive a $5.2 million dollar settlement so that the client's future would not be uncertain

Attorneys at Arnold & Itkin took on the case of a client who suffered from a concussion and post-traumatic stress disorder. He sustained these injuries after an offshore work accident. The man was awarded a $3.2 million settlement thanks to the hard work and legal aggressiveness of the team of maritime attorneys at Arnold & Itkin LLP

Jason Itkin and Mike Tilton successfully settled a commercial truck accident case involving a client that suffered severe and debilitating injuries following a collision in Mexico. Arnold & Itkin LLP helped ensure that the case remained in Texas, where the client lived, despite numerous attempts by the defendant to move the case to Mexico

The medical injury lawyers at Arnold & Itkin were able to secure a $1.7 million settlement for a child born with a birth defect. The lawyers were able to present compelling arguments that the birth defect was a direct result of a dangerous drug and therefore obtained such a successful case result

Attorneys Kurt Arnold & Jason Itkin took on the case of a child born with a birth defect after exposure to a dangerous drug. They negotiated a $1.4 million settlement after their aggressive legal representation on the child's behalf

The plaintiff was instructed to use a ladder that was not secured and not adequate for the job he was performing with no one to hold the ladder. After falling from the ladder, he needed to have several surgeries on his dominant hand and elbow. His surgeries and hospital stay also led to an MRSA/Staph Infection. The maritime attorneys at Arnold & Itkin secured a $1.1 million settlement on his behalf

The Legal Team at Arnold & Itkin, LLP was proud to recover over $100 million in verdicts and settlements. No matter whether they were negotiating outside of a courtroom or if they were seeking to fight in a trial setting, the firm was tireless in their efforts to help their clients achieve the desirable outcome that they deserved. Attorneys Kurt Arnold and Jason Itkin are proud of not only what has been previously done for their clients but look forward to future years, 2009

After their client sustained head and injuries in an offshore accident, attorneys Kurt Arnold, Jason Itkin and Cory Itkin were able to prove that the loss in quality of life as well as the forced career change required a compensation of $4.6 million

A maritime worker sought the legal help of attorneys at Arnold & Itkin after he was severely injured in an offshore accident. When it came time to file a claim, he looked to Arnold & Itkin and they were able to see that he was awarded a $2.9 million settlement after proving that he suffered from post-traumatic stress as a result of the incident

A child was injured by a dangerous product and was seeking legal representation to compensate for injuries. With the help of attorneys at Arnold & Itkin LLP, the child was awarded a $2 million settlement due to the aggressive representation of the team

The team of maritime lawyers at Arnold & Itkin was able to secure a $1.7 million settlement for an offshore worker. The worker suffered from post-traumatic stress as a result of an on-the-job accident and was seeking justice after the injury which Arnold & Itkin helped to provide

The case of a child born with a birth defect due to a dangerous drug was settled by Kurt Arnold and Jason Itkin for $1.3 million because of their compelling arguments against the pharmaceutical company

Attorneys Kurt Arnold and Jason Itkin represented a child born with a birth defect caused by exposure to a dangerous drug. They investigated the claim to build their defense and were able to negotiate a $1 million settlement.

Arnold & Itkin's client was injured in an offshore accident, sustaining physical and psychological injuries. Attorneys Kurt Arnold, Jason Itkin and Cory Itkin were able to obtain a settlement of $11,500,000 for the client's continued care

After suffering from a concussion due to an accident offshore, the client could not return to work. Arnold & Itkin was able to take on his case and secure a $4.1 million settlement. This will take care of the client and his family now that he can no longer provide for them in his area of expertise

Attorneys Cory Itkin and Jason Itkin from the legal team at Arnold & Itkin, LLP recently took on a case involving an offshore well tester for the Axxis Justice inland drilling barge. The plaintiff is a resident of Lafayette, Louisiana and was injured while working on a drilling barge in Barataria Bay. Due to the nature of his work, he was often required to work with specialized tools. A separate barge was sent to ship these tools; after it had been docked next to the drilling rig, Axxis Drilling set up a ladder between the two vessels to transfer the supplies

After a one week trial in Vermillion Parish, Arnold & Itkin LLP attorneys won a jury verdict and accompanying judgment for $1.95 million in a claim against Moncla Well Service, Inc. The case was brought on behalf of a former nurse injured when an improperly secured piece of oilfield equipment fell from the back of a truck and struck her car. As a result of this accident, the plaintiff suffered severe injuries to her head, jaw, and back. Defendants argued that her back injuries and headaches were not related to the accident but the jury disagreed. The verdict was one of the largest awards in a personal injury matter in Vermillion Parish, Louisiana. A portion of the verdict was placed in a structured settlement for net recovery to the client of $1,328,111

A child was injured after being exposed to a dangerous product. The attorneys at Arnold & Itkin were able to advocate successfully on behalf of the child. Their negotiations led to Kurt Arnold and Jason Itkin securing a $1.6 million settlement for the child

Taking on the case with tenacity and aggressiveness, attorneys Kurt Arnold and Jason Itkin secured a settlement of $1.2 million for the family of a child injured by exposure to a dangerous product

Kurt Arnold, Jason Itkin, and Cory Itkin filed suit in Houston, Texas on behalf of an injured Louisiana steward. He was injured during an offshore accident that ultimately resulted in back surgery. His injuries prevented him from returning to work offshore. Plaintiff has initially consulted different lawyers that told the injured seaman that his case might be worth a few hundred thousand dollars. He then sought a second opinion from Arnold & Itkin LLP. After filing suit and extensive work, the case settled for $8,000,000 before trial

After being exposed to a dangerous drug, a client was born with severe birth defects. The $3.8 million settlement secured by attorneys Kurt Arnold and Jason Itkin will ensure that the child is taken care of, medically and physically, for the rest of its life

Arnold & Itkin LLP was hired by a businessman who had agreed to help a large telecom company acquire another company. The terms of the business man's engagement were discussed and agreed to orally, but they were never formalized in writing. Upon winning the bid, the telecom company offered to pay Arnold & Itkin LLP's client less than 1/50th of the oral terms. Arnold & Itkin LLP litigated this case for nearly a year and a half against one of the nation's largest law firms. Ultimately, Arnold & Itkin LLP reached a $2.5 million settlement for its client, providing a net recovery of $1,624,295

The attorneys at Arnold & Itkin took on the case of an injured offshore worker. They settled the case for $1.9 million dollars. The client suffered from post-traumatic stress disorder, in addition to back and head injuries as a result of the accident in which he was involved. Arnold & Itkin attorneys were able to take an aggressive approach with the man's employer and obtain a successful outcome to the case

Arnold & Itkin LLP secured a $1.6 million settlement for the surviving spouse and minor children of a vessel captain killed in an explosion that occurred when a spud barge struck an underwater high-pressure gas line, which ruptured and caught fire. The case was pending in the U.S. District Court for the Western District of Louisiana. The claim was pursued as part of a limitation of liability action filed by the owner of the barge

A mother who was injured by a defective drug was given a $1.2 million settlement after representation by Kurt Arnold & Jason Itkin. They were proud to take on her case and successfully advocate on her behalf

A $5.8 million settlement was awarded to Arnold & Itkin on behalf of their injured offshore client. Attorneys Kurt Arnold, Jason Itkin and Cory Itkin were able to demonstrate that his post-traumatic stress and disc and head injuries severely impacted his quality of life, which led to the successful outcome of the case

Attorney Kurt Arnold, Jason Itkin and Cory Itkin's client experienced throat injuries in addition to post traumatic stress after an offshore accident. The $3.8 million settlement he received will help support him through his recovery and the years to follow

Arnold & Itkin LLP was pleased to secure a $2.3 million settlement for a young client. The child was injured by exposure to a dangerous product and was seeking compensation. Due to the aggressive representation and tenacious advocacy of the firm, the child and their family was able to obtain the justice they deserved

A mother was injured by a dangerous drug sought the legal help of attorneys at Arnold & Itkin LLP. The woman was experiencing unexpected negative side effects and was given a $1.9 million settlement thanks to the advocacy of Kurt Arnold and Jason Itkin

Arnold & Itkin LLP negotiated a $1.5 million settlement for an operator who suffered an open leg fracture while using a defective grinder that was given to him to use during his employment. The case settled the day before trial

Arnold & Itkin LLP attorneys recovered $1.078 million for a tugboat captain injured during a poorly planned crew change operation. Plaintiff, a relief captain employed by defendant, was asked to perform a crew change in a jon boat across a half-mile wide stretch of the Mississippi River in an area with heavy ship traffic. Despite the fact that a large crewboat was available for use, the off-going captain chose to organize a crew change using the jon boat. Shortly after the on-coming crew entered the jon boat, they were swamped by the wake of a large tanker and nearly drowned. As a result of this incident, the relief captain suffered from severe post traumatic stress disorder and anoxic brain injury from oxygen deprivation. After a four day bench trial, Arnold & Itkin LLP attorneys recovered a verdict of $1.078 million for the relief captain. With interest, the total verdict is approximately $1.2 million

Arnold & Itkin's client experienced psychological trauma after an accident offshore. Maritime attorneys Kurt Arnold, Jason Itkin and Cory Itkin were pleased that the $5.4 million settlement awarded to their client would ensure that he and his family would be taken care of into the future

The maritime attorneys at Arnold & Itkin were able to secure a $3.2 million settlement for a client who was severely injured while performing his job duties. He suffered a concussion and a herniated disc in an offshore accident. The man also suffered from post-traumatic stress disorder. Thanks to the hard work and tenacity of the attorneys at Arnold & Itkin, he was able to get the justice he deserved

The client, a 33 year old truck driver, was making an appropriately signaled turn when the driver of another truck struck her, leaving her with long term injuries. Due to the fact that she was not at fault for her injuries, she sought the help of Arnold & Itkin attorneys for legal help. Attorney Jason Itkin retrieved a $2.2 million settlement on the client's behalf

A mother experienced harmful side effects as a direct result of taking a prescription drug. Kurt Arnold & Jason Itkin were able to help her and negotiated a $1.7 million settlement on her behalf injured for exposure to a dangerous drug

After seeking the legal representation of attorneys Kurt Arnold and Jason Itkin, a child injured by a dangerous product was able to see a successful outcome to their case. The attorneys were able to negotiate a $1.4 million settlement on behalf of the child

Mike Tilton and Jason Itkin successfully settled a maritime case on behalf of a Jones Act seaman who fractured his elbow and arm. The client suffered the injuries after falling from an unsafe and unsecured ladder. The injury occurred in the Middle East and the lawsuit was filed in Florida. After numerous depositions, including many of the client's treating physicians, the case settled just prior to trial

Arnold & Itkin, LLP successfully tried a case on behalf of the victim of a severe ambulance accident. The plaintiff had been seven months pregnant and experiencing stomach pain when she called Acadian Ambulances to pick her up and transport her to the hospital in December 2010. The driver of the ambulance who picked her up had a history of bad driving and poor vision. When driving down LA-1 North, he dropped his RSI device onto the floor. Without reducing speed, he leaned down to locate and grab it – completely looking away from the road. During this time, he drove the ambulance into the back of a sugar cane truck. The plaintiff's spine was severed at T4 during the accident and she sustained serious brain injuries. There is no chance of a full recovery and she will be in a wheel chair for the rest of her life. At the time of the verdict, she had already sustained medical bills in excess of $1.4 million, with an estimated cost of $30 million for her future care plan. After the accident, her unborn daughter was prematurely delivered; since then, both the infant and the plaintiff's other daughter have gone to live with their grandmother. Arnold & Itkin, LLP was able to successfully prove fault on behalf of the ambulance driver and succeeded in obtaining a $117 million verdict for the mother, as well as her two daughters, 2010

Arnold & Itkin was able to secure a $4.8 million dollar settlement for a client who sustained a concussion and a herniated disc injury in an offshore accident. The attorneys are pleased to say that their client's quality of life has improved thanks to the excellent medical care provided for by the settlement

The attorneys at Arnold & Itkin were able to secure a $3 million settlement for their maritime client. He was injured while performing his job duties at an offshore worksite. His injuries were a head injury and a bulging disc injury. Due to the aggressive representation and maritime law experience of Arnold & Itkin, the client was able to get the compensation he deserved

Kurt Arnold and Jason Itkin's client was born with a sever birth defect after exposure to dangerous drug. They were pleased to deliver a $2.1 million settlement to the client due to their tenacious advocacy and high quality of legal representation

Arnold & Itkin LLP secured a settlement of $1,750,000 with a net to client of $1,015,917.34 for an individual who herniated discs in his neck and back after the lifeboat he was riding in malfunctioned. Before trial, the defendants' final offer would have only provided a net recovery of $480,000. Midway through the July 2006 trial, the defendants met the individual's settlement demand by more than doubling their previous offers

Attorneys Jason Itkin and Mike Pierce obtained a $1.4 million settlement on behalf of a worker injured offshore. The client sustained a concussion, as well as suffering from a herniated disc as a result of the accident

Houston industrial injury lawyers Jason Itkin, Kurt Arnold, and Mike Tilton are pleased to announce they have reached a partial settlement of $1,050,000 for a client who suffered a herniated disk in a crane collapse industrial accident. The horrific incident occurred when the cab of a crawler crane sheared away from the crane's base forcefully ejecting the terrified occupant. The crane operator was lucky to survive. Because the workers' compensation carrier refused the injury claim and would not pay the plaintiff's medical bills, Arnold & Itkin LLP helped their client survive during the pendency of the lawsuit. The firm's innovative approach to establishing liability and circumventing the workers' compensation bar allowed the plaintiff to recover a substantial award
Educational Background:
University of Texas, B.A., Special Honors in the Plan II Honors Program
Show More
Jason A. Itkin:
Last Updated: 5/12/2021