« Back to Results
John T. Floyd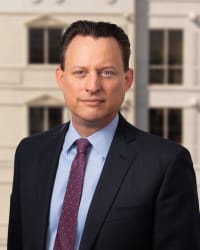 Attorney Profile
Top Rated Criminal Defense Attorney in Houston, TX
Phone: 713-224-0101
Fax: 713-237-1511
Selected To Super Lawyers:
2014 - 2021
Practice Areas:
Criminal Defense (50%),
Criminal Defense: White Collar (50%)
Attorney Profile
Board Certified Criminal Lawyer Houston
Representing Clients Throughout Texas and Federal Courts Nationwide
Houston Criminal Defense Lawyer John T. Floyd is Board Certified in Criminal Law by the Texas Board of Legal Specialization and has been rated as a Super Lawyer by Thomson Reuters in its prestigious list of SuperLawyers since 2010. He defends individuals and businesses under investigation or charged with serious criminal activity before criminal courts in Houston, throughout the State of Texas and in Federal Courts Nationwide.
Representing Businesses and Individuals Accused of Crimes
Mr. Floyd has been providing high-end criminal defense services to clients in federal and state courts for over twenty years. Outside the courtroom, he has been featured on national television and radio programs as an expert on criminal law, including Fox News, Hannity & Colmes, NPR and the BBC. He has also been selected as one of Houston's Top Lawyers practicing criminal defense for eight consecutive years by HTexas Magazine and was named to Newsweek's Leading Criminal Defense Attorneys.
John Floyd has published over 500 legal articles about criminal law and has been featured in the Huffington Post, Texas Monthly, the American Bar Association, State Bar of Texas, and other publications across the country. John Floyd has written extensively about prosecutorial and police misconduct, federal criminal law and sentencing and the harsh consequences that follow felony convictions.
Dedicated to Fighting False Allegations and Preventing Wrongful Convictions
Having seen countless innocent Americans charged with crimes they did not commit and exonerated after decades in prison, Mr. Floyd has dedicated himself to defending individuals who have been accused of crimes, zealously protecting their rights and preventing wrongful conviction and incarceration. The criminal defense attorneys at our firm take nothing for granted. Every possible detail is investigated, researched, and analyzed by Mr. Floyd and his experienced team of professionals before a specific criminal defense strategy is developed.
The John T Floyd Law Firm's high-end boutique approach to representing its clients allows it to dedicate the time and attention necessary to achieve the best possible outcome under the circumstances.
Experienced Criminal Defense Lawyer in Houston,
Throughout Texas and Federal Courts Nationwide
Practice Areas
50%

Criminal Defense

50%

Criminal Defense: White Collar
Focus Areas
Sex Offenses, White Collar Crime, Criminal Law - Federal
Selections


Super Lawyers: 2014 - 2021
Certificates and Credentials
Email Me
To: John T. Floyd
Super Lawyers: Potential Client Inquiry
Additional Sources of Information About John T. Floyd
White Papers
Judicial Wars Over Crack Sentencing Comes to End

(

2009

) - Last October we posted a blog entitled "The Judicial Wars Invoked by Crack Sentencing" (Oct. 24, 2008). The blog focused on a judicial tiff between the U.S. Supreme Court and the Eighth Circuit Court of Appeals in the case of James Eric Moore. We are pleased to report that the Supreme Court has finally put this issue to bed in two cases this Term.This judicial controversy actually began on January 12, 2005 when the Supreme Court issued a controversial ruling that federal district courts were not required to impose precise sentences recommended by the U.S. Sentencing Guidelines. See: United States v. Booker, 543 U.S. 220 (2005). The Court said the Guidelines were advisory in nature, and not mandatory sentencing requirements. Id., at 245-46.
TERRORISM SENTENCING ENHANCEMENT

- Sabri Benkahla was convicted on charges of making false statements to a federal grand jury and lying to the FBI and for obstructing justice with statements that he had never seen or received military-type training in Pakistan and possibly Afghanistan in 1999. See, United States v. Benkahla, 2007 WL 2254657 (E.D.Va. Aug. 3, 2007).According to the federal district court, Sabri Benkahla was not a terrorist. He had never committed a criminal act outside of the convictions specified above. He is an American citizen who was born and reared in Northern Virginia. He graduated from high school and received a Master's degree from the John Hopkins University. He excelled at both levels of education. At the time of his arrest he had very strong, and positive, relationships with family, friends, and the community. Prior to his sentencing the U.S. District Court received more letters supporting  Benkahla than it had any other defendant in twenty-five years. All the communications to the court attested to his "honor, moral character, opposition to extremism, and devotion with civic duty." Id., at WL 10-12. The Government was not impressed with Benkahla's personal background. Its prosecutors considered him a "terrorist" notwithstanding the court's findings. They sought "terrorism enhancement" under USSG § 3A1.4. This guideline is the most severe of all the sentencing enhancement guidelines. It Increases both the offense level and criminal history category for defendants convicted of a felony "that involved, or was intended to promote, a federal crime of terrorism." To illustrate how draconian this guideline is one only has to look at Benkahla's case. Absent the guideline, he was facing a sentence in the range of 32 to 41 months. Application of § 3A1.4 increased his sentence exposure to 210 to 262 months.
Reasonable Doubt; Foundation of a Free Society

(

2009

) - Every one has heard of the phrase "proof beyond a reasonable doubt." But there are three primary standards of proof: preponderance of evidence; clear and convincing evidence; and reasonable doubt. Black's Law Dictionary (8th Ed. 1990) provides the definitions of each in order of importance:
SUPREME COURT CRACKS BARRIER ON CRACK SENTENCING

- The United States Supreme Court on December 10, 2007 issued a ruling in a case that will effectively reduce some of the crack cocaine sentences for nearly twenty thousand federal inmates - 85 percent of them African-American. See: Kimbrough v. United States, No. 06-6330 (2007). The following day the U.S. Sentencing Commission voted to allow these inmates to immediately apply for sentence reductions. Slightly more than 2500 of them will be eligible for early release over the next year.
THE RIGHT TO BAIL:TOO OFTEN ABUSED IN HARRIS COUNTY, TEXAS

- The Eight Amendment to the United States Constitution expressly prohibits excessive bail. This fundamental right allows an accused to be free before conviction, permitting the unhampered preparation of a defense and preventing unjust punishment upon the innocent. Article 1, Section 11, of the Texas Constitution extends the right to bail to all defendants except those charged with capital offenses. This constitutional provision is buttressed by Article 1, Section 13, of the Texas Constitution which prohibits excessive bail.With the fundamental principals firmly embedded in this country's jurisprudence why do the Harris County Criminal Courts and the District Attorney's Office continue to impose excessive bonds in many non-violent property crimes?
FEDERAL PROSECUTIONS INCREASING FOR HEALTH CARE FRAUD

(

2014

) - Given the federal government's stated goal to stamp out waste and fraud in our nation's health care system, our advice remains steady when medical providers are contacted by investigators from the FBI, HHS or private insurance companies. This advice is often hard to digest for professionals who have no prior contact with criminal investigators, but it is vital that it be followed, even if the target believes there is nothing to hide. Following this advice during this important first contact with investigators can mean the difference in whether criminal changes are filed or not. This is the reason agents often use investigative tactics to get an interview before an attorney is consulted.
CRIMINAL ATTORNEYS STILL WATCHING THE U.S. SUPREME COURT, DECISIONS EFFECTING SENTENCING GUIDELINES

- While the U.S. Supreme Court's decision in Booker gave many defense attorneys hope that the often draconian Sentencing Guidelines would soon be pronounced dead, they still remain largely intact. Judges must still consult and consider the guidelines and, with Rita's "presumption of reasonable" standard, any sentence they hand down within the guidelines will most likely withstand appellate review. However, the Supreme Court has created a real opening for "thorough adversarial testing" of the sentencing procedure by allowing judges to depart from the guidelines if given good reason under the factors set forth in 18 U.S.C. § 3553. Defense attorneys must take this opportunity to effectively present their clients' best case at sentencing before the federal courts. After all, criminal defendants and their offenses of conviction are unique and individual and should be treated as such by the courts when assessing a just punishment.The United States Supreme Court three terms ago recognized that federal courts of appeal have the authority to review federal sentences and set aside those they find "unreasonable." See: United States v. Booker, 543 U.S. 220, 261-63, 125 S.Ct. 738, 160 L.Ed.2d 621 (2005).A United States District Court judge must consider two sources of authority in determining the sentence to impose on a criminal defendant: 18 U.S.C. § 3553(a) (2000) and the U.S. Sentencing Guidelines. § 3553 guides both the trial judge and the U.S. Sentencing Commission on the objectives Congress desires in the sentencing process and the Guidelines instruct the judge what factors to consider in determining the appropriate sentence under that statute. Those factors are:
ILLEGAL POSSESSION OF A FIREARM BY A CONVICTED FELON

- random cases from across the nation reflect how serious federal/state law enforcement and prosecutors consider illegal possession of firearms by convicted felons. Both federal and Texas gun laws are strict.
FEDERAL CHILD PORNOGRAPHY PROSECUTIONS UNFAIR?

(

2014

) - While allegations of child pornography do cause an immediate feeling of repulsion and fear in most people, it is vitally important for defense lawyers to maintain their objectivity in these often disturbing cases. In far too many cases, the defense lawyers themselves become ensnared in their own prejudices and, like most other normal people, assume their client's guilt and acquiesce to severe punishment. This is a fatal mistake that all too often leads to either a wrongful conviction or a sentence that is much more severe than necessary.
CSAAS IN TEXAS CRIMINAL TRIALS

(

2009

) - In 1983, Roland Summit in a published paper coined the phrase "Child Sexual Abuse Accommodation Syndrome" (CSAAS). See: 7 Child Abuse and Neglect 177 (1983).Summit's syndrome set forth five specific characteristics children may exhibit following sexual abuse. Summit intended that CSAAS be utilized by law enforcement and child protective services investigators, as well as clinicians, to explain the coping behavior of children sexually abused by adults. He did not intend for CSAAS to be used, as it has been in some states, as a diagnostic tool to tell juries in criminal trials that sexual abuse has in fact occurred. The five CSAAS characteristics are listed below:...   http://www.johntfloyd.com/comments/january09/25a.htm
CAN DELETED PORN BE USED IN A POSSESSION OF CHILD PORNOGRAPHY CASE?

- Before sex predators start trolling the internet for child victims they more often than not have visited child pornography sites. There are dozens of these international websites more than willing to ply their trade with willing consumers. The problem, however, is that some innocent internet travelers - particularly those who visit adult porn sites - will encounter child porn sites or receive child pornography. Most of the adult porn voyeurs will immediately "delete" the child porn images as soon as they receive it. They want nothing to do with it.But can "deleted" child porn be used to prosecute a person for possession of child pornography in the State of Texas? Human logic, and the language of the law, would indicate not. But the law is not always what it appears or what its language suggests. The Texas child pornography statute provides, in part, that a person commits the offense of possession of child pornography if that person "knowingly or intentionally possesses visual material that visually depicts a child ... engaging in sexual conduct[.]" See: Tex.Pen. Code Ann. § 43.26(a)(1) (Vernon 2003).
FEDERAL WIRE AND MAIL FRAUD CHARGES USED TO BEEF UP INDICTMENTS

(

2014

) - Federal prosecutors often use charges of mail fraud and wire fraud to add onto indictments alleging other complex, substantive crimes. This devious strategy is often used to increase the potential range of punishment or to make convicting a defendant changed with a complex fraud easier. Why? Because almost every conceivable transaction in today's world uses the mail, phone or electronic communication in some way to further its purpose. A simple phone call or e-mail made in furtherance of an alleged scheme is all it takes to support a wire fraud allegation and end up in federal court.
TEXAS STIFFENS PUNISHMENT FOR SEX OFFENDERS

- The 2007 Texas Legislature enacted a number of measures that severely increased the punishment for sex offenders. One of those measures makes second convictions for first-degree "sexually violent offenses" involving victims 14 years of age or younger a capital crime punishable by death or life without parole. A "sexually violent offense" is indecency with a child involving contact, sexual assault, aggravated sexual assault, sexual performance by a child, aggravated kidnapping involving intent to violate or abuse sexually, and first-degree burglary committed with intent to commit one of the sex offenses in this list. Previously only certain types of murder qualified an offender for the death penalty in Texas. This capital murder statute listed nine circumstances or types of victims that qualified murder as capital murder. One of those was murder committed during the commission of an aggravated sexual assault. A life sentence was the maximum penalty for anyone convicted of committing an aggravated sexual assault of a child 14 years or young without the victim being killed. A person must serve 35 years on a life sentence in Texas without consideration for time off for good behavior.
PROSTITUTION: "THE WORLD'S OLDEST PROFESSION" AND NOW A VERY SERIOUS CRIME

- The "pimp partners" case was part of a cooperative effort between the FBI, the U.S. Justice Department, and the National Center for Missing and Exploited Children. This investigative initiative began as a nationwide law enforcement effort called the Innocence Lost National Initiative which was established in 2003 to prevent and prosecute child prostitution. Through 2007, this initiative resulted in 374 open investigations, 967 arrests, 195 indictments, 217 convictions and the recovery of more than 300 children.
WILLFUL IGNORANCE NO DEFENSE FOR FEDERAL MONEY LAUNDERING

(

2014

) - Money laundering prosecutions have escalated over the past decade with some devastating effects. Individuals and businesses who have handled "dirty money" can be charged and convicted as money launderers, primarily through "willful blindness" instructions to juries, if they chose to turn a blind eye to the illegal source of the money. This can include situations where an individual had a reason to suspect that the money was dirty, but did not take any action to confirm or disprove their belief. To make matters worse, federal prosecutors have adopted the tactic of "piling on" money laundering charges ...
About John Floyd
Admitted: 1994, Texas
Professional Webpage: https://www.johntfloyd.com/john-t-floyd/
Honors/Awards:
Super Lawyers is a rating service of outstanding lawyers from more than 70 practice areas who have attained a high-degree of peer recognition and professional achievement. This selection process includes independent research, peer nominations and peer evaluations.

,

SuperLawyers - Criminal law

, Thomson Reuters,

2010

Top Lawyer; Criminal Defense, H Texas, 2008

Houston Criminal Attorney John Floyd is Board Certified in Criminal Law by the Texas Board of Legal Specialization and has been rated as among the best and brightest attorneys practicing criminal law and has been recognized as one of Houston's Top Lawyers for the People (2008,2009), Top Lawyers: Criminal Defense (2008-2014) and has earned a "Superb" rating, scoring 10/10, from AVVO. 

,

Top Lawyers H Texas

, H Texas,

2014

Top Lawyers For The People 2008; Criminal Law

, H Texas magazine,

2008
Special Licenses/Certifications:
BOARD CERTIFIED-CRIMINAL LAW Texas Board of Legal Board of Legal Specialization
Bar/Professional Activity:
Board Certified, Criminal Law, Texas Board of Legal Specialization

,

2010

Member, U.S. District Court for Eastern District of Texas, 1995-present

National Association of Criminal Defense Lawyers, 2003–Present

Member, State Bar of Texas, 1994–present

Member, United States District Court for Western District of Texas, 1995–present

Member, Texas Criminal Defense Lawyers Association, 1995–present

Member, United States District Court for Southern District of Texas, 1995–present

Member, Harris County Criminal Lawyers Association, 1995–present

Member, College of the State Bar of Texas, 1995–present

The College of the State Bar of Texas is an honorary society of lawyers who are among the best trained attorneys in Texas. Members are qualified attorneys who are interested in both high ethical standards and improved training for all Texas attorneys.

,

1996
Pro bono/Community Service:
Pro Bono Project FBI Interviews.  Mr. Floyd has represented hundreds of individuals pro-bono who have been selected for voluntary interviews by the FBI and Joint Terrorism Task Force.  These individuals are not suspected of criminal activity and are selected, profiled, for interview because of religious or country of origin. 

,

2004
Scholarly Lectures/Writings:
The Texas Rules of Evidence, Article 103, requires that a timely objection be based on a specific ground in order to preserve for appellate review an alleged trial error concerning the admissibility of evidence....  the Court of Criminal Appeals made it abundantly clear that the attorney should communicate in straightforward language to the trial court the evidentiary basis for his/her objection concerning this issue in order to properly preserve it for appellate review.

,

Objections to Bolstering Testimony

,

Criminal Defense

,

2009
Verdicts/Settlements:
State of Texas v. X, Case No. 1156699, Aggravated Sexual Abuse of a Child under 14, Trial by Jury, Not Guilty.

,

2008

State of Texas vs. X, Case No. 1109485, Sexual Assault, Trial by Jury, Acquitted by Directed Verdict

,

2008

State of Texas vs. X, Case No. 1162768, Indecency with a Child, Jury Trial, Not Guilty

,

2009

State of Texas vs. X, Case No. 1162767, Indecency with a Child, Trial by Jury, Not Guilty

,

2009
Educational Background:
University of North Texas, BA – Bachelor of Arts, Political Science, Philosophy

,

1991
Industry Groups
Federal Criminal Defense
Internal Corporate Investigations
Major Drug Conspiracies
Sex Crimes
White Collar Criminal Defense
Show More
John T. Floyd:
Last Updated: 3/17/2021