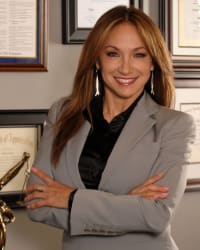 De Luna Law Offices, P.C.
Practice Areas: Immigration; view more
Licensed in Texas since: 2003
Education: Texas Southern University Thurgood Marshall School of Law
Languages Spoken: Danish, English, Spanish

Selected to Super Lawyers: 2021 - 2022

Virtual Appointments
De Luna Law Offices, P.C.
1627 Dunlavy St
Houston, TX 77006
Visit website
Details
Working out of the Houston, Texas office, Oralia De Luna is the founder of De Luna Law Offices, P.C., which has its second office in Edinburg, Texas. She is an immigration law attorney assisting clients throughout the United States and U.S. consulates and embassies around the world with various matters such as visa processing, naturalization, immigration waivers, reentry permits and more. 
A University of Texas Rio Grande Valley graduate, Ms. De Luna studied law at the Texas Southern University Thurgood Marshall School of Law and was licensed to practice in Texas in 2003. She is a seasoned attorney with more than 19 years of experience in the immigration field. Her clients include corporate employees, families and individuals who are looking to immigrate to the U.S. 
Trilingual in English, Spanish and Danish, Ms. De Luna has helped clients with naturalization, green card processing and complex federal litigation issues. She has zealously represented many clients before the U.S. immigration courts and the U.S. embassies and consulates, helping them build new and better lives in the United States. Being a first-generation American, she relates to and understands the struggles that immigrants face and strives to make the legal process easier and less stressful for them. 
Ms. De Luna plays an active role in her community and legal circle; she offers pro bono legal services to human trafficking victims in the U.S. and maintains professional memberships in the following organizations:
Mexican-American Bar Association of Houston
American Immigration Lawyers Association
Pan American Round Table of Houston 
Hispanic Women in Leadership
The State Bar of Texas, Immigration Law Section & LGBT Law Section
Recognized by the American Institute of Legal Counsel on its list of 10 Best Attorneys for immigration in Texas, Ms. De Luna is a reliable and compassionate attorney. She ensures that her clients are well-informed of the case status throughout the legal process. Since 2010, she has been consistently named on Houston's Top Lawyers list by H Texas magazine. She is frequently invited to speak on various topics related to immigration law at conferences, symposiums and on television programs.
Practice areas
Immigration: consumer, Immigration: business
Focus areas
Asylum, Naturalization & citizenship
70% Immigration: consumer

30% Immigration: business
First Admitted: 2003, Texas
Professional Webpage: https://www.delunafirm.com/oralia-de-luna/
Other Outstanding Achievements:
HuffPost Article: "Attorney Oralia De Luna Talks On Matters of Immigration Reform in the U.S." HUFFPOST, by Roz a Gee http://bit.ly/2f3IusS,

2017
Honors/Awards:
Texas Super Lawyers recognition, Immigration Law

,

Super Lawyer

,

Super Lawyers Magazine

,

2021

Pro Bono and legal services to the community in conjunction with educating the immigrant community regarding immigration laws

,

Valuable Collaboration, Service to the community

,

Uniendo Naciones [Uniting Countries] Non-profit organization

,

2022

Exceptional & Outstanding Client Service

,

BEST 10 LAW FIRMS~ IMMIGRATION LAW

,

American Institute of Legal Counsel

,

2022

Exceptional and Outstanding Client Service

,

Best 10 Immigration Attorneys~ Texas

,

American Institute of Legal Counsel

,

2022

Texas Super Lawyers recognition, Immigration Law~ Super Lawyer

,

Super Lawyer

,

Super Lawyers Magazine, Thomson Reuters

,

2022

Exceptional & Outstanding Client Service- Immigration

,

Best 10 Law Firms Immigration

,

American Institute of Legal Counsel

,

2021

Top 10 Immigration Attorneys, Texas

,

Top 10 Immigration Attorneys

,

Best of the Best

,

2021

IMMIGRATION LAW Exceptional and Outstanding client service

,

BEST 10 IMMIGRATION ATTORNEYS-TEXAS

,

AMERICAN INSTITUTE OF LEGAL COUNSEL

,

2021

Listed since 2010, Note* HTexas was unable to publish magazine Fall 2021 however the recognition was announced approx April 2021 to attorneys who made the list for such recognition.

,

Houston Top Lawyers~ Immigration

,

HTexas

,

2021

Immigration Law~ Texas

,

Best 10 Immigration Attorneys

,

American Immigration of Legal Counsel

,

2020

2010-2020 / I have been listed as one Houston's Top Lawyers since 2010 continuously and appear under Immigration Law,

Houston's Top Lawyers

,

HTexas magazine

,

2020

Immigration attorneys. selection to this list provided independent third-party validation of me as an attorney, and  my practice.

,

Top 10 2020 immigration attorneys

,

Best of the Best

,

2020

OUSTANDING CLIENT SERVICE AND CLIENT SATISFACTION-IMMIGRATION LAW

,

BEST 10 LAW FIRMS- TEXAS

,

AMERICAN INSTITUTE OF LEGAL COUNSEL

,

2020

IMMIGRATION LAW - OUTSTANDING CLIENT SERVICE AND CLIENT SATISFACTION

,

BEST 10 LAW FIRMS- TEXAS

,

AMERICAN INSTITUTE OF LEGAL COUNSEL

,

2019

IMMIGRATION LAW- TEXAS

,

BEST 10 IMMIGRATION ATTORNEYS

,

American Institute of Legal Counsel

,

2019

2010-2020 / I have been listed as one Houston's Top Lawyers since 2010 continuously and appear under Immigration Law,

HOUSTON'S TOP LAWYERS

,

HTEXAS MAGAZINE

,

2019

OUSTANDING CLIENT SERVICE- IMMIGRATION

,

BEST 10 LAW FIRMS- TEXAS

,

AMERICAN INSTITUTE OF LEGAL COUNSEL

,

2018

IMMIGRATION LAW

,

BEST 10 IMMIGRATION ATTORNEYS

,

American Institute of Legal Counsel

,

2018

2010-2020 / I have been listed as one Houston's Top Lawyers since 2010 continuously - IMMIGRATION LAW,

HOUSTON'S TOP LAWYERS

,

HTEXAS MAGAZINE

,

2018

2010-2020 / I have been listed as one Houston's Top Lawyers since 2010 continuously ~ Immigration Law,

HOUSTON''S TOP LAWYERS

,

HTEXAS Magazine

,

2017

http://bit.ly/2f3IusSInterviewed by Roz A Gee Sept 2017 please click link above to see article.,

"Attorney Oralia De Luna Talks On Matters of Immigration Reform in the U.S."

,

HUFFPOST

,

2017

2017-2020 Immigration law/ Texas

,

Best 10 Attorneys

,

American Institute of Legal Counsel

,

2017

2017-2020 Immigration / Texas Outstanding Client Service and client  satisfaction

,

Best 10 Law Firms - TEXAS

,

American Institute of legal counsel

,

2017

2010-2020 / I have been listed as one Houston's Top Lawyers since 2010 continuously / Immigration Law,

Houston's Top Lawyers

,

HTexas Magazine

,

2016

2010-2020 / I have been listed as one Houston's Top Lawyers since 2010 continuously - Immigration Law,

HOUSTON'S TOP LAWYERS

,

HTexas Magazine

,

2015

IMMIGRATION LAW ~ 2010-2020 / I have been listed as one Houston's Top Lawyers since 2010 continuously,

HOUSTON'S TOP LAWYERS

,

HTexas Magazine

,

2014

2010-2020 / I have been listed as one Houston's Top Lawyers since 2010 continuously ~ Immigration Law,

HOUSTON'S TOP LAWYERS

,

HTexas Magazine

,

2013

IMMIGRATION LAW 2010-2020 / I have been listed as one Houston's Top Lawyers since 2010 continuously,

HOUSTON'S TOP LAWYERS

,

HTexas Magazine

,

2012

IMMIGRATION LAW 2010-2020 / I have been listed as one Houston's Top Lawyers since 2010 continuously.,

Houston's Top Lawyers

,

HTexas Magazine

,

2011

IMMIGRATION LAW / 2010-2020 / I have been listed as one Houston's Top Lawyers since 2010 continuously.,

HOUSTON'S TOP LAWYERS

,

HTEXAS Magazine

,

2010
Pro bono/Community Service:
Since 2005, I devote my pro bono service for victims of human and sex trafficking. These victims need a voice and have absolutely no income to seek the legal benefit they need in order to function and live in this country without the fear of removal from this country. The legal benefit will give them the freedom to live wherever they feel safe in the U.S. I have devoted my efforts wholeheartedly to this cause since 2005. Though not many victims come forward due to fear, the ones that bravely do so have no one in the U.S. and it is my heartfelt duty to help them.

,

2021

Provide pro bono services to "Families in Need" a nonprofit organization founded by Gabriela Elizondo Gonzales, 214 families to date. 2021-2022

,

2022

Pro bono immigration services to community alongside Uniendo Naciones [Uniting Nations], non-profit organization that provides aid to the community.

,

2022

Speaker at IMMIGRATION FORUM, Edinburg Texas Sekula Library / Along with Mexican consul and Uniendo Naciones addressed pressing issues to the community's Q&A.

,

2021

Uniendo Naciones Charity Organization [Rio Grande Valley, South Texas] Devote pro bono time to its community giving lectures regarding immigration issues, updates and guidance to those financially in need who want to apply for US citizenship.

,

2021

Uniendo Naciones Charity Organization [Rio Grande Valley, South Texas] Devote pro bono time to its community giving lectures regarding immigration issues, updates and guidance to those financially in need who want to apply for US citizenship.

,

2020

DACA / Uniendo Naciones Charity Organization [Rio Grande Valley, South Texas]  DACAmented presentation for Dreamers

,

2019
Scholarly Lectures/Writings:
Univision News interviewed me ~ to inform public of the present situation to those with current DACA [deferred action] to remain in the US. and how they and other Dreamers would be affected in the US. Stay or leave.

,

SPEAKER

,

DACA & DREAMERS

,

UNIVISION TV NEWS

,

Immigration, Consular Services, Economy, DACA, Dreamers

,

2021

Foreign Investors [E1, E2 visas]  Investments in the U.S.

,

Interviewee

,

Immigration Law

,

TV Azteca

,

Immigrant Community

,

2022

Speaker/Lecture on Upcoming Immigration Changes and potential Immigration reform and how immigrants lives can be affected for the better. Caveats on reaching out to notarios vs. legal representation.

,

Speaker

,

Immigration Changes and Reform

,

Robert Sekula Library

,

Immigrant Community

,

2021

Speaker/ Q&A and also informed pubic about pressing immigration issues and in addition how to about immigration scams which are prevalent and prey on those desperate to hear what they hope.

,

Lecture

,

Latest News in Immigration

,

Radio AlegrateMaia

,

Immigration Community, Employment

,

2021

Lectured audience on difficulties when applying for their naturalization. Red flags needed to be addressed prior to applying to avoid been denied naturalization and placed on removal/deportation to defend their green card status. Q&A at end of my lecture.

,

SPEAKER

,

NATURALIZATION

,

UNIENDO NACIONES SOLO PARA SERVIR, Edinburg, Texas

,

Community, Immigration

,

2020

Spoke about the life of a person who is currently in Deferred Action [immigration status], possibilities of this benefit and what many of DACAmented individuals have thrived in their education and employment lives and how they have contributed to this economy and education. Fears due to attempts by the new Presidential administration taking away this benefit. Q&A at end

,

Speaker

,

Immigration DACAMented

,

Uniendo Naciones Para Servir, Edinburg, TX

,

Community, Immigrants, Students

,

2019

Family based presentation regarding various categories

,

Speaker

,

Immigration Forum, Latest News

,

City of Edinburg

,

Community, Immigration, Employers, Economy

,

2018

Topic covered wide spectrum of statistics regarding mass deportation and the undocumented communities in this country.

,

Interviewee

,

Attorney Oralia De Luna Talks on Matters of Immigration Reform in the U.S.

,

HUFFPOST

,

Readers, Immigration, Economists, Employers, Family

,

2017

Answered questions regarding Immigration topics in Family-based immigration, employment-based immigration; interacted with live audience. 

,

Guest speaker

,

Immigration, Hot Topics

,

KYST920 Internet /internet based live Radio show

,

Internet Audience, Social Media Audience, Immigration Community

,

2017

Parents of U.S. citizens were been denied to right to obtain their U.S.-born children's birth certificates without proper documentation. Answered Questions regarding this matter and also combined that issue with potential legal avenue under DAPA, an immigration benefit that was supposed to be passed in 2016.

,

Interviewee

,

Parents of U.S. Citizens

,

TELEMUNDO, Edinburg, Texas

,

Hispanic Community, Tv Viewers

,

2016

Immigration issues and their changes under the new presidential administration.

,

Speaker

,

Immigration and What's Shaking the U.S.

,

KYND Show, D Young

,

Web Based Community, Immigration, Legalization, Discrimination, Unconstitutional Treatment

,

2016

Answered Questions regarding what measures were been taken by homeland security [ Immigration & Customs Enforcement, Customs and Border Patrol]; How undocumented minors were been processed into the U.S.; Placement of minors in the detention system.

,

TV news interview

,

Undocumented Minors at Border

,

Telemundo TV, Edinburg, Texas

,

Community, Immigration, Undocumented, Foster Care, Removal

,

2015

Presented various matters where undocumented individuals are affected by the Immigration system and what options may be available to them, if any.

,

SPEAKER

,

IMMIGRATION & THE LAW

,

McAllen I.S.D.

,

Community, Staff, Administration, Students

,

2015

Spoke about temporary law intended to be passed by the Obama Administration for parents of U.S. children; discussed eligibility.  Q&A at end of presentation.

,

SPEAKER/PRESENTER

,

DEFERRED ACTION FOR PARENTAL ACCOUNTABILITY [DAPA]

,

McAllen Independent School District

,

Student Body, Parents, Community, Educators, Employers

,

2015

Presented how a transgender can navigate various immigration benefits and overcome gender specific obstacles in this area of law. Answered Q&A

,

Television Talk show guest

,

Transgender Issues in Immigration Law

,

KBTU, Houston, Texas

,

Transgender Community, Immigration, Legalization

,

2014

Answered Questions regarding eligibility for same sex marriages in obtaining  an immigration benefit [marriage-based green card]

,

Speaker/Television Talk Show guest

,

Same Sex Marriage in Immigration Law

,

KVQT, Houston, Texas

,

Community, LGBTQ Community, Immigration, Family Law, Probate

,

2014

Guest speaker/Panel at various LULAC symposiums held around Harris County. Educated attendees about the new law "DACA" which would allow a particular age group of undocumented immigrants obtain temporary status to remain in U.S. to attend school and/or work.

,

Guest speaker

,

Deferred Action for Childhood Arrivals

,

LULAC

,

Community, Immigration, Students, Businesses

,

2012

Guest speaker: lectured and did Q&A to law students and attending attorneys about the I-130 Petition for Alien relative process.

,

Guest Speaker

,

Immigration Law for the New and Non-Practicing Immigration Attorney

,

Thurgood Marshall School of Law

,

Law Firms, Attorneys, Immigration

,

2007
Bar/Professional Activity:
Since 2020 - present IMMIGRATION LAW Section member, Texas State Bar

,

2022

Member, LGBT Law Section of the State Bar of Texas  

,

2022

Since 2003 to present~ AILA Texas Chapter (American Immigration Lawyers Association] ~Active member, Discuss pressing immigration issues with chapter

,

2022

Since 2003 Mexican American Bar Association of Houston, Member

,

2021

Since 2003 to present~ American Immigration Lawyers Association~ Active member

,

2021

 Mexican American Bar Association of Houston committee member

,

2014

Served in the Hispanic Issues Section with the State Bar of Texas 

,

2006

Mexican American Bar Association of Houston~ Officer

,

2005
Industry Groups:
Employment-Based Immigration
Family-based Immigration
Office location for Oralia De Luna
1627 Dunlavy St
Houston, TX 77006
Phone: 713-589-5269
Selections
Super Lawyers: 2021 - 2022
Additional sources of information about Oralia De Luna
Attorney resources for Oralia De Luna