Michael M. Guerra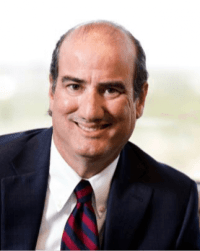 Attorney Profile
Top Rated Personal Injury Attorney in McAllen, TX
Phone: 956-682-5999
Fax: 888-317-8802
Selected To Super Lawyers:
2011 - 2020
Practice Areas:
Personal Injury - General: Plaintiff
Attorney Profile
Michael M. Guerra focuses on a select number of catastrophic injury and death cases. Mr. Guerra advocates for people who have been injured or killed in cases related to: Heavy truck, automobile and aircraft related incidents; Fires, explosions and burn cases of every type; Product failure related losses, including tire and auto defects; Premises related injuries, and; Toxic exposures including carbon monoxide injuries and fatalities.
Mr. Guerra is a graduate of Texas A&M University where he was a member of the Corps of Cadets. He received his law degree from Texas Southern University in 1993.  Mr. Guerra was selected as the 2018 Ronald D. Secrest Outstanding Trial Lawyer Award recipient by the Texas Bar Foundation. The award recognizes a trial lawyer who, in his or her practice, has demonstrated high ethical and moral standards and has demonstrated exceptional professional conduct, thus enhancing the image of the trial lawyer. Included among the ranks of this award's past recipients are some of the nation's finest trial lawyers. 
Mr. Guerra's cases have been profiled and he has been quoted as a legal authority by major news organizations, including the New York Times, the Los Angeles Times, CNN and Fox News. He is certified by the Texas Board of Legal Specialization in Personal Injury Trial Law and he is a frequent speaker at legal seminars and continuing education courses across America. 
Mr. Guerra has handled cases from coast to coast and is licensed to practice in all Texas state courts as well as various U.S. District Courts in the Fifth Circuit. He is a member of the American Board of Trial Advocates, the Attorney Information Exchange Group, The American Trial Lawyers Association and The Texas Trial Lawyers Association.
Practice Areas
100%

Personal Injury - General: Plaintiff
Focus Areas
Animal Bites, Assault, Motor Vehicle Accidents, Personal Injury - Plaintiff, Slip and Fall, Wrongful Death, Dram Shop Laws, Construction Accident, Brain Injury, Sexual Abuse - Plaintiff, Trucking Accidents, Premises Liability - Plaintiff
Selections
Super Lawyers: 2011 - 2020
Email Me
To: Michael M. Guerra
Super Lawyers: Potential Client Inquiry
Additional Sources of Information About Michael M. Guerra
White Papers
Polyurethane Foam Furniture Flammability Fire kills more Americans than all natural disasters combined, with 82% of the civilian fire fatalities occurring in the home.   Almost 3,000 Americans burned to death in their homes. Another 14,000 Americans suffered serious injuries due to fire in their homes. No matter what the ignition source of the fire, a fuel load has to be present for the fire to cause catastrophic injuries and death in most instances. Often, the fuel load most often associated with fatal residential fires is upholstered furniture, often filled with untreated polyurethane foam. For decades, polyurethane foam has been used as filler in upholstered furniture. It can be found in almost every home in America. It is used as padding in couches, chairs, pillows, and mattresses, as well as for padding under carpets.  Back as far as 1972, the federal government reported that foam flammability standards were needed due to foam's extremely flammable characteristics. In fact, California and other states have adopted foam flammability standards. But according to quotes attributed a former leader of the National Fire Marshals Association, the furniture industry has been successful at derailing all attempts at federal furniture flammability regulation since then. Polyurethane foam that has not been treated with flame retardant chemicals is referred to as "solid gasoline" by fire experts. Some experts compare sitting on an untreated foam cushion to sitting on a bag of gasoline. When untreated foam is ignited, it burns extremely fast and extremely hot. Ignited polyurethane foam sofas can reach temperatures over 1400 degrees Fahrenheit within minutes. Making it even more deadly is the toxic gas produced by burning polyurethane foam. When it burns, foam emits hydrogen cyanide gas. Hydrogen cyanide gas causes reduced oxygen, and when combined with carbon monoxide, the effects are particularly lethal. Just one breath of superheated toxic gas can incapacitate a person, preventing escape from a burning structure. According to the Consumer Product Safety Commission (CPSC), more than 800 people die annually in fires involving upholstered furniture, roughly 14 Americans per week. This type of fire kills more people than any other type of fire, accounting for over 20% of the national fire fatalities annually.  This tragic loss of life continues because furniture manufactures are not being held accountable for using untreated foam. Although some national furniture manufacturers are now voluntarily conforming to the California standard, the CPSC estimates that over 50% of the annual foam filled furniture fatalities could be prevented if all furniture sold in America used flame retardant foam. According to expert Gordon Damant, furniture that does not meet the standards can be considered unreasonably dangerous. Upholstered furniture that meets the standard is less likely to ignite rapidly and, if ignited, is less likely to burn quickly or to sustain burning. Therefore, product liability causes of action should be considered when evaluating home fires that result in death or catastrophic injury if the first ignited fuel source for the fire was upholstered furniture.   Michael Guerra is an attorney in McAllen Texas. He can be reached by email at [email protected] or michaelmguerra.com or 956-682-5999. 
Flame Failure Devices on Stovetop Burners to Prevent Propane Explosions in Recreational VehiclesBy: Michael M. Guerra  Esq.www.michaelmguerra.com  Currently, there are an estimated ten million Recreational Vehicles (RVs / travel trailers) in use in the United States and Canada. Almost all of them are unreasonably dangerous and defective due the absence of flame failure devices ((FFD), also known as thermocouple protected burners), on propane stovetop burners. Propane stoves in most modern RVs are very similar to propane BBQ grills used extensively in the US. They require a three-step process to operate. First, the propane supply must be turned on at the source (normally a propane bottle connected by a hose). Second, the burner knob is turned to the "ignite" setting. Finally, in a separate action, an adjacent piezo ignition "sparker" knob or button is activated to ignite the already flowing propane.   Many of these stovetop burners are high energy, 10,000 btu burners or more. They can release a huge amount of propane into a small, predominantly airtight, confined space in a relatively short amount of time. Fugitive propane in a confined space is a recipe for disaster. Many innocent ignition sources such as static electricity, electric appliances, cigarette lighters or the ignition knob itself can create a life-altering explosion.   Playing children, inadvertent knob turning, flame failure at the burner caused by wind or spilling liquid, and "senior moments" are but a few examples in which fugitive propane can be allowed into an RV through an unlit stovetop burner. This scenario is known to be a common occurrence in RVs and is believed to be the cause of multiple fatal or otherwise catastrophic propane explosions in RVs every year.   Propane stoves in RVs (called Caravans) in Europe, Australia, New Zealand and most other every other advanced country in the world have been equipped with flame failure protected burners for over a decade. This simple and common safety feature is economically feasible as it  can be implemented for less than $3. per burner. FFDs are extremely effective in preventing unintended propane discharge. The most common type of flame failure device used today combines a thermocouple and magnetic solenoid to shut off the propane supply if no flame is detected at the burner.     This device does not require an external supply of electricity since the thermocouple produces its own electric charge when heated. Thermocouple technology was first discovered in 1821 and has been in use since the mid 1800s. It is obviously technologically feasible.   Flame failure devices on stovetop burners have been mandated by the American Boat and Yacht Council since the late 1980s. FFD protected stoves are the norm in the maritime industry.  However, despite expert recommendations and known instances of stovetop burner caused explosions, RV manufactures and the Recreational Vehicle Industry Association (RVIA) continue to turn a blind eye to this failure mode. Even though all other propane appliances in American RVs are already equipped with flame failure devices, the industry refuses to mandate them for stovetops. For example, US RVs come equipped with propane ovens, furnaces, air conditioners, refrigerators and water heaters. All of these propane appliances, except for stovetop burners, use flame failure devices to prevent gas discharge due to pilot light or burner failure.   The excuse given by the RV industry for this safety violation is that stovetop burners are "attended devices," and as such, the operator can turn off the gas to prevent propane discharge if the flame goes out. This reasoning is flawed for obvious reasons. This theory supposes that every user stands over the stove while cooking. Most people readily admit that when cooking soup, beans or other dishes that require lengthy cooking times, they do not stand over the stove the whole time. Furthermore, this theory does not take into consideration the common occurrence of unattended children playing in RVs. It does not take into consideration inadvertent turning of knobs due to leaning up against or brushing by the gas knob in the relatively tight space of an RV. Finally, this theory does not take into consideration "senior moments," or moments when people of all ages turn on the gas, get distracted and forget to turn it off. For example, how many times have you forgotten to turn off a coffee maker or water hose?   Although most US RVs have LP gas detectors, these battery-operated devices are secondary and unreliable safety features. Most RVers are unaware that LP gas detectors have a five year lifespan. Many RVers disconnect LP gas detectors due to nuisance alarms or battery drain.   Likewise, propane odorant, Ethyl Mercaptan, is a secondary and unreliable safety feature. Propane odorant is not sufficiently caustic to wake sleeping occupants of a recreational vehicle. Likewise, a certain percent of the population cannot smell Ethyl Mercaptan. Smokers and elderly people have difficulty detecting Ethyl Mercaptan. Children do not understand the significance of smelling propane odorant.  For all these reasons and more, LP gas detectors and propane odorant are not sufficient substitutes for flame failure protected stovetop burners.   In conclusion, there is no excuse for not incorporating flame failure devices on stovetop burners in RVs. Why should the American public be not enjoy the same safety provided to the rest of the world? FFDs are inexpensive, reliable, and readily available safety devices that save lives.  Every RV stove should have them and they are dangerously defective if they do not.  
About Michael Guerra
Admitted: 1993, Texas
Professional Webpage: http://www.michaelmguerra.com/firm_michael_guerra.php
Honors/Awards:
American Jurisprudence Award, Texas Southern University in Houston, 1993

The award recognizes an active trial lawyer who, in his or her practice, has demonstrated high ethical and moral standards and has demonstrated exceptional professional conduct, thus enhancing the image of the trial lawyer.

,

Ronald D. Secrest Outstanding Trial Lawyer Award

, Texas Bar Foundation,

2018
Special Licenses/Certifications:
Texas Board of Legal Specialization in Personal Injury Trial Law
Bar/Professional Activity:
United States District Court for the Western District of Texas

Texas

Member, The Texas Trial Lawyers Association (TTLA)

Member, State Bar of Texas

Member, American Association for Justice (AAJ)

Member, American Board of Trial Advocates (ABOTA)

Member, South Texas Trial Lawyers Association

Member, Attorney Information Exchange Group (AIEG)

U.S. District Court for the Southern District of Texas

Member, TTLA Advocates Board of Directors

Member, Hidalgo County Bar Association
Pro bono/Community Service:
Member, Board for the McAllen Pregnancy Center

Life Member, Texas Agriculture Lifetime Leadership Program
Representative Clients:
Styled Coria et al., vs. Key Energy et al., Texas Lawyer's "Top Verdicts and Settlements of 2000"
Educational Background:
Texas A&M University in College Station, Texas, B.S.

,

1989
Industry Groups
ABOTA
AIEG
National Trial Lawyers Top 100
TTLA
Show More
Michael M. Guerra:
Last Updated: 3/13/2020