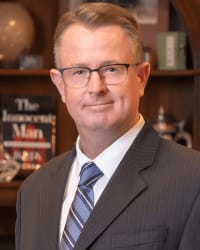 Pelley Law Office, L.L.P.
Practice Areas: Criminal Defense; view more
Licensed in Texas since: 2002
Education: Texas Tech University School of Law

Selected to Rising Stars: 2011 - 2015
Pelley Law Office, L.L.P.
1312 14th Street
Suite 100
Plano, TX 75074
Visit website
Details
Attorney Quinton G. Pelley has been lauded by the National Criminal Trial Lawyers Association as one of the "Top 100 Trial Lawyers in America." Mr. Pelley has also been honored by Texas Monthly Magazine as a "Super Lawyer" and awarded the title of "Top 40 Lawyers Under 40 in Texas" by the National Trial Lawyers Association.
Mr. Pelley has memberships in the Dallas County Bar Association, Collin County Bar Association, Grayson County Bar Association, McKinney Bar Association, The State Bar of Texas, and is admitted to practice in the United State District Court – Eastern and Northern Divisions as well as in the Supreme Court of Texas and all Courts in the State of Texas inferior thereto.
Mr. Pelley is the managing partner of Pelley Law Office, L.L.P. and is very proud of its 50 year tradition of excellence.
"There is absolutely no substitute for experience."
Practice areas
Criminal Defense
Focus areas
Arrest & Arraignment, Assault & Battery, Criminal Domestic Violence, Criminal Fraud, Criminal Law, Drug & Alcohol Violations, Expungement, False Accusations, Felony, Juvenile Delinquency, Misdemeanor, Motor Vehicle Offenses, Murder, Probation, Prosecution, Sex Offenses, Theft
First Admitted: 2002, Texas
Professional Webpage: http://www.pelleylaw.com/Attorney-Profiles/Quinton-G-Pelley....
Verdicts/Settlements:
Aggravated Sexual Assault of a Child case dismissed after rejecting the D.A.'s final offer of 40-Years in prison. Our client was accused of repeatedly raping his pre-teen daughter and was facing life in prison if he was convicted. Prior to hiring us, his bond was revoked for going near a school zone and the State of Texas indicated they never wanted him to see the light of day again. His family came to us for help. After several aggressive moves, we got all of the charges dismissed. - T.A.H.Felony Assault by Choking/Impeding Breath case "No-Billed" by the Grand Jury and the charge was dropped. Police arrived at the scene after neighbors called the Frisco police complaining that there was a domestic disturbance next door. They found broken china and dishes all over the floor downstairs. The fiancé was screaming and crying hysterically with red marks all over her neck and chest. Our client had locked himself in the upstairs bathroom where the police located him. With guns drawn, the police arrested our client who posted bond and made a beeline for our office. We submitted a packet to the D.A. and within about a month, the charges were dismissed and he avoided not only 10 years in prison but also a lifetime of regret and misery. - A.B.Close to 40 State and FBI investigations for Mortgage Fraud (each carrying 99 year prison sentences). EACH AND EVERY ONE OF THE CHARGES DISMISSED! Aggressive State and FBI investigations were conducted for several years on our client for a multi-million dollar conspiracy. Convinced that she was going to spend the rest of her life in federal prison or the state Pen, she turned to us for help. And help we did. Not only did she not spend one second in prison, all the federal charges and state charges against her were completely dismissed. Despite being caught red-handed, and despite confessing to the authorities, her criminal record is clean as a whistle. - K.D.T. The Barbie and Ken Divorce. We got "Ken's" assault-family violence charges dismissed and prevented "Barbie" from stealing his kids. This affluent and very attractive couple had a toxic relationship. On more than one night, "Barbie" called the police and said that he assaulted her. "Ken" hired another criminal attorney who represented him for months throughout the pendency of their divorce. That attorney advised "Ken" to plead the case out and go on probation. Had Ken taken that horrible advice, his "family violence" admission would have deprived him full access to his children and subjected him to substantial alimony obligations. Ken fired that law firm, hired us, and in one single appearance in Court Mr. Pelley convinced the State to dismiss the case. - B.P.State of Texas vs. C.R.: Charge: Aggravated Robbery With no mask on in broad daylight client went into a gas station with a pistol and held up the clerk for the cash that was in the safe and his face was caught on a crystal clear video surveillance camera feed. Although facing 99 years confinement, our attorney at an open plea hearing in front of the judge convinced the Court to give him deferred adjudication probation rather than sentencing him to prison. Result: CASE ULTIMATELY DISMISSED AND C.R. KEPT HIS RECORD CLEAN. Two Delivery of a Controlled Substance in a School Zone cases dismissed after our Motions to Suppress were Granted. Client had an extensive criminal history. He had everything riding on our Motions to Suppress and Brief in Support. He was looking at 40 years confinement unless Mr. Pelley won the Motion. He did. The court granted our Motion and he walked away a free man. - K.L.Habitual felony offender who was not eligible for probation faced a minimum of 25 years in prison and up to 99 years for assaulting 4 police officers if he was indicted. All cases were dismissed. This client was up a creek and our defense team was the only paddle that saved him. He had two prior violent felony convictions and was arrested after 2 a.m. outside of a shady lake bar drunk and accused of beating up 4 cops. Given the fact that he was 6'2" and 240 without an ounce of fat and had a violent criminal history, his outlook seemed futile to him and his family. Nevertheless, they hired Mr. Pelley and within 2 months all charges were dismissed. - C.S. Homicide case. She came to us immediately after she was charged with killing someone. Case dismissed. - T.O. 1st Degree Felony Motion to Adjudicate for Delivery of a Controlled Substance >200 Grams. Case Dismissed. This client violated his probation on multiple occasions. He was facing 99 years confinement as a result of those violations. He had a warrant out for his arrest when he came in to hire us. The very first time that we appeared in Court on that active warrant we convinced the Judge to withdraw the warrant. That same morning, the Motion to Adjudicate was withdrawn, and our client's probation was continued. No prison time. Not even any jail time. - S.M.The State of Missouri prosecuted this person for felony theft. She originally hired an attorney in Missouri who charged her over $20,000 in attorney fees, drug out her case for over a year, and recommended that she accept the D.A.'s offer of 6 years in prison. She fired him. She hired us. Our attorney got her case dismissed in one single appearance in Court. She was actually a Texas resident. She hired us and we got permission from the court to practice pro hac vice in Missouri for her case. Mr. Pelley made one (1) appearance in court just outside of St. Louis and within 2 weeks the felony charges were dismissed rather than her spending 6 years in prison. - W.M.Sexual Assault Case-Dismissed without indictment. Our client had a crazy co-worker who said he put the moves on her and sexually assaulted her at work. Facing 20 years and a lifetime of registration as a sex offender, he sought our counsel. Within weeks of hiring our criminal defense team, we ended his nightmare and got him his life and kids back. -D.D.Federal Investigation of Money Laundering by the F.B.I. - Closed without Indictment. Mr. Pelley convinced the federal government that this client was the victim of a conspiracy to commit wire fraud for millions of dollars rather than the rest of the gang who had actual criminal culpability. Otherwise, she was looking down the wrong end of a 20-year barrel in a federal prison. She got her life back after our team got the FBI investigation dismissed. - F.W.Aggravated Sexual Assault of a Child charge - Dismissed. This poor man was charged with this false allegation, jailed, and bond was set at $200,000. The family could not afford to make bond. So, they hired us to file a Writ of Habeas Corpus. At the hearing, Mr. Pelley got the bond reduced down an astonishing amount to $500 and within two weeks, he got the case dismissed. - D.J.K.Assault Family Violence--Choking/Impeding Breath. Police arrived on the scene after the wife went nuts and called the cops and told them that her husband choked her. They showed up and arrested him (without paying any regard to his side of the story) for a 3rd Degree Felony. He posted bond and came to see us. The case was dismissed within weeks after we submitted a "packet" to the Grand Jury and got a "No-Bill." - K.H.First Degree Felony Assault by a Habitual Offender Facing 99 Years in the Pen! Dismissed. This client would not have been eligible for probation if he convicted at trial. He would have to serve a minimum of 25 years in prison. He hired us. We pressed the State for a dismissal and that is exactly what we got. - J.E.Aggravated Sexual Assault of a Child. His wife kidnapped his kids and the daughter made a false allegation that he molested her so that she could live with her mom. The wife filed for divorce and kidnapped the children. We not only got the charges dismissed, but also got his son back from the ex-wife. - B.D.R.Assault Bodily Injury that left the complaining witness in the ER room. At trial, the jury returned a verdict of "Not Guilty." Our client was a trained killing machine that proudly served in the U.S. Marines. At trial, the State's victim essentially testified that our client beat him to a bloody pulp. He also admitted to agreeing to the fight and after our team explained the "mutual combat" defense to the jury, they acquitted him. - B.H.State of Texas vs. C.A. Charges: Felony D.W.I. 3RD OR MORE IN COLLIN COUNTY.Client was under investigation for D.W.I. 3rd or more in Collin County, Texas and hired our firm right after his arrest. We quickly conducted our own investigation and provided it to the Collin County District Attorney's office prior to the Grand Jury meeting. The case was refused, and all charges dropped. Result: CASE DROPPED.State of Texas vs. S.C. Charge: Assault Causes Bodily Injury—Family Violence. Result: CASE DISMISSED.State of Texas vs. J.H. Charge: D.W.I. At trial, the jury watched the roadside video showing J.C. falling down getting out of the car at nearly 2 a.m. J.C. could not walk a straight line during the Walk and Turn test, could not stand on one leg without stumbling and was clearly having a difficult time stating exactly where he had been that night.Result: JURY RETURNED A VERDICT OF NOT GUILTY.State of Texas vs. M.S. Charge: 3rd Degree Felony Assault by Choking Result: CASE DISMISSED.State of Texas vs. M.J. Charges: 3 separate cases of Assault Causes Bodily Injury-Family Violence and 1 Case of Interference with an Emergency Phone Call Result: ALL 4 CASES DISMISSED.State of Texas vs. S.O. Charge: Assault-Family Violence Result: FOUND NOT GUILTY AT TRIAL.State of Texas vs. S.W. Charge: Assault Causes Bodily Injury-Family Violence Result: FOUND NOT GUILTY AT TRIAL.State of Texas vs. A.Y. Charge: Theft-Client was not a U.S. Citizen, and faced deportation if convicted. Result: CASE DISMISSED.State of Texas vs. C.M. Charge: Burglary of a Habitation Client was caught and admitted to police that he was the primary actor in a series of burglaries of local dignitaries' homes. Client was facing 20 years confinement on each charge. Result: CASES DISMISSEDState of Nevada vs. A.I. Charge: Felony Theft by Check over $200,000. Client was accused of stealing hundreds of thousands of dollars from numerous Las Vegas casinos. A Texas resident, he hired our firm. The Las Vegas casinos threatened to pursue substantial prison time. Result: CASES DISMISSED.
Bar/Professional Activity:
Member, American Association for Justice

McKinney Bar Association

,

2016

U.S. District Court Eastern District of Texas

,

2004

Member, Grayson County Bar Association

Member, Texas Criminal Defense Lawyers Association

Dallas County Bar Association

,

2017

U.S. District Court Northern District of Texas

,

2002

Chairperson, Dallas Association of Young Lawyers, 2003 - 2004

Member, National Association of Consumer Bankruptcy Attorneys

Member, Plano Bar Association

Collin County Bar Association

,

2006

Texas

,

2002

Dallas Bar Association, Member, New Members Committee, 2002 - 2004

Member, Grayson County Association Young Lawyers
Educational Background:
 Baylor University, Waco, Texas, B.A. in Psychology

Texas Tech School of Law

,

2002

Austin College, Sherman, Texas - Psychology
Honors/Awards:
Executive Vice President, Student Bar Association, Texas Tech University School of Law, Lubbock, Texas

Member, Budget Committee, Texas Tech University School of Law, Lubbock, Texas

Member, Welcoming Committee for Accepted Students, Texas Tech University School of Law, Lubbock, Texas

Member, Golden Key National Honor Society, Baylor University, Waco, Texas

Top 100 Trial Lawyers in America

,

National Criminal Trial Lawyers Association

,

2017

Executive Vice Chair, Board of Barristers, Texas Tech University School of Law, Lubbock, Texas

Member, Volunteer Legal Services, Texas Tech University School of Law, Lubbock, Texas

International Law, Thessoloniki and Skopelos, Greece and Istanbul, Turkey, Texas Tech University School of Law, Lubbock, Texas

Member, Psy-Chi National Honor Society, Baylor University, Waco, Texas

Super Lawyer-Rising Star

,

Texas Monthly Magazine

,

2015

Member, Criminal Trial Lawyers Association, Texas Tech University School of Law, Lubbock, Texas

Member, International Law Students Association, Texas Tech University School of Law, Lubbock, Texas

Member, Dean's List, Baylor University, Waco, Texas

Internship with Congressman Ralph Hall, Washington, D.C.,

,

2001

Top 40 Lawyer Under 40

,

National Trial Lawyers Association

,

2015
Pro bono/Community Service:
Volunteer, Legal Service Program

,

2002
Office location for Quinton G. Pelley
1312 14th Street
Suite 100
Plano, TX 75074
Phone: 214-733-1775
Selections
Rising Stars: 2011 - 2015
Additional sources of information about Quinton G. Pelley
Attorney resources for Quinton G. Pelley