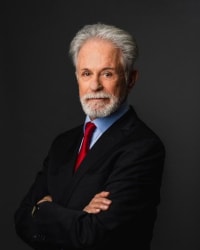 Law Offices of Vic Feazell, P.C.
Practice Areas: Personal Injury, Products Liability; view more
Licensed in Texas since: 1979
Education: Baylor Law School
Languages Spoken: English, Spanish

Selected to Super Lawyers: 2011 - 2023

Free Consultation
Law Offices of Vic Feazell, P.C.
3302 West Waco Drive
Waco, TX 76710
Visit website
Details
Vic Feazell and his team are dedicated to representing people throughout central Texas including in Waco, Belton/Temple, Killeen/Fort Cavazos, and nationwide. He commits his practice to handling personal injury and wrongful death cases involving the following matters: motor vehicle accidents, product liability, pedestrian accidents, burn and explosion injuries, as well as, truck accidents, medical malpractice, and nursing home abuse. Vic also works defending people accused of major crimes.
After graduating with a Bachelor of Arts from the University of Mary Hardin-Baylor, Mr. Feazell went on to earn his law degree from Baylor Law School in 1979.
As an advocate for clients, Mr. Feazell has a reputation for having tenacity in the courtroom. His career includes eight years of serving as the District Attorney in Waco, Texas, where he tried half a dozen capital murder cases. Bringing a unique perspective to the courtroom, Mr. Feazell has obtained impressive settlements and verdicts on the behalf of injured victims. A $58 million libel award garnered him a spot in Guinness World Records. Mr. Feazell's accomplishments also caught the attention of The National Trial Lawyers, who honored him as a Top 100 trial attorney. For his work, he has been featured in several publications and programs such as the Dallas Observer, "The Geraldo Rivera Show," A&E's "Biography" and "60 Minutes." Most recently he has been featured in the Netflix documentary, "The Confession Killer" https://www.netflix.com/title/80213588 and he hosts a podcast called "The Vic Feazell Show." https://www.vicfeazell.com/podcast Vic was recently honored by a Resolution from the President and Board of the State Bar of Texas. 
Participating in the legal community is important to Mr. Feazell. He holds memberships with The College of the State Bar of Texas, the Capital Area Trial Lawyers Association, the American Bar Association and the American Association for Justice. Mr. Feazell has provided leadership to peers through serving as chair of the Judicial Affairs Committee of the Austin Bar Association as well as being a founding life fellow for the Austin Bar Foundation and a member of the Texas Bar Foundation. He is also a Fellow of the Texas Trial Lawyers Association. Vic Feazell has been a member of the Texas Criminal Defense Lawyers Association for decades and is a Life Member of the National Criminal Defense Lawyers Association.
Other Locations to Serve You:
Belton, Temple & Killeen
Virtual Meetings Welcomed
Waco (Main Office)
3302 W. Waco Dr.
Waco, TX 76710 
Practice areas
Personal Injury - General: Plaintiff, Personal Injury - Products: Plaintiff
Focus areas
Animal Bites, Brain Injury, Construction Accident, Medical Devices, Motor Vehicle Accidents, Motor Vehicle Defects, Personal Injury - Plaintiff, Pharmaceutical, Premises Liability - Plaintiff, Trucking Accidents, Wrongful Death
90% Personal Injury - General: Plaintiff

10% Personal Injury - Products: Plaintiff
First Admitted: 1979, Texas
Professional Webpage: https://www.withviclegal.com/about-our-firm/attorneys/vic-fe...
Verdicts/Settlements (Case Results):
$11 Million Burn InjuriesNatural Gas Explosion | Burn Injuries Attorney Fees & Expenses: $5,500,000.00
$1.5 Million Explosion Injury Central Texas limestone mine when the fuel tank he was working on exploded, engulfing his body in flames and throwing him twenty feet to the ground. Richard injured his back and suffered severe burns to his legs and arms. While he was still in the hospital, his wife called on us to help. We immediately started recording witness statements, taking photographs, retaining the necessary experts, and opening dialogue with the medical providers. Our investigation revealed that the explosion happened because an employee of the mine arced a welding rod near the fuel tank, which had not been cleaned and flushed as required before commencing the work. The mine company claimed that they had not done anything wrong and refused to pay. After eighteen months of litigation over contested liability, involving depositions, expert reports, and two mediations, the case settled before trial for $1,550,000. Of that amount, attorney's fees were $620,000, and case expenses, including expert fees, totaled $27,000. The net recovery to our client totaled $902,423.
$1.5 Million Car Accident George stopped at the stop sign. He looked both ways and was about to proceed into the intersection when he was suddenly and violently rear-ended by a bus traveling at 55 miles per hour. The impact catapulted George's body upwards, slamming his head into the roof of his car. His injuries included herniated disks, broken teeth, a displaced jaw and a closed head injury. George had to undergo two neck surgeries, tooth implants, and pain management. He lost most of his sense of smell and taste and his mouth became very sensitive to cold liquids. George and his wife were having difficulty managing all the medical appointments and dealing with the bus driver's insurance company. They decided to call the Law Office of Vic Feazell for help. It took two years of litigation, including depositions and expert testimony, before the insurance company was finally forced into paying George's claim. During that time, our firm negotiated with medical service providers to ensure that George got the medical treatment he needed and that payment of the bills was delayed until after settlement. The case settled for $1,500,000. Attorney's fees were $499,500, and reimbursable expenses totaled $8,627. Net recovery to our client totaled $991,873.
$1 MillionWrongful DeathAttorney fees: $400,000.00 | Expenses: None
$340 Thousand Car Wreck Injuries Antonia was driving in Fort Hood, Texas when another driver recklessly rear ended her causing her vehicle to smash into a utility pole. As a result of the reckless driver, Antonia sustained a broken left leg and shattered right knee. We settled the third party insurance claim but her damages exceeded the limits of the insurance coverage. We then pursued an underinsured motorist claim for her injuries. We settled the claim in Antonia's favor for $340,000.00. Medical expenses totaled $22,132.38. Attorney's fees were $110,000.00. The net recovery to our client was $207,867.62.
$225,000 Slip & Fall - Fed Ex Worker Chris suffered a slip and fall injury at a FedEx store due to a slippery substance. He hit his head and lost consciousness, causing blood to flow from his right ear. Chris sought medical attention and suffered from tinnitus and permanent hearing loss. The case was settled at mediation for $225,000, with Chris receiving over $100,000 tax-free after all medical bills, worker's comp liens, and legal fees were paid.
$357 Thousand 18 Wheeler Truck Wreck Injuries Maurissa was driving with her husband and their 8 month old baby on IH35 in Bell County, when they noticed an accident ahead of them. Being the first to witness the accident, they pulled over and Maurissa ran towards it to see if anyone was hurt. As she approached, an 18 wheeler truck driver not aware enough to notice the accident, slammed into the wrecked car. The 18 wheeler truck smashed through the wrecked car forcing it and the wrecked car onto Maurissa. This collision violently threw her through the air and onto her car. Maurissa sustained serious and life threatening injuries as a result of the negligent conduct of truck driver. After 7 months of negotiations with the insurance company, Maurissa's case settled in her favor for $357,500.00. Attorney's fees were $134,500.00, and reimbursable expenses totaled $436.96. Medical expenses totaled $55,030.18. The net recovery to our client was $152,532.86.
$95 Thousand Slip and Fall Injury Angela and her husband were enjoying dinner at Texas Roadhouse. When they got up to leave, Angela slipped on peanut shell debris that had been allowed to accumulate on the floor. She broke her kneecap in three places, requiring a painful surgery that left pins and a wire in her knee in order to stabilize it. Angela sought legal help from several attorneys in Central Texas, but was turned down by them all. One attorney did agree to represent her, but when he found out that Texas Roadhouse planned to contest the case, he dropped her as a client. Distraught and not knowing where to turn, Angela was referred to Vic Feazell by a friend. Vic took her case and filed suit against Texas Roadhouse. After over a year of litigation, including depositions and expert medical reports, Texas Roadhouse still refused to pay Angela's claim, so Vic took the case to jury trial. A week-long trial in the Bell County Courthouse returned a jury verdict in favor of Angela for $95,590. Attorney's fees were $38,236, and reimbursable expenses totaled $14,185. The net recovery to Angela was $43,000.00. To this day, it is still the only case that Texas Roadhouse has lost.
$340 ThousandCar WreckBroken Ankle Injury. Client: Military Spouse
$152 ThousandDrunk Driver Auto/Pedestrian Hit & RunOrthopedic Injuries Attorney fees: $50,000.00 | Expenses: $230.46
$222 ThousandWrongful DeathAuto/Pedestrian Accident | Wrongful Death Attorney fees: $79,078.26 | Expenses: $644.18
$189 ThousandPedestrian AccidentDrunk Driver Car Wreck | Soft Tissue Injuries Attorney fees: $73,131.33 | Expenses: $622.06
Other Outstanding Achievements:
Recognized in the Guinness Book of World Records for winning the largest libel award, totaling $58 million.

Co-host of the Vic Feazell True Crime Podcast
Bar/Professional Activity:
Fellow, Texas Trial Lawyers Association

District 8 Grievance Committee 2022

Member, College of the State Bar of Texas

U.S. District Court Northern District of Texas

U.S. District Court Southern District of Texas

U.S. District Court Eastern District of Texas

U.S. District Court Western District of Texas

U.S. Court of Appeals 5th Circuit

Founding Life Fellow, Austin Bar Association

Member, American Bar Association

Founding Life Fellow, State Bar Foundation

Life Member, National Criminal Defense Lawyer's Association

Member, American Association for Justice

Member, Capital Area Trial Lawyers Association

All Texas County, District, and Appellate Courts including the Texas Supreme Court

Former Chairman, Judicial Affairs Committee, Austin Bar Association
Educational Background:
University of Mary Hardin-Baylor, B.A.

,

1972
Honors/Awards:
In April 2021, the Texas State Bar issues an official resolution to honor Attorney Feazell for his decades of remarkable legal service, both to the state and to its peoples. In the resolution, some of his most noteworthy experiences, accolades, and cases were discussed.For example, a few exemplary moments of Vic's career that were featured in the resolution are:Licensed attorney since 1979 Six capital murder cases handled while a McLennan County district attorney $58-million verdict in a record-breaking libel lawsuit Memberships to the Texas Bar College, the National Trial Lawyers, and the National Association of Criminal Defense Lawyers 2018 Outstanding Pro Bono Advocate Award from the Waco-McLennan County Young Lawyers Association The Texas State Bar also offered an official apology to Vic for the harm done to his law license decades ago during the Henry Lee Lucas false serial killer accusations scandal. Attorney Feazell adamantly stood up for Henry, who had been deliberately made a scapegoat for hundreds of murders by the Texas Rangers. In retaliation, the Rangers arrested Vic, attempted to destroy his reputation, charged him with five crimes, and threatened him with 80 years of imprisonment. After Vic was found Not Guilty on all charges by a Federal Jury, the Texas State Bar still made moves against his law license, which he deflected with a probated suspension. Vic successfully sued a news corporation for libel, which resulted in the largest libel verdict in U.S. history and its placement in the Guinness Book of World Records. The President for the Texas State Bar had this to say while issuing the formal apology: "[Vic's case] is one where somebody stood up, did the right thing, stood his ground, and, in time, has been proven right. Two juries have proven him right. And this is why I honor Vic because he did do the right thing. […] He stood up for the oppressed. […] If there's anybody who deserves an award for doing the right thing, I believe it's you.",

State Bar of Texas Resolution Honoring Vic Feazell

,

State Bar of Texas

,

2021

Member, American Association for Justice - Top 100 Trial Lawyers

Outstanding Young Alumni for Mary Hardin Baylor

,

1984

Featured in the Edgar Award winning book Careless Whispers

Member, The National Trial Lawyers Top 100 Trial Lawyers

Elected, Two Four-Year Terms as District Attorney of Waco, McLennan County
Office location for Vic Feazell
3302 West Waco Drive
Waco, TX 76710
Phone: 254-727-7239
Selections
Super Lawyers: 2011 - 2023
Additional sources of information about Vic Feazell
Attorney resources for Vic Feazell