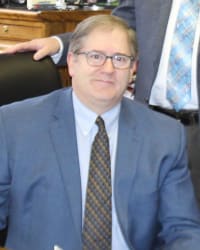 Macfarlane LegalWorks
Practice Areas: Personal injury, Products liability
Licensed in Utah since: 1988
Education: University of Utah S.J. Quinney College of Law

Selected to Super Lawyers: 2010 - 2022

Free Consultation
Macfarlane LegalWorks
205 26th St
Suite 21
Ogden, UT 84401
Phone: 801-364-3724
Email: Kelly H. Macfarlane Visit website
Details
Kelly attended Dixie College, and graduated from Weber State College in 1984, cum laude, in Economics and was named the Most Outstanding Graduate in the School of Economics and the Most Outstanding Male Graduate for the entire School of Business. He graduated from the University of Utah College of Law in 1987 where he worked on Law Review. His practice has emphasized complex insurance disputes, product liability, catastrophic injuries, and the reduction of liens on personal injury cases. He has spent his legal career at Christensen & Jensen before starting his own firm to try and concentrate his practice on helping the injured.  Kelly receives most of his catastrophic injury cases through referrals from former clients. He considers this the best compliment he could ever receive. As he passes thirty years practicing law, Kelly considers his previous work in the insurance defense industry to be his greatest asset. Kelly is adept at working with difficult insurance policy language and obtaining coverage where it seems to be limited. He fights until he has found a way to succeed, and in the case of representing injured plaintiffs, until he has been able to obtain the fullest possible recovery for his client. Kelly has directed numerous clients to settlements over $1 million and multiple clients to settlements in exess of $4 million.  He has worked on over 20 brain injury cases and 8 quadriplegic or paraplegic cases and a two double amputation cases.Kelly also performs product liability defense work for sports equipment manufacturers which requires him to practice in over 30 different jurisdictions in the United States.  This is why Kelly is so proficient in the area of Product Liability for Plaintiff cases.  He has practiced extensivly in this area for over 30 years. More importantly, he lost his leg in a motorcycle accident when he was 17 and broke his back in a car accident and had severe facial scarring soon after this.   None of these accidents were his fault and so he has great empathy for those who have been injured and knows what you are going through.  Finally, despite all this experiencem, Kelly has disrupted the market by offering his services at 25% for injury cases that settle before the filing of a complaint (Product liability and Medical Malpractice cases excluded).  He has mastered the ability to settle cases before large hospital liens or health insurance reimbursments are required saving clients thousands of dollars from beign deducted from their settlements.  
First Admitted: 1988, Utah
Professional Webpage: http://www.macfarlanelegalworks.com/
Educational Background:
Weber State College Batchelor of Science in Economics

,

1984
Pro bono/Community Service:
Chairman of the Board for Phoenix Services, Inc. a non-profit entity specializing in the care of brain injured clients.

,

2003

Still serving on the board of directors for Phoenix Services, a brain injury service non-profit.

,

2019
Transactions:
Negotiated $70 million asset purchase for tax preparation software company by large blue chip tax preparation service.

,

2006
Other Outstanding Achievements:
Ellis v. Ellis, 169 P.3d 441 (UT 2007)  This is a reported case where Mr. Macfarlane represented the surviving spouse injured when her husband lost controll of their vehicle durring their honeymoon.  the Utah Supreme Court agreed with Macfarlane's argument that spousal immunity from torts by a spouse was no longer a valid doctrine.  He also successfully filed the claim even though his client did not contact him until 3 weeks after the statute of limitations normally would have run.  The Utah Supreme Court also ruled that the claim was properly tolled for the time following the accident when his client had not recovered mentally.  This was appropriatly preserved with affidavits of family members without any medical testimoney necessary.,

2007
Honors/Awards:
Awarded top 5% award for the State of Utah in Personal Injury

,

Utah legal Elite

,

Utah Business

,

2011

Awarded top 5% award for the State of Utah in Personal Injury

,

Utah Legal Elite

,

Utah Business

,

2014

Awarded top 5% award for the State of Utah in Personal Injury

,

Utah Legal Elite

,

Utah Business

,

2016

Awarded top 5% award for the State of Utah in Personal Injury

,

Utah Legal Elite

,

Utah Business

,

2013

Awarded top 5% award for the State of Utah in Personal Injury

,

Utah Legal Elite

,

Utah Business

,

2015

Awarded top 5% award for the State of Utah in Personal Injury

,

Utah Legal Elite

,

Utah Business

,

2012
Representative Clients:
Represent Lifetime Products, Inc. nationwide in product liability matters for over 30 years.

,

2018

Mr. Macfarlane has acted as National Counsel for Products Liability for Lifetime Products.

,

1988
Verdicts/Settlements:
72 year old mentally handicapped bus passenger was thrown forward when the bus hard braked as he was getting up.  It threw him forward to the hard dash of the bus and he was killed.  We settled the case for $215,000.00.  The bus driver denioed it was a hard brake and said the passenger did not hold onto the rails while the bus was moving.  There was video of the incident.

,

2019

Recovered the policy limits of $125,000.00 for a neck injury that needed surgery.  But we were able to get it settled before the sugery so there was no payback to his health insurance company of the surgery costs out of his settlement.  This saved him $50,000 or more out of his settlement.

,

2019

Gentleman was in a motorcycle accident just like mine.  He had masive leg damage.  The surguries were going to be very expensive.  They were smart and called me while they were still in the emergency room.  I worked quick to settle the case with the insurance in less than 24 hours.  We signed the release before the surgery the next day and this client kept the entire settlement without paying any of it to his health insurance company.  Calling fast saved him over $50,000 in pay back of health insurance reimbursments from his settlment.  and we did it for only 25%.

,

2019

Helped a woman who had a rearend accident recover from the other driver and from her own insurance for a rotator cuff surgery.  The total settlement was $125,000.00.

,

2019

Helped a truck driver who was hit by a propane tank that another worker was unloading.  He had mild head injuries and neck problems which we settled for $200,000.00

,

2019

Helped husband who lost his wife in a commercial truckloing accident.  The policy limits were obtained of $1 million dollars.

,

2019

Represented Police Officer in recovery of all $350,000 limits in motorcycle crash with contested liability.

,

2018

Assisted with the settlement of a case for over $750,000 from a car accident where injury severity was disputed. 

,

2018

Settled a dog bite case for over $300,00 without litigation.

,

2018

$350,000 limits recovered by stacking coverages in auto pedestrian death involving two cars that were treated as separate accidents.

,

2016

Settled the claims of a mother and her unborn baby who were hit head on by a vehicle who was racing with another vehicle.  Settled for over $1,700,00 by stacking coverage for 4 different cars in this one accident. 

,

2017

$650,000 settlement for head on collision by pursuing multiple theories of liability and stacking insurance coverage.  Still pursuing a product liabiltiy action for defective seatbelt in the same case.

,

2016

$750,000.00 settlement from FTC in highly contested national cyber sales case.  

,

2016

Settled a double carbon monoxide case for $775,000.

,

2011

Back fusion from rearend taxi cab accident was settled for $520,000.

,

2009

Motorcycle accident with broken femer.  Settled without litigation for $1.2 Million dollars and reduced health insurance lien on case.

,

2009

$775,000 settlement for defective swing set design.

,

2006

Insuarance Bad Faith recovery of $4.3 million.

,

2006

Double Amputation case from power line accident.  Case had been declined by prior lawyers as unlikely to win after working on it for over a year.  Mr. Macfarlane took over and litigated to a settlement of $4.3 million dollars.

Gathered 6 different policy limits on a serious auto accident case until the victim had over $2.0 million to help with medical costs for tetraplegia.  Insurance company originally offered only $500,000 for a full release.
Selections
Super Lawyers: 2010 - 2022
Additional sources of information about Kelly H. Macfarlane
Attorney resources for Kelly H. Macfarlane