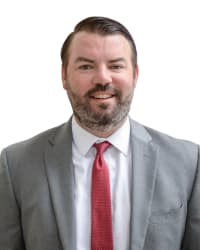 Cooper Hurley Injury Lawyers
Practice Areas: Personal Injury
Licensed in Virginia since: 2011
Education: Saint Louis University School of Law

Selected to Rising Stars: 2019 - 2023

Free Consultation
Cooper Hurley Injury Lawyers
125 St Pauls Blvd
Ste 510
Norfolk, VA 23510
Phone: 757-333-3333
Email: Griffin O'Hanlon Visit website
Details
Griffin O'Hanlon joined Cooper Hurley Injury Lawyers as an attorney in the fall of 2015. He attended Great Bridge High School in Chesapeake for his freshman and sophomore years, before his parents relocated to Illinois. He returned to Virginia to attend Virginia Tech, where he majored in history. Griff obtained his J.D. from the Saint Louis University School of Law with a concentration in civil litigation.
After law school, Griff returned to Hampton Roads, where he practiced criminal law at the Norfolk Public Defender's Office and a local private firm before joining Cooper Hurley and has extensive in-court litigation experience. Griff O'Hanlon specializes in suing drunk drivers. He is motivated to help people who are going through an extremely tough time in their lives.
Regardless of the circumstances, Griff strives to achieve favorable results for his clients through determination and hard-work. 
First Admitted: 2011, Virginia
Professional Webpage: https://cooperhurley.com/our-attorneys/griffin-ohanlon/
Educational Background:
Saint Louis University School of Law, J.D

,

2011

Virginia Polytechnic Institute and State University, B.A.

,

2008
Scholarly Lectures/Writings:
This is the fourth edition of The Best Book about Virginia Car Accidents and Injuries written by partners John Cooper, Jim Hurley, Bill O'Mara and Griff O'Hanlon. Getting into a car wreck can be a traumatizing experience. You may need information regarding what to do, when to get help and how to deal with the insurance agencies. "The Best Book About Virginia Car Accidents & Injuries" provides the public with concrete steps to take after an accident.

,

Author

,

The Best Book About Virginia Car Accidents and Injuries

,

Personal Injury

,

2019

Traumatic brain injuries (TBIs) are devastating, yet insurance companies fight hard against TBI claims. John wrote the book on traumatic brain injuries to give victims and their families valuable insight on how these complex cases are proved and won.

,

Co-Author

,

The Traumatic Brain Injury Toolkit: Everything a Client Needs to Know After Suffering a Traumatic Brain Injury

,

2021
Representative Clients:
Google Client Review - I would highly recommend Griffin O'Hanlon and Candance. Candace and O'Hanlon always kept me updated through the whole process. When I later found out that I would have to go to trial for my car accident O'Hanlon prepped me throughly before the trial date. He made sure I was comfortable enough to answer all questions from himself and the other attorney regarding the day of my accident & the pain and suffering I went through. I am extremely happy with result of the trial date and I'm glad I went to cooper and Hurley to handle my car accident.

,

2020

Avvo Client Review - Highly recommend this attorney. He took the time to explain every detail, was understanding and tough as nails. He called to keep me updated and provided sound advise. The whole team at Cooper Hurley were simply outstanding. I felt they were genuine, concerned and never condescending. GRIFFIN IS ONE OF THE BEST. IM GLAD I FOUND THIS TEAM AND HIGHLY RECOMMEND THEM.

,

2019
Verdicts/Settlements:
$1,000,000 settlement - Plaintiff suffered a traumatic brain injury when he was underneath a disabled truck attempting to tow hitch it to another vehicle when the truck was rear-ended.,

2021

$170,000 settlement - Plaintiff required shoulder surgery, which required subsequent revision, after a side swipe impact.,

2021

$250,000 verdict - Minor plaintiff suffered a minimally treated neck ligament injury when a truck pilled into the minor plaintiff's vehicle's lane of travel causing a t-bone collision.,

2021

$500,000 verdict - Plaintiff suffered an aggravation of a pre-existing neck injury that required surgical intervention following a rear-end collision.,

2021

$108,000 jury verdict - Man was rear-ended at a slow rate of speed on his way to work. Plaintiff suffered a tear of his rotator cuff. The Defendant contested liability and damages. A jury verdict was returned in favor of the Plaintiff.,

2020

$500,000 verdict - A veteran was injured in a rear end motor vehicle collision aggravating a pre-existing neck condition and causing a back injury.,

2020

$250,000 verdict - A minor was injured in an automobile collision resulting in approximately $17,000 in medical bills.,

2020

$145,000 settlement - Woman was cycling on the roadway when the Defendant back his truck out of a driveway causing a collision.  Plaintiff suffered orbital fractures and significant edema.  The case settled for $145,000.00.,

2019

$200,000 settlement - Woman was rear-ended on an interstate exit ramp.  The Defendant alleged that he suffered a medical emergency causing him to lose consciousness while driving.  The Plaintiff alleged that the collision was the result of the Defendant's inattentiveness.  The case settled for $200,000.00 at mediation.,

2020

$150,000 settlement - Plaintiff was a passenger in a work truck that was rear-ended while stopped at a red light.  The Defendant did not stay at the scene and later fled from responding police officers.  The Defendant was apprehended and presented belligerently to police.  When requested, the Defendant refused to submit to a breath or blood test to determine whether he was under the influence of alcohol.  Based on other evidence collected by police, the Defendant was charged with DUI.  The Defendant subsequently pleaded guilty to DUI, 3rd offense within ten years. As a result of the collision, the Plaintiff suffered muscular injuries to his neck and back.  The Plaintiff received conservative care for three months and incurred medical expenses totaling $16,423.80.  At mediation, the parties agree to resolve the case for $150,000.00.,

2018

Plaintiff was riding her road bicycle on a two-way road in York County, Virginia.  Plaintiff was traveling in the same direction as vehicular traffic and situated next to the right shoulder.  The Defendant, failing to see the Plaintiff approaching, backed a pick-up truck out of a driveway to Plaintiff's right. As a result, the Plaintiff collided into the rear, passenger side of the truck bed and was thrown from her bicycle.  Upon impact with the roadway, the Plaintiff's helmet cracked and she lost consciousness. The Plaintiff suffered several facial fractures which required surgical repair.  A plate and screws were inserted around Plaintiff's right eye socket to stabilize the bones and facilitate healing.  The Plaintiff remained under a doctor's care for the next five months and incurred a total of $20,111.17 in medical bills.

,

2018

Plaintiff was a passenger in a church van that was traveling throughout Norfolk providing food and other assistance to the homeless community.  While stopped at a red light, the church van was struck on the driver's side by the Defendant.  Upon arrival, the investigating police officer noted that the Defendant smelled of alcohol and placed the Defendant under arrest. After removing herself from the church van, the Plaintiff began to feel ill.  She was transported to the hospital via ambulance where it was determined that she suffered an aggravation of her pre-existing atrial fibrillation.  The Plaintiff spent two nights in the hospital as her attending physicians monitored her heart rate.  After discharge, she had one follow-up appointment with her cardiologist.  In total, the Plaintiff incurred $43,232.48 in medical expenses. The Defendant was also transported to the hospital from the scene of the collision.  Due to the suspicion of alcohol consumption, the Defendant had his blood drawn pursuant to implied consent.  Testing by the Virginia Department of Forensic Science showed that the Defendant had a blood alcohol concentration of 0.32 % by weight by volume.  The Defendant was subsequently charged with DUI, 2nd offense within two years.  Given the level of the Defendant's intoxication at the time of the collision, the Plaintiff sought an award on punitive damages in addition to compensatory damages.

,

2018

$375,000 settlement - Plaintiff, a senior citizen, was a customer at a local restaurant. As she was walking through the dining area, she caught her foot on a black, rubber mat which was not flush with the floor causing her to fall to the floor. Upon impact with the ground, Plaintiff felt a pop in her right shoulder and immediately experienced pain. Plaintiff received emergency medical attention following her fall and x-rays revealed a four-part fracture of her right, proximal humerus which required surgical repair. Case settled for $375,000,

2018

$100,000 verdict - The Plaintiff was seriously injured when he was crossing a busy intersection and struck by the Defendant motorist. Following the collision, the Defendant told the investigating police officer that he had a red traffic signal as he approached the intersection, came to a complete stop and then proceeded to make a right turn on red after looking to ensure his path was clear. As the Defendant made his right turn on red, he struck the Plaintiff who was a pedestrian crossing the intersection. According the the police officer's investigative notes, when the Defendant's lane of travel was faced with a red light, as the Defendant claimed, the Plaintiff's  pedestrian crossing light would have signaled "Do Not Walk". As such, the investigating officer concluded that the Plaintiff had entered the intersection against a "Do No Walk" signal and in violation of Virginia law.The insurance carrier refused to make a settlement offer citing Plaintiff's contributory negligence. At the arbitration hearing, there was conflicting evidence as to whether the Plaintiff had in fact entered the intersection against a "Do Not Walk" signal or crossed within the designated crosswalk. Given the extent of Plaintiff's head and neck injuries, he had no independent recollection of the collision itself. After the arbitrator heard evidence, Plaintiff's counsel argued that the Defendant had failed to carry its burden to prove Plaintiff was contributorily negligent or, if it had carried its burden, that Plaintiff's contributory negligence was not a proximate cause of his injuries. A written arbitration in favor of the Plaintiff was awarded for the policy limits of $100,000.,

2017
Pro bono/Community Service:
Read Across America Day with Southside STEM Academy at Campostella (Chesapeake, VA)

,

2021

Cooper Hurley Injury Lawyers Donates Coats to STEM Academy in Norfolk Cooper Hurley Injury Lawyers stepped in to donate dozens of warm winter coats to the students at Southside STEM Academy at Campostella in Norfolk. Our law firm decided to help out after Roshawnda M. Johnson, the  Family Engagement Specialist at Southside, mentioned the need for warm coats on a social media post. Attorney Griff O'Hanlon visited Southside STEM Academy with Chief Marketing Officer Cassidy Lewis, and Ty Bryant from the Norfolk-based personal injury law firm. We donated about 30 coats and helped the students try them on. "We're so happy to be here today. It's the Christmas season and we always feel it's our obligation to be part of our community and give back tour community whenever we can. We are glad to be here today giving back to some very hardworking, worth kids," Griff O'Hanlon said. Johnson was pleased to receive the coats from the Cooper Hurley Injury Lawyers team. "We'd just like to give a special thank you to you and your law firm for coming out here to Southside. Our students are so happy and excited about the presents you have brought, and they've been working so hard this school year here at the Academy of Excellence," she said. Southside STEM Academy at Campostella performs a great role in the Norfolk community. Its programs incorporate "problem and project-based learning" with a special emphasis on engineering. The Southside STEM Academy at Campostella aims to boost early student value and awareness in the important S.T.E.M. areas of Science, Technology, Pre-Engineering, and Mathematics while giving its students the skills needed to meet the challenges of the 21st Century workforce. Cooper Hurley Injury Lawyers is invested in the 757 community, We make regular donations to help people and organizations in need.

,

2019
Other Outstanding Achievements:
After the Accident: Podcast Episode 5 - What to Know After a Rear-End Accident (With a Real-Life Case) Picture this. One moment, you are cruising down the highway on your way home from work. You see that traffic is slowing down ahead, and you start to slow down, too. The next moment, a vehicle rams into the back of your car. You lose consciousness. When you come to, you're terrified and disoriented.   Thankfully, you have no signs of any serious physical injuries. But you start experiencing symptoms in the days and weeks following the accident, like dizziness, nausea, and difficulty concentrating. What do you? Our client, Sarah, was in a rear-end collision like this, and her story proves that rear-end collisions are not always as simple as they appear to be. Her attorney, Griff O'Hanlon, is going to share her story with you and discuss how he was able to help get Sarah the compensation she deserves. Take a listen. To see more of our case results, visit us online at cooperhurley.com

,

2021

After the Accident: Podcast Episode 6 - What to Know About Traumatic Brain Injury (TBI) After a Car Accident In this episode, brain injury attorneys John Cooper and Griff O'Hanlon discuss what you should know about traumatic brain injuries after car accidents and how these complex cases are proved and won in court.   In the past few years, John Cooper has recovered over $28 MILLION for brain injury victims.   John wrote The Traumatic Brain Injury Toolkit to give TBI victims and their families valuable insight on these injuries and how to fight insurance companies for fair compensation. This interview touches on some of the main points of the book, including: How common terms like "concussion" and "mild traumatic brain injury" can be misleading, and why these injuries should be taken seriously.   Why TBIs are often overlooked in the emergency room after accidents, and how these injuries can be properly assessed and diagnosed by the right doctors.   How brain injury attorneys are uniquely positioned to help victims get the best treatment and secure the compensation they need to cover their medical costs and other expenses related to their injuries. To request your FREE copy of the book, visit www.tbitoolkit.com  

,

2021

After the Accident: Podcast Episode 1 - Do I Really Need an Attorney After My Car Accident? -  In this episode of After the Accident, personal injury attorney Griff O'Hanlon answers frequently asked questions about hiring an attorney after a car accident and gives an inside look at some of the dirty tricks car insurance companies use to take advantage of injured people without lawyers.  

,

2020

After the Accident: Podcast Episode 2 - "I Wanted My $60,000 Medical Bill Gone…And They Exceeded My Goal" Today, we want you to hear from one of our clients who was injured in a Virginia Beach car accident. Her name is Rita. She came to us with $60,000 worth of medical bills and a declining credit score, and all she wanted was to have that debt paid so she could get her credit back to normal. She asked if we could help her, and we're glad we were able to exceed her expectations. Take a listen to her story..  

,

2020
Bar/Professional Activity:
2021 - Present, Executive Committee Member of Norfolk Portsmouth Bar Association

,

2021

2018 - Present, Virginia Trial Lawyers Association 

,

2018

2018 - Present, Norfolk and Portsmouth Bar Association 

,

2018

2018 - Present, American Association of Justice 

,

2018

2018, Virginia Beach Bar Association 

,

2018

2018, Norfolk and Portsmouth Bar Association, Young Lawyers Section, Former Chair 

,

2018
Honors/Awards:
,

Top Lawyers of Coastal Virginia

,

Coastal Virginia Magazine

,

2022

,

Rising Star

,

Super Lawyers

,

2021

,

Rising Star

,

Super Lawyers

,

2020

Rising Star

,

Super Lawyers

,

2019
Selections
Rising Stars: 2019 - 2023
Additional sources of information about Griffin O'Hanlon
Attorney resources for Griffin O'Hanlon