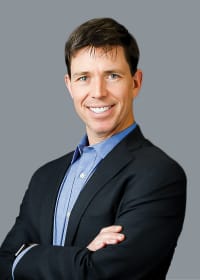 Dunlap Bennett & Ludwig PLLC
Practice Areas: Intellectual Property, Government Contracts, Business & Corporate; view more
Licensed in Virginia since: 1999
Education: Washington and Lee University School of Law
Languages Spoken: English, French

Selected to Super Lawyers: 2016 - 2023

Selected to Rising Stars: 2008 - 2009, 2011 - 2013
COVID-19 disclaimer:
Our office remains open, and in response to COVID-19 we have expanded our options for remote consultations and virtual meetings. Please contact our office to discuss what meeting option best fits your situation. Call 800-846-0762.

Virtual Appointments
Dunlap Bennett & Ludwig PLLC
8300 Boone Blvd
Ste 550
Vienna, VA 22182
Visit website
Details
Tom's practice focuses on intellectual property and government contracts disputes, litigation, and transactions. He has authored numerous books and appeared on national television and radio, including Fox, Sundance T.V., and NPR, speaking on various subjects in his fields of practice.
Recent victories as lead trial counsel include a $30,000,000 damages award after jury verdict for patent infringement (Zuru v. Telebrands), a $2,600,000 jury counter-claim verdict (DPX Gear v Erick Prince), and a TRO for patent infringement (Think Green Limited v Medela).  As outside counsel for NIH, CDC, and other departments of the US Health and Human Services, Tom has secured trademarks and managed disputes for marks like N95, and the CDC's trademark on vaccine record cards.  In addition to managing the firm's government contracts with DHS and HHS, Tom has successfully worked on behalf of numerous government contractors to both defend and protest government contract awards. In addition to state and federal courts in DC, Virginia, and Maryland, he is a member of various Federal Courts in Colorado, New York, Puerto Rico, Texas, the Court of Federal Claims, the Federal Circuit, and the United States Supreme Court, where he was counsel in a False Claims Act case (United States ex rel. Carter v. Halliburton Co.) and a seminal case involving jurisdiction in patent infringement cases (T.C. Heartland LLC v. Kraft Foods Group Brands LLC). 
Tom hosts a nationally-ranked Podcast called The Blackletter Podcast for lawyers, corporate counsel, and business owners. (https://podcasts.apple.com/us/podcast/blackletter/id1453759189)
Tom has been included as a Washington, DC and Virginia SuperLawyer, AVVO "Superb" (10.0), Virginia Legal & Business Elite, Who's Who in American Law, and has been named to other lists including the "Power 100" (Hollywood Reporter) for his work with film studios Voltage Productions (The Hurt Locker), and Millennium Film (Expendables 2).
Tom received his B.A. from Lafayette College and his J.D. from Wash­ington & Lee University (Phi Delta Phi) and has a dual degree (MS Biotech­nology/MBA) cum laude from the University of Maryland. He is a graduate of Army OCS and has commanded an infantry company in the U.S. Army. Tom also founded and has patents held in the company Ceres Nanosciences (ceresnano.com).  In addition to nine years as an Army officer (Armor/Cavalry), Tom has an instrument pilot's license, is a certified Master Diver (PADI), a former Silver Medalist in full-contact Burmese kickboxing, has served as a Special Prosecutor, and has a background in finance from working at JP Morgan Chase and the Bank of New York in the Private Client Group. He has served as a special prose­cutor in Loudoun County and has a background in retail com­mercial banking and finance at JP Morgan Chase and the Bank of New York.
Practice areas
Intellectual Property, Government Contracts, Business/Corporate
Focus areas
Business Organizations, Contracts, Copyrights, Intellectual Property Law, Limited Liability Companies, Patents, Trademarks
60% Intellectual Property

30% Government Contracts

10% Business/Corporate
First Admitted: 1999, Virginia
Professional Webpage: https://www.dbllawyers.com/attorney/thomas-dunlap/
Bar/Professional Activity:
Standard & Poor's Vista Research – Society for Industry Leaders, Expert Panel Member (2001 – present)

Maryland

U.S. Bankruptcy Court for the District of Columbia

Virginia State Bar Association, Litigation, Business Law & Intellectual Property Law Section Member

U.S. Supreme Court

American MENSA (1998 – present) and Capitol M, Member (2001-present)

U.S. Tax Court

Shenandoah University – NOVA Advisory Board (2002-2004)

U.S. District Court Eastern District of Virginia

Attorney's Arbitration Services, Arbitrator/ Mediator, Panel Member (2004 – 2012)

Leesburg Executive Airport, Commissioner (2007 – present)

U.S. District Court District of Colorado

American Bar Association, Co-Chair Copyright Litigation Committee, Commercial Litigation, (2009-2012)

Virginia

U.S. Bankruptcy Court District of Maryland

Veteran's of Foreign Wars, Post 1777 – Leesburg, VA

Colorado (Federal Only)

Loudoun County Bar Association, Past President (2004), Board Member (2003, 2005)

U.S. Court of Appeals Federal Circuit

Rotary International (2004 – present)

U.S. Court of Veteran's Appeals

Loudoun Community Free Clinic, Board Member (2003 – present)

U.S. District Court District of Columbia

U.S. District Court Western District of Virginia

Washington, D.C. Bar, Intellectual Property Section

U.S. Bankruptcy Court Western District of Virginia

American Legion, Post 34 – Leesburg, Member (2002 – present)

District of Columbia

Maryland State Bar Association, Intellectual Property Law Section, Membership Committee (2006 – Present)

U.S. Court of Federal Claims

Airplane Owners and Pilots Association (Panel Attorney)

U.S. Court of Appeals 4th Circuit

LoudounCares Board Member (2005-2010)

U.S. District Court District of Maryland

Antitrust & Intellectual Property Sections

Free Mason, Olive Branch Lodge and 32nd Degree Scottish Rite, Alexandria

U.S. Bankruptcy Court Eastern District of Virginia
Scholarly Lectures/Writings:
Authentication of Electronic Evidence in State and Federal Courts – Virginia CLE (2009)

Speaking Objections, How to Deal with Them, Virginia CLE (2009)

Authentication and Admissibility of Electronic Evidence in U.S. Federal Courts, NNA International Law Conference , Los Angles, CA (2007)

Intellectual Property for Small Business, Small Business Development Center, SBA , 2005 – 2009

Electronic Evidence in U.S. Federal Courts, British Institute of International Comparative Law, London, U.K. (2008)

How to IP – Basics of Filing and Protecting Trademark, Patent and Copyright – Virginia CLE (2011)

eDiscovery: Obtaining & Preserving Digital Evidence in Federal Court, International Conference of Digital Evidence, London, U.K. (2008)

Intellectual Property How To – IP Jam Session – Patents, Trademarks, Copyright and Trade Secrets, VA CLE (2014)

Virginia Lawyer's Deskbook – Chapter 8 – Patents, Copyright & Trademark, Virginia CLE (2013)

IP Litigation for the Everyday Lawyer, Virginia CLE (2013)

Electronic Evidence in Torrent Copyright Cases, Digital Evidence and Electronic Signature Review, Pario Communications, Bedfordshire, UK (2011) (pp.171-178)

Online Defamation, Sports & Entertainment Law CLE, Rossdale CLE (2012)

Mastering Sports, Entertainment, & Art Law, Rossdale CLE (2013)

Speaking Objections, Virginia CLE (2009)

Authentication and Admission of Electronic Evidence in State and Federal Courts, Virginia CLE (2009)

E-Discovery: Implications, Duties and Consequences, Digital Evidence and Electronic Signature Review, Pario Communications, Bedfordshire, UK (2008) (pp.197-202)

Electronic Signature Laws: Chapter 8: E-Sign & UETA – Electronic Signatures in the United States, Lexis-Nexis Butterworths, UK (2008)

eDiscovery: Obtaining & Preserving Digital Evidence in Federal Court, MIS TI Europe Journal, London, UK (2007)

Best Practices & Winning Legal Strategies for New Technology & Privacy Issues, ReedLogic, (2006)

Intellectual Property for Small Business, SBDC (2005 – 2011)

Avoiding Small Business Litigation, Red Eagle Publishing, (2004)

Aviation Regulation for General Aviation, (annual recurrent) Leesburg, VA., 2003 – 2007

Intellectual Property: The Basic Law on Copyright, Trademarks, and Trade Secrets

IP Jam Session – Patents, Trademarks, Copyright and Trade Secrets, VA CLE (2014)

Copyright Litigation: Finding John Doe – Litigation Against Anonymous Infringers – American Bar Association (2012)

How to IP – Basics of Filing and Protecting Trademark, Patent and Copyright – Virginia CLE (2011)

IP Litigation for the Everyday Lawyer – Patent, Copyright, Trademark & Trade Secret Infringement – Virginia CLE (2012)
Pro bono/Community Service:
Loudoun Cares, Board of Directors

NOVA Advisory Board, Shenendoah University

Regional Advisory Board, United Way NCR

Board of Directors, Loudoun Community Free Clinic

Leesburg Airport, Commissioner
Special Licenses/Certifications:
AOPA - Airline Owners and Pilots Association Legal Counsel for representation in Aviaition Matters

,

2001
Educational Background:
University of Maryland, M.B.A.

,

2012

University of Maryland, M.S. in Biotechnology

,

2011

Lafayette College, B.A. in English/ Theater

,

1994

Wahsington & Lee University School of Law, JD

,

1999
Transactions:
Worked with Ceres Nanoscineces, Inc. to complete Series A venture round see Ceres News for more.,

2017

Obtained trademark registrations for printed vaccine cards on behalf of Centers for Disease Control and Prevention to allow CBP and US DoJ to pursue and prosecute fake vaccine card sellers.

,

2021

Managing global portfolio of more than 40 trademarks in large fitness company portfolio Throwdown Industries, Inc., including registrations, renewals, disputes, litigation and licensing. ,

2021

Obtained and managed multiple trademarks in the United States and more than 15 countries for various mask standards, including N95, N99, and NIOSH approved for NIOSH, a division of the United States Dept. of Health and Human Services.

,

2021
Verdicts/Settlements:
The matter at issue involved a preliminary injunction to prevent the distribution of the infringing product (the Telebrands product) from distribution in the marketplace. ZURU/Tinnus, with the help of Dunlap Bennett & Ludwig, prevailed first in the preliminary injunction hearing, and then at a seven-day jury trial in a patent infringement action against Telebrands, subsidiary Bulbhead.com, LLC, and various infringing retail distributors. Additionally, during the case Dunlap Bennett & Ludwig prevailed in both defending the two patents at the PTAB and defending the mandamus action filed by Telebrands with the Federal Circuit alleging the Eastern District of Texas did not have jurisdiction. A jury verdict in favor of plaintiffs ZURU and Tinnus found that Telebrands Battle Balloon product line, including Balloon Bonanza HD, Battle Balloon Color Burst and Balloon Bonanza willfully infringed U.S. patents 9,315,282 and 9,242,749 covering the ZURU Bunch O Balloons, awarding lost profits and reasonable royalty damages in the amount of $12,317,500 (click here to see news story) against Telebrands and a number of retailers (Sears, Kroeger, Bed Bath & Beyond and others).Telebrands appealed the PTAB rulings – which found the patents valid, and Dunlap Bennett & Ludwig successfully defended the appeal on brief and in oral argument before the Federal Circuit.   "ZURU works diligently to bring innovation to market and to stand by its inventors. We are committed to continuously fighting what we believe are knock-off companies like Telebrands who try to undercut inventors and claim innovations as their own. We are confident that the U.S. legal system will help us continue to send this message. Moreover, we are looking forward to an award of enhanced damages above and beyond the $12,317,500 based on findings of Telebrands' willful misconduct." -Anna Mowbray, ZURU's Chief Operating Officer This verdict may include a significant increase of the final verdict amount as the jury found the infringement was willful, which may also include an award of attorney's fees. Patent litigation includes legal actions to protect patents against infringement and may result in monetary compensation or an injunction against the infringing product, preventing it from further sale or profits. Summary: Dunlap, Bennett & Ludwig accomplished the following: Prevailed in a preliminary injunction in the Eastern District of Texas Federal Court (click here to see orders)enjoining the sale of the completing product pending the outcome of the trial, and Defeated the appeal of the preliminary injunction to the Federal Circuit, and Defeated the mandamus action alleging a jurisdictional fault in the Federal Circuit, and Prevailed in both the '282 and '749 PTAB trials, and Prevailed in the appeal of the '282 and '749 decisions before the Federal Circuit Prevailed in a multi-day jury trial in the Eastern District of Texas Federal Court obtaining a $12.3 million verdict.,

2017

Defended award of $75M contract to KSJ Inc. at GAO bid protest as intervenor over the course of four protests, see here for more information, GAO Says $75M DOD Health IT Support Deal Was Fair,

2020

$2.6 million counter-claim verdict after jury trial in favor of Erick Prince against DPX Gear et al. See Washington Post summary.,

2018
Other Outstanding Achievements:
Smart CEO Magazine Business Advisor of the Year, Virginia - for client Lost Rhino Brewing company

,

2018
Representative Clients:
Ceres Nanoscineces, Inc.

,

2021

Invicta Networks Inc.

,

2021

Manta Group LLC (JV)

,

2021

EllisDale Construction

,

2021

ImagineX Inc.

,

2021

IPSun Solar

,

2021

US Inventor

,

2021

Zuru Toys

,

2021

Think Green Limited

,

2021

LasBox LA

,

2021

NexTech Solutions Inc.

,

2021

ITCadre Inc.

,

2021

Port City Brewing

,

2021

Smith-Midland Inc.

,

2021

Easi-Set Industries Inc

,

2021

Conair LLC

,

2021

Lost Rhino Brewing

,

2021

KSJ Inc.

,

2021

NIOSH, a division of the United States Dept. of Health and Human Services.

,

2021

Centers for Disease Control and Prevention/ CDC

,

2021

Alma de Chile (wine importers)

Areebel Engineering (Iraqi Defense Contractor/ Construction)

Lee County, Florida (Government contracts., procurement, telecom, fiber contracts)

,

2010

Kessler Engineering (export of engineering technology)

Griffith Energy

Blue Ridge Simulations (Defense)

AmeriGas Propoane

CellGro

Loudoun Anesthesia

Voltage Pictures
Honors/Awards:
Virginia Super Lawyer, Rising Star 2008 – 2009, 2011 SuperLawyer 2014-2022

,

Virginia SuperLawyer

,

Virginia SuperLawyers

,

2022

NOVA Top 10 Lawyers, Northern Virginia Magazine

Washington, D.C. SuperLawyer 2013, 2014 - 2022

,

Washington DC SuperLawyer

,

SuperLawyers

,

2022

Top 100 Power Lawyers in Entertainment, Hollywood Reporter (2010)

Who's Who in American Law

Virginia Legal & Business Elite 2012, 2013

,

Legal Elite

,

Virginia Business Magazine

,

2013

Martindale-Hubbell Peer Rated
Industry Groups:
Biotechnology
Cloud
Computer
Cross-border
Cybersecurity
Domain Name
Film Industry
Government
Import/ Export
International
Internet
IT
Manufacturing
NFT
PaaS
Pharma
SaaS
Software
Technology
Web
Office location for Tom Dunlap
8300 Boone Blvd
Ste 550
Vienna, VA 22182
Phone: 800-846-0762
Selections
Super Lawyers: 2016 - 2023
Rising Stars: 2008 - 2009, 2011 - 2013
Attorney resources for Tom Dunlap