« Back to Results
Jeffrey A. Lamken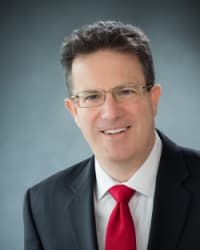 Attorney Profile
Top Rated Appellate Attorney in Washington, DC
Selected To Super Lawyers:
2007 - 2021
Attorney Profile
Jeffrey Lamken, a nationally recognized appellate practitioner, has argued 24 cases before the U.S. Supreme Court and briefed dozens more on a wide range of topics, including administrative law, antitrust, bankruptcy, civil rights, criminal procedure, energy, intellectual property, searches and seizures, separation of powers, and telecommunications. He has handled matters in virtually all of the federal courts of appeals. Mr. Lamken also develops, briefs, and argues critical motions in significant trial matters.
Before founding MoloLamken, Mr. Lamken headed Baker Botts' Supreme Court and Appellate Practice in Washington, D.C. Mr. Lamken served as an Assistant to the Solicitor General in the U.S. Department of Justice and was a partner in the Washington D.C. litigation boutique Kellogg, Huber & Hansen. He clerked for the Honorable Sandra Day O'Connor of the U.S. Supreme Court and the Honorable Alex Kozinski of the U.S. Court of Appeals for the Ninth Circuit.
Since 2005, Mr. Lamken has been recognized each year in the Chambers USA Guide to America's Leading Business Lawyers as a top appellate practitioner nationwide. The 2019 edition describes him as "expert at speaking the court's language," while the 2018 edition hails him as "an exceptional communicator and extraordinary writer"—according to one client, "hands down one of the smartest, most able lawyers I have ever met." The 2017 edition heralds his "exquisite" draftsmanship. Earlier editions describe him as "outstanding," "incredibly knowledgeable and quick to understand issues," "a real leading player," and "a superstar lawyer" —"a fierce advocate" with a "very detailed" approach. Peers laud Mr. Lamken as "a wonderfully talented appellate lawyer" who is "a joy to work with."
A member of the American Academy of Appellate Lawyers, Mr. Lamken has been honored as one of Washington D.C.'s top 10 lawyers by Law & Politics, one of the "Best Lawyers in America," a Washingtonian Top Lawyer, and a member of the "Fab Fifty," American Lawyer's list of the 50 most promising young litigators under 45.
Mr. Lamken received his J.D. from Stanford Law School, where he was the Nathan Abbott Scholar (highest cumulative GPA), a member of the Order of the Coif, and a Senior Editor of the Stanford Law Review. Before attending law school, Mr. Lamken graduated with a B.A. in Political Science, magna cum laude, from Haverford College. There, he was awarded the Department Prize in Mathematics, earned the Kurzman Prize in Political Science, and was elected to the Phi Beta Kappa honor society.
Selections


Super Lawyers: 2007 - 2021
Certificates and Credentials
Email Me
To: Jeffrey A. Lamken
Super Lawyers: Potential Client Inquiry
Additional Sources of Information About Jeffrey A. Lamken
About Jeffrey Lamken
Admitted: 1995, Washington D.C.
Professional Webpage: http://www.mololamken.com/lawyers-12.html
Honors/Awards:
Recognized as a Band 1 Appellate Practitioner by Chambers USA Guide to America's Leading Business Lawyers since, 2005

Included on the Washingtonian's Top Lawyers list since 2007

2017 Edition, "exquisite" draftsmanship

2011 Edition, peers lauded Mr. Lamken as "a Wonderfully Talented Appellate Lawyer" and "a joy to work with"

Named to the "Fab Fifty" list of 50 most Promising Young Litigators under 45 by American Lawyer, 2007

Listed in The Best Lawyers in America since 2006

Named to the Lawdragon 500 Leading Lawyers in America

2015 Edition describes him as "outstanding", "incredibly knowledgeable and quick to understand issues"-"a fierce advocate" with a "very detailed" approach

Nathan Abbott Scholar, Stanford Law School

Recognized as a "Washington D.C. Super Lawyer" by Law & Politics since 2007

 "Best Oral Advocate" in the Annual Kirkwood Moot Court competition, Stanford Law School

2014 Edition describes him as "a Real Leading Player-a Superstar Lawyer"
Bar/Professional Activity:
Northern District of California

American Academy of Appellate Lawyers

Member, American Bar Association, Litigation Section

District of Columbia

United States District Courts for the District of Columbia

United States Supreme Court

Member, Giles S. Rich Inn of Court

United States Courts of Appeals for the 1st, 2nd, 3rd, 4th, 5th, 6th, 7th, 8th, 9th, 10th, 11th, D.C. and Federal Circuits

Eastern District of Texas

Member, Edward Coke Appellate Inn of Court

California
Scholarly Lectures/Writings:
"U.S. Supreme Court Update: Developments and Trends, With an Emphasis on High Points-and Low Points-in Appellate Advocacy," 15th Annual Conference on State and Federal Appeals, The University of Texas School of Law, Austin, TX, 2005

Stanford Law Review

,

Senior Editor

"Oral Argument Before Trial and Appellate Courts," 10th Circuit Bench and Bar Conference, Colorado Springs, CO, 2010

"IP Considerations from a Supreme Court Insider," 6th Annual Advanced Patent Litigation Course, Texas Bar CLE, San Antonio, TX, 2010

"Intellectual Property Law Cases Before the Supreme Court," State Bar of Texas Annual Meeting, San Antonio, TX, 2006
Verdicts/Settlements:
Hourani v. Mirtchev, 796 F.3d 1 (D.C. Cir. 2015)

Beer v. United States, 696 F.3d 1174 (Fed. Cir. 2012)

BP Am. Prod. Co. v. Burton, 549 U.S. 84 (2006)

Cohen v. De La Cruz, 523 U.S. 213 (1998)

EPA v. EME Homer City Generation, LP, 570 U.S. 916 (2013)

NES Fin. Corp. v. JPMorgan Chase Bank, N.A., 556 F. App'x 12 (2d Cir. 2014)

Jinks v. Richland County, 538 U.S. 456 (2003)

Erica P. John Fund, Inc. v. Halliburton Co., 563 U.S. 804 (2011)

Wal-Mart Stores, Inc. v. Dukes, 564 U.S. 338 (2011)

Rambus Inc. v. Rea, 527 F. App'x 902 (Fed. Cir. 2013)

Wis. Dep't of Health and Family Servs. v. Blumer, 534 U.S. 73 (2002)

Janus v. Am. Fed'n of State, Cty., & Mun. Emps., Council 31, No. 16-1466 (U.S.)

Va. Elec. & Power Co. v. Sierra Club, No. 17-1895 (4th Cir.) (argued Mar. 21, 2018)

Arar v. Ashcroft, 585 F.3d 559 (2d Cir. 2009)

Alabama v. Bozeman, 533 U.S. 146 (2001)

FERC v. Elec. Power Supply Ass'n, 136 S. Ct. 760 (2016)

NRG Power Mktg., LLC v. FERC, 862 F.3d 108 (D.C. Cir. 2017)

In re Vivendi, S.A. Sec. Litig., 838 F.3d 223 (2d Cir. 2016)

AES Sparrow Point LNG, LLC v. Smith, 527 F.3d 120 (4th Cir.)

First Am. Fin. Corp. v. Edwards, cert. dismissed as improvidently granted, 567 U.S. 756 (2012)

Shalala v. Ill. Council on Long-Term Care, Inc., 529 U.S. 1 (2000)

Nautilus, Inc. v. Biosig Instruments, Inc., 134 S. Ct. 2120 (2014)

Rubin v. Islamic Republic of Iran, 830 F.3d 470 (7th Cir. 2016)

ClearCorrect Operating, LLC v. Int'l Trade Comm'n, 810 F.3d 1283 (Fed. Cir. 2015)

NRG Power Mktg., LLC v. Me. Pub. Utils. Comm'n, 558 U.S. 165 (2010)

Montana v. Crow Indian Tribe, 523 U.S. 696 (1998)

Highmark Inc. v. Allcare Health Mgmt. Sys. Inc., 134 S. Ct. 1744 (2014)

Soverain Software LLC v. Victoria's Secret, 778 F.3d 1311 (Fed. Cir. 2015)

Bus. Roundtable v. SEC, 647 F.3d 1144 (D.C. Cir. 2011)

Barnhart v. Thomas, 540 U.S. 20 (2003)

Mohamad v. Palestinian Authority, 566 U.S. 449 (2012)

Genesis HealthCare Corp. v. Symczyk, 569 U.S. 66 (2013)

United States ex rel. Nathan v. Takeda Pharm. N. Am., Inc., 707 F.3d 451 (4th Cir. 2013)

Price v. Vincent, 538 U.S. 634 (2003)

Oil States Energy Servs., LLC v. Greene's Energy Grp., LLC, No. 16-712 (U.S.)

Morgan Stanley Capital Grp. v. Pub. Util. Dist. No. 1 of Snohomish Cty., 554 U.S. 527 (2008)

Therasense, Inc. v. Becton, Dickinson & Co., 649 F.3d 1276 (Fed. Cir. 2011)

Corr. Servs. Corp. v. Malesko, 534 U.S. 61 (2001)

Hughes v. Talen Energy Mktg., LLC, 136 S. Ct. 1288 (2016)

United Parcel Serv., Inc. v. Postal Regulatory Comm'n, No. 16-1354 (D.C. Cir.) (argued Jan. 22, 2018)

Cartoon Network LP v. CSC Holdings, Inc., 536 F.3d 121 (2d Cir. 2008)

Bank Markazi v. Peterson, 136 S. Ct. 1310 (2016)

Bond v. United States, 529 U.S. 334 (2000)

Am. Broad. Cos. v. Aereo, Inc., 134 S. Ct. 2498 (2014)

In re Fairfield Sentry Ltd., 690 F. App'x 761 (2d Cir. 2017)

McRO, Inc. v. Bandai Namco Games Am., Inc., 837 F.3d 1299 (Fed. Cir. 2016)

Hickcox-Huffman v. U.S. Airways, Inc., 855 F.3d 1057 (9th Cir. 2017)

Free Enter. Fund v. Pub. Co. Accounting Oversight Bd., 561 U.S. 477 (2010)

Minnesota v. Carter, 525 U.S. 83 (1998)

Octane Fitness, LLC v. ICON Health & Fitness, Inc., 134 S. Ct. 1749 (2014)

Versata Dev. Grp., Inc. v. SAP Am., Inc., 793 F.3d 1306 (Fed. Cir. 2015)

TiVo Inc. v. EchoStar Corp., 646 F.3d 869 (Fed. Cir. 2011)

City of Rancho Palos Verdes v. Abrams, 544 U.S. 113 (2005)

Rubin v. Islamic Republic of Iran, 138 S. Ct. 816 (2018)

Ass'n for Molecular Pathology v. Myriad Genetics, Inc., 569 U.S. 576 (2013)

New Eng. Power Generators Ass'n, Inc. v. FERC, 757 F.3d 283 (D.C. Cir. 2014)

Overton v. Bazzetta, 539 U.S. 126 (2003)

Jones v. Harris Assocs., 559 U.S. 335 (2010)

Altria Grp. v. Good, 555 U.S. 70 (2008)

United States v. Danielczyk, 683 F.3d 611 (4th Cir. 2012)

Barnhart v. Walton, 533 U.S. 976 (2001)

Impression Prods., Inc. v. Lexmark Int'l, Inc., 137 S. Ct. 1523 (2017)

Gilead Scis., Inc. v. Merck & Co., Inc., Nos. 16-2302, 16-2615 (Fed. Cir.) (argued Feb. 5, 2018)

AES Sparrows Point LNG, LLC v. Wilson, 589 F.3d 721 (4th Cir. 2009)

Hasty v. Abbasi, 137 S. Ct. 1843 (2017)

Lujan v. G&G Fire Sprinklers, 532 U.S. 189 (2000)

Comptroller v. Wynne, 135 S. Ct. 1787 (2015)

Advanced Energy Mgmt. Alliance v. FERC, 860 F.3d 656 (D.C. Cir. 2017)

Drone Techs., Inc. v. Parrot S.A. & Parrot Inc., 838 F.3d 1283 (Fed. Cir. 2016)

Kirch v. Liberty Media Corp., 449 F.3d 388 (2d Cir. 2006)

Mac's Shell Serv., Inc. v. Shell Oil Prods. Co., 559 U.S. 175 (2010)

Dep't of the Army v. Blue Fox, Inc., 525 U.S. 255 (1999)

Alice Corp. Pty. Ltd. v. CLS Bank Int'l, 134 S. Ct. 2347 (2014)
Educational Background:
Haverford College, B.A., magna cum laude, Major: Political Science, Honors: Department Prize in Mathematics, Kurzman Prize

,

1986
Show More
Jeffrey A. Lamken:
Last Updated: 11/5/2020